Hi there my friends,
As you might have known, the good habit of playing a musical instrument is spreading rapidly, especially among the young.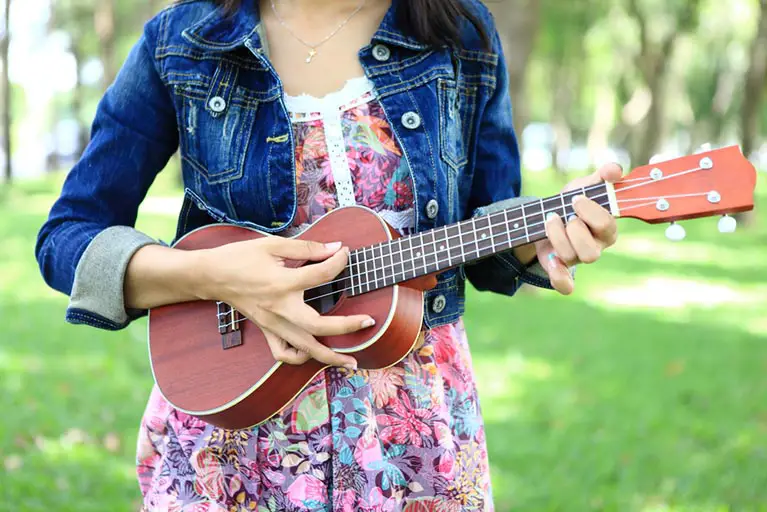 Also, with this spreading, an instrument has become more and more well-known to musical beginners for its simplicity, flexibility and easy-to-learn characteristic. It's the ukulele.
So, if you are here to find a guide to understand more about the ukulele, and further, to buy one good beginner ukulele for your practice, here is the ukulele buying guide for beginners that you need.
And as a one who has been playing the ukulele for 4 years, I believe that I will provide you with the most practical advice, beginning with the things you must consider before buying a good ukulele:
#1: Understanding Ukulele Sizes and Sounds – Which one is the best for you?
There are four commonly-known ukulele sizes, from small to large respectively: Soprano, Concert, Tenor and Baritone.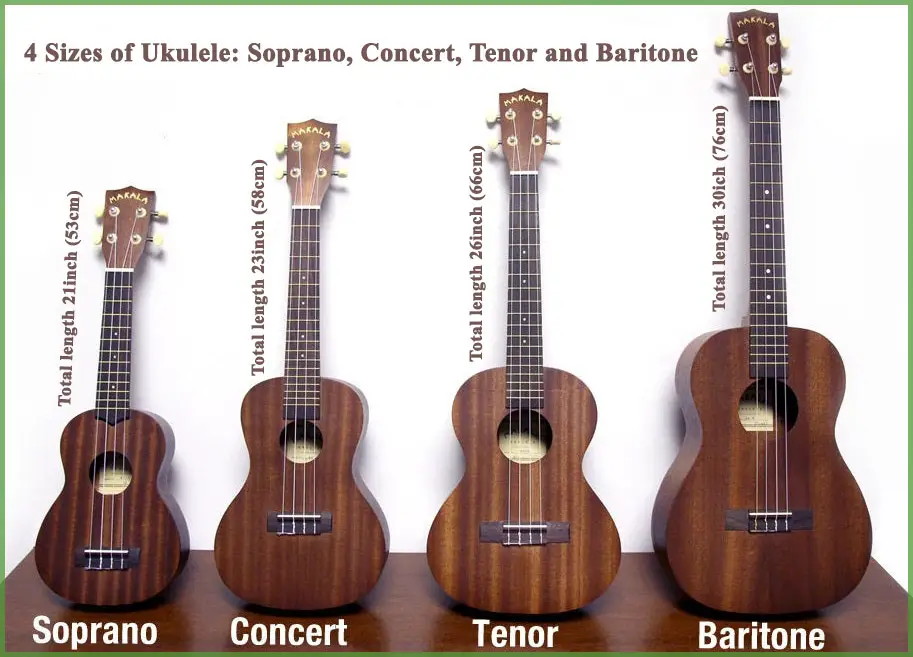 a. Soprano Ukulele:
The smallest size of the ukulele family, with 12 – 14 frets and the total length of 21 inches (53 cm). It has high-pitched, delightful sounds and is a good choice for kids or players with small hands.

Demo sound: https://soundcloud.com/user-21091212/soprano-ukulele-sounds/s-bmTFzprHplv
b. Concert Ukulele:
Has 14 – 17 frets with the total length of 23 inches (58 cm). One big advantage of the concert ukulele over the soprano ukulele is that it has a wider range of sound. For that reason, it is a good choice for all beginners.

Demo sound: https://soundcloud.com/user-21091212/concert-ukulele-sounds/s-JBqWONbfRQA
c. Tenor Ukulele:
Has 17 – 19 frets with the total length of 26 inches (66 cm). It has a deeper sound compared to the previous two. A good choice for beginners who want more versatility and players who intend to go on the long way.

Demo sound: https://soundcloud.com/user-21091212/tennor-ukulele-sounds/s-rDORLChKi3k
d. Baritone Ukulele:
The largest ukulele size with 19 – 21 frets and the total length of 30 inches (76 cm). It especially has a different tuning (DGBE) compared to the other three (GCEA). Works best with long-time, professional players.

Demo sound: https://soundcloud.com/user-21091212/bariton-ukulele-sounds/s-AbpjgQtr2CT
Now, Which Ukulele Size Do You Favour The Most?
With my personal experience and some pieces of online research on buying a good ukulele.
I would say that the soprano, concert and tenor ukulele are all good for a variety of players, with the lower-priced go well with beginners, and the higher-priced more suitable with the professionals.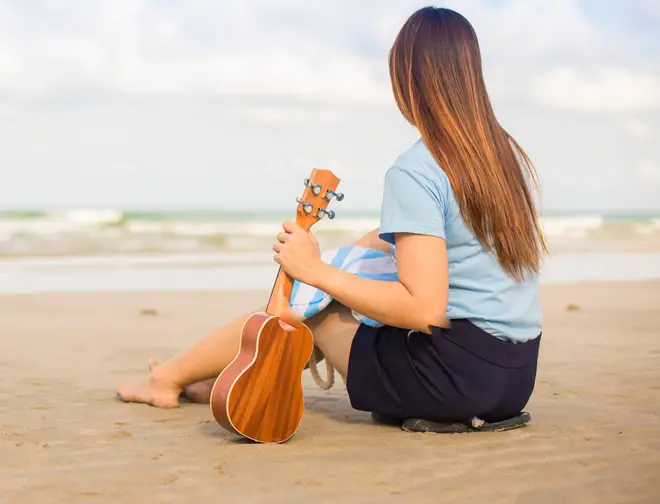 So, the main thing is choosing the one you have a liking for, and it's all up to your own aesthetic. Also, you can use the ukulele size guide and the demo sounds above to have a more detailed approach.
#2: Does The Wood Affect How The Ukulele Sounds?
Basically, you can say that there are two types of wood used to make ukuleles: solid wood and laminate wood. And you may have already known the differences between them.
Of course, ukuleles made from solid wood are great, but it doesn't mean that solid wood is always good and laminate wood is always bad. It depends on the quality of the wood. Thus, a well-made, laminate-wood ukulele can sound better than a poorly-made solid one.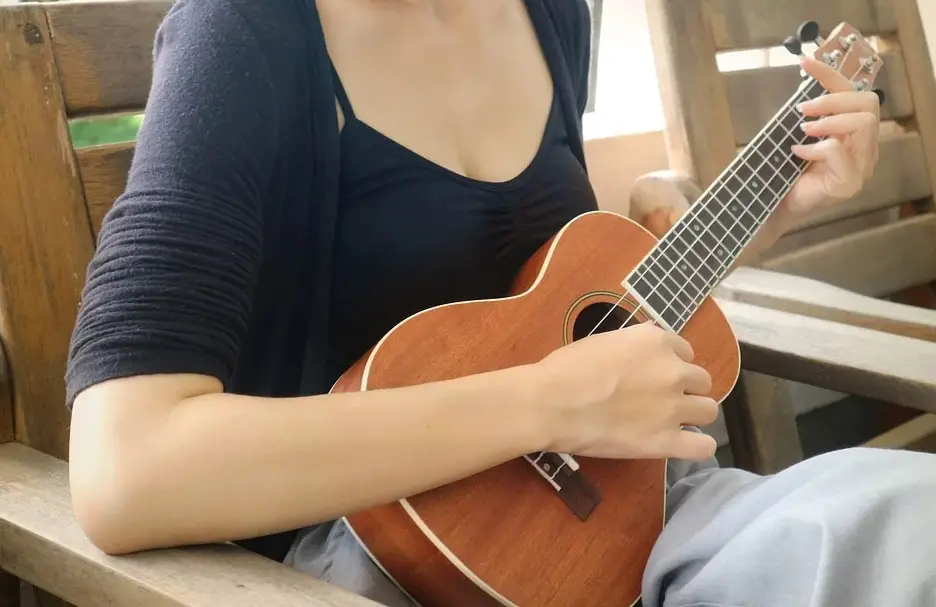 That's the reason why you should consider buying a good ukulele from trusted sellers. You don't need the "fancy look", the real thing is the work they put into it.
In addition, most of the good beginner ukuleles cost you around $100, and that's for laminate-wood ukuleles. If you are looking for a premium, solid-wood ones, you will need to spend at least $300.
Please remember to take account of the prices when purchasing a ukulele. You would not want to spend a lot of money on something that you don't really need.
But on the other hand, don't worry too much, because for a beginner, laminate wood would be like "a must", since you don't have that much.
#3: Set A Budget Range For Buying A Good Ukulele
You don't need a "flawless" ukulele for your first time. As you are learning and exploring the potentials of it, a standard ukulele is good enough.
And that leads to an important factor: a budget range for your ukulele. Just a few steps, but it makes things easier for you, as you don't have to worry about overspending anymore.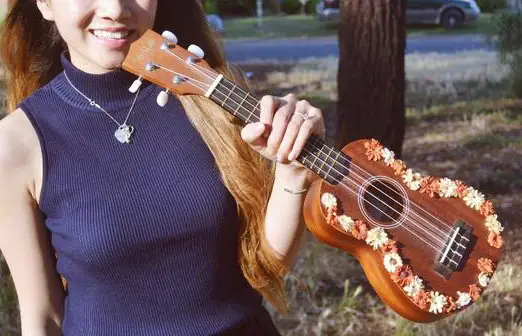 So let set one, for example, $70 – $125. Within this price range, you will find quite a lot of choices for good beginner ukuleles. The work left is thinking about what kind of music you want to play, your playing habits, and then comes the brands.
If you are still confusing, just give the sellers your price range, what you want, and they will tell you what they've got. That's the easiest.
#4: Best Ukulele Brand For Beginners
Below are some of the best ukulele brands for beginners, recommended by players throughout online communities:
Safe choice: Kala, Cordoba, Oscar Schmidt or Luna.
These are all renowned brands with regular customers all over the ukulele world. They have both "the look" and "the feel": well-constructed, good-looking ukuleles with resonating, in-depth sounds.
Budget brands: Donner or Makala, etc.
These are "newbie brands", with Donner not specified in ukulele making and Makala a "classic line" of Kala. But out of the "medium-range" labels, they have their own advantages and get positive feedbacks from players.
Personally, I think that Cordoba and Kala ukulele will mostly fit your beginner budget. My Cordoba 15CM Concert Ukulele is a great one for $85, with a beautiful, sweet sound and the considerable durability to stay in tune.
On the other hand, I'm a big fan of Kala's solidly built, smooth-sounded ukuleles as well. The KA-S Mahogany Soprano and the KA-C Mahogany Concert would be some other beneficial choices around $100.
#5: Best Ukulele Strings For Beginners
The strings have notable effects on how a ukulele sounds. The better the strings, the better the sound quality.
The thing is, you have to make sure that you get the right strings corresponding to the ukulele you have. For example, you can't use soprano ukulele strings on a concert or a tenor ukulele.
There are two main types of ukulele strings:
a. Nylon or Nylgut strings:
Produce clean and soft sounds, with impressive resonant. Also, the strings are a bit thicker and softer than Fluorocarbon strings, hence they are great for strumming.
b. Fluorocarbon strings:
Thinner, harder and produce brighter, stronger sounds than nylon strings. That's why they are good for fingerstyle or chord melodies.
Here are some best ukulele strings brands for beginners:
a. Aquila Nylgut strings: Somewhat the cheeseburger of ukulele strings. You can't go wrong with it. It can even make low-price ukuleles sound better.
b. Martin strings: Give you a clearer, more classical sound with their fluorocarbon strings. From a senior brand, established in 1833.
c. D'Addario strings: Produce warm, balanced sounds. The pioneer of nylon strings, so you don't have to mind the quality.
(Actually, there are many splendid brands out there. The best one(s) depends on your ukulele and how you feel: what goes well with it, helps it make the greatest sounds and suits your music taste.
For that, you can say each ukulele is like a human individual: its sounds are unique, and the feelings it brings you are unique.)
#6: Ukulele Accessories
1. Clip-on tuner:
Sale
Snark SN6 Clip-On Ukulele Tuner
You can use free tuner apps on your smartphone, but you should think about getting a "professional" one for the long ride. A clip-on tuner, therefore will be both useful and flexible, for example, the Snark SN6 Clip-On Ukulele Tuner
2. Nail Clippers:
Revlon Toenail Clipper, Curved Blade
Keeping your nails in good forms is essential to play strings instruments like ukuleles, since you wouldn't want your nails to interfere with your playing process – like strumming the wrong strings for example.
3. Ukulele Stand:
4. Book Stand:
Bamboo Reading Rest
Premium quality bamboo cookbook stand, holding small to large books with easy;
Made of high quality bamboo;
3 adjustable angle settings, folds down flat to store;
Product dimensions: 13.5 x 9.5 x 1 Inches / 34 x 24 x 2 cm (folded); 13.5 x 9.5 x 9 Inches / 34 x 24 x 23 cm (when most upright);
Ideal gift for your friends and family, book lovers or students.
5. Ukulele Bag: Soprano: 21''; Concert: 23''; Tennor: 26''
Ukulele Case Bag Bohemia stylet
✔ PERFECT ADAPTATION - Size 21in ukulele case: Length 57cm* Width 20cm* Height 8cm. suitable for Soprano ukulele. Please Check The Size of Your Choice!!!
✔ STRONGER PROTECTION - Exquisite Knitted Fabric Thickness 10MM cotton added for protect. Sponge handle double metal zipper.
✔ PORTABLE DESIGN - Backpack Shouldes Design It Uses High-density Woven Comfort Material. Big Pocket Can Accommodate Many Small Accessories.
✔ PROFESSIONAL BRAND - We are So Confident You'll Love Our Ukulele Cases, Please Believe the Strength of The Focus. Beat That.
✔WHAT YOU GET - Professional Packaging Transport Cost-effective Goods and Friendly Customer Service. Great Choice For Every Days.
The last words
It has been a long way through this post although it is just a ukulele buying guide for beginners that discuss some basic ukulele matters like sizes, prices, sounds and strings, etc.
It might not be enough to cover the whole thing yet, but I think it's enough to get you the very information you need. And hopefully, it will save you some time and money on the way to find a good beginner ukulele.