About this song:
Count on me by American singer and songwriter Bruno Mars. It talks about good friends who are always together no matter what. This is a nice song and has a beautiful meaning.
The song speaks of a beautiful friendship. No matter where the two soulmates are on this globe or how much hurt and pain they're experiencing, they will always be there for the other to count on and help their friends out whenever they need.
Play this song to your dear friends to show how much you adore them.
Ukulele Chords and Lyrics Count On Me by Bruno Mars
Below are ukulele chords and a youtube video for how to play the Count On Me song.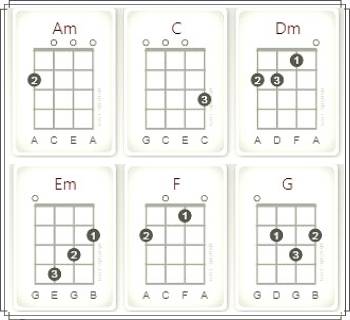 Chords and Lyrics for Count On Me by Bruno Mars
Strumming pattern: D D U U D U
Verse: C Em Am G F
Pre Chorus: Dm Em F G
Chorus: C Em Am G F
Bridge: Dm Em Am G – Dm Em F G
(VERSE)
If you [C]ever find yourself stuck in the middle of the sea[Em]
I'll [Am]sail the world [G] to [F]find you
If you [C]ever find yourself
lost in the dark and you can't see[Em]
I'll be [Am]the light [G] to guide [F] you
(PRE-CHORUS)
[Dm] …Find out what we're made [Em]of
When [F] we are called to help our friends in [G]need
(CHORUS)
You can [C] count on me like [Em]one, two, three
I'll [Am] be there  [G]
And [F] I know when I need it
I can [C]count on you like [Em]four, three, two
And you'll [Am] be there  [G]
'cos [F] that's what friends are s'posed to do
Oh [C]yeah
Ooh ooh ooh ooh ooh[Em]…
Ooh ooh ooh ooh ooh[Am]..  [G]
[F] Yeah [G] yeah
(VERSE 2)
If [C] you're tossin' and you're
 turnin' and you just can't [Em] fall asleep
I'll [Am] sing a song [G] beside [F]you
And if [C] you ever forget how much you really mean to me   [Em]
Everyday [Am] I will [G]remind you[F], oh
(PRE-CHORUS)
[Dm]Find out what we're made of [Em]
When [F]we are called to help our friends in [G]need
(CHORUS)
You can [C] count on me like [Em] one, two, three
I'll [Am] be there   [G]
And [F] I know when I need it
I can [C] count on you like [Em] four, three, two
And you'll [Am] be there  [G]
'cos [F] that's what friends are s'posed to do
Oh [C] yeah
Ooh ooh ooh ooh ooh [Em]…
Ooh ooh ooh ooh ooh [Am]..  [G]
[F] Yeah [G] yeah
(BRIDGE)
You'll [Dm] always have my [Em] shoulder when you [Am] cry   [G]
I'll [Dm] never let go, [Em]never say good-[F] bye, [G] you know you can
(CHORUS)
You can [C]count on me like [Em]one, two, three
I'll [Am] be there  [G]
And [F] I know when I need it
I can [C] count on you like [Em]four, three, two
And you'll [Am] be there  [G]
'cos [F] that's what friends are s'posed to do
Oh [C] yeah
Ooh ooh ooh ooh ooh [Em]…
Ooh ooh ooh ooh ooh[Am]..  [G]
[F] Yeah [G] yeah