Hello there,
As you click on this article, that must mean you want to shoot better film videos with your smartphone, right?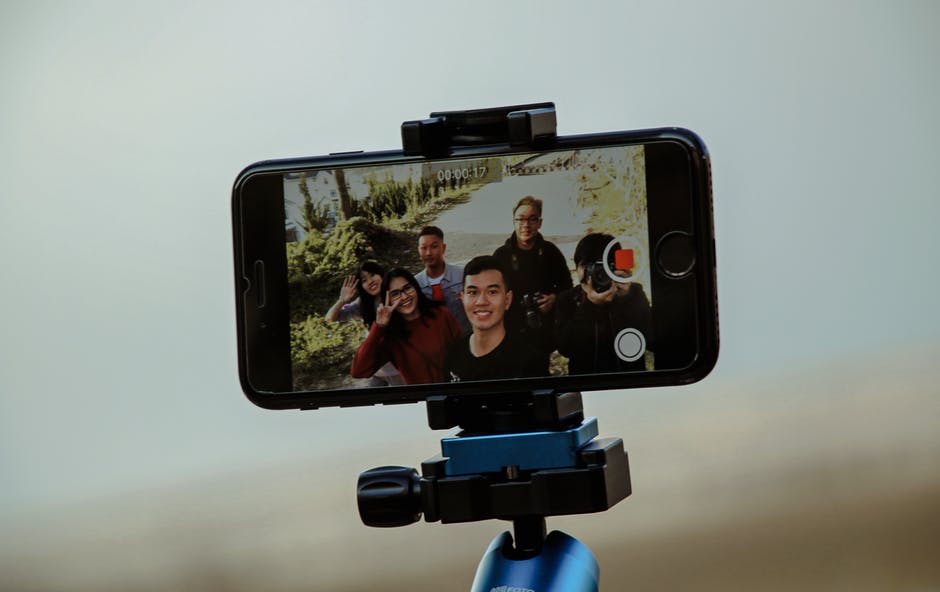 We shoot videos on phone to show off with friends, to keep good memories, or we simply like video journaling. Just like you, I use smartphones to shoot my vlog and travel videos.
However, only pull your phone out of your pocket and hit record won't capture you professional and attractive clips.
In this post, I will reveal the most important rules and tips in shooting a better film video with your smartphone.
I guarantee that your videos will come out much more cinematic and enticing. So make sure you read to the end,
So make sure you read to the end,
Let's go!
Simple rules to use your phone cam professionally
First, here we have 3 simple, yet important, rules to mind to before shooting a vid.
These rules sound so basic that I might sound silly pointing them out. Despite that, are you sure that you check all of these every time you shoot with your phone?
1. Clean the phone's lens
Clean the lens on your smartphone is the equivalent of taking the lens cap off a camera.
As we hold our phone, it's inevitable that your handprints obstruct the camera's view.
Always wipe your phone lens before shooting footage. Your best choice is to use a microfiber cloth. Otherwise, your shirt or skirt works just fine.
2. Hold phone by both hands
This is to improve the stability of your clip. Newer phone models have built-in image stabilization, but using two hands will give you even steadier footage.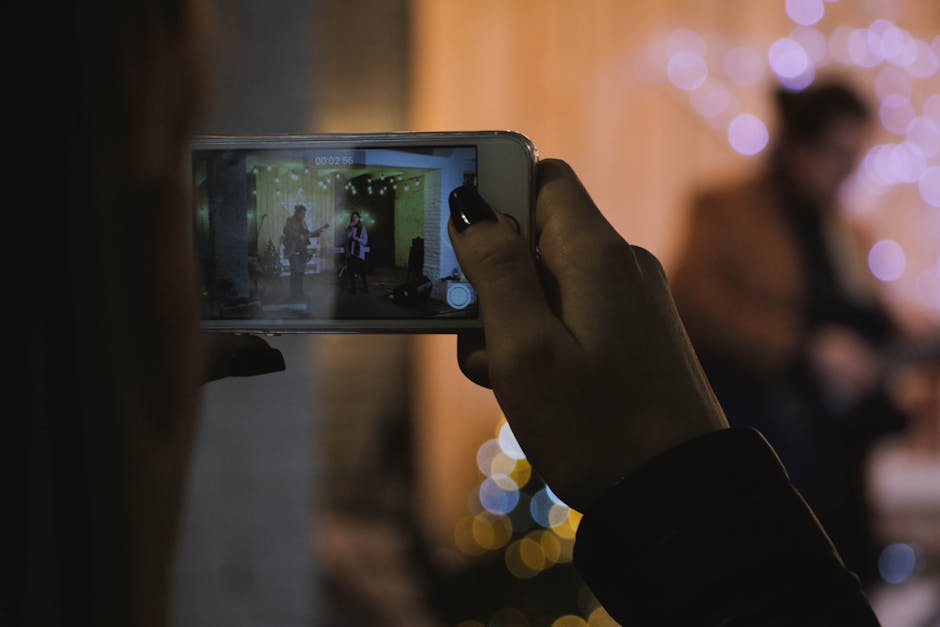 3.  Use the back camera
The phone's front camera is built to take selfies, and it should stay that way. Never use your front camera for shooting a video, because only the rear-facing camera can do the real filming work.
In all phone models, the front camera always:
Has fewer megapixels.
Has worse aperture.
Perform more badly in low light settings.
No dual focus
Give out less stable videos
Most importantly, you don't have a viewfinder using the front camera to shoot film.
Some people are used to the filtered effect of the front camera. However, if you want to improve your viewers' experience, it's time to switch from front to back.
With these 3 tips, you've known how to use your phone more viably. Next up, let's dig into the filming techniques.
4. Don't use zoom on Smartphone
Don't use the zoom on the Smartphone because it reduces the quality videos. I test it with many smartphones, including Huawei p20 Pro.
Instead of zooming in, take advantage of your phone handiness and move your phone closer to the object.
5. Shoot your video in landscape
Although they may not be aware of it, a video shot in portrait subconsciously upsets the viewer's experience.
When you shoot a video on your smartphone in portrait mode, you are violating not only the set video standard but also the law of nature as they pertain to human sight.
TV, cinema, and Youtube always demand that the picture is viewed horizontally for the best experiences. Even Facebook also rolls out its video on a 2:3 ratio.
If you want your viewers to have a pleasing experience, rotate your phone and shoot in landscape.
6. Manual control
Most people use a smartphone for the convenience it applies to our lives. However, a videographer will need to think about how to maximize a phone cam's potential to bring out fine-art grade video clips.
On automatic, you do have a speed advantage and can catch any moment that flashes before your eyes. That being said, set your phone cam on automatic also put you in a disadvantaged situation.
The areas we film in don't always have uniform lighting. As we move the camera, the image will change, thus the light will change. Automatic modes will swiftly change the exposure settings, as well as the color balance, exposure and focus points.
These shifts in settings will destroy the cinematic look that we aim for. Manual control can solve it.
LG, Samsung, and HTC include manual controls in the native camera app, with customizable shutter speed and ISO. However, you still need more than that to have satisfying footage. That's why professional filmmakers on phone always use apps.
7. Maximize your phone cam potential with the right app
Shooting by only your inbuilt camera app is tricky and limiting. Rather than a recommendation, it is a must that you use 3rd party video camera apps to have high-quality film clips.
The apps make your smartphone camera easier to control.
The inbuilt camera apps constantly hunt for focus, which makes the image comes out blurry. An app gives you autofocus, manual focus or even focus pulling options.
Exposure: without a 3rd app, your phone cam tends to boost the gain in low light situations. That results in video "noise", which is ready for mobile videographers. An app will resolve the challenge of low-light, high-brightness situations for phone cams.
Recommended phone video apps
The most popular app that phone filmmakers use is FiLMic Pro. This is also the app that helped Oscar-winner Sean Baker made his outstanding feature film.
Why is this app so awesome? There are 3 main reasons:
It gives you fine-tuned control over your phone's camera, including image analyzation, focus pulling, etc.
Record at almost any frame rate and aspect ratio
Log recording feature< which can unlock the unnoticed potential in your phone's camera chip.
As good as it may sound, the price tag $20 is quite heavy for beginners to acquire this app.
Although I am sure that this cost is actually a bargain for what you'll receive, there's an alternative of FiLMic Pro that can get you a glimpse of what a good mobile cinematography app should be. That is ProMovie Recorder.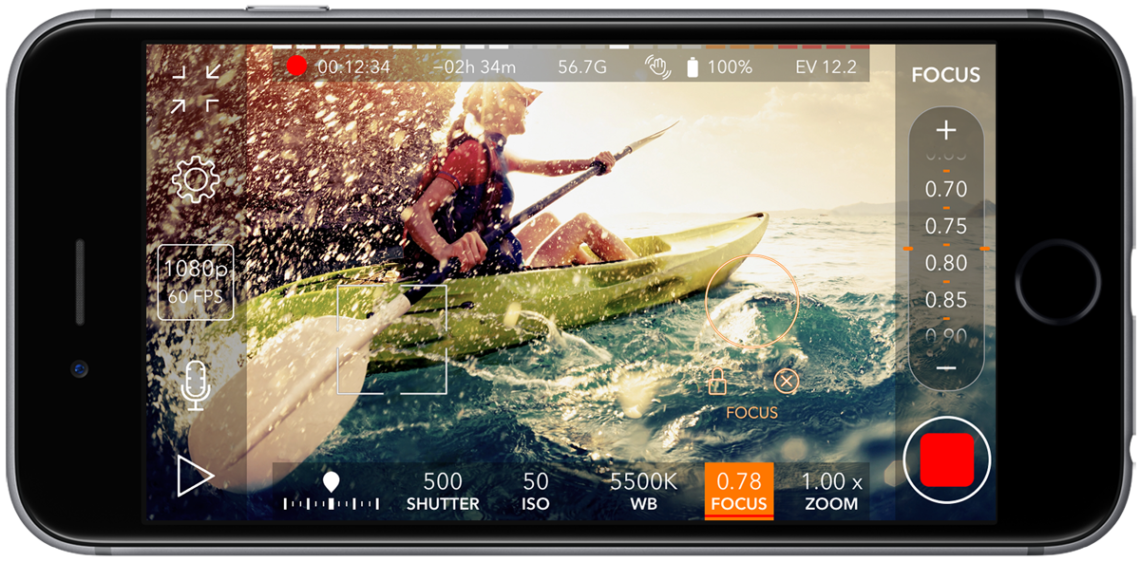 ProMovie Recorder gives you supreme control on shutter speed, iso, white balance, and manual focus. Except for the log recording feature
Frogyprod on Reddit said that he even shot real 3k footage on an iPhone 5s, and even iPod Touch with ProMovie Recorder.
It is one of the most powerful videos iOS app, with a dirt cheap price of $2.99.
Or you can even use it for free, with a watermark embed at the corner of your video. What's there not to try?
I will write more about these two apps in my later posts in this series, so stay tuned in.
Quick tips to film better with your phone
Above are the fundamental tips that ensure you can shoot your video more professionally than you did before.
In addition, we have a checklist that can leverage your film video quality to expert level:
Composition: Compose the elements in the scene/sequence deliberately. Imagine your phone screen as a canvas for a fine-art painter, and arrange the lines, forms, colors and textures to your aesthetics.
Experiment with Lightning: Experiment with light, and keep being aware of where the main light source is. Avoid backlighting, and have the light source to the side or behind you
Point Of View: Ask yourself: "How will this video's POV help me tell the story?" before you click recording.
Take some footage every day: A final film video comprises of many footages. Take advantage of your phone readiness and record footage whenever you have the chance. It will surely make the final product more tasteful.
Invest in accessories: a tripod and a USB mic can be nice additions to your film crew. Also, bring your power bank with you all the time, because recording video burns your phone's battery at lightning speed.
So, we're done with the most basic tips for mobile videography.
If you follow these rules, I believe that your film clips will come out with much more artistic and eye-catching.
Later in this series, we will further discuss cinematography and story-telling techniques on a smartphone. I will also let you know how to customize your phone cam like a pro videographer.
Which of these tips have you tried? Tell us in the comments!