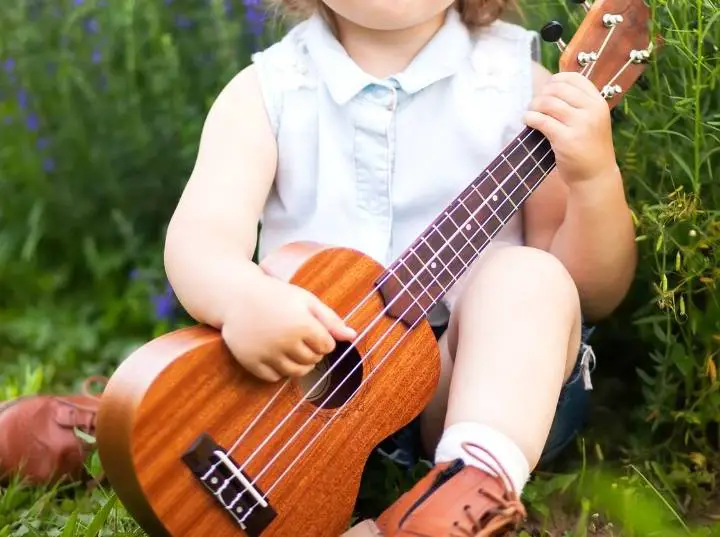 Running out of ideas for your children's birthday gift? Get them the best toy ukulele and bring out the artists in them. We will give you hints in this article.
Choosing gifts for children grows increasingly harder over the years. So, we will give you an idea: pick the best toy ukulele. At a young age, kids are very responsive to music and sound. They will love this present, no question asked.
>> Top 9 Best Plastic Toy Ukuleles For Kids Under $30 – Most Recommended ⇓⇓⇓
Tips On How To Pick The Best Toy Ukulele
First, think about the size. Children can't handle a big instrument, so you may want to pick a soprano.
Second, consider the sound. Most of the time, it's not worth it to choose a classical $100 instrument. Children love fun and "sparkling" tunes and will certainly enjoy the best toy ukulele more than professional ones.
Third, choose the right design. Is there any Disney or Marvel movie that your child adores? That's the cue. Pick one that they will feel proud and excited to hold.
Lastly, you shouldn't spend too much money on the ukulele for kids. A toy instrument should cost no more than $40 but don´t go to the extreme and choose one that costs less than $10. Its tune won't be adequate.
The Best Toy Ukulele For Your Kids
Keeping in mind the hints that we have given you above, you will know which is the perfect candidate for your children. Check out these cute ukuleles.
#1. Hhobby Stars Classical Toy Ukulele – Best For Classic Wooden Design
>>> Today's Best Deal: Check Latest Price on Amazon
The highlights of this toy instrument are its design and strings. The wood patterns are classic, giving a sense of professionalism if the young kid has a taste for real instruments. The ukulele goes with a harmonica as well, so you give them two gifts at the end.
The strings are made of flexible nylon that produces real vibrant sounds. They are coated to protect kids' fingers from scratches or irritation.
Reasons to buy: 
Safe strings
Professional design
Goes with a harmonica
#2. Yolopark Mini Ukulele Toy In Pink – Best for toddlers
>>> Today's Best Deal: Check Latest Price on Amazon
This product has a very cute design with pink background and dancing animals. Despite being a toy instrument, it is made with good-quality materials. The strings are flexible nylon which won't go loose and stretchy.
The best part? It is incredibly lightweight. A small child can't carry a heavy instrument around for too long as he or she will get tired quickly. But not with this one with the weight of roughly 340 g.
Reasons to buy:
Perfect for little princesses
Vibrant sounds
A strap and a tone dial included
Lightweight
#3. Hape kid's Wooden Toy Ukulele In Blue 6– Best sound quality
>>> Today's Best Deal: Check Latest Price on Amazon
A wooden instrument always sounds better than a plastic one. This high-quality toy is a dream come true for young music lovers. If your child has developed a love for instruments, this one is a wonderful start.
Reasons to buy:
Beautiful design
Nice sound, wonderful for beginners
Non-toxic paint for optimal safety
#4. Yolopark Mini Guitar Ukulele In Blue – Best budget toy instrument
>>> Today's Best Deal: Check Latest Price on Amazon
Being in the same line as the second candidate, you can expect the same quality from this one. The main difference is the design. If your kid loves the ocean theme, don't miss the chance to give him or her this blue ukulele. You will make their day!
Reasons to buy:
Cute for both boys and girls
Durable toy that will withstand time
Very affordable
#5. First Act Discovery Frozen Ukulele – Best design for Frozen's fans
>>> Today's Best Deal: Check Latest Price on Amazon
If the present receiver doesn't love this one, we don't know what else he or she will. It delivers a good sound just like any other instrument on this list. And it is a soprano, posing no trouble for your kid to carry it.
Reasons to buy:
Magnificent design for fans of Frozen
Good sounds
Flexible strings
#6. First Act Minnie Mouse and Daisy Duck Toy Ukulele – Best design for little girls 
>>> Today's Best Deal: Check Latest Price on Amazon
A fun and cute toy instrument for little princesses. You can count on this one to create a sense of music for your kid.
Reasons to buy:
Cute Minnie and Daisy design
Sturdy strings
Suitable size
#7. HANMUN Unicorn Ukulele – Best for safety 
>>> Today's Best Deal: Check Latest Price on Amazon
Another cute option for your child's birthday. It comes in a set of one ukulele, one string, and one pick – what a great kids toy ukulele for 3+ years old. Plus, the material is nontoxic and durable. You can rest assured that you will protect your child with safe toys.
Reasons to buy:
Cute design
Set with accessories
Nontoxic instrument body
Nice sounds
#8. First Act Blippi Toy Ukulele – Best craftsmanship 
>>> Today's Best Deal: Check Latest Price on Amazon
If your kid, nephew, or godson watches Blippi show, this mini will make a great gift. This product has amazing quality. The strings are made of nylon to offer full vibrant sounds. Plus, it is produced by First Act. You can always trust the craftsmanship of their toys.
Reasons to buy:
Durable design
Great sounds
Made for Blippi fans
#9. Grocery House Cute Mini Ukulele Toy – Best price
>>> Today's Best Deal: Check Latest Price on Amazon
Not just for practicing playing music, we can imagine lovely kids using this toy as a prop for costume parties. How cute will they be?
Reasons to buy:
Perfect design for boys and girls
Very affordable
Can be used as a prop for costume parties
#10. Satisfounder Ukulele – Best deal 
>>> Today's Best Deal: Check Latest Price on Amazon
If you don't want the color of a toy to define your child, pick this one. It has a beautiful wooden design, which is perfect for both boys and girls. Besides, your child will receive a set of one strap and two picks with a single purchase.
Reasons to buy:
Neutral design
Nice sound quality
Picks and a strap included
Nontoxic
Final Thoughts
Choosing the best toy ukulele is such an easy task. With an instrument, the birthday party will become more fun and energetic than one can ever imagine.
Only remember these keywords before settling on any option: nontoxic, nice sound, flexible strings, and you will have the perfect gift.