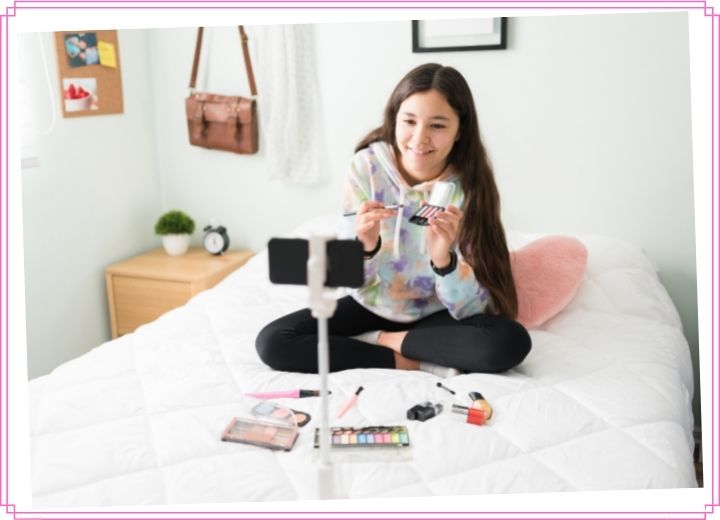 Are you looking for a mic for iPhone vlogging? This article will review and recommend top good quality microphones for your iPhone vlogging.
First, here are the important criteria to consider when choosing good quality mics for iPhone vlogging:
#1. Price: For beginners, I typically recommend products in the around the $100 – 200 range. With very low prices, it is hard to find good quality products.
#2. Build quality: You will want to have a good and beautiful product that inspires you. The poor quality microphone would damage your inspiration, and emotions, I'm sure that it will destroy your passion soon.
#3. Reliable brands: Here are some popular mic brands with reasonable prices that are highly recommended for beginners: Lewinner, Movo, Rode, Comica, Samson, Saramonic, and AKG. You will never get wrong with those brands.
#4. Sound quality: The best lav mic for the iPhone has clear sound and doesn't capture background noise that will be prior choices. See below, it is a list of quality wire and wireless lav mics for iPhones.
#5. Wired or wireless microphone: Wireless microphones will make your vlogs more convenient. However, the price is higher than wired lavalier mics but it is worth to invest.
The following products will solve all of the above problems well and bring unexpected benefits that you will need in a microphone for vlogging.
>>> Top 9 Good Budget Mics for Vlogging with iPhones ⇓⇓⇓
#1. Lewinner Wireless Lavalier Microphone
>>> Today's Best Deal: Check Latest Price on Amazon
Build quality
From the design, Lewinner Wireless has proven that the product meets the needs of recording vlogs with your iPhone quite well.
Specifically, the manufacturer has eliminated messy cables. Instead, you need to connect and use it directly.
When it comes to design, another commendable advantage of the product is the portable charging box. Combined with a small, sturdy clamp, all the above benefits have created a model of the best wireless mic for iPhone vlogging that you are always looking for.
Features
In addition to impressing with the optimal connection type, Lewinner Wireless also possesses a series of commendable advantages.
One of them can be an outstanding noise cancellation ability. In addition, as an iPhone owner, you will certainly be pleased with the ability to sync in real-time.
Lastly, Lewinner Wireless is proud to be the wireless product with the lowest latency in its price range when the delay time is only 0.009 seconds – an impressive parameter that promises to bring amazing experiences.
Performance
The great experience you get with this mic model is not simply about the low latency but also its ability to transmit sound even when used outdoors.
This representative from Lewinner is also one of the few options that can deliver professional full-range sound and support real-time multi-channel mixing.
>>> Today's Best Deal: Check Latest Price on Amazon
Reasons to buy
The wireless design eliminates messy cables.
Powerful, highly portable charging case.
Outstanding noise cancellation.
Self-synchronizing.
Auto-connect easily to set up.
Is Lewinner Wireless worth it?
With the removal of the wired connection and the many inconveniences of vlogging, combined with an impressive array of features, it's not surprising that Lewinner Wireless is one of the best mics for iPhone vlogging worth considering.
#2. Movo Edge-DI-Duo – Best wireless lav mic for iPhone
>>> Today's Best Deal: Check Latest Price on Amazon
Build quality
The Movo Edge-DI-Duo impresses with its simple design, no batteries included.
With this design, all you need to do is plug the mic directly into your smartphone to use the product. With the lightning jack, there is almost no difficulty connecting the mic to the iPhone.
Features
In addition to supporting the lightning jack, Movo Edge-DI-Duo also possesses a series of important features for high compatibility with iOS devices and meeting your vlog recording needs.
The product can connect stably with iPhone and iPad. This mic model maintains stable signal transmission up to 200 feet at 2.4 GHz with every device.
This mic model also owns many sound modes, from mono to stereo, combined with many volume customizations and headphone monitoring to meet your needs and use better.
Performance
Easy tuning and the high-quality audio output – the two most important criteria of a professional mic model have appeared on the Movo Edge-DI-Duo.
Thanks to that, even though it is just a device for recording vlogs with an iPhone, this Movo representative is confident that it can bring an experience not inferior to any professional mic model.
>>> Today's Best Deal: Check Latest Price on Amazon
Reasons to buy
Professional sound.
Easily adjust volume, and monitor headphones.
Wireless receiver, plug directly into the recording device.
Signal transmission up to 200 feet.
Multi-Directional polar pattern.
Is Movo Edge-DI-Duo worth it?
Movo Edge-DI-Duo has been designed to reduce technical hassles and features that provide the most impressive user experience. Therefore, if you are looking for a highly portable product compatible with the iPhone but still ensures the most professional experience, don't forget the Movo Edge-DI-Duo.
#3. Comica BoomX-D MI2
>>> Today's Best Deal: Check Latest Price on Amazon
Build quality
Unlike many devices on the market, Comica BoomX-D MI2 has a compact design and is lightweight. This highly portable microphone model also has a metal shell, which has a good sound capture effect and ensures excellent durability.
Features
In addition to the above advantages, Comica is also very generous when equipping BoomX-D MI2 with a series of special features.
First, the product possesses low latency and can automatically adjust the frequency. Next, this wireless lapel microphone boasts two audio input modes, accompanied by an internal and an external microphone.
More specifically, it is a wireless microphone model, but the product possesses an impressive operating time when it can reach a maximum of 5 hours.
Performance
BoomX-DMI2 can confidently transmit a stable and smooth signal with a series of the above equipment. With the flexibility in audio output mode, you can also use the device in a variety of ways to serve your vlog creation needs better.
More importantly, the product has excellent signal transmission, eliminating all background noise, which is useful for recording in noisy environments.
>>> Today's Best Deal: Check Latest Price on Amazon
Reasons to buy
2.4G digital RF technology.
Compact design, lightweight.
Excellent shielding metal case.
Automatic frequency adjustment.
Low latency.
Is Comica BoomX-D MI2 worth it?
Comica BoomX-D MI2 has a metal housing that eliminates noise and provides high-quality sound. All the above advantages have made a device that can accompany you in any environment, at any time.
#4. Ttstar Microphone Professional
>>> Today's Best Deal: Check Latest Price on Amazon
Build quality
Portable is the bright spot in the design of Ttstar Microphone Professional. The product includes a small mic head and a sturdy metal clip, making it easy to use the device in various situations.
Features
The advantages of this representative from Ttstar lie not only in portability.
The product also possesses impressive noise reduction technology combined with the professional studio recording quality.
This mic model is also quite easy to set up, making it easy to connect to iOS devices but does not require an adapter cable.
Performance
With a host of features above, there's no doubt that the Ttstar Microphone Professional is one of those products that deliver high-quality sound close to professional studio quality.
In particular, the product possesses a high-sensitivity professional high-end chip, creating a microphone model with high-class sound quality, thereby saving maximum post-production time.
>>> Today's Best Deal: Check Latest Price on Amazon
Reasons to buy
Professional studio-like recording quality.
Built-in noise cancellation technology.
Mobile design.
No driver is needed.
Easy to set up.
Is Ttstar Microphone Professional worth it?
Ttstar promises to bring you great experiences, minimizing post-production time with professional studio-like sound quality, noise reduction techniques, and easy adjustment.
#5. PowerDeWise Professional Grade
>>> Today's Best Deal: Check Latest Price on Amazon
Build quality
PowerDeWise Professional Grade features extra-long cords and a sturdy clip design. Another advantage of this mic model is that the wire is protected, minimizing the phenomenon and noise.
Features
PowerDeWise Professional Grade has a host of advantages. Among them, one of the most commendable advantages of the product is that it is set up without requiring drivers easily. Also, you won't have compatibility issues with any of your existing devices.
Performance
You should have almost no problem connecting the mic to smart devices or cameras. All you need to do is plug in the microphone. You can also take advantage of a 3.5mm TRRS to TRS jack adapter in some cases.
>>> Today's Best Deal: Check Latest Price on Amazon
Reasons to buy
Clear sound, no noise.
Cord length up to 79".
Includes TRRS jack adapter.
One-year warranty.
Widely compatible.
Is PowerDeWise Professional Grade Lavalier Lapel worth it?
Don't waste time creating your vlog. Instead, choose PowerDeWise Professional Grade to save maximum setup time, improving output quality.
#6. Pixel Lavalier Microphone
>>> Today's Best Deal: Check Latest Price on Amazon
Build quality
Pixel Lavalier Microphone weighs only 0.32oz, and the maximum diameter is 0.43". Thanks to the ultra-small design, you can easily tuck the product into your clothes and use it for many different purposes.
Another advantage in the design of this microphone model is the strong aluminum alloy shell. Thanks to that, you can completely be creative on the go without having to worry too much about the product's durability and operability.
Features
Along with the impressive design of the product is the sound filter chip. The appearance of this filter chip promises to reduce background noise, thereby ensuring transparent sound that you can hardly find at a price.
Performance
It can be that the Pixel Lavalier Microphone is the right mic model for people on the go, a big part of which lies in the sound that is always clear and consistent.
The device's filter chip can ensure the impressive transparent sound quality you've always been looking for, even in noisy environments.
>>> Today's Best Deal: Check Latest Price on Amazon
Reasons to buy
Have a lightning connector.
Clear and consistent sound.
Lightweight, compact design.
Durable aluminum alloy housing.
Do not use batteries.
Is the Pixel Lavalier Microphone worth it?
With a series of advantages as above, it can be that not many products are suitable for people on the go, like Pixel Lavalier Microphone – the best LAV mic for iPhone.
#7. Movo VXR10-PRO
>>> Today's Best Deal: Check Latest Price on Amazon
Build quality
The Movo VXR10-PRO kit includes a compact shotgun microphone, a sturdy stand, and a convenient windshield and adapter.
More interestingly, this microphone model has a battery-free design, operating on the power of the phone or camera. As a result, Movo VXR10-PRO is one of the most portable devices.
Features
Besides impressing with its high portability and being suitable for pairing with iPhone, this microphone model can also satisfy even the most demanding users in terms of sound quality.
The reason lies in the product that supports headset monitoring via the application, combined with the high-precision Supercardioid.
In addition, accompanying the microphone is the Rycote Lyre shock mount, which effectively eliminates noise and vibration.
Performance
Compared to quite a few other standard directional microphones, it is clear that this representative from Movo delivers impressive sound with significantly more accuracy. In particular, when using the product in a noisy environment, you can still be satisfied with the impressively clear, transparent sound quality.
>>> Today's Best Deal: Check Latest Price on Amazon
Reasons to buy
Support audio monitoring.
Compatible with many audio devices.
Supercardioid has high accuracy.
Rycote Lyre shock mount.
High-quality sound.
Is Movo VXR10-PRO worth it?
Record vlog with iPhone but still have high-quality sound; why not? Find the Movo VXR10-PRO – the best shotgun mic for iPhone – and you'll have the most impressive experience for the price.
#8. Saramonic Professional Mini
>>> Today's Best Deal: Check Latest Price on Amazon
Build quality
One of the commendable advantages of the Saramonic Professional Mini's design is its compact, pocketable design. In addition, the product also has a 180-degree rotating microphone head, which effectively captures the omnidirectional sound and supports quite well during the setup process.
Features
As the most portable mic model, the Saramonic Professional Mini is also one of the options with excellent sound quality.
The reason lies in the product's omnidirectional capacitors, wide frequency response, and excellent compatibility with any smartphone model.
Performance
The product's omnidirectional condenser design has brought a real revolution.
This mic model boasts impressive sound quality and the ability to record various sounds and helps you create the most vivid and engaging vlogs.
>>> Today's Best Deal: Check Latest Price on Amazon
Reasons to buy
Mobile design.
The microphone head can be 180 degrees.
Omnidirectional condenser microphone.
Wide frequency response.
Includes windshield.
Is the Saramonic Professional Mini worth it?
With sound quality and high portability, there is no doubt that Saramonic Professional Mini deserves the title of the best mic for vlogging with iPhone.
#9. Shure MV88
>>> Today's Best Deal: Check Latest Price on Amazon
Build quality
The Shure MV88 has long had a reputation as one of the most durable. And in fact, the metal structure and the flexible adjustment of the product are the clearest evidence for the above statement.
Features
As a durable device, you want to be with the product for a long time because of its impressive range of features.
One can be mentioned as the ability to customize performance through a smart application or cancel noise thanks to the integrated windshield.
Performance
Shure MV88 offers a completely different user experience. Instead of setting up microphones and starting to record sound through regular physical keys, it allows you to make adjustments easily and intuitively through smart apps.
Besides providing an unprecedented convenient user experience, Shure MV88 is the best shotgun mic for iPhone with admirable sound quality today. It has eliminated wind noise quite well and created favorable conditions. Maximum conditions for professional audio and video recording.
>>> Today's Best Deal: Check Latest Price on Amazon
Reasons to buy
Flip and rotate the microphone flexibly.
Full metal construction.
Includes black foam windscreen.
Customize audio performance via the app.
Compatible with any iOS device with a Lightning connector.
Is Shure MV88 worth it?
The Shure MV88 meets all your expectations of the best mini shotgun mic for the iPhone vlogging model: the product is both durable and of good quality and possesses a series of smart support features.
With the proven durability and reliability of the brand, I believe it is a perfect choice for those looking for a cheap version but with relatively stable quality.
You will get one year warranty for all hardware and six months for accessories. Obviously, the manufacturer has tried to guarantee their credibility for such a cheap product.
It can be that, whatever your usage needs are, you will not regret choosing this representative from Shure.
Conclusion
The detailed suggestions above have been useful enough for you to find your own best mic for iPhone vlogging. Hopefully, you are always satisfied with your choice; from there, have high-quality vlogs with your iPhone.
If you have any other related questions, don't forget to leave a comment in the section below. We will make an effort to provide specific and accurate answers as soon as possible.
Finally, don't hesitate to share this article with your friends or colleagues who might be looking for a suitable version. Thank you for reading!
FAQs
After reading through this list of the best mic models to consider today, you'll want to find answers to some frequently asked questions before you make your final decision. And here are some of the information you're always looking for:
#1. Can I use a wireless microphone on my iPhone?
Currently, all iPhones support wireless connectivity. Therefore, even in case you use an iPhone 7, you can still connect the device to a wireless microphone.
#2. What mic do YouTubers use for vlogging?
Most vlogging Youtubers prefer wireless lavalier microphones – a device for the most impressive voice recording capabilities. Here are some good choices for you: Movo Edge-DI-Duo and Lewinner Wireless Lavalier Microphone.
#3. What equipment do I need to start a vlog?
Simply, all you need to prepare is an iPhone or a quality camera smartphone combined with a professional wireless lav microphone to create a vlog.
#4. Can you use Rode Lavalier Go with your iPhone?
You can use Rode Lavalier Go with your iPhone. However, you will need the included TRRS plug if your device does not have a headphone jack.
#5. Can you use a shotgun mic on your iPhone?
Currently, there are quite a few shotgun mics that are compatible with the iPhone, so you can choose this device for your vlog trips.
#6. How do I pair my lavalier to my iPhone?
For iPhone in particular, smartphone models in general, usually you need to plug the mic into the 3.5mm audio jack. If you own an iPhone 7 or newer devices, you will need an adapter to convert the jack from 3.5mm to the lightning port.
#7. Is the iPhone good enough for vlogging?
The iPhone is ideal for vlogging for beginners. However, the camera still delivers better product quality with a host of specialized features, combined with a wide range of connectivity and accessories.
#8. Do you need an external mic for vlogging?
An external microphone is required if you want to get high-quality vlogs with your phone. Because despite a series of efforts to improve the quality, the phone's sound has never been appreciated.