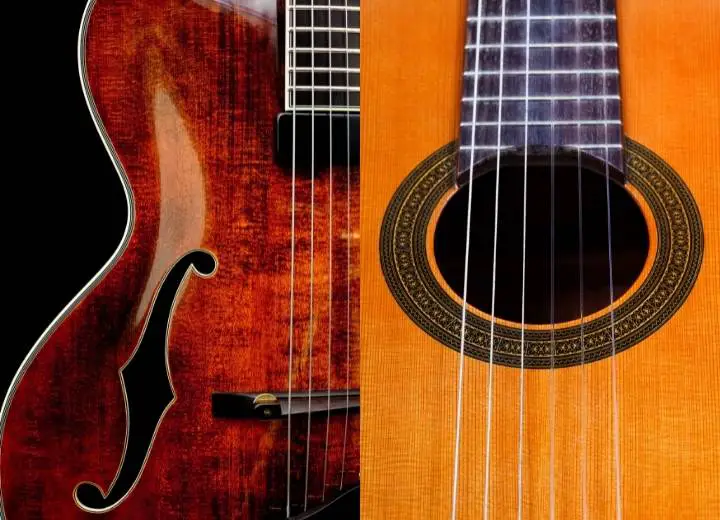 There are a few manufacturers who have decided to add f-holes instead of round holes to their guitars.
So what's the real difference between an f-hole acoustic guitar vs. a round-hole? Do f-holes make a guitar sound better?  
What is the soundhole?
The soundhole is where the sound comes out of the guitar body.
When you strum, the strings create sound waves. They oscillate and amplify inside the guitar's body. They then exit through the soundhole. As a result, we can feel the sound of the guitar.
Soundholes typically have the following shapes:
Round holes: You can see them on acoustic or classical guitars.
F-holes:

You can see f-holes on violins. Many manufacturers even apply f-holes to their guitars.

C-holes:

You can see c-holes on violins

Rosettes:

You can see rosettes on lutes và harpsichords

D-holes:

You can see D-holes on bowed lyras
The formation history of f-hole
Originally, the f-hole seems to be a design specifically for the violin.
They are openings on both sides of the body of the violin. They have the effect of helping the sound of the violin to spread to the outside.
Later, people also applied the f-hole to guitars. However, this does not seem like a good idea.
F-hole acoustic guitar vs. round hole
1. F-hole acoustic guitar
You will often see f-holes on violins more often. F-hole is very useful for violins. However, It does not work very well for guitars.
F-hole acoustic guitars are very uncommon. As for the f-hole guitars, they come with two f-holes which are symmetrical across strings. The F-hole gives the guitar a unique beauty. However, it does not have a good impact on the sound of these guitars.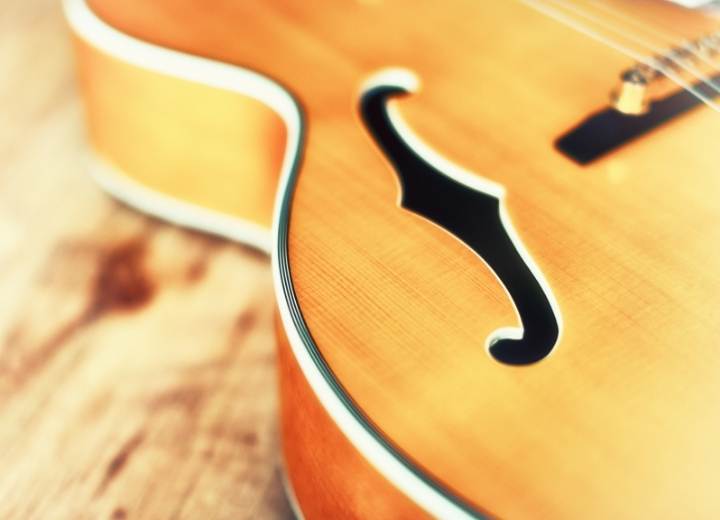 Although f-hole guitars have very distinctive bodies, their sound is often not great. They only sound good when you connect them to an amplifier.
2. Round hole guitar
They have a hollow body that acts as an amplifier. Therefore, it is not surprising that they produce a more natural and wonderful sound.
When comparing f-hole and round-hole, a lot of people think that round-hole acoustic guitars sound better. However, if you amplify the round hole acoustic guitar, it sounds good too.
Looking for the best f-hole acoustic guitars? Some good options for you
Even though f-hole guitars aren't as common, you can still find one easily. 
1. Godin 5th Avenue Jazz
In general, this is an affordable and reliable guitar. It has a compact design. The manufacturer used Canadian Cherry Wild Cherry for its body. 
Its design is simple yet very classy. You can use it to play music genres like Alt-Country, Delta Blues, Slide, Jazz to Rock. 
Pros
Simple but elegant design

The typical timbre of jazz music

Affordable price

Lightweight.
2. Gretsch G100CE synchromatic cutaway
When it comes to vintage-themed models, Gretsch is a king. Gretsch G100CE is one of their proud products. If you are looking for an affordable jazz guitar, it is a great choice for you. 
Although it has a simple design, the lovely guitar still gives the user a characteristic classical beauty. 
In particular, it delivers a rich and pleasant sound. As a result, it is a perfect instrument for playing jazz music.
For the mid-range price, it is one of the best models you can buy.
Pros
Simple but elegant design

Affordable price

rich and full sound
3. Dean RESCEHB Resonator
For under $1,000, the Resonator Thin Body Electric Cutaway is a reliable choice for any guitarist. 
The manufacturer has copper-plated the body of this guitar. You can easily find the floating palm tree on the top and back. 
That makes the look of this guitar so special. Although this guitar is quite thin, its performance is still amazing.
In general, the Dean RESCEHB Resonator is a reliable resonator guitar. It is suitable for beginners. It is also good for experienced players.
Pros
Unique design

Good performance

Reliable resonator guitar
4. Boxcar Squareneck Gretsch G9210
The Boxcar Squareneck Gretsch G9210 is an instrument that can take you back to 1930s Tennessee. It has a simple yet elegant design. The manufacturer used laminated mahogany to create this charming guitar.
It provides quite warm tones. This guitar is a great choice for playing bluegrass and country. If you are a fan of the 1930s style, you shouldn't miss this lovely guitar.
Pros
Affordable price

Elegant design

Wonderful sound
5. Ovation Celebrity Elite CE44
This list would be incomplete without mentioning Ovation Celebrity Elite CE44. Its material is spruce wood. Therefore, it has an amazingly classic beauty. It provides good sound. You can use it to play some great country music.
Are you ready to perform some unexpected jazz at an intimate gathering? Then, let Ovation Celebrity Elite CE44 support you!
Live sound

Elegant design

Lightweight

Affordable price
Conclusion
In general, for guitars, round holes are easier to play than f-holes. The choice of f-hole acoustic guitar or round hole is up to the guitarist's point of view and style. 
Whether it's an f-hole acoustic guitar or round hole guitar, it has its personality. Hopefully, the above article has brought new knowledge about these two types of excellent guitars.