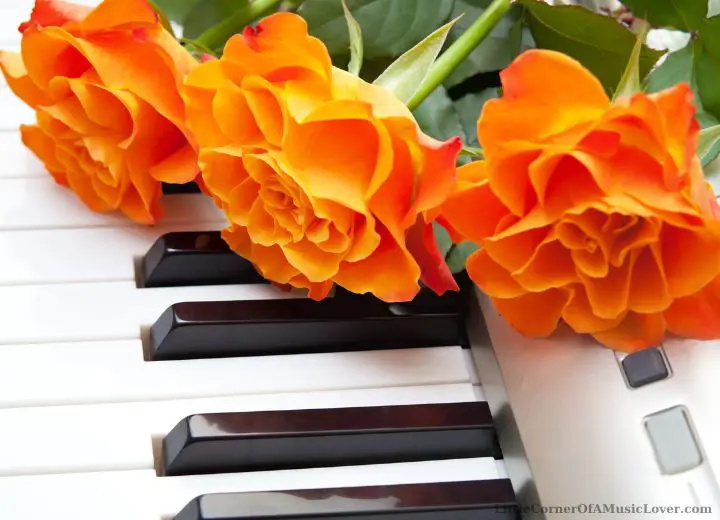 Flowers have been an inspiring topic for songwriters throughout the centuries, and it is easy to understand why.
Their beauty, fragility, and vivid colors lend themselves to being evocative symbols of love, appreciation, and joy.
From classic rock to Motown classics and contemporary pop music, there are many wonderful songs that feature flowers prominently in their lyrics.
Here, we will explore incredibly famous songs about flowers that capture the power of this timeless natural wonder.
1. "Like A Rose" By Ashley Monroe
"Like A Rose" by Ashley Monroe is a beautiful country love song that speaks to the fragility of relationships.
The song tells the story of two lovers who, like a rose, can be strong and fragile.
The delicate vocal performance, coupled with the lush instrumentation, creates an incredibly romantic atmosphere that emphasizes the beauty and sadness of love.
2. "Life Is A Flower" By Ace Base
Life Is A Flower is an unforgettable hit song by Ace of Base. Released in 1998, the upbeat and catchy melody draws inspiration from the joys of being in love.
The lyrics focus on the beauty of a relationship, comparing it to a flower that continuously grows and develops over time.
This metaphor for life highlights how life affects us and how we affect it as we explore the joys of love with our partner.
3. "Scarborough Fair" by Simon & Garfunkel
"Scarborough Fair" by Simon & Garfunkel is one of the most beloved folk songs of all time.
The song recounts a lover's plea to his former beloved to fulfill impossible tasks if she genuinely loves him.
Despite its cheerful melody, it has been suggested that the lyrics tell a deeper story of betrayal and unrequited love.
Thus, this song is an enduring reminder of the complexity of human relationships and the bittersweet nature of love.
4. "Lavender" by Marillion
Marillion's classic 80s song "Lavender" is a wonderful ode to lavender's calming and fragrant beauty.
The haunting, atmospheric music perfectly captures the bittersweetness of an old love affair that still lingers in the air like lavender's gentle scent.
With its evocative imagery, "Lavender" is one of Marillion's most beloved songs and one of the best examples of a song about flowers.
5. "Lotus Flower" By Radiohead
"Lotus Flower" by Radiohead is a popular song that touches on love, loss, and rebirth.
It depicts the transformation from darkness and doubt to beauty and hope.
The lyrics talk about being able to look around and see the beauty of the lotus flower, even in times of difficulty.
With its uplifting message, "Lotus Flower" is an anthem for perseverance and resilience in adversity.
6. "Black Roses Red" By Alana Grace
"Black Roses Red" by Alana Grace is one of the most iconic songs about flowers ever written.
The song speaks to a deep emotion as the protagonist reflects on a broken relationship and realizes their love can never be rekindled.
The lyrics describe how the black roses represent sorrow, while the red roses suggest hopefulness for something better in the future despite all that has gone wrong in their past.
7. "Every Rose Has Its Thorn" By Poison
"Every Rose Has Its Thorn" by Poison is an iconic 80s power ballad.
The song speaks of the pain and suffering that comes with love, symbolized by a rose and its thorns.
It was released in 1988 as the second single from their album Open Up and Say… Ahh! and became a major worldwide smash hit, peaking at number 3 on the Billboard Hot 100 chart.
8.  "Eighteen Yellow Roses" by Bobby Darin
"Eighteen Yellow Roses" by Bobby Darin is an upbeat and classic love song.
The song is about a man who has sent his sweetheart eighteen yellow roses, one for each day of their absence from each other.
He goes on to say that he needs her more than words can say and that without her presence in his life, his heart will break down.
This song celebrates the power of true love, as represented by the eighteen beautiful yellow roses, which symbolize eternity and devotion.
9. "You Don't Bring Me Flowers Anymore" by Barbara Streisand
"You Don't Bring Me Flowers Anymore" by Barbara Streisand is a beautiful song about the love and passion we have for one another that has faded over time.
It highlights how we become so used to the little things like bringing flowers that a lack of them can signify the end of a relationship.
The lyrics tell how both parties in the relationship have grown apart despite all their efforts to keep it together.
10. "Plastic Roses" By Jessica Sanchez
"Plastic Roses" by Jessica Sanchez is a song about love's tangible and intangible beauty.
It poignantly expresses how, although love can come in all different forms, what matters most are the underlying feelings that help create a strong bond between people.
Rather than focusing on relationships' superficial or material aspects, this song emphasizes that even though plastic roses won't last forever, true feelings will continue to blossom.
As she sings, "I know it's not actual love, but everything can grow if you just hold on", Sanchez reminds us to treasure the things we have and to look past physical items for absolute joy.
11. "The Rose" By Bette Midler
Bette Midler's classic, "The Rose," is a beautiful ode to never giving up on love despite feeling vulnerable and unsure of its future.
The song speaks to those uncertain moments when everything feels uneasy, and you need someone to show you they care.
12. "For The Roses" By Joni Mitchell
"For The Roses" by Joni Mitchell is a beautiful, sad song exploring the transitory nature of life and love.
Written in 1971, this masterful ballad speaks to our search for beauty amidst change.
The song pays homage to an unrequited love that grows and fades like the roses in the lyrics.
Even with broken hearts, we can find solace in understanding that nature's cycle of beauty continues despite all else.
13. "Supermarket Flowers" By Ed Sheeran
"Supermarket Flowers" by Ed Sheeran is a beautiful song that captures the bittersweet sentiment of letting go.
The song speaks to how the beauty of life and death can coexist in a single moment.
14. "Kiss From A Rose" By Seal
"Kiss from a Rose" by Seal is a beautiful and romantic song about blossoming love.
The lyrics paint the picture of someone looking for "the answer" to their feelings and finally finding it when they receive a kiss from a rose.
This symbolizes how something as small as a kiss can be so meaningful and signify true love.
15. "Dead Flowers" By The Rolling Stones
"Dead Flowers" by The Rolling Stones is a timeless classic about the beauty and fragility of life.
The song paints a vivid picture of the different seasons that bring with them flowers in bloom and their eventual death.
It's an ode to the circle of life, with lyrics like "Once I had a little rosebud / Growing up so sweet and low / I watched her every morning / When the dew it kissed her brow," conveying this message poignantly.
16. "Run For The Roses" By Dan Fogelberg
"Run For The Roses" by Dan Fogelberg is a beloved country-pop song about embracing life and chance.
The lyrics explore the idea that, no matter how uncertain life may seem, it is vital to seize every opportunity and take risks to reach your dreams.
17. "Marigold" By Nirvana
"Marigold" by Nirvana is a classic rock masterpiece, full of emotion and meaning.
It was written by Kurt Cobain and released in 1993 as the B-side to the band's famous single "Heart-Shaped Box."
The track paints a vivid picture of a romantic relationship that has grown fascinated with its natural surroundings.
The lyrics describe how the flowery orchid, marigold, and lily have come to mean so much more than just aesthetic beauty; they symbolize deep emotional ties that bind the couple together.
18. "Build Me Up Buttercup" By The Foundations
"Build Me Up Buttercup" by The Foundations is an upbeat and cheery tune that celebrates the power of love.
Released in 1968, it tells a story about two lovers who have gone through hard times.
Its gentle melody and lyrics invoke the healing power of love, which makes it one of the most beloved songs of its time.
19. "(Listen To The) Flower People" By Spinal Tap
"Listen To The Flower People" by Spinal Tap is a fun and upbeat song that celebrates the beauty of nature.
It's a song about connecting with the world around us, appreciating the simple things in life, and being open to new experiences.
Lyrics like "Look at the daisy, swaying in the sun" evoke serenity, showing how much one can gain from slowing down and immersing oneself in nature.
20. "(Nothing But) Flowers" By Talking Heads
"Nothing But Flowers" by Talking Heads is an upbeat, catchy song that reflects how our world could be if we chose to leave it as nature intended.
It paints a picture of a future where, instead of highways and industrial buildings, there are wildflowers and meadows, with plenty of trees to provide shade.
21.  "Field Of Flowers" by Sixpence None the Richer
"Field Of Flowers" by Sixpence None the Richer is an evocative and touching song about what it's like to be deeply in love.
The lyrics explore a variety of emotions associated with love, including joy, longing, and sadness.
With its idyllic imagery of endless fields of flowers gently swaying in sunny meadows, the song creates a dream-like and hopeful atmosphere.
Its gentle melody and enigmatic lyrics make "Field Of Flowers" one of the most beloved songs by Sixpence None the Richer.
22. "Flowers In Your Hair" by The Lumineers
"Flowers In Your Hair" by The Lumineers is an upbeat track about appreciation and love.
Its lyrics remind us to take the time to recognize and appreciate the beauty in life, encouraging listeners to cherish moments with their loved ones and celebrate the simple things.
The song conveys an uplifting message of hope, reminding us of the power of nature as a source of inspiration.
With its bright melodies and catchy chorus, it's sure to put a smile on your face and fill you with optimism!
23. "Wild Flower" by The Cult
"Wild Flower" by The Cult is a classic rock song about the beauty and freedom of life.
It speaks of how wildflowers bloom, grow without boundaries, and display their beauty despite their harsh environment.
It encourages people to be brave and live passionate lives like wildflowers.
The lyrics remind us to take chances, express ourselves freely, and never forget what makes us unique.
24. "Life Is A Flower" by Ace Of Base
"Life Is A Flower" by Ace Of Base captures the beauty and emotion of life in its catchy beat and uplifting lyrics.
The song expresses that life is precious and should be enjoyed thoroughly. It reflects on how every moment is a petal in the flower, representing fulfillment today and hope for tomorrow.
25. "Virginia Bluebell" by Miranda Lambert
Miranda Lambert's upbeat and catchy song "Virginia Bluebell" is about the beauty of encountering new love.
The poetic lyrics perfectly capture the wonder and joy of falling for someone and the appreciation of effortless chemistry.
Singing of wildflowers, stars, and sunsets, Miranda conveys a feeling of lushness and joy that is all too familiar to those in the throes of a newfound romance.
FAQs
What song is named after a flower?
One song named after a flower is "Daisy Bell (Bicycle Built for Two)" by Harry Dacre.
The lyrics tell the story of a man who serenades his love with an old-timey two-wheeler ride, singing out, "Daisy, Daisy, give me your answer, do!" as they pedal along.
The tune has remained popular over the years, inspiring covers from Elvis Presley to Alvin and the Chipmunks!
What flower is associated with music?
The delicate and vibrant flower most associated with music is the Lily of the Valley.
Its sweet but strong scent, white bell-like petals, and association with springtime make it a favorite for expressing joy in song.
It is often included in musical compositions, bridal bouquets, special occasions such as anniversaries or graduations, and as a symbol of hope and new beginnings.
What song has the same vibe as Flowers?
"Flowers" by Bon Iver has an uplifting and reflective vibe to it, so you may want to look for other songs that create a similar atmosphere.
For instance,
"I Will Follow You Into the Dark" by Death Cab for Cutie
"Skinny Love" by Birdy.
"Home" by Edward Sharpe & The Magnetic Zeros,
"Patience" by Get Scared,
"We Found Each Other in the Dark" by City and Colour.
These songs have emotional solid undertones that could give you a similar feeling to Flowers.
What flower is associated with a song?
The flower that is often associated with a song is the rose. It symbolizes love and beauty, which are two common themes in songs.
This classic flower has been featured in romantic songs like "Roses are Red" by Bobby Vinton and "Lovely Rose" by Frank Sinatra.
The rose has also been used as a metaphor for someone's heartfelt emotions in hit songs like Lady Gaga's "Million Reasons" and Taylor Swift's "Red."
The long-lasting beauty of this bloom can be captured in meaningful lyrics, making it an ideal choice when creating a song about love or life.
What type of music do Flowers like?
Flowers may not be able to pick out their favorite music genre, but they enjoy calming and peaceful vibes.
Soft instrumental tunes or light jazz pieces make them feel comfortable.
Nature sounds like a gentle breeze, birds chirping, or a waterfall can also be soothing, especially when combined with a light ambiance.
Classical music is also an excellent choice for flowers as it's often relaxing and harmonious.
Regardless of the music you choose for your flowers, ensuring it's pleasant and calming will help your space remain tranquil while giving your plants some extra love.
What is the most streamed song Flowers?
"Flowers" by Juice WRLD is the most streamed song ever.
Released in 2018, the track quickly went viral and has since been streamed over 1 billion times on various music streaming services.
Conclusion
Overall, many famous songs about flowers capture the beauty and power of these natural gifts.
Whether expressing love or admiration for someone special, reflecting on life lessons, or using the metaphor as a reminder to take things one day at a time, these songs perfectly express how flowers can evoke emotions in us all.