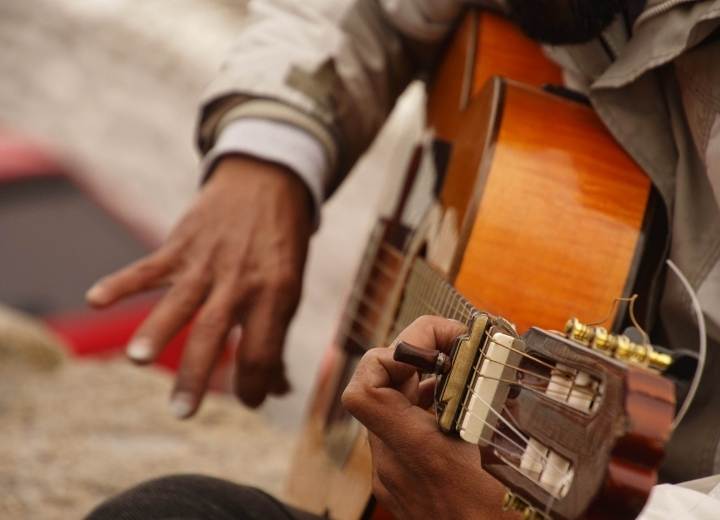 If you're a newbie, you can not know the difference between flamenco guitars and acoustic guitars. They look pretty similar. That's the reason you should read this article.
This article will focus mainly on the distinctions between them. Let's compare flamenco guitar vs. acoustic.
Comparing flamenco guitar vs acoustic
This article will compare flamenco guitar vs. acoustic in the following aspects:
Wood Materials
Weight
Thickness
Strings
Sound
Neck size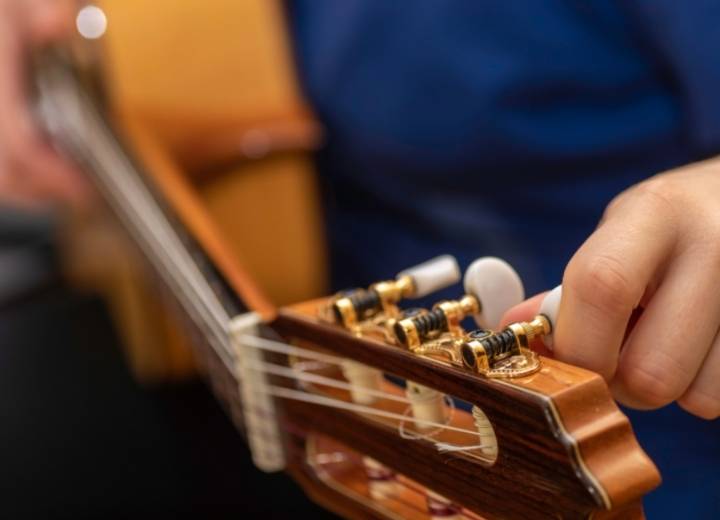 #1. Wood Materials
Spruce wood is often to make the top and body of the flamenco guitar. Meanwhile, for the top and body of the acoustic guitar body, it is wood such as laminate, Cedar, Koa, Mahogany, etc.
It is also common to use different types of wood to create the back and sides of the flamenco guitar. Some common examples are Indian Rosewood, cypress, and sycamore.
For flamenco guitars that use cypress and sycamore, they are lighter in color. They have another name, Blanca guitar.
As for the remaining flamenco guitars, they are commonly popular as Negra guitars. Their most common material is Indian Rosewood.
Using cypress and sycamore as the wood material for flamenco guitars has several benefits. Specifically, it makes the tone of the flamenco guitar brighter and more vibrant.
Materials for the back and sides of an acoustic guitar are usually Koa, Mahogany, Maple, Rosewood, Walnut, etc.
2. Weight
Acoustic guitars are usually heavier than flamenco guitars. The reason for this difference is their wood material.
A flamenco guitar weighs about 1.5 kg. Meanwhile, there are acoustic guitars that weigh more than 4 kg!
3. Thickness
The barrel guitar has a thicker body than the flamenco guitar. This is the main reason why acoustic guitars are heavier than flamenco guitars.
4. Strings
For flamenco guitars, like classical guitar, the material of its strings is nylon. Therefore, its strings have high elasticity and low tension.
They can make your hands callous if you play them for a long time.
5. Sound
The acoustic guitar uses steel strings. Therefore, its sound is always louder and more powerful.
6. Neck size
An acoustic guitar has a slightly narrower neck than a classical guitar. For flamenco guitars, the spacing between the strings can also be a bit wider.
They are an excellent choice for playing nearly all genres of music. Some good examples are country, rock,, or jazz music.
Flamenco guitars use nylon strings. Therefore its sound cannot be as loud as an acoustic guitar. However, it also has its advantages. Specifically, it can bring comfort to your fingers.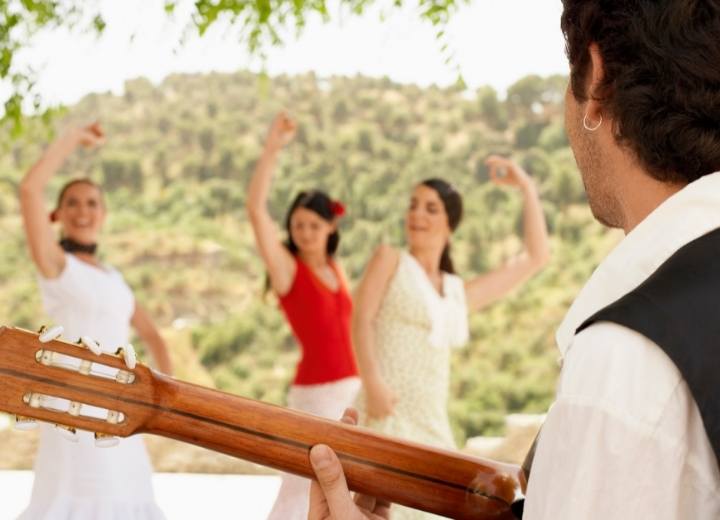 Frequently Asked Questions
1. Can I put steel strings on a flamenco guitar?
Absolutely not! This may damage your instrument. Steel strings have great tension, while flamenco guitars do not have bridge pins and truss rods.
2. Can I put nylon strings on an acoustic guitar?
The short answer is yes. This will not harm your acoustic guitar.
The design of the acoustic guitar matches the steel strings. The steel string has a much higher tension than the nylon string.
Therefore, putting nylon strings on an acoustic guitar can ruin the sound of your guitar.
3. Flamenco guitar vs. acoustic – What is the best choice for beginners?
There is no exact response to this problem. It's important to know what you want to choose the best guitar for you.
Playing the flamenco guitar seems to be easier than the acoustic guitar. That does not mean you should start with it.
4. What is Flamenco?
Flamenco is a blend of 3 genres: singing (cante), dancing (baile), playing the guitar (toque). Flamenco was born in the 16th century. Flamenco is more traditional in Spanish culture than any other art form.
To many people, flamenco means more than a musical genre. It is their life!
Flamenco originates from Spain. It is a mixture of many foreign cultures, including Gypsy, Moor (Arabic origin), and Jewish.
Flamenco is a unique art form. There are hundreds of different variations. Each variant has its own name like seguiriyas, soleares, alegrías, malagueñas, fandangos, zapateado, rondeña, etc.
Flamenco songs are similar in some essential tunes. The critical thing that makes the difference between them is the guitar, the clap.
Before the guitar appeared in Spain, people only played the lute. This is an instrument that has a lot of influence on flamenco guitar and classical guitar.
Flamenco guitars are very indistinguishable from classical guitars. However, the flamenco guitar sounds different from the classical guitar.
In addition, the flamenco guitar is also slightly different from the classical guitar in terms of material and size.
5. Which guitar is cheaper?
Flamenco guitars are cheaper than acoustic guitars.
6. Where does flamenco guitar come from?
Flamenco guitar originated in Spain.
7. Who is Paco de Lucía?
Paco de Lucía is a Spanish guitarist. He is also a flamenco composer. Flamenco music is famous throughout Spain partly because of him.
Paco de Lucía is very successful in mixing flamenco guitar music and other types of music such as classical or jazz. Even people consider him one of the greatest guitar players in the history of Spain.
Paco De Lucia passed away at the age of 66 (late February 2014).
Conclusion
Hopefully, after reading this article, you can distinguish between flamenco and acoustic guitar. In general, each type of guitar has its advantages.
Which guitar you should choose depends entirely on your needs.