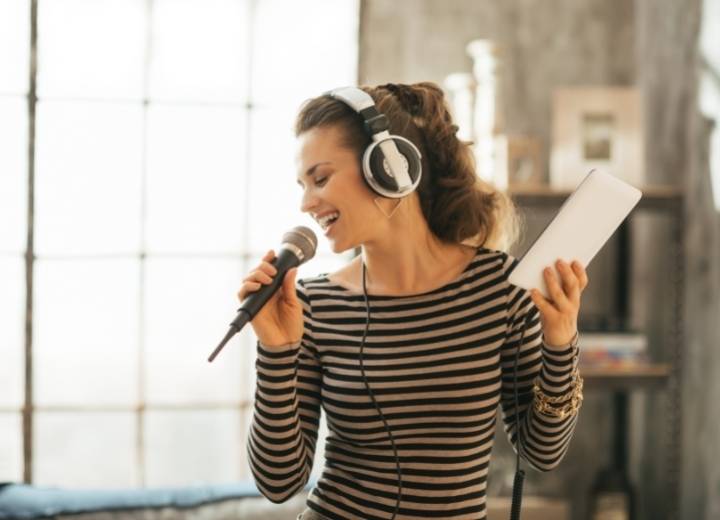 You like country music and your voice range is alto. This weekend you have a party and you want to karaoke with your friends.
Here we have some suggestions for karaoke songs for altos. With this list, you can sing all night long. Let's check out these songs together!
Some Good Country Karaoke Songs For Altos
Below are 10 country karaoke songs that any altos can show off their voice. You can consult this list to sing with your friends.
Let's take a look at each song together.
1. "I will always love you" – Dolly Parton
Dolly Parton first launched this country song in 1974. Since then, almost 5 decades have passed. But "I will always love you" is still one of the most sung karaoke songs of all time. 
The song is not about love as many people think. It expresses the respect of Dolly for the 7 years of collaboration with her partner, Porter Wagoner. Both male and female altos can sing this song. 
2. "Love Story" – Taylor Swift
"Love Story" is another beloved country karaoke song for young people. Composed by country music princess Taylor Swift, this song reenacts the love story between Romeo and Juliet. 
This song has officially brought Taylor Swift to the first success in her music career. With romantic lyrics and emotional melodies, "Love Story" will be a great country karaoke song.
3.  "That Don't Impress Me Much" – Shania Twain
This song from Shania Twain is a favorite song of ladies on every karaoke night. "That Don't Impress Me Much" marked its name in the music of many countries. No matter where you sing it, there will be someone singing along with you. If you want to show off your girl-power and sass, choose this song for karaoke.
4.   "Take Me Home, Country Roads" – John Denver
Right after its release, this song marked its name on Billboard's US Hot 100 singles. It is also the most famous song by John Denver.
This song is very suitable for karaoke in a large gathering. Everyone can sway with the energetic chorus of the song. 
5. "Someone Like You" – Adele
The hit "Someone Like You" by Adele is no stranger to all of us. This song appears in most break-up playlists. It's also one of the most chosen country karaoke songs since its launch. 
The song is about the real emotion of Adele after she broke up with her ex. It is a good country song to show off your alto voice.
6. "Back to December" – Taylor Swift
"Back To December" is another country song by Taylor Swift that you can add to your karaoke list. The song lyrics are like an apology and begging for forgiveness. 
Many people think that Taylor Swift wrote this song to send her apology to Taylor Lautner, her ex. But both of them have disclaimed this rumor.
7. "This Kiss" – Faith Hill
"This Kiss" shows the happiness of Faith Hill about her first kiss. This song is a suitable song for female altos with a simple tune and pitch. When singing "This Kiss", you can let your vocal cords relax instead of straining them.
8. "Friends in Low Places" – Garth Brooks
"Friends In Low Places" is a perfect karaoke song for your team. This country song will surely make your night exciting and draw the interest of the crowd.  
9. "Before He Cheats" – Carrie Underwood
Ladies, gather and sing along with this hit from Carrie Underwood. "Before He Cheats" is about the revenge of a woman on her unfaithful boyfriend.  
This song had topped the Hot Country Songs for weeks after its first release in 2006.
10. "Million Reasons" – Lady Gaga
"Million Reasons" is a country-pop song in the album "Joanne" by Lady Gaga. The song is about heartbreak and the desire for human connection of Lady Gaga. 
If you don't know which country song to sing with your alto voice, try this one.
Some Tips To Develop Your Alto Voice
The true alto voice is a special voice that not many people have. So, if you have an alto voice, you should develop it and use it properly. Here are some tips to develop and make your alto voice stronger.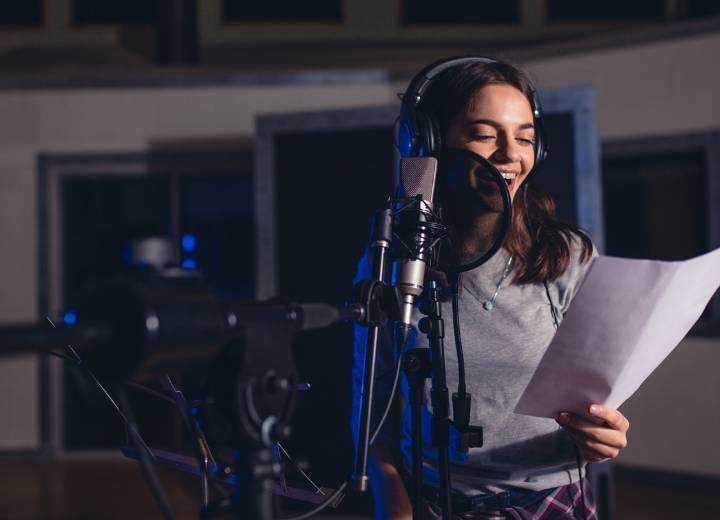 1. Let your throat relax
Relaxing your throat is a necessary skill to make your alto voice stronger. People who are new to singing often tense up their throats to sing high notes.
This mistake makes their produced sounds different from their original voice. Besides, singing with a tense throat for a long time is not good for your vocal cord. 
To solve this problem, you should sing in front of a mirror. You can place your hand on your neck to feel the throat. Whenever you feel that you are tensing it, relax.
2. Place your tongue in the right position
Putting your tongue in the right position also helps relax your throat. For beginner singers, when singing, they don't know the right position to place their tongue. Thus, the tongue often flaps around.
You may hear the advice of putting your tongue on the teeth if you have the alto voice. But this position is not natural for the tongue. Besides, placing your tongue like that can make you tense up your throat more. 
The proper tongue position of an alto is behind the bottom teeth. You can also keep your tongue below your upper teeth if you feel comfortable. You should adjust your tongue so that your throat can relax. Remember this goal and find a correct position for your tongue when singing alto. 
3. Take advantage of a piano
The piano is a good instrument for every alto. Singing alto will be much easier if a person accompanies the piano for you. However, some people will find it struggling to sing with an accompanist. If you are in this situation, you can learn to use a piano.
4. Breath with your diaphragm
Diaphragm breathing will let more air enter your lungs and expand them at maximum level. In that way, you will have enough air pressure to strengthen your alto voice. 
To know whether you breathe through the diaphragm or chest, place your hand on your belly. When you inhale, you will feel your belly compressing and your chest rising. After you exhale, your belly will relax. 
5. Put your shoulders back
Relaxing your entire body when singing will help you sing better. Thus, having the right standing posture is also important in enhancing your alto voice. You should put your shoulders back while standing. This posture will improve your voice and help you avoid hunchbacks as well. 
6. Make clearer notes by using your mouth properly
It's better to lower your jaw when singing so that your sounds will be clearer. You should also practice enunciating vowel sounds first. Make sure that you pronounce them fully before practicing with consonants.
7. Practice enunciating words with your tongue
It's necessary to enunciate exactly words when singing. In this way, the listeners can understand what you sing. 
You should roll your tongue while pronouncing and enunciate the "r's" and "l's". This practice will help you avoid stuttering and mispronouncing. 
8. Warm up your voice before singing
Like when you do exercises, you need to do some warming up before you sing. This step will make your throat and vocal cords more flexible. 
Purring your lips is an effective way to warm up your voice. You can purr your lips in some minutes. Then, you open your mouth widely and practice pronouncing vowel sounds. 
9. Lower your larynx
The position of your larynx has a great influence on your alto voice. You should lower your larynx a little bit when you sing. By doing this action, your alto voice will be stronger and more natural. 
10. Resonate your tone
You can combine your mouth, your tongue, and your chest areas to form a resonant system. When you resonate with your notes, you need to control your breathing. 
11. Learn how to read music notes
If you can't read music notes, you can't go further in your music career. So, it's important to know some basic notation symbols to read music sheets. 
This process requires your time and patience. But when you can read music notes, your singing will be better. Besides, you can try many different music styles. 
12. Use your chest voice to sing
Normally, most singers will use the diaphragm to sing. But for altos, singing with the chest voice is better. Therefore, you should learn to sing with your chest voice. In this way, your alto voice will be stronger, and you can make more natural lower notes. 
13. Choose proper songs for altos
Another effective method to improve your alto voice is singing songs for altos. There are plenty of good alto songs for you to choose from. However, most alto songs were composed in the 80s and earlier. So, they may not be as trendy and catchy as other song types. 
14. Learn from the professional alto singers
Listening to successful alto singers and mimicking their technique can also develop your alto voice. From there, you will learn how to sing alto properly. Then, you can improve your alto voice more easily. You can learn from some famous alto singers such as Tracy Trapman or Toni Braxton. 
15. Practice with a vocal coach
If you want to strengthen your alto voice faster, you should get a vocal coach. Moreover, it's better to find a vocal coach experienced with altos. 
You will have to spend a lot of money on this method. But a good vocal coach will help develop your alto voice in the best way.
Final Words
We have provided you with a list of good country karaoke songs for altos. You can pick any of them to karaoke with your alto voice. Besides, if you want to improve your alto voice, you can try the tips above. 
We hope that you will have a good time singing.
Thank you for reading!