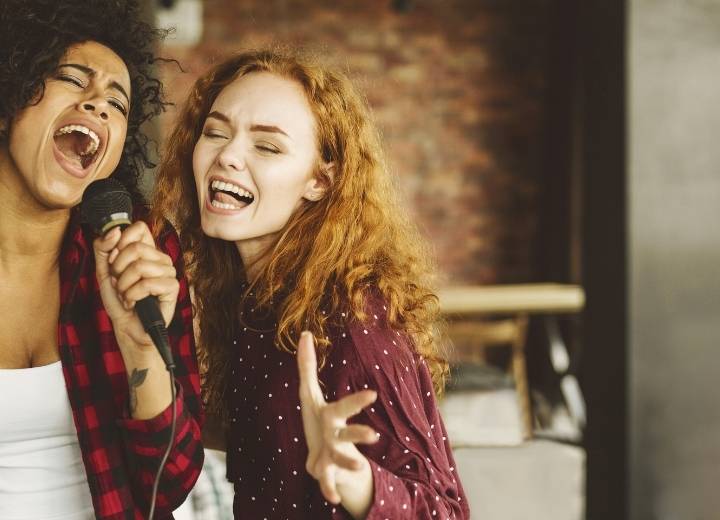 Choosing the right karaoke song is sometimes a tricky quiz. What are the easiest karaoke songs to sing? Do you want to shine on stage or die of shame? Here is what you need.
What Are The Easiest Karaoke Songs To Sing?
The songs with balanced tempo appear to be the easiest to perform at karaoke bars. It would be best to choose the trendy songs that everyone can sing along with you. Your party will be more fun as a result.
Besides, picking the song matching your voice is also important. You can determine them by staring at the artist's name. 
Additionally, your audiences are watching you. It's a great idea to choose the songs that suit them.
Top 18 Easiest Karaoke Songs
You need to find songs with the right tone to perform. However, there are many choices that can fit a wide range of voices. You can try some recommendations below:
How to pick the right karaoke song?
Are you having trouble coming up with the perfect karaoke song? It may be difficult to choose a song that is both easy to perform and makes you sound excellent. Let's look at the tips below to choose the best song for your party.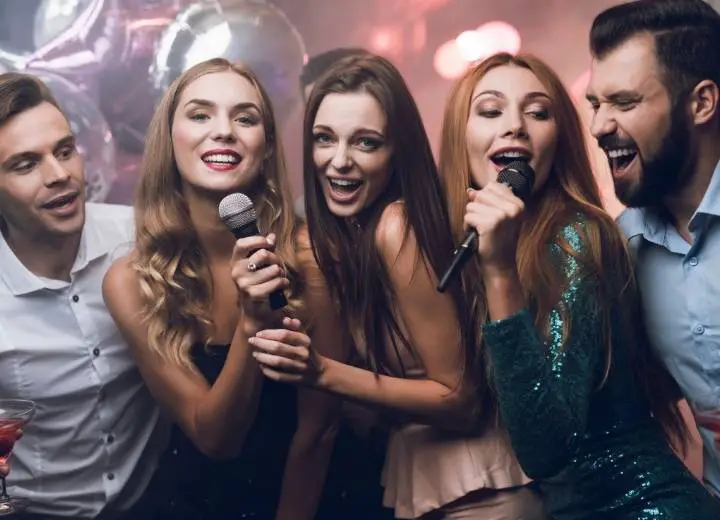 #1. List out your favorite songs
It's all about enjoying the fun at Karaoke. That is why you should choose a song that you like singing. This tip is necessary since it allows your listeners to enjoy themselves as well.
Remembering what songs you like might be tricky. So, if at all possible, think about it in advance. Take a look at your most often played tracks for suggestions.
#2. Please your audience
Different songs may elicit different responses from various age groups. If you'll be playing in front of 50-year-olds, something from the 1970s is typically a good choice. We often enjoy listening to songs about their childhood.
If you know your audience will be in their twenties, you might want to go with something more trendy. When the age range is diverse, an 80s hit is typically a safe choice because it attracts people of all ages.
You may also choose a song that everyone is familiar with. It doesn't matter how good the song sounds. If it's too uncommon, your audience won't enjoy it. 
People love songs that they can relate to and sing along with. So, pick a good song that is pretty well-known among your audience you will be performing too.
#3. Be aware of your ability
Check your voice range first. This factor is often the most limiting thing in your ability to sing. Songs coming with a limited vocal range are much easier to sing. 
There are two methods for testing your voice range. To begin, use a piano to go over every note. Check if you can match it easily or not. 
You may also use an app to test. It will assist you in determining your range. You may then decide whether you like singing higher or lower notes and choose a song that matches your range.
#4. Choose the right tempo
Slow songs are generally more difficult to sing than the faster ones. Slower songs tend to rely more heavily on the performer rather than the background music. They also ask you to keep notes for extended periods of time.
If you are not a good singer, a slow song is generally not the best choice because it will draw more attention to your weaknesses.
Songs with too fast tempo are not a good option either. Your performance will undoubtedly suffer if you are unable to keep up with the words. So, try to choose the correct tempo balance.
#5. Don't choose lengthy songs
It's usually better to choose a shorter song. Choose a song that lasts no more than 4 minutes. You must not exceed the 5-minute limit. Otherwise, the audience will get bored.
Playlist from best-suited artists for your voice
You should select the songs and artists that are most appropriate for you to perform. This isn't meant to be a complete list. It's a list of your favorite artists and bands who can help you sound like a real singer.
#1. High notes
If you feel at ease while singing songs by Beyoncé or Ariana Grande, you can reach the highest female tone. You're one of the rare few who can likely pull off more challenging tunes that others might struggle with.
Songs like "Single Ladies", "I Have Nothing", or "God is a woman" can help show off your voice.
Some people perform these notes with their chins up. You've probably seen artists do it at climax notes. This method, on the other hand, makes it harder to hit these high notes. Tilting your head down can be a better approach. 
#2. Middle notes
Is your vocal strain trying the songs listed above? It's no issue! That indicates you're pretty close to the alto. You still get the most choices in the karaoke album. However, you should definitely avoid songs that rise too high. 
You can try "All of Me" by John Legend or "Payphone" by Maroon 5. An Ed Sheeran playlist may also be a good idea.
#3. Low notes
You're certainly aware of this. Basses and Baritones are the deep-voiced vocalists. The latter is uncommon in rock and pop music. 
Even so, there are plenty of tunes to pick from. You may consider a song from the past or a country song such as "Old town road" or "Can't help falling in love with you".
How to make songs easier to sing?
To keep things easy, consider a song's difficulty in terms of three factors: vocal range, prestige, and frequency. 
The range refers to how low and high your voice may reach.
When it comes to frequency, it's crucial to consider how often and how extreme the fluctuations between the song's lows and highs are.
Finally, when we talk about prestige, we mean how seriously the music takes itself, as well as how seriously the singer takes it.
Performing a song with a wide range is like rock climbing before your brunch. Songs with a wide range aim for the limits of low and high notes. Let's go for a stroll on a beautiful mountain route for the time being. Keep building your vocal range once you want to tackle more difficult tunes.
You can practice various voice exercises. Many of them will not only help you expand your vocal range, but will also help you enhance your tone, clarity, and energy.
When singing, keep your posture in mind. It helps to make your airway clearer and enhances your singing.
A wide frequency asks you to practice like playing basketball. That type of vocal persistence is rare among vocalists. However, practice makes perfect.
The prestige is a subjective assessment of how upset listeners will be if you make any mistakes in your performance. Fun pop tunes are, by their very nature, low in status. The simpler the song is, the more relaxed and fun it becomes.
Conclusion
There are some songs that suit every tone. You also need to focus on your ability and the audience as well. 
Karaoke is a chance to bring everyone together. It's also the time for you to shine with your voice and confidence. Let's start with your favorite playlist. Everybody is watching you!
Hopefully, you'll find this article helpful. Thank you for reading!