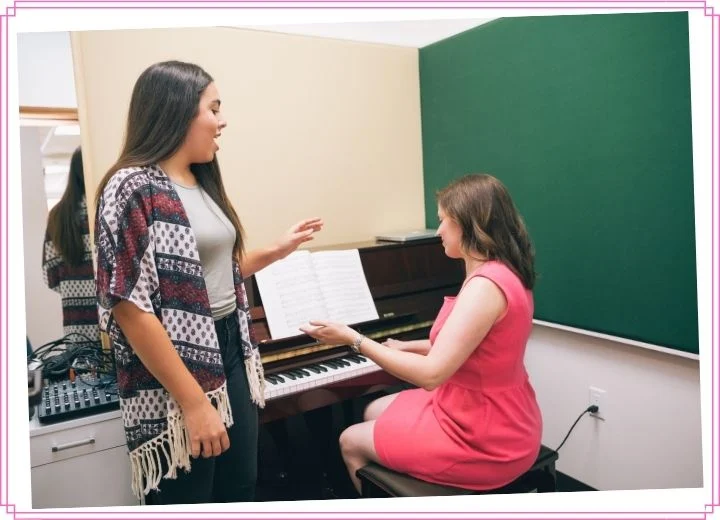 How much does singing lessons cost? Normally, you will have to pay around $60 per hour for a good teacher. 
While a private lesson helps to improve technique, a group lesson helps decrease stress and offers feelings of camaraderie against loneliness.
You can also think about performance opportunities offered by teachers. It will be an excellent motivator for more practice.
>>> LEARN HOW TO SING Online well: Essential Guide To Singing for Beginners.
Do I Need Singing Lessons?
You can certainly find any resource online that offers a free course. However, do singing lessons really help?
The reason is that these singing lessons will provide you with useful tips. They even offer the right techniques and sufficient exercises as well as criticism and feedback. All of these things make a considerable contribution to your progress and improvement.
Yet, not all people have the proper qualifications to provide constructive criticism and helpful advice for improvement. Each person features a unique voice that a free online course cannot help you a lot.
As a result, singing lessons are very important. The singing lesson often comes with a vocal coach who is an expert to help practice your voice.
A professional who has learned all technicalities of singing will provide you with more knowledge. It will help to practice your special voice, adore it, and further improve it.
Types Of Singing Lessons
When you want to participate in a singing lesson, it is vital to choose the suited type of voice course. There are three main types, consisting of individual, group, and online lessons.
#1. Private singing lesson
An individual voice lesson is regularly 30 minutes to one hour in duration.
The price will depend on the coach's position, achievements, knowledge, and level of technique. A private lesson can have the same price as a group lesson.
For instance, Raffia Music Studio would charge $60 per hour, while Artists in Development would charge $65 for 45 minutes to one hour.
If you are a budget-conscious purchaser, you can pay for some voice lessons in advance.
Those Premier Vocal Instructors in Atlanta, Georgia, charge a set of four singing lessons with 60 minutes for every monthly lesson. The total cost is $245, so a lesson costs $62.
One more example is Fort Greene Music Scene in Miami, Florida. It would offer:
A set of five 60-minute singing lessons. The cost is $275 and $55 for each.
A set of ten 60-minute singing lessons. The cost is $500 and $50 for each.
A set of two 30-minute singing lessons. The cost is $140 and $70 for each.
#2. Group singing lesson
Maybe you are looking for a weekly lesson at local schools, workshops, and summer campings. Despite the locations, a group singing lesson will offer larger savings compared to a private lesson. Here are some group singing lessons:
Miami Fine Arts Academy in Florida charges from $67 per hour.
Kirk's Studio for the Performing Arts in Phoenix charges $60 per hour.
Virtuoso Music Academy in Texas charges $73 per hour.
The Music Tutor in Georgia charges $60 per hour.
#3. Online singing lesson
Some of you may have a drastically busy schedule. Or someone prefers learning at home. Now, an online singing course is a perfect match for you.
When choosing the online option, you can learn to sing wherever and whenever you like. If so, the recommendation is to take some useful tips to improve your performance at home. So, how much do online vocal lessons cost?
An affordable online singing course ranges from about $100 to $150.
A mid-ranged course is between $200 and $300.
A professional vocal course would cost roughly $400.
How To Choose A Teacher For Singing Lessons
After deciding your preference of vocal course, you also should think about what attributes make a good voice coach.
#1. Reputation
When you choose the most suitable teacher, you need to look at their reputation. Of course, you will want a reliable singing course that you are going to pay for.
Indeed, a teacher who excels at singing does not mean that he or she is good at teaching. Then, it is necessary to check their reputation and relevant knowledge.
Not only knowledge but also a profession is essential for a vocal coach. You won't expect that your singing lessons will be disrupted when the teacher travels a lot.
The price of singing lessons will align with the competence of the instructor.
For instance, Rachel Menconi (a musician in Montvale, New Jersey) is the founder of Sunshine Face Productions. She is a lyricist, screenwriter, casting director, vocal instructor, choreographer, and international records artist.
Rachel provides a weekly lesson with $65/hour, a biweekly lesson with $75/hour, or a lesson with $100/hour for every month.
Jivana P. Condak in New York, Miami, graduated from Berklee College of Music.
She majored in piano and voice; she even learned music marketing, music business, lyric writing, and screen editing. Jivana has instructed music in New York City public schools, and the cost starts at $60 per hour.
#2. Specialties
Vocal instructors normally take more interest in a single genre of music as well as a singing style.
Peter Mark in Manhattan Village, California, is one international opera director and instructor. He has years of experience in opera: chief boy treble at Met Opera and concert leader at Columbia University Orchestra. He established, operated, cast, and carried out Virginia Opera during 36 years as an art director and a supervisor.
Until now, Peter became the Artistic Director Emeritus. He would charge $100 per hour.
#3. Expertise
In the popular imagination, young coaches just diving in can identify their limitations. So they tend to charge lower than coaches with extensive experience in big cities like Los Angeles and New York.
However, even a person with outstanding voice teaching skills can prefer to give a smaller charge. The reason is that they like to offer everyone the opportunity to get singing lessons, regardless of their financial situation.
Consider your particular goals and purposes when you are looking for a teacher and what you expect from this teacher. It is excellent to check ratings or comments from past students to have sufficient information for the teacher's teaching style and expertise as well.
#4. Locations
If you prefer live singing lessons, then you may consider the location. The price varies across the nation.
Coaches who provide courses in large cities, such as New York, Chicago, Dallas, and Los Angeles, will likely serve a higher charge for their lessons.
Certainly, you do not like to spend a couple of hours arriving at your vocal instructor's house or studio. As a result, you can turn out to be stuck in traffic jams in the big city.
Almost all vocal lessons happen in studios. However, a lot of teachers are willing to serve courses through online channels like Skype or Facetime.
Then, it would be a good way to widen your search and surpass the boundaries of your residing location. You can find a coach who carries out online voice lessons via videos.
Take notice that the acoustics will not be similar. Yet, you can save reasonably on travel expenses and time. It can also afford you higher flexibility in your busy schedule, particularly if you reside in a different time zone.
In addition, reducing moving time and enjoying lessons from your favorite instructor at home will increase the comfort while learning. Despite miles separating you and the teacher, it will be an outstanding feat.
Your Aims To Choose Singing Lessons
To choose the most suitable singing lesson, you also need to think about your experience, time, and goals.
#1. Have you ever learned singing lessons before?
You have not studied a voice lesson yet, have you? Then, it would be smart to begin with an instructor that has a lower charge.
You possibly cover the most basic skills at the beginning. Any teacher providing a singing lesson can teach these things.
If you have gotten any vocal lesson previously and desire to learn where you had stopped, a more proficient instructor may be the best option. Hence, it is usually more expensive.
You pass the basic skills now and want to improve your vocal performance beyond your safe place. Therefore, a professional teacher is crucial.
#2. How long do you like to learn a singing lesson?
Almost all teachers provide a variety of lesson lengths. The length often starts at 30 minutes. This suggested length is usually for starters. Yet, you will want to take a discussion with your instructor to have their suggestions.
The most common length for a voice lesson would range from 45 to 60 minutes sessions. The reason is that it can allow for sufficient time to warm up before students get to more complicated practices and songs.
It might seem very familiar. Still, it is essential to contrast different charges with the lesson durations that they provide.
If not, you can unintentionally propose that one instructor offering $60 per hour in one lesson is twice as costly as another price of $30 per half an hour. These per-minute charges for singing lessons are similar.
#3. What are your primary goals?
Not all vocal lessons have the same design and construction. Maybe some of you feature a unique singing style. Thus, you possibly like to study and find your interesting lessons on the list of specialties.
Illustrations include Broadway, hillbilly music, church music, classical music, bop music, opera, choir, musical performance, musical theater, and ear training.
You should also think about what you expect to complete with your vocal lessons. Do you hope to become a singing teacher? Do you want to participate in a choir? Or is the theater performance your ultimate goal?
No matter what you expect your voice lessons to guide you, it will bring the most benefits if you select a teacher with much experience in a certain area.
If a music teacher gets equipped with very specific knowledge, the price for singing lessons will become more pricey.
Conclusion
Now, are you willing to begin your singing lessons? Take all of these above factors into your analysis while carrying out your research.
Then, you will have a more comfortable time dealing with your budget and finding a good teacher.
Good luck!