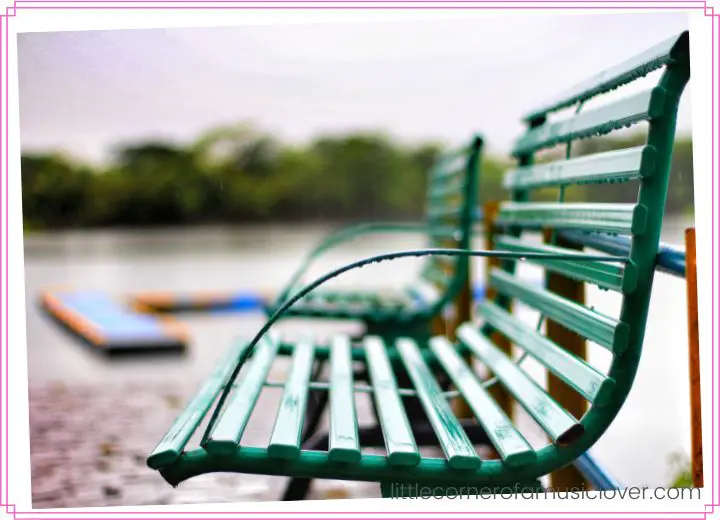 Have you ever been ghosted, or worse, been the one doing the ghosting?
Ghosting is an all too common occurrence these days and though it can be hard to express what you're feeling in words, music has a way of understanding and expressing our emotions like nothing else.
Looking for the perfect soundtrack for your latest ghosting experience? Check out the list of the best songs about ghosting someone below!
Now, we recommend some best songs about getting ghosted that capture the raw emotion of being left behind.
1. "Bust Your Windows" By Jazmine Sullivan
Are you feeling heartbroken by ghosting? Look no further than Jazmine Sullivan's "Bust Your Windows". This song is for anyone experiencing the pain of ghosting.
Written about a man who has left her without explanation, this song is perfect for anyone looking for a melody to articulate loss and sadness.
2. "Never Again" By Kelly Clarkson
Kelly Clarkson's song "Never Again" is an anthemic ballad about betrayal, breakups, and the effects of ghosting.
From her belting vocals to its thumping bassline, the track pulls you into a hazy and distorted picture of a toxic relationship set to what can only be described as crushing drama music.
The lyrics speak of the physical and emotional pain inflicted by ghosting for one who has been abandoned.
With its empowering message that you can stand up against hurt, this song makes for the perfect one for anyone dealing with ghosting.
3. "Games" By Demi Lovato
In her song "Games," singer Demi Lovato tells the story of a relationship that has been plagued by ghosting.
Through powerful lyrics and an emotive melody, she speaks for those who have been left behind in relationships by emotional abandonment.
The song speaks to the reality of how ghosting can leave people feeling hopeless and helpless and serves as an important reminder to put effort into our connections with others.
4. "Ghost" By Katy Perry
"Ghost" by Katy Perry is one of the most memorable songs about ghosting, which is the act of abruptly cutting off all contact with someone without explanation.
The song talks about how she copes with being ghosted and reflects on how difficult it can be in relationships when you feel like you're often waiting for something that will never come.
5. "Slow Dancing In The Dark" By Joji
This song speaks to the inherent disappointment that comes with being ghosted. It is about the feeling of being left in the dark, who have been ghosted and are looking for closure.
The song paints a vivid picture of what it feels like to be snubbed by your crush, describing the helplessness and inevitable sadness that comes along with the realization that they no longer care.
6. "Make Me Cry" By Noah Cyrus ft. Featuring Labrinth
"Make Me Cry" by Noah Cyrus and Labrinth is a haunting song about being hurt and dumped, and holding on to the pain of love alone.
The song conveys the heartbreaking experience of getting ghosted by someone you care for deeply, and captures this raw emotion perfectly with its melancholic lyrics and dreamy melodies.
7. "Always Remember Us This Way" By Lady Gaga
If you've ghosted, Lady Gaga's hit song, "Always Remember Us This Way," is the perfect anthem to help you cope.
The song talks about trying to move on after a lost love and coming to terms with it. And still cherishing memories even when the person you loved is no longer with you.
A reminder that things won't always stay the same but to remember the good times with your special someone. This song is sure to leave an impactful mark on listeners.
8. "The Night We Met" By Lord Huron
This is a song about the feeling of being ghosted. It reflects on the memories of a time when a relationship was seemingly going well, only to have it vanish without explanation.
The lyrics convey the longing for a connection that seemingly came to an end too soon.
9. "Blow Me One Last Kiss" By P!Nk
"Blow Me One Last Kiss" is talk about ghosting someone – or rather, bidding them goodbye without warning or explanation.
The catchy beat and heart-breaking lyrics make the ultimate anthem for anyone who has ever been left in the dark.
Whether you find yourself relating to the feelings of abandonment in P!Nk's lyrics or just enjoying the music, this song has something for everyone.
10. "Somebody Else" By The 1975
"Somebody Else" by The 1975 is a powerful pop-rock song about ghosting someone, the term for ending a relationship abruptly and without explanation.
With lyrics like "You were the shadow to my light / Did you feel us?", this emotionally-charged song captures the confusion and pain caused when someone disappears from your life.
The song perfectly captures the angst of being ghosted in this heart-wrenching breakup ballad.
11. "Hello" by Adele
Adele's "Hello" is a song about the pain of being ghosted by someone you love. It talks about her thoughts and feelings after heartbreak, misplaced hope, and self-reflection.
With its sad sound, impassioned lyrics, and Adele's emotive vocals, "Hello" captures the struggles of moving on from being ghosted in a special way.
12. "Cold Cold Cold" by Cage the Elephant
"Cold Cold Cold" by Cage the Elephant is a song about the feeling of being ghosted.
With a mix of electric guitar, drums, and keyboard, creating an emotionally charged atmosphere about what it feels like to be ignored by someone.
The lyrics convey how it feels to be pulled away from love and left in the cold, giving listeners an insight into the confusion, heartache, and loss that come with such situations.
13. "Liability" by Lorde
"Liability" by Lorde is a song about the experience of being ghosted. The song laments about feeling like a burden to someone due to their lack of appreciation and understanding.
The lyrics capture a sense of hopelessness when taken emotionally and symbolically by those who have felt invisible in their relationships.
14. "Operator (He Doesn't Call Me)" by Låpsley
British singer and songwriter, Låpsley, has released the song "Operator (He Doesn't Call Me)" about ghosting.
The sad ballad speaks to those left behind in a relationship where one party suddenly cuts off communication.
Through sad vocals, Låpsley creates a poignant atmosphere as she questions if something went wrong or if she was ever meant to be remembered at all.
15. "Lack Of You" by Myylo
"Lack Of You" will take listeners through a ride of emotions that can be felt after being ghosted.
With melancholic yet empowering vocals, the artist speaks to the difficulty in dealing with pain caused by such an experience.
Letting go is not easy but facing reality will ultimately lead to freedom.
16. "How Come You Don't Call Me Anymore" by Prince
Prince's song "How Come You Don't Call Me Anymore" is a classic ghosted music track. A an uptempo pop-soul tune with an infectious hook that explores the emotional toll of a broken relationship.
The song highlights Prince's masterful use of layering and vocal blending, creating a complex yet incredibly catchy groove.
Despite its title, this melancholic dance anthem has been securing its place in musical history for decades.
17. "Shadow" by Britney Spears
Britney Spears' single "Shadow" is an upbeat pop song about feeling invisible after experiencing ghosting.
It reflects on the emotions like disappointment, confusion and hurt caused by being seemingly nothing more than a shadow to someone else.
The song's catchy chorus and buoyant rhythms offer hope that things will change, leaving listeners with a reminder to move forward.
18. "Let Her Go" by Passenger
Written and performed by British singer-songwriter Passenger, "Let Her Go" is a song about being ghosted. It speaks of the heartache and confusion someone feels after being left with no explanation.
The song paints a sad but ultimately hopeful picture of acceptance and starting anew. This makes it the perfect anthem for anyone looking to move on from a breakup.
19. "Big God" by Florence and The Machine
"Big God" by Florence and The Machine is a song about being "ghosted" in the modern age.
It begins with lines that are almost spoken word, exclaiming grief over the loss of a relationship, and then builds to soaring heights both musically and lyrically as it declares a call for freedom from that pain.
With layers of Rachel Zeffira's choir vocals providing an ethereal soundscape, Florence Welch leads us forward in hope and strength, ultimately finding faith and redemption.
20. "Where Were You In The Morning" by Shawn Mendes
Shawn Mendes' song "Where Were You In The Morning" offers an emotion-filled take on the experience of being ghosted.
As we hear Mendes explore feelings of desperation and loss in his catchy melody, it gives us a glimpse into the inner turmoil that comes with having someone suddenly cut off contact.
21. "Gone" by NSYNC
"Gone" by the popular boy band NSYNC is a powerful ballad about ghosting of love and the pain of regret.
Written by Chris Kirkpatrick and Dan Shea and released in 2001, the song features the smooth vocals of Justin Timberlake combined with an emotive arrangement of synths, strings and guitar.
It has become one of NSYNC's most enduring hits and has been widely covered by other artists.
22. "Ghost" by Halsey
"Ghost" by Halsey is a powerful anthemic pop tune about the feeling of being ghosted.
It addresses the deep emotional pain that comes from being ghosted and expresses strength in personal resolution to not let it affect love and life.
The song speaks to anyone going through a similar experience, encouraging the listener to break free from those restraints.
23. "Ghost Town" by Kanye West
"Ghost Town" by Kanye West is a song about being ghosted or left without any explanation. The song examines the frustration of feeling unheard and unseen when someone disappears from your life.
It speaks to that powerlessness of not knowing why you're been ghosted, while also finding strength within yourself in order to get through it.
24. "Us Lot" by Murkage Dave
"Us Lot" by Murkage Dave is a song about getting ghosted and the feelings of not being appreciated or valued in a relationship. It contains both the anger and hurt that comes with being ghosted.
The track is mellow and melodic, creating a laid-back atmosphere and allowing listeners to relate to their own experiences through its soulful hooks.
This song ends on an optimistic note that conveys hope for something better in the future
25. "Got Til It's Gone" by Janet Jackson
"Got Til It's Gone" speaks to the very real concept of ghosting, or suddenly leaving someone without any explanation.
The song describes the feelings of confusion and sadness that come along with being left behind by someone in such an abrupt way.
With its catchy beats and passionate lyrics, the song encapsulates the modern dating experience in a way that many listeners can relate to.
26. "Heartbreak" by Jagged Edge
Released in 2001, "Heartbreak" is a song about love, loss and struggling to cope with heartache.
With an uplifting beat and raw lyrics, this classic track serves as a powerful reminder of resilience and the healing properties of music.
This slow jam was an immediate hit on the charts and continues to be incredibly popular among fans of R&B music.
27. "I Know the End" by Phoebe Bridgers
"I Know the End" is a song written and recorded by American artist Phoebe Bridgers. The track was released on June 19, 2020.
This song features dark and melancholic lyrics combined with a dreamlike musical style to create a haunting atmosphere.
The title speaks to Bridgers' guidance through uncertainty and instability, expressing hope that someday we will reach the end of our troubles.
28. "Yesterday" by Boyz II Men
"Yesterday" is one of the most popular songs by American R&B group Boyz II Men. It was released in 1993. The song is a smooth, romantic track that speaks of reminiscing a lost loved one and expressing regret.
It quickly became an international success, reaching number one on the Billboard Hot 100 chart for nine weeks and garnering five Grammy Award nominations.
29. 'The Bed's Too Big Without You" by The Police
The Police classic "The Bed's Too Big Without You" is one of the most beloved songs of their career, originally appearing on their 1978 album 'Reggatta de Blanc.'
It is an upbeat reggae-pop tune that speaks to the heartache of being without a loved one. The song was written by Sting and features Andy Summers' rocking guitar riffs alongside Stewart Copeland's catchy drum beats.
30. "Single" by The Neighbourhood
The Neighbourhood's song "Single" is a slow and dreamy track that creates a surreal and serene atmosphere.
The unique mix of indie pop and alternative rock gives the song a feeling of loneliness as seen through the lyrics about being alone in the relationship.
It provides a soothing escape for anyone looking for a solitary refuge.
31. "Rose In Harlem" by Teyana Taylor
Teyana Taylor's single "Rose in Harlem" is the soulful and powerful expression of a woman coming into her own.
From its introduction to its thumping beat, the song speaks to different cycles of love, betrayal, and unrequited trust.
It is an anthem of strength that delves into aspirations and rising above deception to reach one's goals with grace.
32. "Cherry Hill" by Russ
"Cherry Hill" by Russ is a track about embracing life's simple moments, celebrating the beauty in everyday things, and recognizing how important it is to not take anything for granted.
This upbeat song has an R&B-style sound infused with hip-hop elements, invoking memories of simpler times from childhood when things were less complicated.
Its catchy chorus and infectious groove remind us to enjoy life before it passes us by, singing "Cherry Hill got me feeling like my heart is thick as mud / Ain't nothing better than what we had."
With its ukulele riffing and hopeful lyrics, this track offers a refreshing reminder of the joy that can be found in living simply.
33. "Lullaby" by Sigala
"Lullaby" by Sigala is a beautiful, emotional dance-pop song that conveys a message of hope and reassurance. The track was released in 2018 and features Paloma Faith on the vocals, who provides an uplifting performance with her graceful yet powerful voice.
The lyrics reflect on the struggles of life while offering support and encouragement to those going through difficulties.
Musically, the song combines delicate synths and atmospheric soundscapes with Soulful R&B grooves to create an ethereal atmosphere combined with a strong beat for dancing.
This unique combination makes for an uplifting yet calming listening experience which will surely put listeners in a state of serenity.
34. "Slide Away" by Miley Cyrus
Miley Cyrus' song "Slide Away" is a mellow and melancholic breakup tune that reflects on the end of her relationship with her ex-husband Liam Hemsworth.
The lyrics take us through her emotions as she deals with the pain of losing him, having to accept that there's no going back to the way things used to be.
With bittersweet vocals and warm, gentle instrumentation supporting the track, Miley's honest reflections create a powerful statement about love and life.
35. "When I Was Older" by Billie Eilish
Billie Eilish's "When I Was Older" is a haunting yet touching song that explores childhood dreams and the idea of growing up too soon.
The song starts with Billie singing about an idyllic childhood, suggesting that she was naive to the sadness of the adult world at this time.
As the song progresses, she reflects on her lost innocence and how it has been replaced by complex emotions due to disappointments in herself and the world around her. However, despite expressing these feelings of despair, there is still hope within her words as she acknowledges that things can get better if you keep believing.
The simple yet powerful combination of piano, strings, and synths creates a melancholic atmosphere alongside Eilish's heartfelt and emotive vocals which help convey her message even further.
36. "Supercut" by Lorde
"Supercut" by Lorde is a song that captures themes of nostalgia, longing and heartache. It is a powerful track, driven by upbeat indie rock instrumentation and subtle electronic production.
The lyrics paint the picture of a person who is trying to make sense of their past but keeps coming back to one moment that caused them pain – "A halo in red, roses all around my bed".
Through repetition, the song builds up an almost hypnotic atmosphere as it follows this past moment through multiple flashbacks, with Lorde's hushed and gentle vocal delivery conveying her raw emotion.
The song ends in bittersweet fashion as she asks for closure – "Maybe it's enough for you / To know we are golden", signifying her acceptance that things have changed and it's time to move on.
37. "Lost in Japan" by Shawn Mendes
"Lost in Japan" by Shawn Mendes is the perfect combination of dreamy guitar licks and smooth R&B beats.
It talks about the feeling of being randomly drawn to someone, even though there are physical and cultural differences.
It also speaks of the deep craving for a foreign place, with its special energy that will make one forget their loneliness.
With its mesmerizing chorus, "Let's light it up like we're lost in Japan," this song will have you grooving along with its chilled-out vibe.
38. "Ghostin" by Ariana Grande
"Ghostin" by Ariana Grande is a heartbreaking and deeply personal single released in February 2019.
The song tells the story of how Grande is struggling to not only get over her recent ex but also cope with the love she still has for her late former boyfriend Mac Miller.
With its sad yet soothing melody, the track captures the deep longing that comes with missing someone who is no longer in your life.
Lyrically, Grande conveys her grief through vivid imagery of being surrounded by ghosts and always having Miller's memory surrounding her as she moves on with her life.
Additionally, the powerful lyrics provide an honest look at how grief can linger even as one attempt to move on. Ultimately, "Ghostin" serves as a tribute to Miller while reminding listeners that it's okay to be vulnerable when dealing with loss.
39. "What Do You Mean?" by Justin Bieber
"What Do You Mean?" by Justin Bieber is a pop song released in 2015, and was instantly popular amongst teenagers worldwide.
The song speaks of adolescent relationship struggles and talks about how difficult it is to understand the likes and dislikes of someone you are in love with. It further goes on to highlight the power of communication when it comes to developing relationships.
The smooth melody combined with Bieber's vocal range displays an infectious energy that can make anyone want to get up and dance along.
With its catchy chorus, this song will surely remain one of his most iconic tracks for years to come.
FAQ
Below are some questions and answers related to "songs about ghosting someone":
What to say to someone who's ghosting you?
It's important, to be honest with the person who is ghosting you and let them know how you feel.
Try sending a message letting them know that it hurts to be ignored like this and that you would like an answer. If they don't respond, it's best to respect their decision and move on.
Why is ghosting so traumatic?
Ghosting can be extremely traumatic for the person who is on the receiving end of it because it typically involves messages or other forms of communication suddenly stopping without explanation, leaving the recipient left wondering what went wrong and why they are being ignored.
Ghosting can cause feelings of rejection, confusion, and even self-doubt in the person being ghosted, making it an emotionally damaging experience.
Is ghosting emotionally damaging?
Yes, ghosting can be emotionally damaging because it leaves the person on the receiving end feeling disrespected and discarded.
Ghosting can weaken trust, cause confusion, and create emotional distance. It is especially hurtful when it occurs in a relationship that should be built on mutual respect and understanding.
Is ghosting a mental illness?
No, ghosting is not considered to be a mental disorder. It is an emotionally manipulative behavior that can range from mild discourtesy to severe psychological abuse, but it does not have diagnostic criteria as a mental illness and is not recognized by the American Psychiatric Association.
How do you make a ghoster regret?
If a ghoster hurts you, the best way to make them regret their actions is to focus on taking care of yourself.
Seek out self-care activities like spending time with friends and family, exercising, or engaging in hobbies that bring joy and fulfillment.
Talk about the experience positively and confidently without focusing on the person who wronged you — this will help you to create closure.
Finally, use your energy to focus on finding better relationships and situations that truly make you happy.
How long is considered ghosting?
Ghosting is considered a negative form of communication and is generally defined as suddenly cutting off all contact with someone without any explanation.
The length of ghosting can vary, but it is usually considered to stretch out over a period of days, weeks, or even months.
Does ghosting hurt the ghoster?
Yes, ghosting can hurt both the ghoster and the ghosted. Ghosting can cause feelings of rejection, confusion, and insecurity for the person that was ghosted.
Additionally, to allay feelings of guilt, some people may go out of their way to avoid their former partner altogether.
This ultimately deprives them of closure and can leave them feeling dissatisfied and unresolved in the relationship's ending.
Conclusion
In conclusion, ghosting someone can be a difficult and confusing experience for both parties involved. Music can be a great way to help those going through the process cope with their feelings.
Finding songs that have similar themes to one's own experiences can be cathartic and provide listeners with comfort and understanding in a time of need.
Hopefully, this post introducing some poignant songs about ghosting has been able to help those who are suffering from the situation or curious about it learn more about the phenomenon.