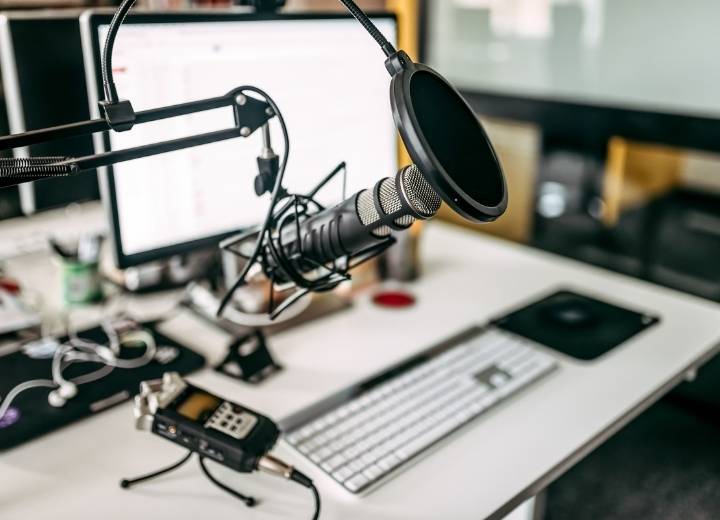 In music production, is it better to use a MAC or PC? This issue has been talked about a lot in recent years. For a music producer, choosing a tool is extremely necessary.
The following article will give you the best answer.
Let's read on to discover!
Mac Overview
Here are the advantages and disadvantages of MAC for music production. Why should you choose MAC?
Apple is famous for its strong headquarters in the production of tools. MAC is a very good support tool in the creative industries.
These apple computers stand out for their stability. In addition, the operational performance of the machine is also very good.
According to the latest statistics, Mac Pro is the most used in professional studio environments. For home studios, an iMac or MacBook Pro can also satisfy music production needs.
One of the things that make many people choose MAC is the Logic Pro software. Owning Logic software makes Apple computers a strong candidate for the music studio. The point of competition is that only MAC has this software.
However, MAC is expensive but offers a different perspective. Due to its luxurious appearance coupled with quality and exclusive materials. Therefore, the feeling of use will also be more comfortable and confident.
In music production, Apple has a major drawback. You will find little free music software and audio plugins for MAC. Most software costs money to use.
PC Overview
Just like MAC, PCs will have their advantages and disadvantages. Here's an overview of the PC you need to know.
For PC, you can get a large amount of VST tools for free. In addition, the PC also provides a variety of software. In particular, most of the support software is free. Music producers will save some costs.
PCs are more versatile and can fit your budget. You can build your PC by ordering accessories separately.
Depending on the style, the PCs will have different designs. It will be great if you use tools that you design yourself.
Initially, if you do not have much money, you can choose to buy simple accessories. Later, you can completely substitute better accessories. Or, when you need more space, you can simply replace the hard disk with a new one.
Today, most PCs are very powerful. A PC is a suitable tool for creating music and recording music.
However, PCs will also have disadvantages. First, you must regularly update the system and rerun the program.
In some cases, your computer will be infected with a virus. If you do not deal with it in time, data loss may occur.
Mac vs PC For Recording Music 
Here is some additional information on the differences between MAC and PC for recording music.
Some of the aspects are music demand, professionalism, software, and cost.
#1. The requirement to make music
First, you need to define your needs. Is making music the main job that generates income, or is it just a side job that you are passionate about?
If the job gives you a source of income, then invest in good tools.
#2. Professionalism
In terms of professionalism while working. Both can make music no matter your ability and talent. Tools are just aids.
For large studios, it is common to have both a MAC and a PC to serve different purposes. As for the home studio, you can choose either.
If you want to experience the modern world, then MAC is the right choice. For those who have to move a lot, compact tools should be the top priority.
#3. Software
Both platforms have separate software. The software only runs on PC systems with Sonar, Sound Forge, FL Studio, Adobe Audition. For MAC, there is Logic, GarageBand, Peak, and Soundtrack Pro.
In addition, there is still software that allows running on both, such as Ableton, Cubase, Nuendo, Pro Tools, Reaper, Bitwig Studio, Digital Performer, etc. Fortunately, most soft synths, effects plugins, and soft samplers all work on both platforms.
Or for audio and video file types. Both can work well with WAV, AIF, MP3, MOV, AVI, MP4. You can easily transfer them from one machine to another.
#4. Price
Price is one of the biggest differences between MAC and PC. A MAC costs a lot more than a PC. Not only the high cost of equipment, but MAC also incurs several other costs. For example, the cost of using the software.
So, see what kind of tools your budget fits. But higher prices go hand in hand with better experiences. Working with good equipment also puts your mind at ease.
From there, you can come up with many creative ideas for your music.
#5. Possibility to upgrade
For PCs, upgrading is much more flexible. Allowing the free upgrade of the computer is a huge advantage. Certainly, work needs will change over time.
Maybe at the moment, you only need to use a machine with about 4GM of RAM. But later, if your needs increase, you can completely change your RAM.
But not MAC, if you want to upgrade, you can just buy a new machine. Usually, MAC is also very easy to get outdated. Because Apple regularly releases better versions. Even in just two years, Apple has released a newer version.
#6.User experience
Overall, everyone will have different experiences. PC or MAC will both have good and bad reviews. The reason comes from the fact that they choose for themselves an inappropriate tool.
Therefore, before deciding to buy, you should carefully consider the factors above. Once you have chosen for yourself a suitable device, you are sure to have a good experience.
So, in short, a Mac or pc is better for music production. In fact, there is no better device. For example, the best device that doesn't meet your needs. Do you own that device? The important thing is not which one is better, but what do you need?
If you still need more detailed information, follow the expert explanations in the video.
Conclusion
Hopefully, the above information will help you have a better overview of MAC and PC. Along with their needs, conditions, and goals. You can choose for yourself a great support tool in the process of making music.
Thank you for following this post!