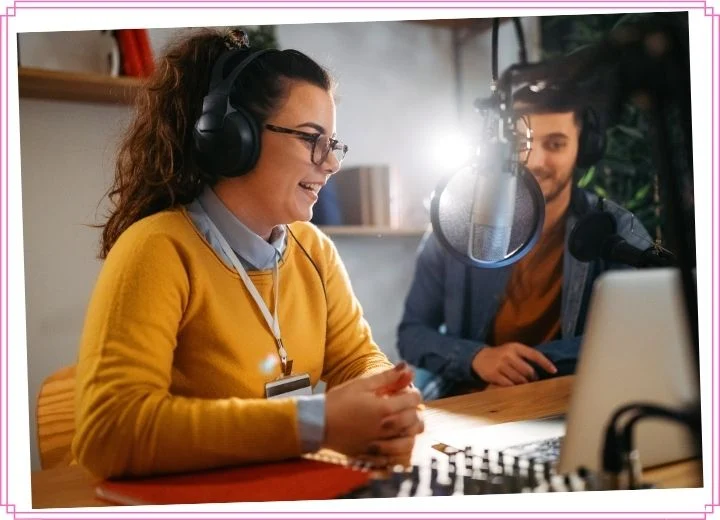 Your audiences will appreciate it a lot if you regularly invite guests to your show. But, how to find podcast guests to get listeners excited?
You can find them on the internet, at conferences, or from other people. Many resources available will help you contact your potential guests quickly.
This article will cover all tips that every podcaster needs. Let's join us and learn how to persuade a guest to your show!
How To Find Podcast Guests? 
As you may expect, finding an expert who would agree to appear on your show is not simple.
We have listed some practical methods for inviting guests to make things easier for you. Take a look at these wonderful ideas!
Do some research
It's advisable to do some research before asking someone to your interview. If you send emails to someone who isn't interested in your show, they are likely to ignore it.
The fanbase of your potential guest is your first consideration. Your and their listeners should be similar for the material you create together to be relevant.
Your potential guest won't mind if they do not feel that attending your show would help them build their brand.
Also, before calling someone for an interview, you need to know a little about them. By mentioning some unique points, you will gain a lot of appreciation.
Send an invitation
You may prepare a formal invitation letter and have a general idea of why you would like to invite them to your show.
Your letter should indicate that you know who they are, value their work and time, and offer a convincing reason for them to come to your program.
You can't persuade a senior or an expert to join your program if you're pitching them. If you're promoting a lower-profile person, though, you may use a solid motivation to do so.
Search on different websites
The Internet appears to be the most potent form of communication available today. You can use it for multiple purposes.
Searching through various websites associated with your field is another method to invite professionals to your show.
For example, if you work in medicine, a freelancing community like Kolabtree can help you find freelance healthcare writers.
On Kolabtree, you may find a lot of physicians, medical journalists, and biotech experts. You might discover scientists sharing their work or a specific topic.
Write a pitch
Several influential individuals receive hundreds of invitations to be on podcasts. Your pitch must be unique and exciting if you want to catch their attention.
This idea is particularly true for famous people who may bring a lot to the show.
Whatever you do, avoid emailing the same pitch to every guest. They'll know, and they'll assume that you're unworthy of their time.
Make your invitation as brief as possible so that you don't sound dull to them. It's critical to include all necessary details in your pitch while keeping it brief.
Ask experts
When a new CD or book comes out, the publisher will try to get interviews for the band or writer so that their new work attracts more attention.
Although podcasts are becoming increasingly popular as a form of advertising, these partnerships are often with radio stations, TV shows, or newspapers.
You might contact people who have lately released a book or album and invite them to your program.
They've probably already arranged their time to publicize their new work and are eager for recognition.
Meet potential people
Meeting people in person is fantastic since it allows you to interact with them and have a deeper understanding of how you can bring real benefit before offering your pitch.
Once you've built relationships with various influencers in your field, identifying ways to collaborate will be easy.
When you contact somebody senior and persuade them to share their expertise with others, the odds of them accepting your offer rises.
Ask your audience
You will have an excellent opportunity to gather ideas from your podcast listeners after you've built up an audience.
Start by asking your listeners for suggestions for people to meet at the end of every episode.
You may utilize your webpage or social media accounts to gather guest recommendations.
The real advantage of this approach is that your audiences already know who they want to listen to, assuring that that episode will be a success.
Furthermore, your audience may be one of the specialists who want to join your show, making your reach more straightforward.
Ask other guests
All of the experts you've invited to speak on your podcast have a strong reputation in their fields. It's now your turn to respectfully ask to give you some contacts for some more specialists in the same field.
You can ask for referrals once you've shown appreciation for your guests' time. This method is among the simplest ways to try.
The next guest will feel that they need to join your show because a well-known expert in the field has suggested his name.
Approach famous people
There are celebrities in every field and niche. It can be challenging to reach these people if you're podcasting in a crowded city.
If someone is so well-known that they receive more than 100 emails a day, they've undoubtedly assigned the task of checking them to their assistant.
If you'd really want to have someone on your show, you may record a video or audio message for them.
This method has a far better chance of getting past their filters. It indicates that you're not just mailing out template letters.
Attend a conference
Because of their seriousness, conferences are different from typical networking. It's time to find amazing guests.
Follow up with the experts after the conference if you exchanged business cards. Mention anything specific you discussed, and then invite them to your show.
Resources For Finding Podcast Guests
Many podcasters deal with maintaining a continuous stream of guests coming through their show. Here are some of the most common places to look for potential people for your broadcast.
Facebook 
Everybody is on Facebook these days. Because people share their hobbies, interests, and emotions on Facebook, this network lets you get to know and locate potential podcast speakers.
Twitter
Since you can interact directly with your podcast guest on Twitter, it's an excellent place to look for exceptional speakers.
LinkedIn
This platform is a no-brainer for business podcasters, but don't miss it for whatever podcast you're producing.
Individuals in industries, businesses, and niches that will benefit your audience may be available all over the world. You can contact them via this platform quickly.
Feedly
Feedly is the world's best content creation service, but you can also use it as an outstanding podcast guest.
This service allows you to read articles from the web. Simply choose a topic, and it will collect information from bloggers and newspapers worldwide.
Pinterest
Pinterest has grown into a significant social network with some of the greatest search capabilities of any site.
This site is a terrific place to meet artists, bloggers, and creative people who want to show off their works.
Instagram
As one of the most popular social media platforms, Instagram is a visually-based community with many talented content producers that would be happy to be on your podcast.
Mastermind communities
Masterminds are also an excellent choice since they often focus on a single topic, such as business, advertising, or even specific fields like photography.
The networking opportunities in such groups are unparalleled, as is the chance for active interaction with influencers on your show.
YouTube
YouTube is one of the most popular search engines. There are specialists in every area on this massive platform. You can find many potential speakers here.
Amazon
Authors wanting to promote their works are always searching for new means to do so, and your podcast might be what they need.
You might also contact publishers or google for public relations companies that work with the authors.
Podmatch
PodMatch is a podcast appointment service that pairs suitable podcast guests with hosts to execute high-quality audio interviews.
MatchMaker
MatchMaker is a podcast and possible guest matchmaking platform that describes itself as Tinder for podcasters.
You can join a group of over 25,000 individuals by creating a profile for yourself and your show.
Frequently Asked Questions 
Podcasters have shown their concerns about how to get podcast guests. Here are some of their frequently asked questions.
Do podcasters pay their guests?
Podcasters do not pay the guests. Their "reward" is exposure to the public and highlights of their products, among other things.
Even though a podcast is still small, the host and the guests want the show to expand and gain more exposure in the future.
Do I need to have guests on my podcast?
No. You may focus on the content and develop it episode by episode. On the other hand, having a visitor is a fantastic idea to try.
When you welcome a guest to your broadcast, creating audio and video content will provide solid promotion opportunities for both of you. You also have more resources to share with the audience.
How do I ask people to come to my podcast?
There are six steps to take:
Do some research on your potential guest
Come up with a catchy topic line
Write an engaging pitch
Add a lot of value
Make a simple call-to-action
Follow up.
After inviting, you should plan the script carefully. This video shows you how to craft excellent questions, prepare equipment, put your guest at ease, avoid scheduling roadblocks, and lots more. Check it out for the details!
Do I need a release form for podcast guests?
This form is a must if you have a guest on your show. Otherwise, when someone else feels they can't show up, you will end up cutting parts or entire episodes of your work.
Conclusion 
When you invite someone who is well-versed in the field, your audience will undoubtedly appreciate the discussion and regard your podcast as a precious resource.
There are a variety of places to look for guests. If you are sincere and persistent enough, you can easily ask them to your show.
Hopefully, the tips we have shared can help you bring a new vibe to your show. If you need any further information, please feel free to ask. Thank you for reading!