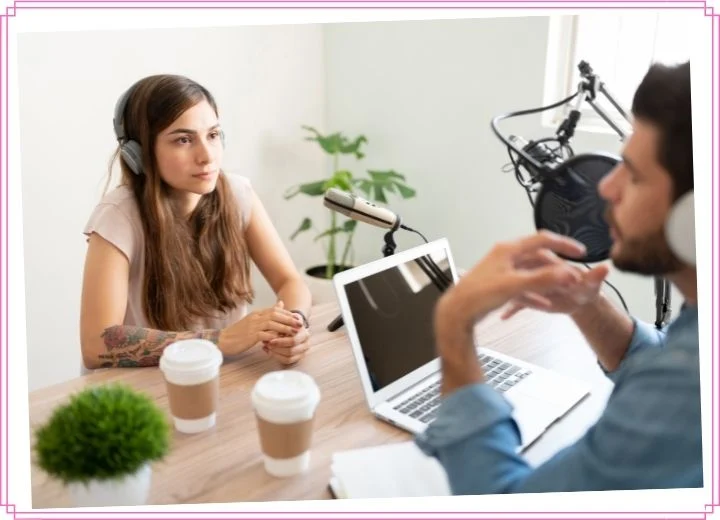 The podcast industry has made great strides in recent years because of its convenience and value. According to estimates, it will soon become a $94.88 billion industry by 2028.
With the rise of listeners, more and more new podcasters have jumped into this market. But soon, they realize it's not that easy to grow a podcast, not just recording and uploading.
So if you're going to get started, this article will instruct on how to run a successful podcast from scratch in five steps. Scroll down now!
5 Keys To Run A Successful Podcast
Before going deep into details, you should first know five key factors to run a successful show.
Good sound: The sound must be the most important thing when starting a podcast. Whether you use the built-in mic on your phone or buy a suitable USB mic, make sure it is strong, clean, and clear. Or else your recording will fall through.
Good content: The content you're going to share must be engaging and appealing enough so that you can catch your audience's attention at once and hold it steadily even after 50 episodes.
Recording app: There is multiple software out there, but make sure you pick the one that makes you feel comfortable working on it.
Distribution: You will need to upload your podcasts to as many directories as possible. It could be Apple, Spotify, Deezer, Libsyn, Buzzsprout, Anchor, etc. The more platforms you work on, the more audience you get.
Patience: It takes time and effort to build your community in podcasting. So be patient, stay focused, and get ready to go up to your plan!
How To Run A Successful Podcast?
How to grow a successful podcast? Here is a well-rounded guideline on how to start your podcast.
Step 1: Purchase A Quality Microphone
The microphone must be the first item that comes to mind when recording. Yes, it is the symbol of broadcast, the critical factor in the success of your podcast.
It's necessary to equip yourself with a good-quality microphone, but don't worry about the cost. There are numerous options out there, and many are inexpensive and powerful.
The mics are mostly USB, which means you can plug them directly into your PC without additional external recording equipment.
If you have a good budget or you are determined to see the job through, you can opt for other professional microphones. These industry-standard mics are often used in recording studios, radio stations, and podcasts worldwide.
Step 2: Select The Right Recording Equipment
It's time to select the recording equipment for your recording. Like the microphone, you can choose beginner or professional equipment, depending on your budget and needs.
Boom Arm: This item attaches to your desk's surface so that you can use your mic hand-free. It can reduce the noise you may cause from handling the mic.
Pop Filter: This equipment helps eliminate plosives and other unwanted wind noise from your vocals.
Sound Panels: Nothing is more irritating than an echoey podcast. If your room has a noticeable echo, some sound panels will help to reduce the reverberation. You can consider some inexpensive basic foam panels or a soundbox. It's also worth mentioning that carpeted rooms, window drapes, and soft furniture contribute to sound reduction.
Video Cameras: Although most podcasts are audio-only, you can use a video camera if you want to record a video version of your podcast.
Step 3: Record Your First Episode
Now that you have everything, it's time to record your first episode. You don't need to have a studio, but try to create a similarly quiet and comfortable space for your job.
Table: You'll need a waist-high flat table if your show has at least one co-host and the occasional guest. You can feel free to sit or stand, and the flat edge enables you to secure the microphone boom arms.
Chairs: Comfy seats with enough padding and back support will help you focus on your recording. Otherwise, you will get distracted when your shoulders, back, and legs hurt.
Quiet: Lock the door and put a sign "Recording in progress. Quiet, please" Also, tell everyone in your team to turn off their phones and put them on airplane mode.
Once you are all in place, you can warm up before recording. Some basic exercises will loosen you up and help ease the stress caused by pre-show jitters.
A small tip is to keep yourself hydrated all the time. So take a sip whenever you stop talking. Good luck!
Step 3: Choose An Editing Program
You'll want to edit your podcast after recording, so it's a must to choose the best editing program for your needs.
It's not physical equipment, but it's an indispensable part of your record! You can select GarageBand for Macbook or Audacity for PC or Linux.
GarageBand is a professional music production studio for Mac. The software comes with a sound collection that includes instruments, guitar presets, and voice effects.
It's simple to learn, play, record, compose and share your songs worldwide thanks to the Touch Bar features and its intuitive, modern design.
Audacity is a multi-track audio editor and recorder compatible with Mac OS X, Windows, GNU/Linux, and other operating systems.
The user interface is available in various languages, helping you easily record live audio and record computer playback.
You can cut, copy, splice, or mix sounds together, convert tapes and records into digital recordings or CDs, edit AIFF, FLAC, WAV, MP2, MP3.
Besides GarageBand and Audacity (free to use), you can consider paying an amount for the editing process.
Why not? Adobe Audition and Final Cut Pro are two examples of advanced editing tools that promise to take your product to the next level!
Step 4: Find An Inexpensive Hosting Platform
How can you publish your podcast onto Apple Podcasts, Google Podcasts, Spotify, Stitcher, and other apps? Just look for a good platform to "host" your podcast.
You can upload your podcast for free on SoundCloud, a good choice for those who want a public podcast without paying for hosting.
But suppose you want to expand your audience on popular apps like Apple Podcasts, Spotify, Google Podcasts, Stitcher, Podcast Addict, Overcast, Pocket Casts, Castbox, or ScoutFM. In that case, you can consider Libsyn with the cost of $75 per month.
Libsyn not only gets your podcast onto those apps but also provides comprehensive data so you can see how each episode performs.
Furthermore, the app for podcasters engages listeners more than just standard audio or video episodes. It allows you to upload even PDF and text files so that you can share with your audience extras, transcripts, blog entries, and more.
Here is how to get started with Libsyn!
How To Avoid Podcasting Mistakes
To ensure that you are creating high-quality podcasts, continue reading our part below. You'll be able to dodge these common mistakes the next time you go inside the studio.
Consider the Length of Podcasts
This issue must be one of the most typical mistakes newbies make with their first episode. They get a brilliant idea and then head to the studio to record it.
What happens then? They talk for hours and hours on their topic, resulting in a lengthy episode.
If your podcast is extremely long, listeners may be hesitant to give it a try. It's the same principle that applies to television shows. If you have to catch up on ten seasons, you're less inclined to start watching.
Similarly, some people create podcasts that are too short. They can't go deep enough into the things being discussed; thus, they're a waste of time.
So before you start recording, think about how long you want your podcast to last. It will never be excessive.
Starting A Podcast Entails Marketing It.
Sometimes the most challenging part of making a podcast isn't actually doing it. It's about marketing it. You will not grow your audience if you do not do marketing. People won't know about its presence unless you advertise them.
This common problem happens among beginning podcasters, and it has the potential to kill your podcast ideas before they even get started. So before you begin, you should always map out your marketing strategy.
Make Sure Your Topics Are Interesting For Podcasts
Another common mistake made is that they aren't intriguing enough. Yes, you must think about how your new concept differs from other podcasts currently available.
Focus on what qualifies you as an expert in a specific field or idea. You must take advantage of this knowledge but in a creative way.
The best podcasts are not just educational but also interesting and funny. Because it's a creative medium, it necessitates a creative approach to ensure success.
Be Consistent
Finally, consistency is essential for growing a podcast audience. Don't just come up with a single episode idea; make it, and then release it.
Instead, you need at least two or three episodes. It will ensure that you have a strategy in place for recording, marketing, and launching your project.
The key to keeping your audience engaged is to maintain regular production. If it takes months for you to produce a new episode, you could lose hundreds of audiences during that period.
Conclusion
We hope that you've got the answers for how to run a successful podcast. Before you actually record an episode, there are tons of things to think and do – from microphone, recording equipment, editing tools, hosting platforms to marketing your podcast.
It's not easy to launch a podcast, but as long as you have passion, you can do it! Follow all these tips, and you will see amazing results. Thank you for reading!