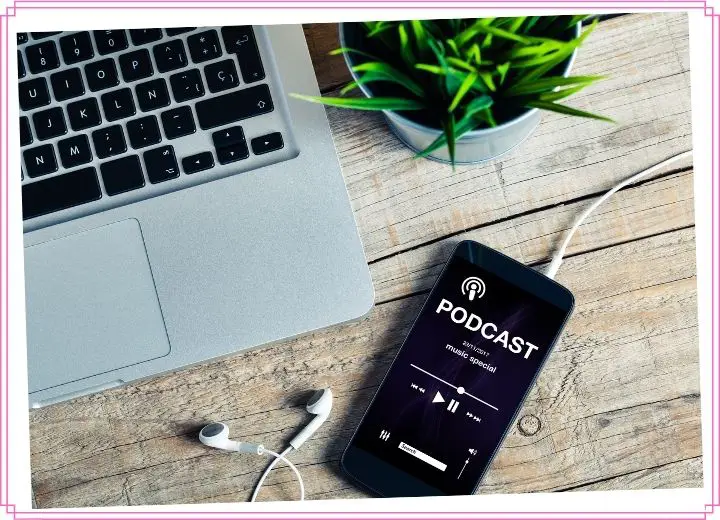 Podcasts appear to be highly trendy these days. Everybody seems to have their own favorite. So, how to listen to podcasts?
The approach to accessing podcasts varies depending on what device you use. The rule of thumb is to download the compatible app and log in to your account to enjoy your favorite music.
Based on your device, we will break the methods for listening to the podcast into different parts. Let's join us!
How To Listen To A Podcast?
You may listen to podcasts on your laptop or computer in two ways: through a web service (such as Spotify Web) or a desktop program (Apple Podcasts or Spotify app for desktop).
#1. On web
It can be beneficial to use a web browser. You don't need a specific web browser or operating system to play a podcast.
Using the web, you don't have to install it. You may just listen to your favorite podcast online using the web player.
Here's how to use the web player. All you'll need is a computer with a web browser, an internet connection, and a Spotify membership to get started.
Sign in to your account using a web browser. Select the white and black LOG IN option in the upper-hand corner of the window.
The login page displays you the choice of signing in to Spotify using your Facebook account or using an alternative login and password.
Log in using the account you usually use.
You'll access your account's primary homepage after you've signed in.
A variety of audio options stay at the top of the page on this platform. Choose Podcasts from the list of options.
You may subscribe to numerous recommended podcasts on the Podcasts screen.
You may either choose one of those shows for a list of options or look for a specific episode using the online player's top Search feature.
Choose a program (by tapping on its icon), and access a website that lists the episodes (it'll appear like a mixtape).
The audio icon will then change into a play button once you set your mouse on the podcast icon beside your selected episode.
To start listening to the episode straight away, press the play button.
#2. On Mac
Apple has launched macOS Catalina. The company also quit iTunes and replaced it with three new programs. One of the new products is Apple Podcasts.
If your Mac uses macOS Catalina, you'll almost certainly use this desktop program to access podcasts.
Please follow these steps for playing podcasts on Android devices:
Choose Browse from the sidebar on the left side of the page in the Apple Podcasts program.
Alternatively, use the Search box at the same sidebar to look for your favorite episode.
Use the audio buttons on the window to listen to a podcast episode.
To join a podcast show, find the show you want and tap on it to view its description.
Select "Subscribe" on the profile page.
When you subscribe to a show, you can download new episodes quickly as soon as they become available.
Based on the Apple Podcast developer, you can register for a paid membership that gives you access to a particular material, ad-free streaming, and other benefits in return for the charge.
#3. On Windows
If you want to access podcasts on your computer, the Spotify app on Windows may be the ideal technique to do it.
This method is beneficial if you already have a membership since you listen to Spotify on your smartphone.
The cool part about Spotify as a podcasting platform is that it doesn't require Windows 10 to operate.
The app can support Linux, Mac, and Chromebooks. We'll concentrate on the Windows 10 version. Here is how to do it:
Launch the Spotify application on your smartphone. You may do so by using the Search box in the lower-left corner of the display to look for it.
If necessary, sign in to your account. Your primary dashboard will appear once you've joined.
By choosing the Browse button in the upper left corner, you may view a broad range of recommended podcasts.
Choose Podcasts from the list of options on the browser page.
You'll get a list of approved podcasts, highlighted episodes, and category selections from which to choose.
By tapping on one of the program icons, you may choose a podcast. You can access the program's profile, where you'll find a collection of episodes.
A play button will show next to a program if you move your cursor over it. To play that episode, press the play button.
You can also use the search feature to look for a specific episode.
Type the title or term into the search bar. It should appear in the search queries right below it.
To go to the episode's page, click on the podcast you want to listen to. You may then access an episode by either dragging your mouse over an episode list until you see the play button then click it.
You may also use the green button on the page to start the show episode.
#4. On Android devices
Podcast Addict is a famous podcasting application for Android smartphones. It offers a user-friendly UI. Here's how to use Podcast Addict to access podcasts.
Click on the Addict app to launch it.
Choose the "+" sign symbol in the upper right corner of the display from the home screen. You can go to the New Podcast page after that.
You may browse recommended and popular podcast programs on this page or use the magnifying glass button to look for a particular podcast to subscribe to.
In any case, click on a podcast's logo to access its profile once you've found something you like.
Once you've reached a program's profile, you can either register to the program or save all of its episodes by clicking the "Subscribe" option.
Otherwise, you may use the "Episodes" button to explore specific episodes of a program.
If you find an episode you'd like to hear, click it. You can then access the episode description page for it after that.
To play the episode, tap the Start button.
#5. On iOS devices
The Apple Podcasts application for iPhones is also accessible as an iOS program. The instructions are as follows:
Launch the app and press "Browse" or use the "Search" area for hunting for a podcast to locate a program.
Tap on a show to access its page.
Choose the newest episode, or opt for the one from the episode list.
Adjust the attack using the controls for playing podcasts at the bottom of the display.
Click on the control bar to access more content to move into full-screen settings.
Best Free Podcasts You Should Try
You may ask: "Where can I listen to podcasts?" There are many options from paid to free.
Try looking at these suggestions to select a free podcasting software that meets your needs. For extra info about each app, let's scroll down.
#1. Pocket Casts
Pocket Casts is a free podcast software that you can download for iPhone and Android.
This software easily transitions between Android, iOS, and the PocketCasts website player, making it perfect for podcast enthusiasts.
Whereas the phone applications are free, the online player requires a monthly subscription.
#2. Overcast
In terms of features, Overcast is quite similar to Pocket Casts. However, it is an iPhone-only software. It has much more customizability than Apple's standard Podcasts program.
Because of its setup, the app is worthy of the greatest podcast application for iPhone. The app allows users to organize their podcasts into genres that share tracks, which is beneficial for reading time-sensitive material.
#3. Castbox.fm
For Android and iPhone users, Castbox is another excellent cross-platform podcasting software.
The software allows users to upload their favorite podcasts from different sources and has an extensive library of audiobooks and podcasts.
Castbox.fm comes with social features, similar to YouTube. Hence, other Castbox users may post comments on episodes. It's a really unique group that YouTube fans may find enjoyable.
#4. Castro 3
Castro 3 is a perfect choice for listening to different podcasts but doesn't necessarily want to subscribe to every episode.
Downloading radios in Castro means that new episodes appear on a newsfeed, but you can't download them immediately.
You may select whether or not to save and listen to radios by adding them to a queue.
To ensure increased values, Castro enables customized playback speeds and equalization features. It also has a trimming silence tool, which may cut your podcast playing time by up to 20%.
#5. Spotify
Spotify has bought many programs, making them unique to the site. Several well-known shows have signed unique Spotify deals too.
The harsh reality is that if you want to take full advantage of everything that podcasting has to give, you may want to download Spotify.
Although it isn't one of the better podcasting applications available, it does offer free access to all of its programs.
How To Subscribe To Podcasts?
You'll hear the term "subscribe" a lot when you listen to your podcasts.
One of the benefits of subscribing is that any new program episodes will automatically come to your device using your podcast application.
Minutes when the podcast creator releases new content, you immediately get it.
Of course, listening to the broadcast does not require subscribing to a podcast. However, if you use the app often, a subscription removes a manual download.
Subscribers may improve a show's ratings and popularity. Thus podcast makers want listeners to register for their programs.
Search for the "Subscribe" button to subscribe, which often stays near the program description.
If you decide that a show isn't for you, you can unsubscribe at any time.
If you have no idea about subscribing, this video will help. It shows how to follow your favorite podcast on different devices. Follow the steps described, and you are ready to go.
Conclusion
Podcasts are powerful tools that enhance your listening experience. Once you've become familiar with using them, you can get immersed in your favorite track.
It would be best to subscribe to your most frequently played podcasts. You will earn a lot of benefits as a subscriber.
Hopefully, you will find this article helpful. For any further information, please feel free to ask. Thank you for taking the time to read this!