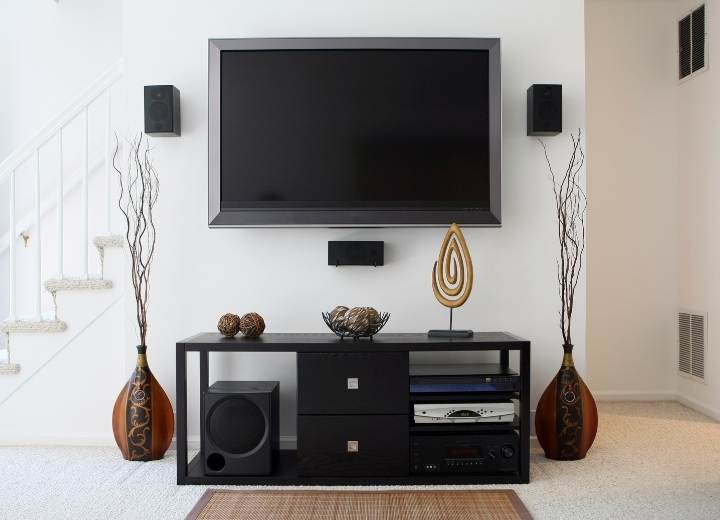 How to set up a karaoke system with home theater? For a professional karaoke setup, you can seek help from a sound engineer. For a simple karaoke connection, you'll need to follow these instructions:
Remove the karaoke machine & Find the stereo cables
Get a sound mixer
Get microphones
Set up lights and seats
Why Home Karaoke?
A mini karaoke box right in your house – what can be more engrossing? With a karaoke system right within your home comfort, you can enjoy singing for countless hours. No time limit, just fun.
Plus, investing in your own singing machine would save you tons of money. You don't have to pay for any services. Your fruits and snacks are also cheaper!
While a home theater is great for relaxing, a theater with a good-quality karaoke player is literally perfect for parties. This room will be a fascinating place in your house.
Besides, you don't have to worry about the complicated setup, thanks in part to the plug-and-play version that manufacturers have incorporated into them. New karaoke models for home are super easy to set up.
What Karaoke Equipment Do You Need?
Apart from home theater, home karaoke needs some other connection equipment, including a karaoke player, microphones, speakers, and a sound mixer.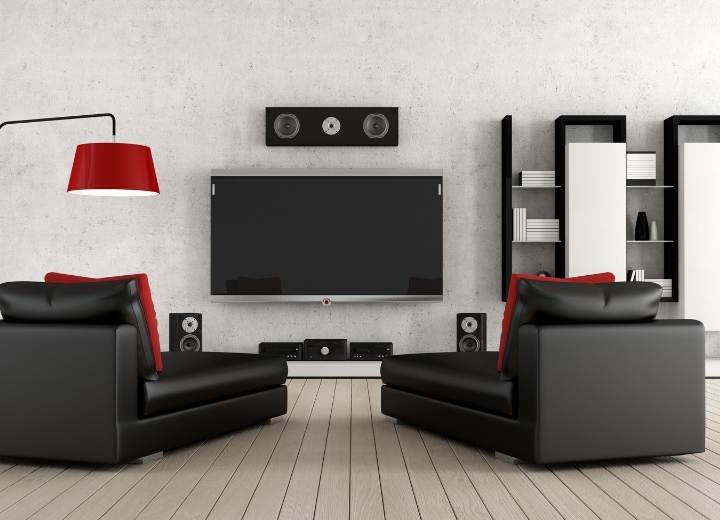 A professional karaoke theater requires more than these four pieces of equipment. However, it'll cost you a fortune to purchase all the needed implements. Instead, you can build a DIY karaoke system with simple equipment and connection.
#1. Karaoke Machine
The first item, of course, is a karaoke machine. How could a home karaoke theater be without a singing machine, alright?
There are loads of models with various features for you to consider, ranging from best-rated to primary ones. Depending on your budget, you can go for a high-grade machine or utilize the standard norms of karaoke apps, Youtube, and CDs.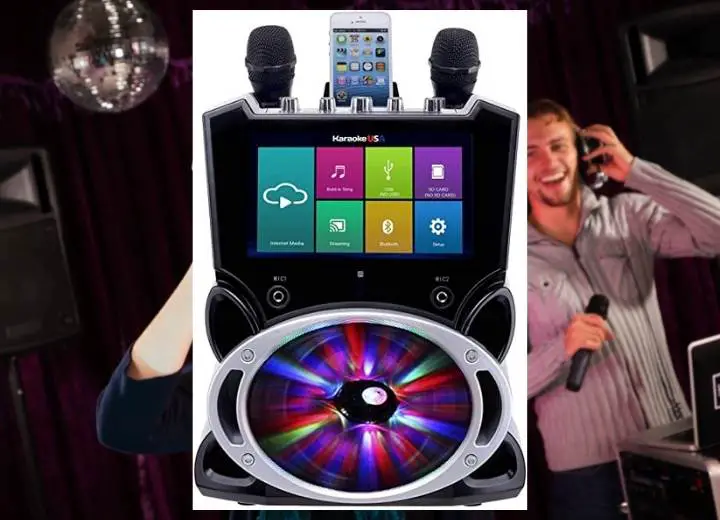 A professional system would cost some extra and be too complicated to set up, particularly in a small space. Should you be a beginner, you'd better go for an all-in-one machine.
The basic necessities are the same for every type of equipment. However, a complete setup will provide you with every gadget, including wires, screens, and wires. Your game, therefore, comes with a lot of fun.
#2. Microphones
We recommend grabbing two ones for an interesting duet challenge regarding the number of microphones for home karaoke. If you often have a group of audience, you may get more than two. 
Indeed, splurging on more microphones means the cost of total setup is increasing. If you want to save budget for other gadgets, two is the perfect amount.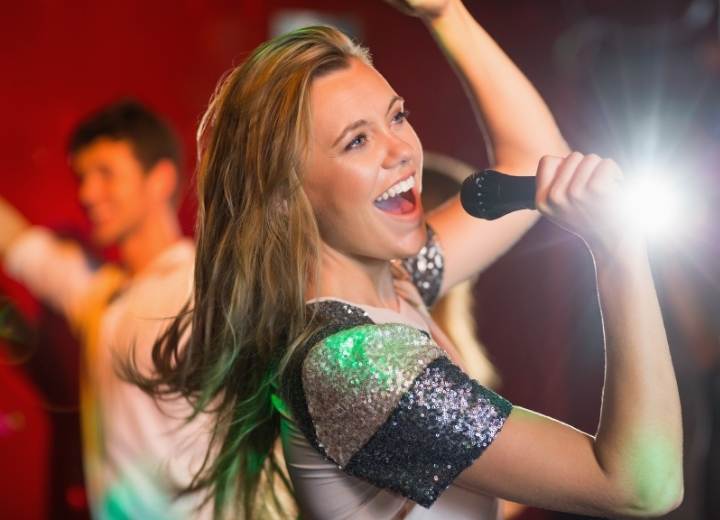 Like any other gadget, the higher the price of a mic, the better its quality. However, below-average or decent items can still deliver a nice outcome. So entry-level karaoke lovers won't have to bother with the quality difference.
When considering buying microphones, you have to make an informed decision about whether to go for wired or wireless items.
Each type features specific upsides and downsides, but the sound quality of the two is roughly the same. For inexpensive karaoke setups, plugged-in mics are a better companion. On the other hand, if you're fond of singing and dancing around, a wireless mic will give you freedom.
#3. Sound System-Speakers
Here's a secret: speakers and the sound system determine the sound quality of your karaoke. Unlike other items, for this one, we advise you to opt for pricey ones with advanced sound technology.
Indeed, no one would like to hear their voice at a minimal volume or of distorted sound. It'll depress your music enjoyment the moment you sing a note. That's the reason high-rated speakers are many customers' go-to option, particularly severe karaoke geeks.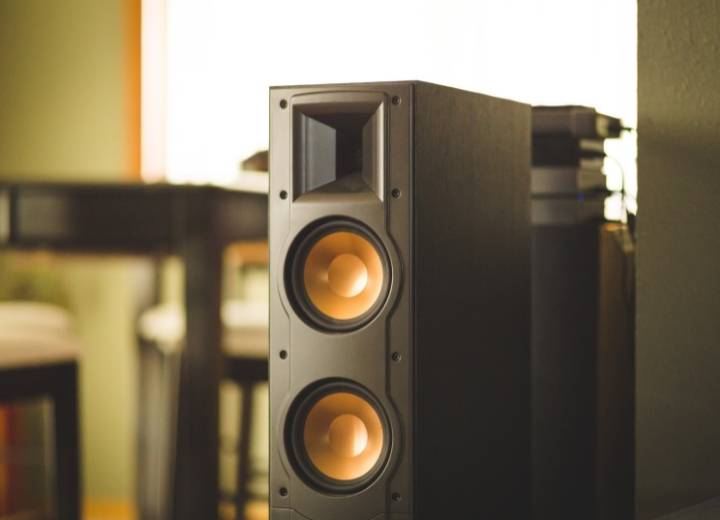 There are wired and wireless speakers. While wireless speakers are more flexible to maneuver, wired ones are more affordable.
The best idea is to purchase a 2-in-1 speaker and mixer combination. Or else, you can choose a heavy-duty powered speaker or PA speaker. These models are more budget-friendly and have a kick in the sound quality.
#4. Powered Sound Mixer
Your sound mixer, or amplifier, will complete your karaoke setup and bring it to life. A mixer specializes in processing two kinds of sound: song sounds and backing tracks. It determines the micro's outcome when a person sings.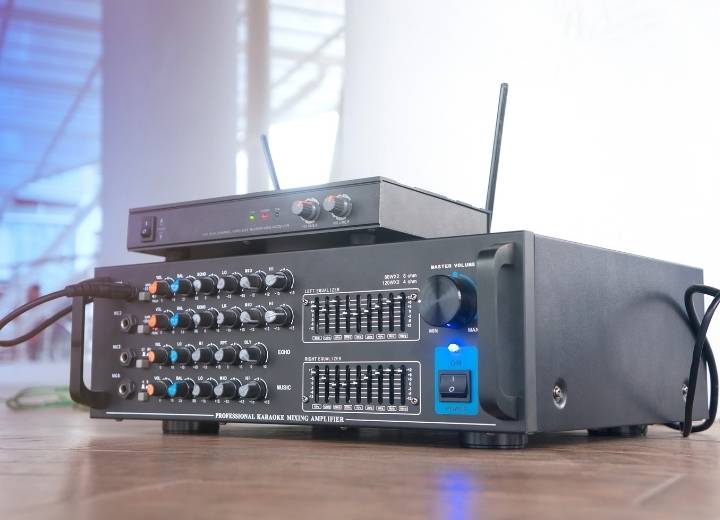 A mixer includes both the audio and micro connectivity and the output connection for your speaker, which essentially amplifies the sound system.
Similarly, customers can choose between plugged-in and wireless mixers. It's up to you. You'd better pick the most suitable item for your home karaoke.
How To Setup A Karaoke System With Home Theater?
Nowadays, achieving a truly professional karaoke setup is much easier but not so straightforward that an inexperienced person can do the work alone. If you're planning to make it big and mind-blowing, you do need to seek advice from a sound engineer.
Otherwise, our instructions would give you a hand to set up a karaoke system for personal or home use. Basically, once the lyrics go out from your screen, the vocals from your speakers, and the music from the sound mixer, you've got a complete home karaoke theater to enjoy.
Step 1: Remove the karaoke machine and look for the stereo cables.
Find the white and red plugs, then connect them to the audio port out of the karaoke machine.

Next, plug the red one to the right audio while the white one goes to the left.
If you can't see the audio port, check the front and the back. These spots are its common locations.
Position the sound receiver by taking the stereo cables and connecting them to the audio input ports of the speakers. You need to plug it correctly, or else it will malfunction.
Step 2: Set up the sound mixer
Manufacturers have incorporated different built-in controls to the karaoke sound mixers, allowing you to do many settings, like microphone volume, tone, sound balance, and echo.
All you need to do is find a proper place to locate it and plug the wire into the speaker. If it's a wireless mixer, connect them via Bluetooth.
Step 3: Set up microphones
For wired options, they don't allow an as simple setup as the wireless microphones. You'll need to find the mic jacks in the control panel of your karaoke player, plugin, and press the button next to the port to activate your microphones. Meanwhile, wireless mics don't require any complicated technical settings.
Step 4: Set up lights and seats and get ready for parties
Once you have good equipment and good sounds at your fingertips, the final step is arranging the seats and installing disco LED lights for a true home karaoke party.
You should measure enough seats for your audience and make sure there's a spacious space for dance moves as well. Besides, for some mood lighting, any lamp will work. Pin lights or bright floor lamps all add vivid colors to your party.
Tips For The Best Karaoke Parties
Necessary equipment and a proper setup aside, amateur singers should take the following notes into account when setting up and holding a home karaoke party.
We suggest choosing an open space so that the sound can vanish easily.  However, an exceedingly enormous room is not a good idea since it might lead to echoing and distortions. In general, you should find a decent-sized space with some open exits to ensure no sound annoyance will occur.
Do a trial run a day before the party
To make sure of a smooth karaoke system, you'd better double-check all the audio, internet and Bluetooth connection, and video one or two days before the party. Especially, doing a sound test is essential as you may need to make some volume adjustments.
Notify neighbors in advance
It'll be a courtesy to inform your neighbors about the party. And you won't have to worry about someone banging your door during the game.
Conclusion
What is the method to set up a karaoke system with home theater? The task will become a breeze if you know the steps and pick the right equipment.
Throwing a fun-filled karaoke party at home is a cool way to gather friends and family. As long as we have the nice sound, dance steps, and delicious food, tiresome is bound to fade away.
A banging karaoke theater right in your home comfort is the best thing. We hope our helpful guide can help you set up a DIY karaoke system and fill your room with beautiful music.
Thank you for following this post!