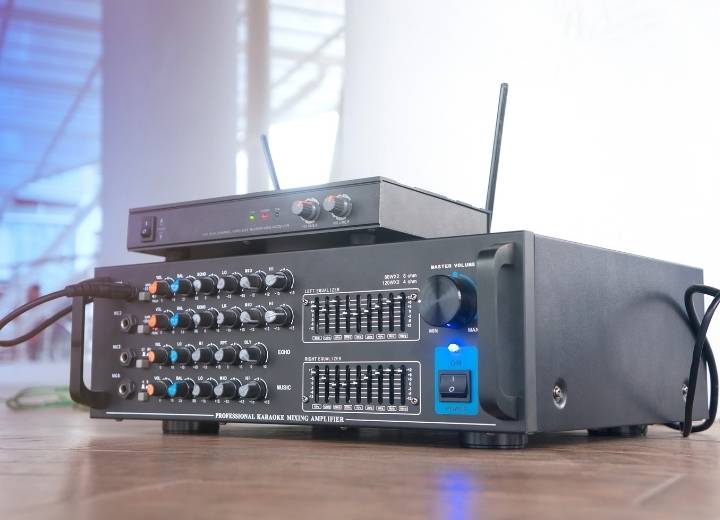 In general, the mixer and amplifier both make the sound clearer when singing karaoke. However, there are still quite big differences between the two devices, such as design, professionalism, and price. 
According to the comparison of the sound output of the two devices, the mixer usually has a firmer and clearer volume than the amplifier.
To learn more and compare these two devices more accurately, please refer to our following article. Here are some comparisons of parameters between the Karaoke mixer and amplifier through the experience.
Karaoke Mixer vs Amplifier Comparison
Below, we will compare these two devices on many different aspects such as design, adjustability, connectivity so you can clearly see the difference between them.
Principles of sound processing
Of course, both of the above devices help to process the sound more clearly when you karaoke or listen to music. However, many people mistakenly think that mixing the sound of a mixer and an amplifier is similar. 
But in fact, the sound processing principle of the mixer and the amplifier is not completely the same.
Each type has its way of filtering sound based on the settings. You can see it very clearly through the sound experiments of the two devices above. 
For example, the same sound but through the processing of the mixer will be different from the amplifier.
Basically, the mixer is an input audio processing device, very important in the audio system. The processing usually goes through some of the following stages:
First, the mixer receives sound from devices such as microphones, musical instruments, or in other words, your sound when singing karaoke.

Then comes the process of conducting internal sound processing. As the name suggests, the mixer will mix the sounds through your adjustments. In each mode you set, you will feel the sound differently.

Finally, the mixer outputs a single signal in mono or stereo format to the listener's ears. At this time, the sound you hear will be clearer and more definitive because there is no noise. What's more, you won't feel shy when singing karaoke.
Meanwhile, an amplifier is an audio device used to amplify signals such as electrical signals and emitted audio signals.
Sound processing is fast, not as sophisticated as a mixer. 

When receiving the original signal, the amplifier will diffuse and mix that signal into a unified sound. 

The sound will then be transmitted to a playback device such as a speaker or a headset.
Therefore, the sound of the amplifier is usually more resonant and also has less noise. However, in some cases, the amplifier may be distorted due to the absorption of many signals simultaneously.
Design
The design between the mixer and amplifier is very different, so you can easily distinguish them. 
Typically, amplifiers have less surface detail than mixers. Even non-experts can easily distinguish these two types of devices. Below is a detailed comparison of mixer and amplifier designs.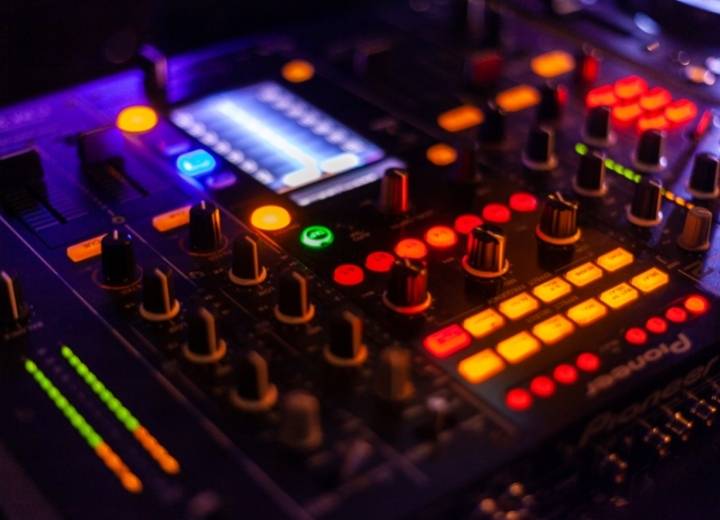 First, the appearance of the mixer has a lot of audio controls and sliders, creating a sophisticated look for your sound system. In addition, the mixer also has more power cord jacks to link music devices together.
But, the mixer structure is quite thin and light because there are not many details inside. This design is very suitable for portable karaoke systems. Moreover, the network also brings a lot of conveniences and saves space for you.
In contrast, amplifiers have fewer parts above the surface. When you look at the amplifier, you don't see the complexity of the mixer.
However, amplifiers are much thicker than mixers. Therefore, the volume is also heavier, suitable for placing in a fixed place. If you have a large karaoke room, the structure of the amplifier is very convenient.
In general, we see that each design has its own advantages and characteristics. Therefore, to choose a suitable device for karaoke, you should consider each case, the space to place the equipment.
The adjustment
Since mixers have more adjustment modes than amplifiers, manual mixer adjustments will be a bit more difficult.
Usually, karaoke mixers have more sliders and various sound modes, making it difficult to mix sounds. However, you can complete it through an app to connect and control the mixer. 
Thereby, whether you are tech-savvy or not, you can still easily use karaoke mixers. Inside the application are full instructions for use and settings to ensure the best experience for you.
Neither of the above devices supports adjusting at one sound level at different places. The setting depends on your karaoke space.
For example, with closed Karaoke rooms, the sound mixing will be different than outdoors. Or the attached devices such as speakers, microphones will come with a separate adjustment level. In general, when changing the space and karaoke equipment, you must change the setting mode.
However, do not worry too much because the adjustment buttons are clearly stated modes. In addition, each device comes with a specific instruction manual. You can completely rely on that guide to install the sound. 
Moreover, you can also search for tutorials online, and there are many detailed articles on how to adjust karaoke amplifiers.
Connect ability
Both the mixer and the amplifier allow connection to many parts of the karaoke system. You can completely connect Bluetooth or USB for the two devices above.
In addition, the mixer and amplifier can support all types of speakers and microphones, from wired to wireless. Karaoke will be more diverse, stopping at the TV screen and singing through phones, iPods, and computers.
What's more, Mixers and Amplifiers have other technologies that allow for a more professional connection. Here are some technologies that enable connectivity:
Currently, most types of karaoke mixers are using digital technology to provide perfect sound quality. In addition, digital carries audio converted to binary form to help computers understand and receive information. As a result, users can control the mixer remotely instead of holding it directly on the device.

Unlike mixers, karaoke amps often use Analog technology. Therefore, the amplifier can only be controlled directly at the buttons on the device. Thereby, users need to know how to set up a karaoke amplifier and have a certain sense of sound.
Price
Because mixers and amplifiers have many different versions, the price is not stable and specific. The price is high or low depending on the sound processing along with the adjustment modes.
However, if both have the same parameters, the mixer will cost much more than the amplifier. If you have a home karaoke system, you can use an amplifier to save money.
To provide a good experience during karaoke, a quality sound processor is essential. Therefore, invest in the karaoke room with a high-end device to enjoy the perfect sound. 
Specifically, please refer to the equipment of famous and quality manufacturers. In addition, you can ask audio experts for advice to avoid buying the wrong product or buying the incorrect price.
Frequently Asked Questions
We've gathered and answered some helpful questions below to help you better understand these two popular audio devices.
1. Should I use an amplifier or a mixer for karaoke at home?
For a home karaoke room, an amplifier or a mixer is suitable. What matters is your device usage needs.
If you often do karaoke, using a mixer will give you a better experience. Or if you want to move your karaoke machine to many places, the mixer can move faster than the amplifier.
In case you want to open a simple home karaoke room, you can refer to an amplifier. Normally, a closed karaoke room at home does not require too good a sound. Therefore, you can completely choose an amplifier for easy adjustment.
2. Why should you use a mixer for a professional karaoke sound system?
In terms of professionalism, the mixer is much more than the amplifier. 
Not only the structure but the technology and mode of the mixer are also very professional. When there is a mixer, the sound system is more sophisticated and of better quality.
A professional karaoke sound system must make the sound more solid and clear. In addition, the flexibility in moving is also quite high. Therefore, a diverse and quality sound processor in every space is essential. 
Consequently, you should choose a mixer for your professional karaoke system instead of choosing an amplifier.
3. Should I use an amplifier or a mixer if I'm not an expert?
Usually, people who don't have many good installation skills will choose an amplifier instead of a mixer. Because the amplifier is easy to adjust and has fewer setup operations.
The type of mechanical amplifier includes only two basic adjustment buttons. Even if you are an inexperienced person, you can still install the sound with an automatic amplifier.
In addition, you can still use the mixer if you go through the app on your phone. Or, as we said, you can refer to how to adjust amplifiers for karaoke through the article online.
According to many people, learning to adjust the sound when karaoke is not difficult. You can completely learn in a short time.
If you want to learn quickly how to set up a mixer at home without experience, you can refer to the video tutorial below:
Conclusion
In short, mixers and amplifiers each have their own advantages and disadvantages. So, before you buy, determine your needs and capabilities to choose a quality karaoke device.