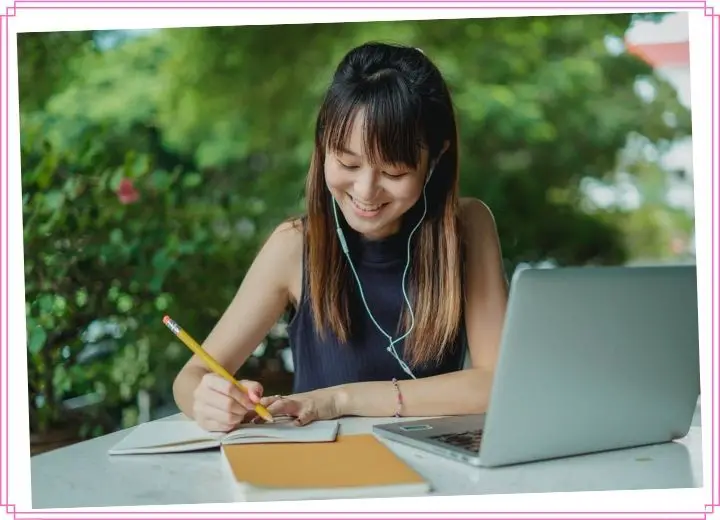 Whether you're listening to podcasts for career advancement or simple entertainment, you're bound to notice something interesting.
So, how to take notes while listening to a podcast? There are two main ways to become a multi-task person this way:
Take notes by hand
Use apps
We will reveal tips to turn interesting information from your favorite podcasts into wonderful resources. Then, you can check it anytime.
How To Take Notes While Listening To A Podcast?
You may forget what you have listened to on your podcasts. Yet, things change if you jot down something you like while enjoying your favorite program.
Here are two methods that most podcast fans use to save their notes:
#1. Take notes by hand
This traditional method may spring to your mind first. You can write on paper or type on your computer.
When jotting down on the laptop, you often type as quickly as or slower than you can talk. As a result, you'll be able to note a lot of information.
When writing down information, though, the only decisive factor is the sounds of the written words.
The words and their sequence can make the difference, so you're only paying attention to the sound. You're not concentrating on what's going on in the podcast.
#2. Use apps
You undoubtedly wish you could take notes from your favorite podcasts automatically. Then you may focus on the entire audio.
Although the technology isn't accessible yet, a few apps can help you note faster and more efficiently.
These programs can export your contents to your preferred personnel management information system, secondary brain, or digital note-taking software.
If you want to get the most out of your audio listening, here are some tools that make taking and storing information a breeze.
1. Airr
Airr is an audio tool that helps you save important moments from podcasts. It has a big button for saving an "Airr Quote."
You may also customize the length of saving time by default, and you can adjust any Airr comment afterward to fit the time you want to record.
You have a beginning point for your notes using Airr Quotes. You can also note right away or towards the end of the day. Try these following steps to master this tool:
Go to the app and change the settings to record the text you like. Then, name each Airr Quote.
Readwise saves Airr Quotes immediately. This integration layer subsequently emerges as your stored notes.
The Readwise will sync with Obsidian and save these quotations to your Obsidian library when you restart the app.
You can go through the quotes again and summarize the episode you just listened to.
Make Atomic comments in Obsidian according to the episode's main points or themes.
2. Snipd
With a single click, you can highlight and make a note from the broadcasts. For the highlights, this application may offer AI-generated titles with summaries.
Simply press the "Snip it" option anytime you hear something interesting while listening to a program. Your action will result in the establishment of a snippet.
To catch the entire context in the sample, you can choose the appropriate start and end spots.
Your highlights will then move to Readwise, along with an automatically created summary and title.
This video discusses the benefits of this app in detail. You can also learn how to use it to save your highlights in a podcast.
3. Momento
Momento is an excellent podcast software for Android and iOS devices. It allows for simple audio highlighting of any program.
The software can capture and convert any podcast session from sound to text with a quick press. Then, utilizing Readwise, link to your management information system.
Here's how to synchronize your Momento headlines to Readwise automatically:
Choose "Settings" in the upper right corner of the app.
Access Readwise.
Access the token, and copy it.
Input the token in the Momento app to successfully connect to Readwise.
Extra Tips For Taking Notes 
Aside from the materials we have shared, you can make the best of your memo by applying these tips:
#1. Only highlight important information.
Many individuals scribble down as many details as they can. The truth is that you might not need them all, and jotting them down takes a long time.
Keep playing the audio until you are ready to give up a tiny amount of knowledge in favor of something vital.
This tip also helps you boost your concentration. You are working on your brain system to filter necessary details instead of taking all of them.
#2. Do something with the saved information.
Feel free to change the words you hear to your own words rather than taking them down precisely. Change the meaning by rewriting it too.
That job includes taking all or most of the underlying parts and writing a summary or paragraph from them.
Paraphrasing also improves comprehension because you're regressing from the simple phrases to the meaning and the objective and connection.
Conclusion
Podcasts are valuable information resources. Instead of letting them cross by, it would be best to save them and use them as books.
Thankfully, many people share the same idea. You can see a lot of tools that help you note down interesting information from podcasts quickly.
There is no one-for-all method. You should try each app and find out what works best for you. If you need any help, please leave a comment below.
Thank you for reading!