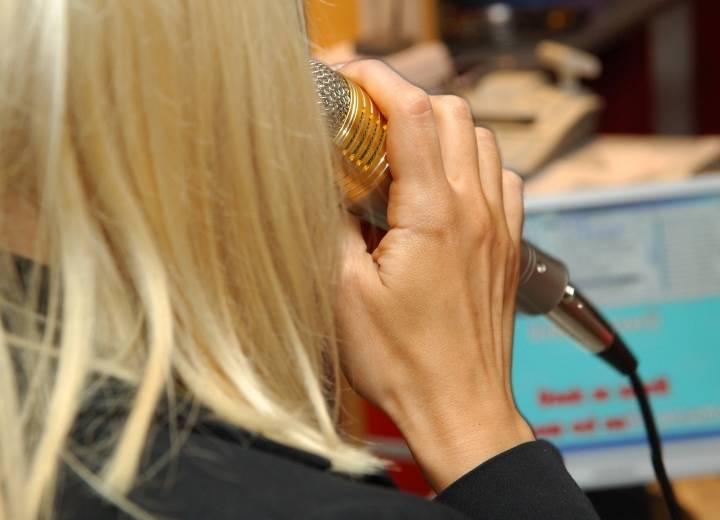 These are some easy ways on how to use karaoke machines. We'll help you set up and use different karaoke systems for your convenience. Check it out for details.
Some Easy Ways On How To Use Karaoke Machine
Karaoke machines are a popular tool that many people use in life for entertainment purposes. However, not everyone understands specifically how to use a karaoke machine and how it works.
If you need more specific ways to help you understand the popular types of karaoke machines and how to use them, it depends on certain needs. 
Please take a few minutes to read the article below. This article will provide some specific information to clarify the above issue.
How To Use A Karaoke Machine?
To be able to use a karaoke machine, most of you have to follow these steps:
First, supply power to the karaoke machines, then connect them to any devices you want to use.
Next, you should check if the sound source of the speaker or mixer is suitable and stable.
Finally, connecting the karaoke machine to the mic or the audio head is ready to use.
To better understand how to use a karaoke machine, let's go through some basic uses that people often use today.
Before diving into the problem, you can watch the video to understand how to use the karaoke machine most specifically.
#1. A Karaoke System With iPad
iPad is the most popular way to use karaoke machines among young people today to bring convenience to users.
To use the karaoke system with an iPad, you need an iPad, speaker, microphone, mixer.
First, you should put the iPad fixed in the place of use to be most convenient. A stand can be used to assist in the placement process.
Then use the iPad's headphone jack to plug the RCA in; the other end connects to the mixer. If the RCA is too short, you can also replace them with other longer adapter cords as long as they can click the iPad and the mixer. Using a mixer allows you to adjust the volume accordingly to bring out the best sound for the user.
Next, connect the mic to the mixer to complete the installation and use the karaoke machine.
Finally, you just need to use your iPad to youtube or a separate software for karaoke to choose your favorite songs.
So you can use a karaoke machine in combination with an iPad at home.
#2. A Karaoke System With A Laptop
There are 2 ways for you to use a karaoke machine with a laptop, including Bluetooth and wired devices.
Use a karaoke machine by connecting Bluetooth:
Bluetooth is the most compact way for users if both the karaoke machine and the laptop have Bluetooth connectivity. To do this, move the 2 devices closer and turn them on.
Next, check the sound from the lap on your karaoke machine. It can then be used immediately.
Use karaoke machine by connecting with wired device:
First, to be able to use it, connect the karaoke machine to your laptop with a 3.5mm AUX cable if they have an AUX drive.
If the AUX socket is not detected on the laptop, you can replace it with a cap and connect it with a USB port.
Finally, check if the karaoke machine requires an RCA connection for pairing.
After pairing the karaoke machine with your laptop via Bluetooth or a wired device, you can use specialized karaoke software or go to youtube to search for your favorite karaoke song, and you can use it right away.
#3. For Car
Sometimes, you need to use a karaoke machine right in your car. It is often the case on long outings. Because of the popularity of using karaoke machines on cars, today young people also give it a special way of calling it karaoke.
To use the karaoke machine right on the car, you need to perform the following steps:
First, securely install the lyrics screen or projector in a suitable location on the vehicle. If you haven't done this before, get help from the experts.

Then, divide the power on the incoming car with the karaoke machine accordingly. Please make sure that the video output included in the karaoke machine is connected to the video splitter.

Next, connect the sound of the karaoke machine to the car's sound source. You can combine them using the AUX connector.

Then start the karaoke machine, use the display device to enter the professional karaoke application, or go to youtube and search for your favorite song.
A little trick to using a karaoke machine in the car simpler and more convenient during the journey is to hide the cumbersome cables under the carpets. You can also secure them with tape at certain locations.
#4. Professional Karaoke
To use a professional karaoke machine at home, make sure the karaoke machine is placed in a space suitable for the distance between the devices under control.
If possible, place the karaoke machine in an open space for better sound.
Next, check to see if the karaoke equipment you own has enough equipment for professional karaoke. Pay particular attention to devices that are directly related to audio, such as speakers, microphones, and mixers.
After you have enough equipment for your favorite and professional sound, you can start using karaoke machines right away by pairing them together. Of course, you can completely use available devices such as smart TVs, pads, laptops without any problems.
Finally, just search for your favorite music on youtube or an available karaoke application, and you can get started right away.
How Do Karaoke Machines Work?
Currently, there are 4 popular types of karaoke machines on the market: All-In-One Karaoke Machine, TV Monitor Karaoke System, MP3 Karaoke System, and Built-in Microphone. Here, we will clarify how these four types work: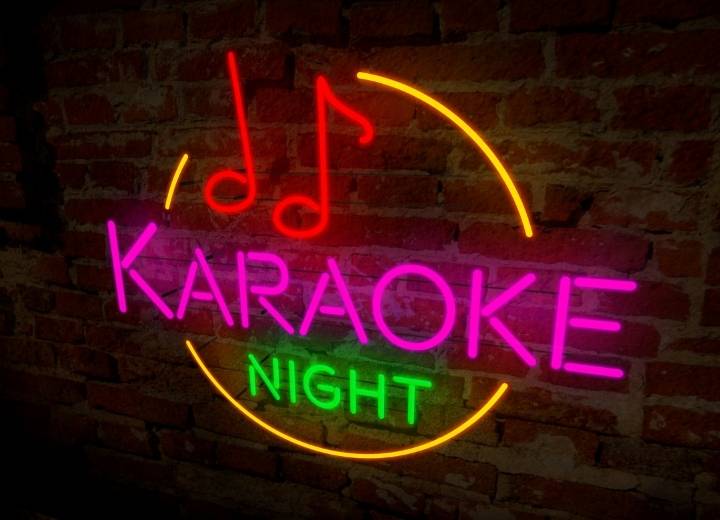 #1. All-In-One Karaoke Machine
All-In-One Karaoke Machine is a machine capable of automatically storing everything inside. By owning this device, you can completely sing, listen, read or play songs without too many connected devices.
Usually, All-In-One Karaoke Machine will come with a CD player, monitor, and speakers. You just need to preload music to your device so that it can provide the music you need.
#2. TV Monitor Karaoke System
TV Monitor Karaoke System is a system including a CD player, speakers, cables. When in use, an accompanying TV is required to see the pictures and the lyrics to sing along.
You can connect the TV Monitor Karaoke System to the sound system to achieve the desired sound quality during use.
#3. MP3 Karaoke System
MP3 is one of the improved karaoke machines. With it, there is no need for a CD player when using it. Using the MP3 Karaoke System, you can completely use the list of preloaded songs on the device.
MP3 Karaoke System can also be considered a karaoke machine with a small size, convenient for use. You can take them with you wherever you go, just adding your favorite TV screen and microphone.
#4. Built-in Microphone
Built-in Microphone is a convenient karaoke machine when just connecting to the sound system and TV screen when using. This machine works with a built-in microphone and built-in playlist.
Frequently Asked Questions
When learning about this issue, some people have questions about side issues. That's why we've put together and answered a few frequently asked questions for your understanding.
1. Do karaoke machines come with music?
Usually, karaoke machines will not have music available. A karaoke machine currently offered on the market only includes a CD player, a screen to play the lyrics for you to see and sing along with speakers. Therefore, if you need music, you will need an additional media application or accessory to play the music you need.
2. How much does a karaoke machine cost?
Depending on the different types of karaoke machines, you need to pay an additional fee. In general, the price range of a karaoke machine ranges from $50 to 150 dollars.
If you just need a simple, cheap machine, you can buy it for as low as $50. However, if you need a more professional karaoke machine for long-term use, you need to shell out high costs from $200 – $400.
3. Can you do karaoke without a machine?
Of course, you can sing karaoke without a machine. Many people use one of the simple ways to open the youtube application to find videos specifically for karaoke. 
In this way, you can sing with only smart TVs, tablets. To apply this method most comfortably, you can use an HDMI cable to connect the device to the TV screen.
4. Do karaoke machines need special CDs?
You cannot use special CDs for the karaoke player. Inserting a normal CD into the machine may not make the machine work as it should.
Instead, you can use CD+ Gs sites in a format suitable for karaoke machines.
Conclusion
Above is some information about the use of karaoke machines and the operation of 4 popular types of karaoke machines on the market. 
Hopefully, after reading the article, you will have more knowledge about karaoke machines and how to use this machine to use them properly when needed.
Thank you for reading!