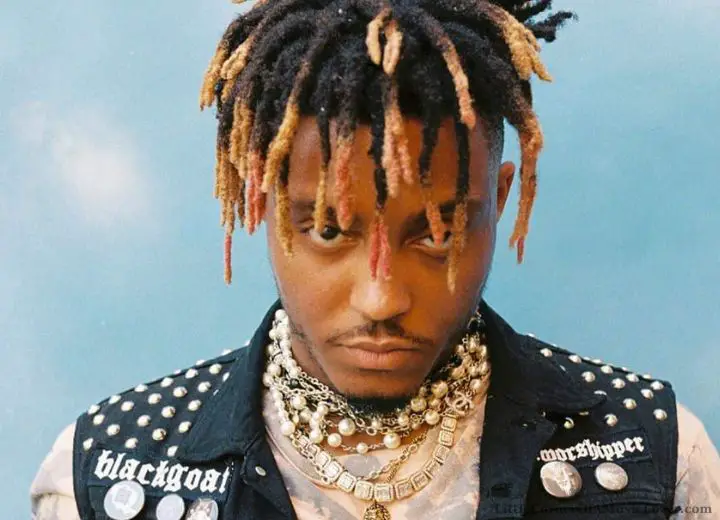 Do you ever want to cry because of the sadness and emotion in a song?
Juice WRLD is one of the few artists who could bring out such strong emotions with his soulful music.
His ability to make us feel his pain as he raps in his songs leaves us feeling raw and touched simultaneously.
Today, I look at the 15 Saddest Juice WRLD Songs of All Time, according to YouTube rankings.
Prepare for a roller-coaster of emotions as we explore these intensely emotionally charged songs!
1. Dark Place
"Dark Place" by Juice WRLD is an emotional, introspective song about his struggles with depression and mental health.
In the song, he opens up about his inner demons, touches on themes of battling insecurity and isolation, and ponders the burden of being a highly successful musician.
He sings, "I'm going to a dark place/ I'm running out of ways to cope" as he grapples with anxiety and depression that arise from the pressures of fame.
2. Sleep Paralysis
Sleep Paralysis by Juice WRLD is a reflective and heartbreaking look at his battles with mental health.
Throughout the song, he talks about his struggles with depression, anxiety, and PTSD.
He also mentions how he could cope with difficult times by using drugs and alcohol.
Despite these challenges, Juice WRLD ultimately expresses that he found comfort in knowing that his friends suffered from similar problems and could relate to what he was going through.
Through this song, Juice WRLD encourages others to share their pain to heal together as a community – something essential but often overlooked today.
3. Robbery
Juice WRLD's track "Robbery" is a melancholic exploration of a relationship gone wrong.
It follows the story of two lovers who have lost their connection and are trying to navigate the fallout, with Juice WRLD becoming increasingly desperate as he tries to get his partner back.
4. Wasted
"Wasted" by Juice WRLD is an emotional song about dealing with heartbreak and the struggles of life, which can sometimes be too overwhelming.
The rapper expresses his feelings of emptiness and loneliness while reminding us all not to take the people around us for granted.
He speaks on how he's been hurt in the past.
Still, instead of succumbing to these emotions, he chooses to move forward, singing, "I've seen it all before/ It ain't gotta be this way/ Don't worry I'll be alright" – a powerful message that even when we're at our lowest point, we still have hope and can choose to make a change.
5. Wishing Well
"Wishing Well" by Juice WRLD is a sad song about wishing for something better.
The lyrics delve into themes of loneliness and heartbreak, with Juice WRLD reflecting on the sorrows of his own life.
Despite his best efforts, he expresses his emptiness and how nothing ever works out for him.
He yearns for someone to share his emotional burdens and longs to find a companion to make him feel happy again.
6. My Fault
Juice WRLD's "My Fault" is a poignant and introspective reflection on the temptations and trials of life.
The song showcases the rapper's vulnerability as he reflects on his struggles with depression, addiction, and guilt.
Despite knowing that it's "his fault" for getting caught up in these troubles, Juice WRLD admits that he can't help himself from descending into darkness due to the various influences around him.
7. Inner peace
"Inner Peace" by Juice WRLD is a song about learning to cope with sadness and struggles.
He also conveys the idea of pushing through hard times to achieve happiness, stating, "One day it will be alright".
Juice WRLD insists on staying positive throughout the track despite his struggles by encouraging himself to "Pick [him] himself up and laugh again."
The song serves as an important reminder that everything can eventually work out, even if it feels like it never will.
8. Percaholic/Life's Not Fair
"Percaholic/Life's Not Fair" by Juice WRLD is a sad reminder of the harsh reality of life – that it isn't always fair.
In the song, Juice WRLD reflects on his struggles with drug addiction while acknowledging that life has thrown him another curveball.
He raps about the perils of drug addiction, how it has taken its toll on him, and how he strives to turn his pain into art and progress despite everything.
9. Denial
Juice WRLD's "Denial" is an emotional song that speaks to the hard reality of denial.
Through his lyrics, Juice WRLD conveys that when we are hurt and deny it, it only harms us further.
He questions why people seek solace in a damaging path instead of acknowledging their real issues.
He talks about how "love can take away so much pain," yet sadly, he himself fails to accept it.
10. Meant To Be
"Meant To Be" by Juice WRLD is a heartbreakingly beautiful song about the pain of a failed relationship.
The lyrics tell the story of an unrequited love and the harsh reality that even though two people may be in love, circumstances can mean it cannot work out.
11. Lucid Dreams
"Lucid Dreams" by Juice WRLD is a heart-wrenching hip-hop song that deals with the complex emotions of love and loss.
The lyrics take us on a journey as the narrator reflects on a lost love, going through a roller coaster of pain and regret.
12. Hide
Juice WRLD's song "Hide" discusses struggling with mental health and loneliness.
The song is a plea for someone to be there for him during this difficult time and also gives us hope that there is light at the end of the tunnel.
With its sad lyrics and soft melody, "Hide" serves as a reminder that we are not alone in our struggles and it's okay to seek help if needed
13. Hear Me Calling
"Hear Me Calling" by Juice WRLD is a beautiful and sad song.
It speaks of heartbreak and loss, showcasing the vulnerability of a young musician who has lost someone he loved dearly.
The lyrics are intensely honest, detailing his pain and desperation as he begs for the person he loves to hear him calling out to them.
The heartfelt chorus – "Hear me calling/Can you hear me now?/I just don't know how much more I can take" – is the emotional peak of the track, encompassing all his feelings of longing and sorrow in one powerful statement.
14. Desire
"Desire" by Juice WRLD is an emotional track that speaks to the pain felt when a relationship crashes and burns.
The lyrics detail how Juice WRLD wants to get over the hurt and emptiness yet still longs for a rekindling of the flame he once shared with someone special.
He expresses his feelings on yearning for something he knows will never be possible, being left alone in his thoughts as those around him move on.
15. SAD!
"SAD!" by Juice WRLD is a heart-wrenching track about the struggles of depression and suicidal thoughts.
The song explores dark themes such as loneliness, sadness, and emptiness. It serves as an anthem to those struggling with depression, offering assurance that they can get through it.
FAQs
What is Juice WRLD's most-played song?
Juice WRLD's most-played song is "Lucid Dreams." It was released in 2018 and is one of the biggest hits of his career.
What was Juice WRLD's last song when he was alive?
Juice WRLD's last song while he was alive was "Righteous," which was released on November 8th, 2019.
The song is about self-love and taking time to look after yourself.
What was Juice WRLD's break-out song?
Juice WRLD's break-out song, "Lucid Dreams," was released in 2018 and quickly gained mainstream success.
The single peaked at number two on the US Billboard Hot 100, reaching the top 10 in seven other countries.
How many songs did Juice WRLD make before he died unreleased?
Juice WRLD, the late rapper and singer-songwriter, created numerous hits during his all-too-short career. Before his death in December 2019, Juice WRLD had reportedly produced more than 2000 songs, both released and unreleased.
Although it is difficult to determine an exact number, there have been rumors that he had released close to 700 songs and left behind at least 1000 unreleased recordings.
What was Juice WRLD's fastest album?
Juice WRLD's fastest-selling album was his debut studio album 'Goodbye & Good Riddance', released in May 2018.
The album peaked at number four on the US Billboard 200 chart and topped the US Rap and R&B charts.
It featured songs like "Lucid Dreams," "All Girls Are the Same", and "Lean Wit Me".
The album went gold in its first week of release, selling over 100,000 copies and streaming over 200 million times across major streaming platforms.
Does Juice WRLD have a #1 song?
Yes, Juice WRLD has a #1 song! His hit single "Lucid Dreams" topped the Billboard Hot 100 chart 2018, becoming his first career chart-topper.
The song became certified multi-platinum and succeeded globally with its emotionally powerful lyrics and catchy chorus.
Juice WRLD's success did not stop there: he followed up with other hits such as "Robbery," "The Man Who Couldn't Cry," and "All Girls Are the Same," further cementing his status as one of the most successful artists of his generation.
How popular is Juice WRLD on Spotify?
Juice WRLD is one of the most popular artists on Spotify, with over 19 million monthly listeners.
His music has been streamed more than 8 billion times across Spotify since his debut in 2018, making him the platform's second-most streamed artist of all time.
His hit singles like "Lucid Dreams" and "All Girls Are The Same" have each been streamed over 1 billion times, while other tracks such as "Legends" and "Robbery" gained colossal popularity right after their releases.
Does Juice WRLD have a number 1 song on Billboard?
Yes, Juice WRLD does have a number 1 song on the Billboard chart. His song "Lucid Dreams" topped the charts 2018 and stayed number one for six weeks.
The song was an instant hit with its catchy chorus and passionate lyrics. It quickly caught the attention of music fans and critics alike.
Conclusion
Juice WRLD's music touched many hearts and evoked emotion in fans.
His songs won him worldwide recognition and fame in an incredibly short period.
Each of these 15 Saddest Juice WRLD Songs of All Time deserves to be on this list for their unparalleled ability to make us feel something special and bring out our emotions.
Rest in peace, Juice WRLD. We will never forget you!