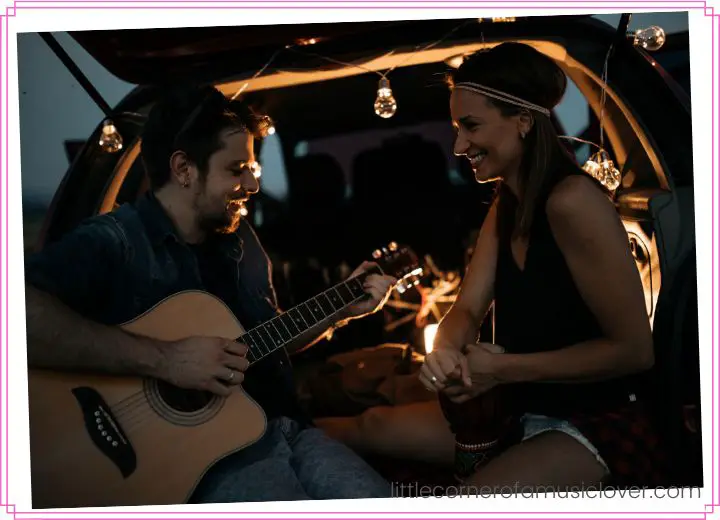 Looking for the perfect playlist for your friends-with-benefits situation? Check out this list of the best songs about friends with benefits for some catchy tunes!
1. Shawn Mendes & Camila Cabello – Senorita
Shawn Mendes and Camila Cabello's "Señorita" is a flirtatious song about an ongoing friends-with-benefits relationship.
The catchy Latin-influenced pop track captures the bittersweet complexity of a relationship that can't quite become something more, as Cabello sings "Best friend or my lover (no, no) / Even if we tried / We'd never get it right."
Although they can't quite make it work as a romantic couple, both vocalists convey the deeply passionate nature of their connection, perfectly summed up in the refrain "I love it when you call me señorita."
2. Booty Call by G. Love
"Booty Call" is a song by G. Love, released in 2000, that explores the idea of having friends with benefits.
The laid-back blues guitar and jazzy rhythm set an upbeat but mellow mood as the lyrics explore the tension between wanting a romantic relationship and seeing a person just for "one night stands".
The song captures the excitement of casual sex while also pointing out the potential risks associated with I, both physical and emotional: "All I know is when we're together/It's just good loving and bad weather".
3. FRIENDS WITH BENEFITS by Charmaine
Friends with Benefits by Charmaine is the perfect song for any friends-with-benefits situation.
It speaks to the complexity of relationships and how it can be difficult to keep things casual when you mix in your emotions.
The chorus speaks to struggling between wanting more than a friendship or something just meant for fun at the moment.
4. Friends With Benefits by Tory Lanez
Tory Lanez's song "Friends With Benefits" is a groovy hip-hop/R&B jam that speaks to the nuances of modern relationships.
It captures the complicated feelings of two friends exploring their physical connection while having no intention of taking things further than that.
The chill vibe in the song highlights both of them knowing what's expected but still being hesitant about crossing those lines.
Lanez and co-star Chris Brown harmonize on the chorus, singing about wanting to take this relationship up a notch but understanding that it won't go anywhere beyond this moment.
5. Company by Justin Bieber
Justin Bieber's song "Company" is all about a friends-with-benefits relationship.
The song starts off with an upbeat and energetic vibe but as it progresses, the lyrics make it evident that Bieber is debating whether he should stay in this casual fling or move on and look for something more meaningful.
He muses about wanting to take things further and be more than just friends with benefits but also acknowledges that his feelings can't be taken too seriously because the other person might not feel the same way.
6. Something That We're Not by Demi Lovato
"Something That We're Not" by Demi Lovato is a classic pop-rock song perfect for friends with benefits.
The lyrics explore the realization that a casual relationship can hurt even when both people agree to keep it light.
Lovato's meaningful lyrics backed up with an upbeat melody, are sure to resonate with anyone who has ever experienced this type of situation.
While she acknowledges that it may not be perfect, she encourages both parties to take responsibility and recognize that they may need more than either of them can give at the moment.
7. Hotline Bling by Drake
Hotline Bling by Drake is the perfect song for friends with benefits, as it talks about missing the person you used to be close to.
The song explains that he misses the special connection they shared and that no matter how hard he tries, he can't seem to get over her.
The chorus starts out expressing Drake's feelings of regret, "Ever since I left the city, you/You got exactly what you asked for/Running out of pages in your passport."
8. Drank In My Cup by Kirko Bangz
"Drank In My Cup" by Kirko Bangz is a classic song for friends with benefits.
Through the catchy melody and witty lyrics, he captures the struggle between emotions and responsibilities that come with a relationship like this.
He sings about how a casual relationship can be beneficial but it can also leave one feeling empty in the end.
The song sends out an unspoken message to listeners to think twice before getting into such a situation, as it could have its own consequences in the long run.
9. Don't by Ed Sheeran
"Don't" by Ed Sheeran is a catchy pop/R&B song about the complexities of relationships.
The upbeat chorus cleverly juxtaposes the darker, more serious verses as Ed conveys the feeling of wanting to protect and hold onto someone but ultimately recognizing that it is best to let go in order not to get hurt.
The lyrics describe how easy it is to fall into an entanglement of false expectations and promises, yet how one must eventually come to terms with the truth and accept reality for what it is.
10. Distraction by Kehlani
"Distraction" by Kehlani is a song about being tempted by a close friend who is only interested in having a casual relationship.
In this smooth, soulful melody, Kehlani reflects on her own experiences of wanting to be more than friends with someone that she knows won't give her the same commitment.
With lyrics like "I'm tryna keep it casual but you be bringing emotions out of me," Kehlani expresses the tension between how she wants things to be and how they are in reality.
11. "Ruin the Friendship" by Demi Lovato
"Ruin the Friendship" by Demi Lovato is a song about having a relationship with someone you know, and the possibility – and consequences – of taking that relationship to the next level.
The track talks about how having friends with benefits can be both thrilling and dangerous.
With its catchy chorus and relatable lyrics, it captures the challenges of exploring complicated feelings for a friend.
12. "F.W.B." by Wayne Brady
"F.W.B." by Wayne Brady is a bold and powerful song about the truth of friends with benefits relationships.
The infectious beat combined with witty lyrical wordplay makes this song memorable and its message clear: while casual sex can be alluring, it often carries a price that cannot be paid for in cash.
13. "Loverboy" by You Me At Six
"Loverboy" by You Me At Six is a bold take on the classic theme of "friends with benefits."
In this song, lead vocalist Josh Franceschi illustrates a complex relationship between two parties who know that their spark needs to remain a secret.
By emphasizing the "loverboy" title, it's clear that both parties are aware of the inevitable endgame, a realization that reflects in its chorus of "I already know how this will go / But I'd rather make mistakes than never feel alive at all."
With an upbeat tempo and irresistibly catchy melodies, it serves as an anthem for anyone caught in the often-turbulent world of friends with benefits.
14. "Head Over Feet" by Alanis Morissette
"Head Over Feet" by Alanis Morissette is a bold declaration of love sung to a person she considers a friend-with-benefits.
The song captures the magical and intense feelings of being in love even though there is no commitment or promise for the future.
It shows how she feels connected to him, both mentally and emotionally, even though they never spoke of anything more than friendship.
15. "No Sleeep" by Janet Jackson featuring J. Cole
Released in 2015, "No Sleeep" by Janet Jackson featuring J. Cole is a powerful duet about the complex nature of a friends-with-benefits relationship.
The lyrics paint a vivid story of two people who are able to spend time together without any commitment but still can't seem to stay away from each other.
Jackson and Cole's vocal performances bring the lyrics to life as they harmonize and trade lines back and forth throughout the song, creating an emotional depth that reflects the complexities of their relationship.
16 "Iz U Down" by Kid Ink featuring Tyga
"Iz U Down" by Kid Ink featuring Tyga is a club-banger with an infectious hook.
With its catchy beats and bold lyrics, the song tells the story of two friends who are more than just friends. It's all about living in the moment and not thinking too much about tomorrow.
In essence, Kid Ink and Tyga express their feelings for their "friends with benefits," who they want to take it slow with and see if there's something more between them.
17. "Hot Mess" by Ashley Tisdale
The song "Hot Mess" by Ashley Tisdale is a fun and bold jam about the complexity of friends with benefits.
Through Tisdale's sultry yet playful vocals, the song speaks to the contradiction of feeling both confident and vulnerable during such a precarious situation.
Lyrically, she conveys her connection to this person through lines like "we're only just friends, but you can't deny this," emphasizing how special their relationship is despite it's gray areas and lack of commitment.
18. "Kiss Me Now" by Diana Ross
"Kiss Me Now" by Diana Ross is a song about two friends who have developed strong feelings for each other and are on the cusp of taking things to the next level.
With thoughtful lyrics and a bold delivery, Ross conveys the internal tug of war she feels in wanting something more than her current friendship but being scared to make that leap.
Drawing on moments of intimacy in shared moments like looking into the eyes each other and wishing they could take their relationship further, she hints at an understanding between both parties that implies a mutual desire for something more.
19. Justin Bieber – Company
Justin Bieber's song "Company" speaks to the idea of friends with benefits, with lyrics like "we don't need pressure, we just keep it friendly".
It suggests that a casual relationship can work without the complexities and expectations of something more serious.
He also hints at the physical side of this type of relationship, singing that there's something that they can do to make it feel alright.
21. FRIENDS WITH BENEFITS (FWB) by KSI & MNDM
"Friends With Benefits" by KSI and MNDM is a bold exploration of the idea of casual relationships.
It touches on the complications, doubts, and temptations which can come with having a friend-with-benefits-type relationship.
The lyrics express that these types of relationships often lead to complicated emotions despite their easygoing nature, as people often become attached but are unsure how to express their feelings for fear of being too exposed.
The song also speaks to the constant swings between temptation and regret that these kinds of situations bring about, one might be tempted to go further with their FWB yet feel guilty about it afterward.
22. "Boyfriend" by Tegan and Sara
"Boyfriend" by Tegan and Sara is a bold song take on friends with benefits. The song captures the feelings of wanting something more while being unable to have it because of the situation they're in.
With lines like "I don't want to be your secret anymore", it speaks about wanting to break away from the status quo and have a real relationship instead.
The chorus echoes this sentiment with the lyrics "What if I want you now? What if I need you right now? What if I'm broken down, do you still hold me up?" showing that although they may not get what they want, they're still trying their best for it.
23. "You Shouldn't Kiss Me Like This" by Toby Keith
The hit song "You Shouldn't Kiss Me Like This" by Toby Keith is a romantic and catchy tune that speaks to the moments between two friends who share an intimate relationship, but know it can't go any further.
The lyrics tell of a passionate love that has passed its expiration date, yet one still holds onto the feelings of longing and desire in their heart.
While the pain of not being able to take things beyond a platonic level lingers, Keith reminds his lover (or beloved) that they should cherish their bond despite not being able to have a deeper connection with each other.
He acknowledges how difficult it is for them both to accept this reality, still loving each other too deeply to simply walk away, yet not brave enough to turn it into something greater than what it currently is.
FAQs
What is a best friend with benefits?
A best friend with benefits is someone who is both a friend and a sexual partner.
It can also be used to refer to a close friendship between two people wherein they engage in activities (both platonic and romantic) such as hanging out, exchanging gifts, sharing secrets, having fun together, and even having intimate encounters.
Benefits are mutual; both friends enjoy mutually satisfying experiences while still maintaining the boundaries of an ordinary friendship.
A best friend-with-benefits relationship has many pros such as no expectations or commitments, easy-going yet deep connection, comfort in spending time with each other without any pressure or obligations, and pleasure from physical intimacy without romantic entanglements.
Can you be friends with benefits with feelings?
Friends with benefits relationships can be complicated, especially when feelings are involved.
While it is possible to have a friends with benefits arrangement and develop feelings for the other person, it can also lead to complications and potential heartbreak.
It is important to communicate openly and honestly with your partner to ensure that both parties are on the same page and to avoid any misunderstandings.
How can I impress my friends with benefits?
Impressing your friends with benefits doesn't have to be complicated or over the top, it's all about being thoughtful and paying attention to things that matter to them.
A small gesture like sending them a thoughtful card or making a surprise call can make a difference.
If they enjoy activities like playing video games or watching movies, plan an outing to do something together.
Showing them that you care and that you're willing to invest time in creating memories can have a big impact on the relationship.
How long does FWB last?
There is no set duration for a friends with benefits (FWB) relationship as it can vary depending on the individuals involved.
Some FWB relationships may last for a few months, while others can continue for years. It ultimately depends on the mutual agreement and circumstances of the individuals involved.
Do guys care about their FWB?
It depends on the individual. Some guys may develop feelings and care about their friends with benefits, while others may not.
It is important to communicate and establish boundaries in any type of relationship to ensure that both parties are on the same page.
Can friends with benefits cuddle?
Yes, friends with benefits can cuddle. Prolonged physical contact encourages our bodies to release oxytocin and dopamine, hormones that make us feel content and happy.
Cuddling not only provides comfort in the moment, but evokes feelings of closeness and trust which can help strengthen your bond with your friend.
While it's always important to be mindful of both people's boundaries and expectations for the relationship, cuddling can be a great way to enjoy each other without expecting a long-term commitment or putting too much pressure on either person.
How do you tell if a FWB is falling for you?
Increased emotional intimacy: If your FWB starts opening up to you about personal matters or sharing their feelings, it could be a sign that they are developing deeper feelings for you.