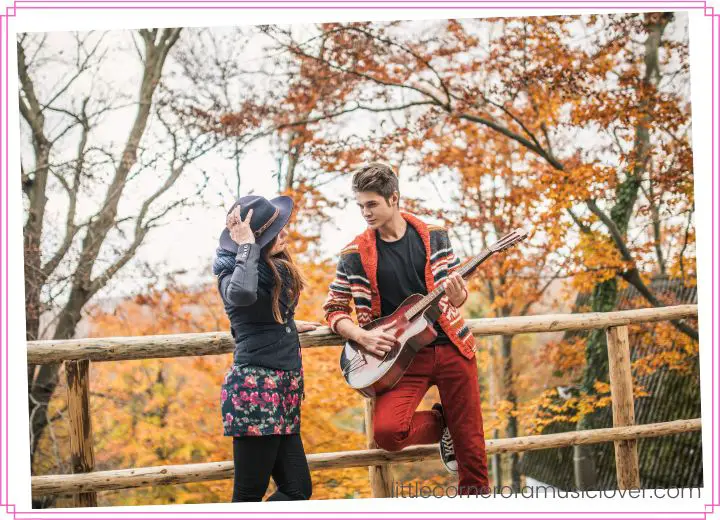 Looking for the perfect playlist for a romantic evening? Look no further than Elton John's greatest love songs, featuring timeless classics and unforgettable ballads.
1. Can You Feel the Love Tonight
"Can You Feel the Love Tonight" by Elton John is a classic love song that has graced many people's hearts.
This infectious melody communicates true romance while also conveying a sense of warmth and intimacy.
Its romantic lyrics express a deep longing for lasting love, something many of us can relate to.
2. The One
"The One" by Elton John is an iconic love song covered by countless artists and performed at many weddings.
The lyrics express the deep commitment in a relationship and the hope for it to endure through life's ups and downs.
The beautifully touching melody conveys the intensity of two people being connected for life, and its timelessness ensures that it will never go out of style.
It's an ode to solid relationships everywhere, proving that love can last forever.
3. Sacrifice
"Sacrifice" by Elton John is a timeless love song that speaks to true love's most profound and influential aspects.
Written shortly after the release of his groundbreaking album Goodbye Yellow Brick Road, this heartfelt ballad has become one of Elton's most beloved hits.
The track follows a man's realization that for true love to thrive, he must be willing to make sacrifices and surrender all his pride.
With its sweeping orchestral accompaniment and soaring vocal melodies, "Sacrifice" reminds us of everything it takes to keep love alive.
It is considered an essential part of any romantic playlist.
4. Your Song
"Your Song" by Elton John is a timeless classic and one of his most beloved songs. It's an ode to young love with simple yet powerful lyrics.
The song captures the innocence and joy felt when someone finds true love for the first time.
The melody is catchy, while the gentle piano chords add to the song's dreamy atmosphere. John's vocals bring out all the emotions of hope, admiration, and wonder that come with falling in love.
This beautiful song encapsulates all these feelings in only four minutes – it's truly a masterpiece!
5. Someone Saved My Life Tonight
"Someone Saved My Life Tonight" by Elton John is an inspiring and romantic love song. It tells the story of a man at a crossroads, desperately searching for a way out.
The song begins with him contemplating suicide, but then a mysterious savior comes along to rescue him from despair.
With beautiful lyrics like "Said the smile on your face, hides the tears in your eyes" and "Said Lord I'm begging you help me if you can, I'm hopelessly lost."
This heartfelt ballad captures what it means to be saved from darkness.
It's an uplifting tune that reminds us all that it is never too late for hope and healing.
6. Believe
Believe by Elton John is one of the most iconic and beloved love songs of all time.
It's a song about someone who has been hurt in a relationship but holds onto hope that true love can triumph over anything.
The heart-wrenching lyrics reflect on choices and outcomes of past relationships and how they have led to this moment, to believe that someday something will be different.
Although it can evoke sadness, it also carries within it the idea that with new faith and courage, love may be just around the corner.
With its simple melody, beautiful lyrics, and inspiring message about finding happiness despite adversity, there's no wonder this song has stood the test of time for so many years as one of Elton Johns's best-loved songs.
7. Blue Eyes
"Blue Eyes" by Elton John is a beautiful love song many people can relate to.
This classic hit paints the picture of someone who's fallen in love and is hopelessly devoted, so much so that their blue eyes are all they can think about.
The lyrics express the feeling of being mesmerized by another person and always wanting to be with them.
The heartfelt vocals make this song an instant favorite for anyone who has ever been in love.
8. Sorry Seems to Be the Hardest Word
"Sorry Seems to Be the Hardest Word" by Elton John is a timeless classic love song that speaks to the difficulty in expressing regret and understanding.
The lyrics of this heartfelt ballad explore the deep emotions of guilt, vulnerability, and sorrow as its protagonist struggles for the courage to apologize.
An instant classic when it was released, "Sorry Seems to Be the Hardest Word" remains a touching reminder of how sometimes we must take a step towards reconciliation even though it can be difficult.
9. Blessed
"Blessed" by Elton John is a beautiful ballad that speaks to the power of unconditional love.
With heartfelt lyrics, a steady, soothing melody, and John's signature piano playing, it delivers a timeless message: we all need someone special to give us strength and courage when times get tough.
It's an ode to family, friends, partners, and anyone who has been an invaluable part of our lives.
It is a reminder that even though life may have its challenges, we are blessed with the support of those who stay by our side no matter what.
10. Candle in the Wind
"Candle in the Wind" by Elton John is an iconic love song expressing the delicate nature of a quickly extinguished life.
The lyrics capture the sadness and fragility of a life gone too soon, speaking to those who share a loss with romantic imagery and poignant emotion.
This bittersweet ballad reflects on one remarkable life while also drawing attention to all who have passed before us and exploring the feelings of grief and loss.
Through its soundscape of piano, strings, and gentle vocals, "Candle in the Wind" conveys beauty within sorrow — an extraordinary testament to a life lived fully yet briefly.
11. You Can Make History (Young Again)
"You Can Make History (Young Again)" by Elton John is a love song that celebrates the power of love to make us feel young and vibrant.
The lyrics express John's belief that it doesn't matter how old we are because, with real love, our age can be forgotten.
His heartfelt vocals convey a positive message that no matter what life throws at us, the love between two people can be strong enough to make them "young again."
With a bouncy piano melody and driving rhythms, the song encapsulates the hope and optimism of young love and its ability to bring out the best in us, whatever our circumstances.
It serves as a reminder that no matter how many years pass, we can reclaim our youth and make history when we fall in love.
12. Don't Let the Sun Go Down on Me
"Don't Let the Sun Go Down on Me" by Elton John is an unforgettable classic love song.
It's a beautiful and uplifting ballad about preserving love and cherishing a relationship despite all odds.
The lyrics are heartfelt, making it the perfect way to express one's feelings.
The melody is also moving and captivating, creating a soothing atmosphere that lets you feel the emotion in the words.
Even after all these years, this song remains one of the most famous love songs of all time, speaking volumes about its timeless message.
13. No Valentines
No Valentines by Elton John is a sentimental song that captures the loneliness and isolation of a broken heart.
It paints a vivid picture of the narrator, who is searching for someone to love but can't find anyone.
The lyrics describe how they are looking out onto a cold and lonely night without being able to offer love in return, so they'll "never need no valentine."
The music and melody capture a sense of sadness and yearning, as though the narrator's heart is full of longing despite their tough exterior.
This track offers comfort in knowing that it's okay to be on your own sometimes, and it's also OK to feel lonely and hurt.
No Valentines remind us all that it's perfectly normal not to have a valentine from time to time – no one should ever feel ashamed or embarrassed about being single.
14. Circle of Life
The song "Circle of Life" by Elton John is an uplifting and thought-provoking love song that encourages people to appreciate the beauty and purpose of life.
It speaks of the interconnectedness between all living things, reminding us that we are all part of a larger cycle that keeps going no matter what.
The song talks about accepting the brevity of existence, accepting death as a necessary part of life, and striving for faith in times of adversity.
With its poignant lyrics and comforting melodies, this heartwarming ode to life urges us to live our lives with meaning and purpose and embrace every moment before it passes by.
15. Come Down in Time
"Come Down in Time" by Elton John is a beautiful and romantic love song.
With its sweeping melody and gorgeous lyrics, it expresses the perfect sentiment of longing to be together and share an intimate moment.
The lyrics evoke imagery of stars in the night sky while also conveying a feeling of joy and peace in having someone one truly loves close by.
The listener can feel the intensity of emotions between two people as they come together like two stars colliding – out of time, yet belonging together for eternity.
It's a powerful reminder that even time can stand still with love.
FAQs
It is time to answer some questions about Elton John's love songs.
What is Elton John's most successful song?
Elton John's most successful song is "Candle in the Wind," released in 1973. This timeless classic has sold over 33 million copies worldwide, making it one of the best-selling singles ever.
The touching lyrics pay tribute to a long-lost friend and public figures like Marilyn Monroe and Princess Diana, who were close to Elton's heart.
The song has become so synonymous with Elton that he often performs it during his live shows, bringing audiences to tears each and every time.
Who wrote Love Song by Elton John?
Love Song by Elton John was written and composed by Elton John with Bernie Taupin as lyricist.
It was released on the album 'Goodbye Yellow Brick Road' in 1973. It has since become one of those iconic songs that span generations.
The piano-driven ballad speaks to unconditional love regardless of our imperfections, demonstrating the power of a good melody and heartfelt lyrics.
Did Elton John marry a wife?
No, Elton John has never been married—though he did have a longstanding partnership with Renate Blauel.
The two married in Sydney, Australia in 1984, but the union was annulled four years later.
His ongoing relationship with David Furnish began soon afterwards and the two have had a civil ceremony since 2005.
Still, John has remained unmarried to this day and is steadfast in his commitment to Furnish.
What is Elton John's favorite song?
Elton John's favorite song is an iconic classic he wrote and performed, "Your Song." It was released in 1970, and it quickly rose to the top of the charts.
The heartfelt lyrics express a simple sentiment of love – something everyone can relate to.
Its beautiful melody has been covered numerous times over the years, but Elton's original version remains his favorite.
He often performs it live in concert, sharing its timeless message with generations of adoring fans.
What was Elton John's first #1 hit?
Elton John's first #1 hit was "Border Song" from his self-titled second studio album.
The song was released in March 1970 and reached the top of the Billboard Hot 100 chart later that year, eventually certified Gold by the Recording Industry Association of America in December 1970 for sales of over one million copies.
The single peaked at number eleven on the UK Singles Chart and spent seventeen weeks on that chart before peaking at number three in June 1971.
Written by Bernie Taupin and Elton John, the track has since become an iconic part of Elton John's catalog and is often included in live performances.
How many #1 hits has Elton John had?
Elton John is one of the most successful and prolific pop stars ever.
He has produced an impressive 31 number-one hits in the UK and 25 number-one on the US Billboard Hot 100 charts, including memorable tunes like "Rocket Man," "Tiny Dancer," and "Candle in the Wind."
His popularity shows no signs of waning as he tours and produces new music.
Elton John has been celebrated by fans worldwide for over five decades and is a beloved musical icon.
Is Elton John a good songwriter?
Elton John is regarded as one of the best songwriters in history.
His expansive and diverse catalog of work contains some of the most iconic pop songs from the past 50 years, including "Your Song," "Rocket Man," and "Tiny Dancer."
He was inducted into the Rock & Roll Hall of Fame in 1994 and has been a 6-time Grammy winner.
Elton's success can be attributed to his clever lyricism that draws on rock, folk, classical, and country elements.
He also has an uncanny knack for writing melodies that remain stuck in your head long after you've heard them, a sign of a great songwriter.
Is Elton John good at singing?
Yes. Elton John is an iconic musician known worldwide for his impressive vocal range and incredible music.
He has a four-octave vocal range, making him one of the best singers ever.
His songwriting abilities are unparalleled, as he has written over 30 hit songs that remain popular today.
With six Grammy's, five Brit Awards, and a place in the Rock & Roll Hall of Fame, Elton John is undoubtedly one of the greatest singers ever.
His ability to change up styles and genres makes him even more amazing; from classic soul melodies to country ballads to rock anthems, Elton has conquered it all, proving himself time and again as one of the best musical talents in history.