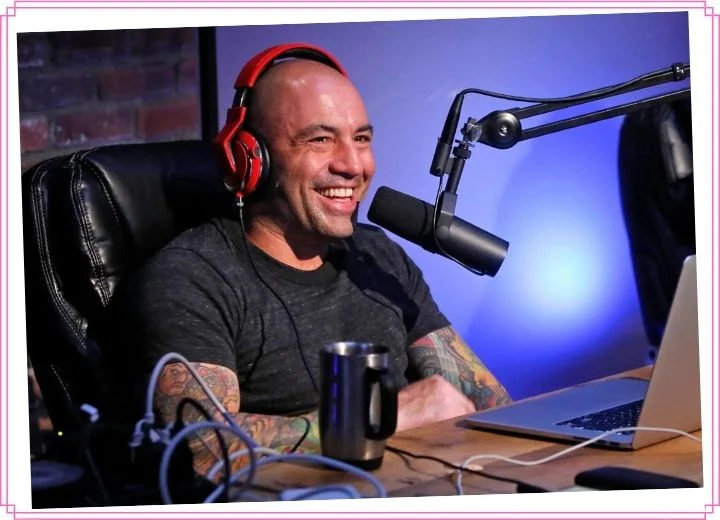 Joe Rogan is a standup comedian known for his extraordinary hosting skills. His Joe Rogan Experience podcast is one of the most popular podcasts globally, with an estimated 200 million monthly streams.
How do you listen to Joe Rogan Experience (JRE)? Spotify is the exclusive distributor for the latest episodes of JRE podcasts. This application is also the best place for fans to listen and follow the content of this famous host.
To learn more about Rogan and his talk show, read our article below!
Where Can I Listen To Joe Rogan Podcast?
Starting on September 1, 2020, the JRE program will officially become exclusive on Spotify. So, what is the best way to listen to Joe Rogan podcast?
You can listen via Spotify. And listeners won't have to pay to access the episodes, but they will have to become users of the app.
You don't have to worry about the content as Rogan is still the leading creator and controller of the show.
This news is a massive hit because the JRE talk show has never appeared exclusively on any platform before. Before the pledge, we could still access the episodes through Youtube and several other streaming platforms.
The factor that makes JRE so attractive and attracts millions of listeners lies in its diverse content. In each episode, Rogan will introduce a famous guest and discuss an issue with them for about three hours.
His guests can be anyone, from famous actors and singers to politicians or scientists. Each has his/her own exciting traits and stories that make the show a spiritual treat to suit every moment.
Top 10 Of The Best Joe Rogan Experience Episodes
Rogan has been producing podcasts since 2009 and has proven his foresight.
So far, he has produced more than 1,600 podcasts on Youtube and Spotify to attract millions of listeners. It's a considerable number, and if you're just starting to learn about this artist, you might be overwhelmed.
Don't worry. We've selected 10 of the best JRE podcasts for you below.
1. Elon Musk – #1169
The 1169th episode of JRE with the participation of Elon Musk is the most popular podcast with the most views on Youtube.
Many people know Elon Musk as the CEO of Tesla SpaceX. However, what attracts people the most is his recklessness, innovation, and bold ideas.
In 2.5 hours of this episode, the main content mainly revolves around the business projects and plans that Musk is cherishing. He also shares his secret to success and AI knowledge.
Elon Musk also made an offer to Rogan about smoking weed. It is the reason why Tesla's stock immediately fell 9%. However, this reason makes no.1169 the best Joe Rogan podcast to listen to while high.
2. Dr. Rhonda Patrick – #1054
For those who care about their health and how to take care of them, listen to podcasts featuring Dr. Rhonda Patrick. Volume 1054 is the best example.
This nutritionist and Ph.D. in biomedical sciences offers insightful commentary on how diet and exercise affect human health on many levels. Patrick also gives a lot of valuable tips on how to stay healthy.
She also appeared in six other episodes on the show: #459, #502, #568, #672, #773, and #901. No one wants to refuse health advice, right?
3. Edward Snowden – #1368
Edward Snowden appeared on the 1368th JRE episode after the involvement of Bernie Sanders. This guy is famous for revealing NSA secrets, which is also part of the conversation.
Snowden has revealed why he decided to release those top-secret documents. The conversation also revolved around how much government surveillance is in your life.
You can read more "Permanent Record" and see volume 1536 for more related information.
4. Neil deGrasse Tyson – #919
Neil deGrasse Tyson is no longer strange for those who love science. He is one of the most famous authors, communicators, and astrophysicists in the US.
What would a conversation between an expert and an ordinary person look like? During the interviews, both Tyson and Rogan were very flexible in balancing cosmic concepts and conventional things.
The concept of infinity in the 919th volume remains a mythical subject to this day. A conversation between two people with similar interests will captivate listeners for more than two hours.
5. Lance Armstrong – #737
Episode 737 has been on the air for a long time, but its imprint is still powerful. With guest Lance Armstrong, seven-time Tour de France champion, Rogan succeeded in reaching the emotions of his listeners.
Armstrong shared his honest thoughts after the doping scandal in 2013. In this interview, we don't blame and blame. Instead, listeners can open their hearts to listen and discuss the legendary racer's story.
6. Jordan Peterson & Bret Weinstein – #1006
Bret Weinstein and Jordan Peterson had a great debate with JR in episode 1006. Their conversation revolved around controversial issues like racism, human nature, and even Hitler.
With the participation of two university lecturers, listeners can receive a lot of helpful knowledge.
7. Bob Lazar and Jeremy Corbell – #1315
For those interested in conspiracy theories and aliens, Area 51 is a fascinating concept. In the 1315th episode, Jeremy Corbell and Bob Lazar shared their exciting insights on this aspect.
The two-hour content is about the strange happenings around Area 51. Bob Lazar shows his understanding and shares them back with the listener. Although they sound crazy, it makes you rethink the theories.
8. Ben Shapiro – #993
Ben Shapiro is one of the sharpest and most prominent right-wing conservatives today. His pleasure is to destroy any leftist social justice pioneers whenever possible.
Shapiro's debates, Q&A, and conflicting opinions cause controversy. He also received a lot of hate for his statements and was often accompanied by bodyguards.
The dominant social issues that Ben Shapiro addressed include gender pronouns and identity politics. Although Rogan disagrees with his views, this free-spirited interview is still interesting to listen to.
9. Alex Jones – #1255
Alex Jones is one of the most famous conspiracy theorists today. The relationship between Jones and Rogan is quite contradictory and a bit sensitive.
The radio host's impression when he first appeared on episode 991 was not very good with rude comments about Sandy Hook. It was pretty surprising that JR made it possible for Jones to return and say sorry.
This JRE episode is also the most extended podcast episode, up to 5 hours. You probably won't hear them all at once, but give it a try.
JR did a great job of making the conversation more comfortable and positive. Listeners will not feel too burdened or fall into extreme conspiracy theories. This factor is a plus.
10. Kanye West – #1554
Kanye West was one of the guests to appear after Rogan's million-dollar deal with Spotify. Many people look forward to this interview to hear Kanye's thoughts ahead of the 2020 election.
However, the conversation quickly diverged and became tortuous. We cannot say that this volume is informative and informative, but it is still highly entertaining.
Kanye West continuously expressed his bold ideas and thoughts throughout the conversation. He considers it his mission to be "the leader of the free world."
The infamous rapper also opened up about religious views and the current music rating system.
How To Listen To Joe Rogan Podcast Without Spotify?
Spotify is the best app to listen to Joe Rogan podcasts, and no one can deny this. However, this application does not guarantee worldwide coverage.
According to the listing on the official website, the platform only supports 79 different territories and countries. This number means that there are still 116 countries where people cannot use this app.
When Rogan signed an exclusive deal with Spotify in 2020, many people may not be able to watch JRE episodes anymore. Previously, you could still watch the show's podcasts on Podcast Addict, Apple, Google Podcasts, or Youtube.
Viewers can still watch excerpts of the show on the official Youtube channel.
https://www.youtube.com/c/joerogan
Restricting access and posting channels has caused a significant decrease in the audience of the JRE program. However, they were not enough to shake the leading position of this famous presenter.
Frequently Asked Questions
Please continue reading the part below if you still have any questions regarding the JRE program.
Are Joe Rogan's Podcasts Free?
According to Spotify, episodes of JRE podcasts will always be free and accessible to all users.
You can also find the videos corresponding to each episode as "vodcasts" in the app. It will increase your program-watching experience.
You can also download episodes for free on Spotify.
How Much Did Spotify Pay Joe Rogan?
Many statistics suggest that Spotify paid Rogan $100 million for his unique content on the platform. This streaming service is allowed to upload JRE episodes on its platform exclusively.
How Can You Play Joe Rogan On Spotify Without Video?
One of the problems many users face when listening to JRE programs on their phones is the video player. It makes the application consume too much data and drains the phone battery very quickly.
So, how to turn off video mode to save data? Follow these steps:
Go to Settings.
You will see two options, "Download audio only" and "Stream audio only." Turn on the first button if you want to preload audio files to listen to when there is no wifi. With the second option, the application allows you to remove the video from the player when there is no wifi.
How Many People Listen To Joe Rogan Podcast?
The number of listeners for each episode of JRE is about 11 million people.
According to Edison Research, a survey of 8,000 podcast listeners in the United States, the show remains at the top of popularity lists in 2020 and 2021.
Final Thoughts
Where can I listen to Joe Rogan podcast? If you want to keep up with the latest episodes of the JRE, find them on Spotify. This streaming app currently holds exclusive rights to JRE's content.
You can also check out his Youtube channel to check out some of the highlights from the episodes. It will allow you to grasp part of the content of the program.
Don't forget to share this article if you find it useful. Happy listening!