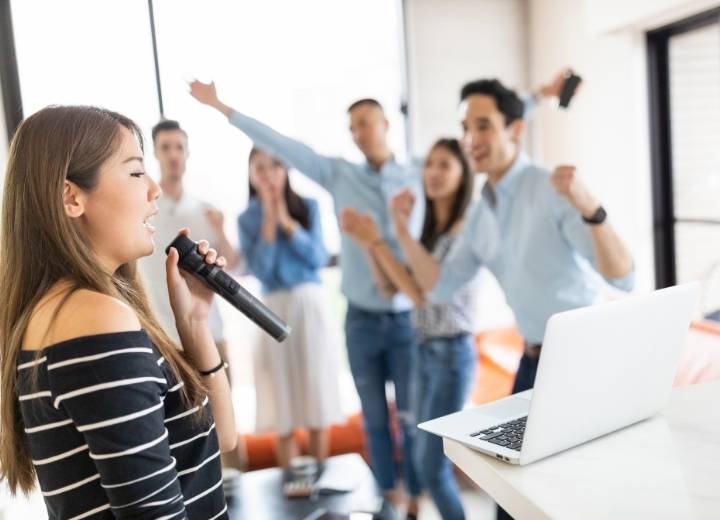 Do you know why karaoke is fun? Why do more and more people sing karaoke? The answer is right in the article below! Let's read on!
Why Karaoke Is Fun?
Karaoke is a fun activity with many benefits. These benefits come from the fact that you will have more confidence, improve your breath, build stress-relieving skills, connect and develop more relationships between friends and family.
Reality has proven that karaoke has many more benefits, but together we will find out in detail what the basic benefits of karaoke are.
The Benefits of Karaoke
Many people will wonder after all because karaoke seems simple but brings many benefits. Without making you wait any longer, here is a list of  great benefits of being different from karaoke.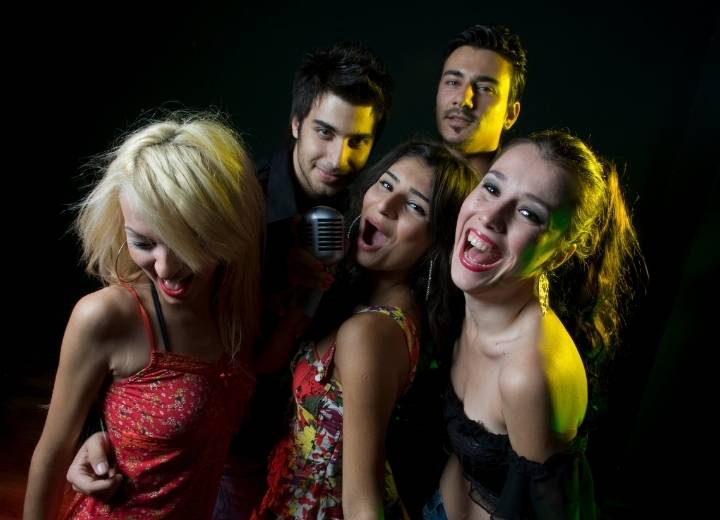 #1. Karaoke Gives Confidence
Not everyone is born with confidence when standing in front of a crowd. And let alone singing karaoke in front of a lot of people, many of us are shy around strangers. But with karaoke, we can change everything.
Singing karaoke seems simple but gives you unbelievable confidence. Just by focusing on the lyrics and releasing the energy through singing, one feels more confident in a way.
Moreover, if we believe in ourselves, we will generate more positive energy for others. From here you can not only sing karaoke alone in front of your best friend but even sing karaoke on the street or at a party. It's great to be a confident person, isn't it?
#2. Karaoke Helps You Relieve Stress And Fatigue
Listening to music is for many people an effective stress reliever. Singing karaoke can also provide a more effective way to relieve stress.
Imagine after a hard day of work and study you return to your beloved home. Many people will choose silence, but there will be times when we need karaoke to relieve stress. 
Indeed, by singing along to the lyrics and feeling the lyrics, we will drop our souls into positive melodies to feel our best. Many people have taken to karaoke and released their feelings effectively.
#3. Karaoke Can Improve Breathing
To sing karaoke you need to have a steady breathing rhythm. And by singing karaoke regularly, your breathing is continuously improved.
But how to sing karaoke regularly. Simply feel your favorite song and drop your soul into that song, automatically there will be a breath of air from your lungs and improve your breathing more steadily.
Only when you focus on singing karaoke can you control your breathing in a certain way.
#4. Karaoke And Skill-building
Singing karaoke not only helps you relieve stress, but it is also silently supporting you to build singing skills.
Indeed, in the process, you are not only learning how to regulate your breathing but also learning how to perform a song most attractively.
Now instead of you being a very pale person on other occasions you can sing beautifully and have emotional expressions on your face or cool dance moves.
#5. Karaoke And Making Relationships
During the karaoke table, there must be an audience, right? The audience here can be close friends or family members.
By singing karaoke you have created a certain relationship and improved that relationship more. You can borrow lyrics to sing through your favorite song to spiritually exchange with them.
Even if you are an amateur singer, just knowing and expressing your emotions in that song is a way for you to improve your relationship with people.
#6. Karaoke Revives Memories
Singing can revive memories with our young exciting years. There are many songs of the past decades in your time re-enacted that will make us nostalgic for the past.
This singing is also one of the ways to improve your memory as well as bring certain happiness in the present. But knowing in the future we will have more interesting stories about what karaoke can bring.
#7. Karaoke And Entertainment 
Scanning on all the benefits mentioned above, karaoke is simply an enjoyable leisure activity with a lot of fun already. Karaoke can give you an undisturbed night, but it can also give you a great concert with plenty of rave reviews from your audience.
Karaoke Shows Your Human Nature
Karaoke is not only about singing happy songs but also very passionate music. And through that people can understand what your musical forte is like.
Confirmed people will choose sad songs, but many people pursue a new and happy home style. From here people know whether you are a nostalgic person or a modern person, right?
How To Enjoy Your Karaoke In The Most Fun Way
To make your karaoke activities the most fun, we have the following ways.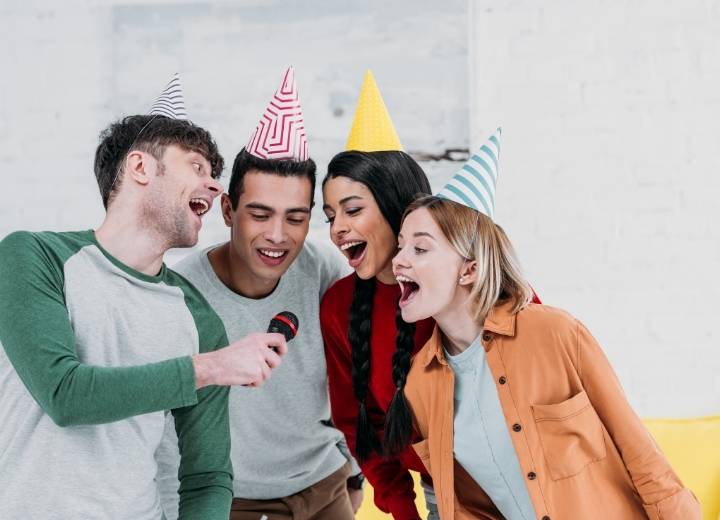 #1. Singing In A Glass Space
Space here can be a private room, a karaoke room, or in your car. With such a space, the sound quality is amazing and you can feel your breath and voice most impressively.
#2. Does Karaoke Make You A Great Singer?
Reality proves that many people start practicing singing professionally by singing karaoke. You simply practice your voice and the performance skills of singing karaoke every day. Your skills have been increasingly developed and developed by the day.
Moreover, in the process of singing karaoke, you can ask for advice or contribute comments from friends and family members to improve your voice.
#3. Should You Be Shy In Front Of Strangers?
When you sing karaoke long enough your confidence is built. Now you can freely sing any song or many times without fear of facing strangers anymore.
#4. Karaoke While Enjoying A Dish
Singing songs after a while will also bring you certain fatigue. By preparing snacks and drinks you will be able to add energy for you to make karaoke more exciting and more enjoyable.
However, note that you should not eat beans. Because most of them will make your throat dry and put your singing on hold.
Conclusion 
Now you know "why is karaoke fun", right? Try to allow yourself a chance to sing and unleash your passion for singing to people. It doesn't matter where you are, be confident and express yourself through singing karaoke.
Thank you for your interest in the article!