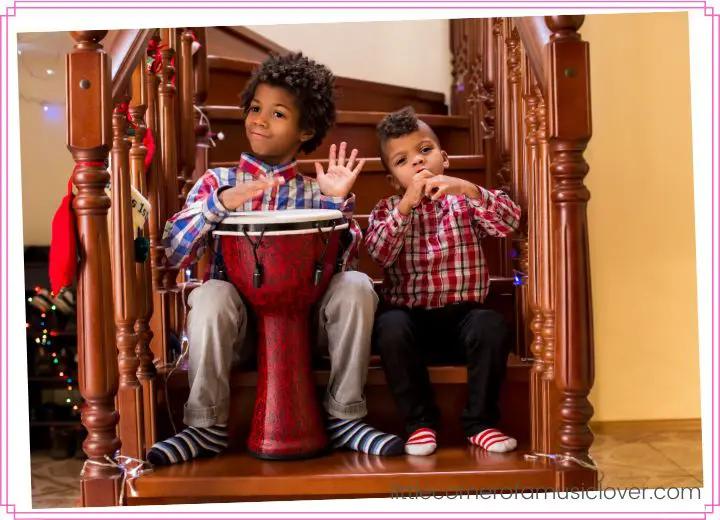 Looking for a heartwarming way to express your love for family? Let's capture the emotion of family love with these top popular songs.
Explore and listen to some of the most popular love songs about the family below.
Songs About Family Togetherness and Celebrates Memories
Looking for the perfect songs to celebrate family togetherness and special memories? Make your family moments special with these inspiring songs about family love and celebration.
1. "Family Song" by The Weavers
This is an uplifting and inspiring song about the love within a family. The lyrics center around the idea that no matter where one goes, their family is always with them in spirit. This song is sure to fill listeners with love and joy.
2.  "Butterfly Kisses" by Bob Carlisle
"Butterfly Kisses" by Bob Carlisle is a touching love song about family. The song expresses the deep emotions of a father watching his daughter grow up.
Through its captivating lyrics and uplifting melody, the song provides an insight into the tenderness of familial love between a parent and child.
3.  "Celebration" by Kool and the Gang
The Kool and the Gang song "Celebration" is a classic upbeat anthem that celebrates family, friendship, and unity.
This cheerful track has been enjoyed by people of all ages and is used to commemorate special occasions such as birthdays and reunions.
4.  "We are Family" by Sister Sledge
https://www.youtube.com/watch?v=LKflQn-ieDU
Dedicated to families everywhere, "We are Family" by Sister Sledge is one of the most beloved and uplifting love songs about family.
Its lyrics serve as a reminder that no matter what life throws at us, we can always rely on our families for unconditional love and unwavering support.
5.  "Count on me" by  Bruno Mars
"Count on Me", by Bruno Mars is a beautiful love song about family and community. The song expresses deep appreciation for those who stick together no matter what.
It is an inspiring reminder of the importance of family, friends, and community support.
6.  "My House" by Flo Rida
"My House" by Flo Rida is an inspiring love song about family that reminds us what truly matters.
This feel-good tune inspires us to cherish our homes and loved ones, so that life's problems can be put aside for just a moment.
Songs About a Family's Love
Capture the heart and spirit of the family with these beautiful songs about a family's love. Take a trip down memory lane and rediscover the joy and beauty of being part of a family.
1. "Teach Your Children Well" by Crosby Stills, Nash, and Young
The song speaks to the importance of imparting not only wisdom but also values and compassion to children as they grow up.
2. "The House That Built Me" by Miranda Lambert
This is an emotionally powerful song about family love. Its poignant lyrics remind us of all the simple joys that come from growing up in a house full of love.
3. "Love Can Build a Bridge" by The Judds
A timeless ode to the power of love and family, it remains one of the most popular family love songs in country music.
With its hopeful message, exuberant harmonies, and upbeat melody, this track will bring your household together as you belt out its meaningful lyrics.
4. "I'll Be There" by  Mariah Carey
It's a timeless song that celebrates unconditional love amongst family members and friends, making it one of the best family love songs ever written.
5. "Family Affair" by Sly and the Family Stone
The uplifting message, catchy melody, and powerful vocals create a heartwarming tune that celebrates our relationships with family members.
This classic track will certainly make you feel the warm embrace of familial love!
6. "A Song for Mama" by Boyz II Men
This is an uplifting and heartwarming tune about the unconditional love of a mother. This song offers a tribute to the strong bond between mother and child and reminds us about familial love.
7. "Home" by Dierks Bentley
If you're looking for a song that celebrates the power of family love, then look no further than Dierks Bentley's "Home".
This heartfelt country tune is all about coming back home to loved ones and finding comfort in their embrace.
Songs About Family Issues or Betrayal
Looking for songs about family issues or betrayal? This list of songs touches on these topics and feels the emotion associated with them.
1. "Family Portrait" by Pink
The song resonates with listeners from all backgrounds as it evokes powerful emotions about the importance of family bonds.
2. "Cat's in the Cradle" by Harry Chapin
The lyrics tell the story of a father who has neglected his son while focusing on his career, only to realize too late that his son had grown up and was now living life without him.
3. "Mother-In-Law"  by Ernie K. Doe
Ernie K. Doe's song "Mother-In-Law" is a classic soul number that talks about the joys and challenges of being part of a family.
With honest lyrics and a catchy beat, this song is sure to bring a smile to any listener looking for songs about family.
4. "Father and Son" by Cat Stevens
The song paints a touching picture of a fatherly figure offering guidance to his son as they both learn lessons through life's experiences.
5. "Because of  You" by Kelly Clarkson
The song celebrates the strong bond between children and their parents, expressing appreciation for all the father has done.
The heartfelt ballad speaks of the power of unconditional love between family members and expresses gratitude for lifelong support from parents.
Country Songs About Family
Get inspired by these hand-picked, country songs about family today! Add some heartfelt music to your family gatherings and make lasting memories.
1. "Meanwhile Back At Mama's" by Tim McGraw ft. Faith Hill
The punchy country rock song celebrates the moments that occur when families come together and are a reminder of how much family love can mean to us.
2. "Family Tree" by Caylee Hammack
The song expresses how treasuring our families in good times and bad is an important part of navigating life's ups and downs.
It tells us to never take for granted the support we receive from our kin, as it can be an invaluable source of strength when things get tough.
3. "Don't Forget to Remember Me" by Carrie Underwood
Carrie Underwood's song "Don't Forget to Remember Me" celebrates the unconditional love that exists between family members.
The song emphasizes the importance of cherishing much-needed moments with family, no matter how far apart people are.
4. "The Greatest Man I Ever Knew" by Reba McEntire
This is an emotional tribute to the loving relationship between a father and daughter.
The song highlights the unconditional love, support, and strength of family despite any difficulties that may arise.
5. "Who Says You Can't Go Home" by Bon Jovi and Jennifer Nettles
This is a song about family love and the comfort of always going home to someone you care about.
It talks about how no matter what, the feeling of coming back home to family, friends, and loved ones, is one of the strongest bonds in life.
R&B Songs About Family
Looking for R&B songs that are about family? Check out this list of top picks that capture the love, loss, and struggle of family life.
1. "Dance with My Father" by Luther Vandross
The song talks about the strong bond between fathers and their families, and how much our dads contribute to our lives.
It's a great reminder of the importance of taking time to spend with family and appreciate each other.
This song is perfect for expressing gratitude towards your dad or anyone who has been like a father in your life.
3. "A Song for Mama" by Boyz II Men
This sweet ballad celebrates the bond between mother and child, expressing love and appreciation for all that she has done.
The song has become an anthem of sorts for moms everywhere, touching the hearts of those who are surrounded by loved ones.
4. "Family Reunion" by the OJays
This is a great song about family love. It celebrates unbreakable bonds and undeniable connections between family members while acknowledging the struggles of facing tough times together.
5. "Father Figure" by George Michael
It is an emotional and heartfelt ballad that speaks to the powerful bond between parent and child.
From its catchy beat to its impactful lyrics, this classic tune has become a staple in the list of the best songs about family love.
Rap and Hip-Hop Songs About Family
Enjoy the best rap and hip-hop songs about family. These are the perfect track that expresses your feelings.
1. "Dear Mama" by Tupac Shakur
It is an iconic song that celebrates family relationships and serves as an inspirational reminder to us all of how much parents can mean to us.
2. "Family Business" by Kanye West
https://www.youtube.com/watch?v=jT8G36SreVY
Kanye West's "Family Business" is an uplifting and cheerful song about the importance of family and the unconditional love that a family can give.
The song speaks of the joys of spending time with family, the comfort that comes with it, and how it can bring people together in times of difficulty.
3. "Keep the Family Close" by Drake
https://www.youtube.com/watch?v=E6Llmel3vNc
The lyrics evoke feelings of love and appreciation for our families, and the importance of maintaining relationships with them.
It encourages listeners to cherish those closest to them, no matter what the situation may be, reminding us it's never too late to show your love for them.
4. "All That I Got is You" by Ghostface Killah
With an uplifting melody and deep lyrics, this song celebrates the bond shared between family members, both good times and bad.
An excellent choice for those searching for great songs about family love!
5. "Mockingbird" by Eminem
The lyrics convey a powerful message of family love and draw on themes of protection, confidence, bonding, and redemption.
With its heartfelt words, the song is sure to tug at the heartstrings of any listener looking for a good song about family love.
6. "Brothers" by  ASAP Rocky
"Brothers" by ASAP Rocky is a song about the special bond between siblings, celebrating family love and respect.
With its melodic raps and poetic lyrics, "Brothers" is an ideal choice for those looking for uplifting music that celebrates our relationship with our closest relatives.
7. "Hey Mama" by  Kanye West
With its upbeat melody and loving message, this is one of the best songs ever made to express the power of families who love each other unconditionally.
8. "Look what you have done" by  Drake
This is a heartfelt and inspiring tribute to the family for offering unwavering support and unconditional love.
A beautiful reminder of how precious our loved ones are if we take the time to appreciate them.
9. "Family Business' by Kanye West
https://www.youtube.com/watch?v=jT8G36SreVY
"Family Business" by Kanye West is an uplifting track about family love.
This song encourages us to spend more time with loved ones, take time out of our own busy lives to appreciate them, and celebrate all that binds us together.
Christian and Gospel Songs About Family
Celebrate your family with these inspirational Christian and Gospel songs. Perfect for singing along or just sharing some peaceful moments, these uplifting tracks will be a joy to listen to.
1. "Daddy Sang Bass" by Johnny Cash
This song celebrates the enduring bond between fathers and their children. This heartwarming country classic is a timeless reminder that family, love, and singing together can overcome any obstacle
2. "Blessed" by Elton John
"Blessed" by Elton John is an uplifting song that speaks to the power of family love.
A heartfelt tribute to familial love, "Blessed" reminds us that there is nothing more treasured in life than our loved ones.
3. "He Walked on Water" by Randy Travis
The lyrics paint a picture of faith in the face of fear, and encourage us all to be courageous and persevere despite life's challenges.
This uplifting song is the perfect reminder that family bonds are sacred and unshakeable.
4. "The Family Prayer Song (As For Me And My House)" by Morris Chapman
This song talks about praying together with family members and staying united as a family despite all the struggles in life.
5. "Family" by Amy Grant
The song celebrates the happy moments shared between parents and children, siblings, grandparents, and other loved ones.
It is an inspiring reminder that family love can overcome all obstacles, no matter how big or small.
Rock Songs About Family
Searching for the perfect rock song about family? Look no further, we've compiled a list of some of our favorites song for you.
1. "Sister Christian" by Night Ranger
"Sister Christian" by Night Ranger is a classic rock hit that is all about family love. The upbeat tempo and powerful lyrics make this song perfect for singing along with your loved ones.
2. "Daughters" by John Mayer
"Daughters" by John Mayer is an emotional and touching song about father-daughter relationships and the power of family love.
Through its sweet words and carefully crafted melodies, this song captures the warmth, happiness, joy, and sorrow experienced in a parent-child relationship.
3. "My Father's Eyes" by Eric Clapton
It's one of many songs about families showing kindness, encouragement, and devotion to each other, making it one of the best songs about family love.
4. "Hey Jude" by The Beatles
Reminding us that even "the worst times" can always be overcome with warmth and companionship, it serves as an anthem of solace to all.
This uplifting track celebrates the power of togetherness and understanding among family members, encouraging one another to move forward despite any difficulties they may face.
5. "Father and Daughter" by Paul Simon
The song captures the everlasting emotion that only family can provide in an unforgettable way, making it one of the most beloved songs about family love.
Children's Songs About Family
Strengthen your family connection through these enjoyable children's songs celebrating family life and values! Give your children a delightful learning experience today.
1. "All I Really Need" by Raffi
"All I Really Need" by Raffi is a beautiful song dedicated to families and encourages them to show love and cherish one another.
2. "Family Song" by Sesame Street
This is a catchy and upbeat song about the importance of family and how much we love them.
It's a great children's song to encourage both kids and their families to appreciate the bond of love between them.
3. "Five-Finger Family" by The Wiggles
The Wiggles' song "Five-Finger Family" is a perfect choice for children to learn about the love within families.
It celebrates the idea of families being connected by five fingers and that their bond forms a stronger link than any other.
The tune and lyrics are easy to remember, making it an ideal sing-along song for children who want to learn all about family love!
4. "There's No Such Thing as Normal" by Dan Dan Doodlebug
Dan Dan Doodlebug's song "There's No Such Thing as Normal" is a great children's tune about the importance of celebrating our differences and the power of family love.
5. "Family" by Laurie Berkner Band
"Family" by Laurie Berkner Band is a sweet, heartwarming song about family love.
The lyrics emphasize the joy of being surrounded by the people you love and the importance of spending time with each other.
It's a great reminder that no matter what, the family will always be there for us and to cherish those moments we have with them.
Spanish Songs About Family
A special list of Spanish songs about family, filled with heartfelt lyrics and beautiful music. Enjoy this collection of joyful songs and have a good time singing with your loved ones!
1. "Madre Tierra (Oye)" by Chayanne
3. "Amigo" by Robert Carlos
4. "Eres Tu" by Mocedades
5. "Después de Tí" by Christian Castro
FAQs
Here are faq related to love songs about family:
What's A Good Family Country Song?
Country music has a long list of songs that families can enjoy together. Songs like "I'm Gonna Love You Through It" by Martina McBride,  "The House That Built Me" by Miranda Lambert, and "A Daddy Like Mine" by Brad Paisley are just a few examples of good family country songs.
Why do songs bring back memories?
Studies suggest that songs can bring back memories because the lyrics, melody, and tune of the song are associated with a specific memory or moment connected to it.
Music activates multiple parts of the brain, including parts involved in emotion.
As such, listening to a certain song may trigger strong emotions or vivid memories in people and remind them of a particular time or event from their past.
What is a soulful song?
A soulful song is a song that evokes feelings of emotion and connection. These song are usually a slow or mid-tempo R&B or blues style song that contains emotionally powerful lyrics and the vocalist singing with deep expression and passion.
Examples of soulful songs include:
Can music unlock memories?
Yes, music can unlock memories. Music can elicit strong emotions and memories due to intense associations with people, places, and events.
Listening to a familiar song often triggers vivid recollection of the past as well as powerful positive feelings that are associated with it.
The ability of music to trigger powerful memories is a phenomenon known as "musical anamnesis"
Can a song touch your soul?
Yes, a song can touch the soul. Music has always been a powerful form of artistic expression that has the potential to change one's emotional and mental state.
A great or meaningful song can transport you to different levels of emotion, evoke memories, and even bring forth answers within yourself.