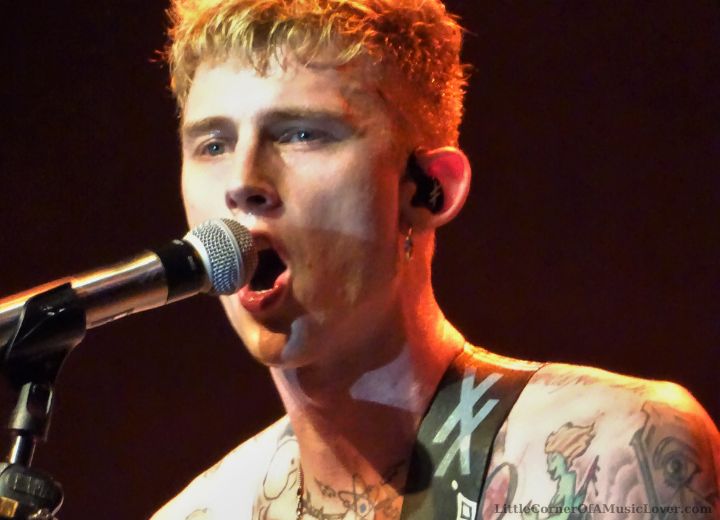 Music fans worldwide cannot get enough of Machine Gun Kelly's creative and compelling songs.
He has been responsible for some of the most memorable hip-hop anthems of recent years, creating a unique blend of rap, pop, and hardcore punk.
With such an impressive collection of songs, it can be difficult to pick out MGK's best.
Here, I have compiled a list of 19 Machine Gun Kelly top songs, sure to put you in the groove and keep you there!
1. Rap Devil
"Rap Devil" by Machine Gun Kelly is an intense hip-hop track with swift bars and a booming beat.
The song is directed at fellow rapper Eminem, with MGK directly aiming at his rival throughout the vicious verses.
In it, he takes jabs at Eminem's age and lyrics, accusing him of selling out following the success of his 2018 Kamikaze album.
As much as it serves as a diss track for Eminem, "Rap Devil" also bolsters MGK's name in the rap game, a bold move against one of the most celebrated and established rappers ever.
2. Wild Boy (Featuring Waka Flocka Flame)
"Wild Boy (featuring Waka Flocka Flame) by Machine Gun Kelly is an upbeat hip-hop track about living life in the fast lane and not caring about the consequences.
The song features famous rapper Waka Flocka Flame, known for his intense and unruly rap style.
Together with MGK, they create a powerful energy that allows the listener to get lost in their unapologetically wild lifestyles.
With lyrics like "I'm a wild boy yeah I do what I want/ Cause I don't care if they think it's wrong," it's easy to understand why this song has become one of Machine Gun Kelly's top songs.
3. LOCO
"LOCO" by Machine Gun Kelly is an anthem of perseverance and determination.
The high-energy track combines hip-hop and rock with MGK's signature flow and ear-catching hooks.
The lyrics motivate listeners to stay focused on their dreams and never give up.
MGK raps, "Focus on my grind, you can have the rest/My mission is clear, I express it in my chest," which speaks to his determination to reach his goals no matter the cost.
With its inspiring message and infectious beat, "LOCO" has quickly become one of Machine Gun Kelly's top songs.
4. Bloody Valentine
"Bloody Valentine" by Machine Gun Kelly is a heartfelt, romantic song exploring the theme of love and commitment.
The song follows Machine Gun Kelly as he reflects on the highs and lows of a committed relationship and dreams of having a lasting bond with his beloved.
He sings, "If I could, I would be forever yours," showing his deep appreciation for being able to share such an intimate bond with someone special.
5. Candy (Feat. Trippie Redd)
"Candy (Feat. Trippie Redd) by Machine Gun Kelly is a feel-good track that celebrates the sound of success and the thrill of rolling with the right people.
Laced with an upbeat, trap-infused beat that pairs well with MGK's melodic flow, this track has everything you need to turn up any party or provide motivation for pursuing your dreams.
6. Papercuts
"Papercuts" by Machine Gun Kelly is an emotionally charged song about the struggles of life and the difficulties of relationships.
It's a sad reflection on all the choices we make in life and how we can easily be overwhelmed with too much at once.
The chorus is incredibly moving as he speaks of struggling to find peace within his own heart: "And I'm searching for a peace that I can never find, been cutting paper cuts out of my mind."
His passionate lyrics paint a vivid picture of self-doubt and inner turmoil while still bringing hope and light to the listener.
7. DAYWALKER! (Feat. Corpse)
"Daywalker!" by Machine Gun Kelly (featuring Corpse) is a powerful anthem of self-empowerment and a reminder never to forget who you are.
The song talks about not letting anyone change who you are, regardless of how challenging life can be.
MGK's passionate delivery drives home the message of standing tall and proud despite any obstacles that come your way.
8. Bad Things (Feat. Camila Cabello)
"Bad Things" by Machine Gun Kelly feat. Camila Cabello is a catchy pop-rap song about the positive side of living life to the fullest and taking risks, even if they aren't necessarily "good."
The track is unquestionably fun to listen to while inspiring listeners to make bold decisions and take control of their destinies.
Throughout the song, MGK uses phrases like "If it feels good, then it can't be bad," emphasizing that sometimes, to succeed, you must be willing to walk out on a limb and take risks.
Camila Cabello's feature provides beautiful and powerful chorus vocals that give an angelic touch to this upbeat bop.
"Bad Things" was one of MGK's most successful singles and has cemented as one of his defining signature songs in his discography.
9. Mind of a Stoner (Feat. Wiz Khalifa)
"Mind of a Stoner" by Machine Gun Kelly (featuring Wiz Khalifa) is an uplifting and motivating hip-hop track that serves as a reminder never to give up.
The song celebrates the resilience of those who stay in pursuit of their dreams while also subtly encouraging listeners to explore their journeys.
10. Sail
Machine Gun Kelly's "Sail" is a powerful song about rising above challenging times and having the courage to pursue your dreams, no matter how impossible they may seem.
The lyrics explore overcoming fear and anxiety and embracing life's uncertainties.
MGK conveys this message by rapping over a fierce beat, emphasizing his trademark fast flow.
Through this inspirational message of hope, "Sail" has become one of Machine Gun Kelly's most popular songs and remains an uplifting anthem for anyone who needs it in these difficult times.
11. My ex's best friend (Feat. Blackbear)
"My Ex's Best Friend (Feat. Blackbear) by Machine Gun Kelly is a raw and honest song about the emotions of a breakup.
The lyrics paint a vivid picture of the heartache and longing one feels when their relationship ends and the guilt of thinking that one's ex's new partner may better fit them.
12. I Think I'm OKAY
"I Think I'm OKAY" by Machine Gun Kelly is a powerful song with an uplifting message.
It talks about overcoming adversity and finding strength in the face of negativity.
MGK uses his diverse flows and style to convey that things can be faced head-on no matter how hard life may seem.
He expresses his battle with depression through raw lyrics and rapping about his journey from darkness to light.
13. Forget Me Too (Feat. Halsey)
"Forget Me Too" by Machine Gun Kelly featuring Halsey is an emotional pop-punk track about heartbreak and moving on from a past relationship.
The song features both MGK and Halsey expressing their pain and sorrow over the breakup, highlighted by the lyrics "I can't forget you if I wanted to / But I don't wanna think about you no more."
14. See My Tears
"See My Tears" by Machine Gun Kelly is a powerful and touching song from one of his top albums, Bloom.
With heartfelt lyrics and an emotional melody, the track speaks to MGK's struggles while also displaying his resilience.
Through raw vulnerability, he sings about the pain of letting go of someone he loved and how he eventually moved on from it.
It's a reminder that no matter how hard life can be, there is always hope for hope.
15. Till I Die
"Till I Die" by Machine Gun Kelly is an uplifting anthem that speaks to the power of resilience and hard work. MGK delivers a passionate performance that will motivate and inspire his listeners.
This track encourages them to strive for greatness no matter the obstacle, boasting lines such as "My heart just keeps on pushing me. It's like I'm hotwired / I'll be legendary 'till I die."
As one of MGK's most memorable songs, "Till I Die" is a motivational reminder that greatness can be achieved if you never give up on your dreams.
16. Trap Paris (Featuring Ty Dolla $ign & Quavo)
"Trap Paris" by Machine Gun Kelly featuring Ty Dolla $ign and Quavo is an upbeat hip-hop track from MGK's 2017 album Bloom.
The song speaks to the power of money and luxury, exploring the idea of being so blessed that you can live like royalty even in a "trap" town.
17. Alpha Omega
"Alpha Omega" by Machine Gun Kelly is a powerful hip-hop track that captures MGK's unique, intense energy.
The song is about moving on to the next chapter in life with unbridled confidence – no matter what you've been through or overcome.
18. Bad Motherfucker
"Bad Motherfucker" by Machine Gun Kelly is an intense and gritty rap track emphasizing the importance of being true to yourself, no matter what.
It's a song about standing up for yourself and your beliefs, regardless of the opinions of those around you.
19. Chip Off the Block
"Chip off the Block" by Machine Gun Kelly is an anthem of survival and pride for those who rose from the streets to the top.
The lyrics tell the story of a young man growing up in a complex environment, surrounded by poverty, violence, and crime, yet still managing to make something out of his life.
It's a motivational song that encourages listeners to stay strong no matter what obstacles life puts in their way.
FAQs
What famous songs does Machine Gun Kelly sing?
Machine Gun Kelly, or MGK, has a broad repertoire of popular songs.
His most famous song, "Bad Things," featured Camila Cabello and peaked at number four on the US Billboard Hot 100 chart.
He also released "Loco" featuring Trippie Redd.
Both tracks were certified Double Platinum by the Recording Industry Association of America (RIAA).
Additionally, other fan-favorite singles include "Hollywood Whore," "At My Best" featuring Hailee Steinfeld, and his collaboration with Young Thug titled "Float."
MGK has won numerous awards for his distinctive rap style and continues to impact the music industry today.
What is MGK famous for?
MGK, aka Machine Gun Kelly, is an American rapper and actor who has made a name for himself in the music industry.
He first rose to fame with his mixtape Lace Up and its popular lead single "Wild Boy," which featured rappers Waka Flocka Flame and Meek Mill.
MGK's subsequent albums and EPs, such as General Admission, Bloom, and Hotel Diablo, have earned him critical acclaim from fans worldwide.
He is also well-known for his collaborations with artists like Camila Cabello, Halsey, Young Thug, YUNGBLUD, Lil Skies, Travis Barker, and more.
He has also starred in several Hollywood movies like The Dirt (based on the Motley Crue biography) and Nerve and Birdbox.
As such, it's no surprise that MGK is one of the biggest names in hip-hop today!
Did Machine Gun Kelly stop rapping?
No, Machine Gun Kelly has not stopped rapping.
He continues to release new music and collaborate with other artists.
MGK released a remix of his song "Candy" featuring Trippie Redd, which has been well-received by fans.
What song did MGK do to Eminem?
MGK released a diss track towards Eminem in 2018 entitled 'Rap Devil.'
The song was in response to Eminem's 'Not Alike,' which had made references to MGK.
In the song, MGK addressed and criticized issues such as Eminem's age, his relevance in the rap game, his last album Revival and its lack of success, as well as poking fun at some of his other famous songs like "Stan" and "The Real Slim Shady."
The track went viral instantly upon its release, with many fans debating who had won the battle between the two legendary rappers.
Why did MGK fight Eminem?
MGK (Machine Gun Kelly) and Eminem have been engaging in a feud for years, recently culminating with MGK releasing the diss track "Rap Devil" in 2018.
It all began when Eminem released the song "Not Alike" from his latest Kamikaze album and referred to MGK as "a mumble rapper."
For some, this insulted the Cleveland rapper's talent, who had gained popularity following his hit single "Wild Boy," released in 2012.
Feeling disrespected, MGK responded with a tweet calling out Eminem and indirectly hinting at his upcoming response.
After months of verbal back-and-forth jabs between both camps, they released their respective diss tracks: Eminem's "Killshot" and MGK's "Rap Devil," which became instant hits upon release.
The hip-hop battle has undoubtedly captured the attention of many fans, leading them to speculate about what will happen next between these two talented rappers.
What song did MGK make against Eminem?
Machine Gun Kelly made a diss track against Eminem called "Rap Devil."
The song was released in 2018 and immediately caused controversy due to its aggressive and explicit lyrics.
The track's title refers to Eminem's famous nickname, Slim Shady or "Rap God."
MGK criticizes Eminem's long-standing career, age, and personal life in the song.
MGK also addressed their feud directly in the lyrics by accusing Eminem of blocking him on social media.
The fans' response was mainly mixed, with some praising Machine Gun Kelly for standing up to Eminem while others thought it was too disrespectful.
Why is he called MGK?
MGK stands for Machine Gun Kelly, a nickname he earned early in his career for his rapid-fire rap style.
He was first given the name when performing freestyle battles, as his speedy and intense flows earned him immediate respect and admiration.
It stuck with him through the years as an ode to his skills as a battle rapper and is now one of the many nicknames he goes by.
Conclusion
Overall, Machine Gun Kelly has a wide range of music fans will enjoy.
From "Rap Devil" to "A Little More," these 19 songs just glimpse the artist's immense talent and creativity.
Through his lyrics, storytelling, and catchy beats, MGK continues to rise as one of the best rappers in the industry.
His influence will leave a lasting mark on hip-hop for years to come.