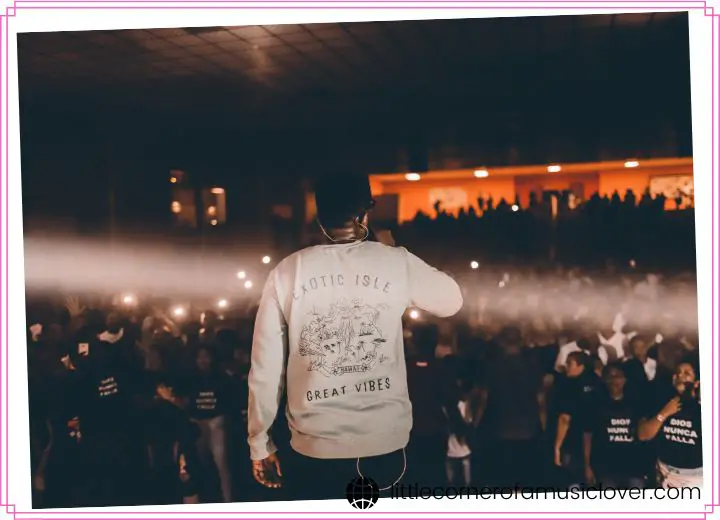 Political rap songs have long been a part of hip-hop culture, providing an outlet for artists to comment on important political and social issues.
From Run DMC's early classics to recent hits from the likes of Kendrick Lamar and J Cole, these tracks are powerful vehicles for expressing dissent and questioning the status quo.
In this post, we'll take a look at some of the best rap songs about politics throughout history.
1. "White America" by Eminem
Released in 2002, "White America" is a political rap song by Eminem that addresses the hypocrisy of anti-American sentiment as well as racism in the United States.
The song focuses on many topics such as race privilege, freedom of speech, and immigration policies, using metaphors and references to art, film, and pop culture to illustrate his point.
Eminem shows that his opinion stems from an understanding of the issues faced daily across America and around the world.
2. "Azadi" by Divine
Divine's 2020 song 'Azadi' is a revolution-defining anthem that tells the story of the fight against communal and systemic oppression.
This powerful track combines Divine's sharp flow with bubbling beats, driving melodies, and samples of protest marches, as Divine's awe-inspiring lyricism leads the listeners through every verse.
Azadi translates to freedom in Hindi and serves as an inspiring reminder to stand together and united in light of all adversities.
3. "Ah Yeah" – Krs-One
Krs-One is an artist known for his political songs, most notably "Ah Yeah". This powerful rap song focuses on social and economic disparities faced by many members of society.
With lyrics like "It's a shame what I see going on", Krs-One powerfully conveys the importance of addressing issues of inequality and injustice.
He encourages listeners to take action toward creating a better world, leaving a lasting impression on those who hear it.
4. "Impeach the President" by Immortal Technique
The iconic political hip-hop song "Impeach the President" by Immortal Technique is a scathing critique of government corruption and social injustice.
The lyrics paint a bleak picture of the state of society and urge listeners to take action.
The song has become a well-known rallying cry for oppressed communities around the world, inspiring people to take a stand against oppressive governments.
5. "Good Kid" by Kendrick Lamar
'Good Kid' by Kendrick Lamar is a rap song that tackles political issues such as gun violence, poverty, and racism.
The song was released as part of Lamar's critically acclaimed album "Good Kid, M.A.A.D City" and has since become an anthem for social and political awareness in the rap community.
The track features powerful lyrics paired with a soulful beat making it one of many influential rap songs to explore socially relevant topics.
6. "Reagan" – Killer Mike
The song "Reagan" by Killer Mike tackles politics past and present. The song speaks to Ronald Reagan's time in office and his policies of ignoring the struggles of people of color while turning a blind eye to economic inequality in America.
In the lyrics, Killer Mike details how Reagan-era economical policy catalyzed rising income disparity that continues to exist today, underscoring why this particular political figure should never be forgotten or celebrated.
7. "Mathematics" by Mos Def
Mos Def's iconic rap song, "Mathematics," was released in 1998 and serves as a powerful political and social commentary.
The track examines issues of race, class inequality, and police brutality, galvanizing audiences with strong messaging and powerful beats.
Mos Def's timeless lyrics speak to the power of knowledge in our society, urging listeners to use mathematics to surmount oppressive systems, rather than adhering to the status quo.
8. "Changes" by 2Pac
"Changes" by 2Pac is an iconic hip-hop song in which he talks about racism, poverty, and injustice.
He expresses his fear and pain of growing up in a world of violence, citing the Los Angeles riots of 1992 as an emotional turning point for him.
Through the song's powerful combination of words and subtle musical components, 2Pac makes a strong social statement about the role of poverty and racism on society.
9. "12 Problems" by Rapsody
The song entitled "12 Problems" by the female MC Rapsody is an example of a popular political rap song that speaks to the everyday struggles of society.
This socially conscious rap addresses real issues in a musical format, making it both entertaining and informative.
The song features powerful lyrics and gives listeners insight into the thoughts and feelings of those going through difficult times in life.
10. "The Proud" by Talib Kweli
Talib Kweli's song, "The Proud" is a powerful political rap song about the struggles of marginalized communities.
The artist takes inspiration from religion and his own experiences to draw attention to systemic racism and inequality, ultimately calling for action from listeners.
With a combination of crushing beats and thought-provoking lyrics, the track serves as an anthem for social justice.
11. "Mantoiyat" by Raftaar
"Mantoiyat" by Raftaar is a rap song about politics and the current state of India. The lyrics touch on issues such as poverty, human rights, and land reform, and call for people to stand together and make the necessary changes.
With its powerful lyrics and beat, this rap song has become an anthem of sorts among those fighting for social justice.
12. "Stop The Violence" – Boogie Down Productions
It was one of the first rap songs to focus on politics and addressed the growing violence in inner cities around the world.
The message of the song is clear: stop gun violence, gang warfare, and other forms of injustice that so many communities have had to face.
With its powerful lyrics and hard-hitting beat, this song continues to inspire people today in the fight against oppression and inequality.
13. "Ignorance Is Bliss" by Kendrick Lamar
Kendrick Lamar's powerful political rap song "Ignorance Is Bliss" addresses the societal issues of poverty, racism, and inequality.
By exploring the ignorance of people around him who are content to persist in struggles, Kendrick delivers an urgent message of self-reflection that calls for change and encourages listeners to take action.
14. "High for Hours" by J. Cole
J. Cole's rap song, "High for Hours," puts the hypocrisy of American beliefs under a powerful spotlight.
The track critiques the dangers of materialism, racial injustice, and inequality, as well as shines a light on the double standards in society.
By tackling issues such as institutionalized racism, economic injustice, and gender inequality, J. Cole creates an anthem celebrating resilience and hope through hard-hitting lyrics and powerful rhythms.
15. "Nature Of The Threat" by Ras Kass
Ras Kass releases the powerful single "Nature of the Threat", an expressive tour de force about facing uncertainty and injustice.
With intense delivery and poignant storytelling, Ras Kass paints a vivid picture of an unsettling world where people often feel hopelessness and powerlessness.
The song is a reminder that no matter what challenges arise, there is always hope for a brighter future.
16. "Bush Killa" by Paris
"Bush Killa" is an iconic hip-hop single released by the rapper and producer, Paris. The song addresses the issue of police brutality in America and is heavily critical of the Bush administration's use of military force in Iraq.
The lyrics are poignant and powerful, calling for a revolution against those in power who do not defend the people. The beat is hard-hitting, featuring pulsing synths and edgy samples.
17. "Burn Hollywood Burn" by Public Enemy Feat. Ice Cube, Big Daddy Kane
The song is a commentary on the entertainment industry's lack of representation for African Americans.
With their clever wordplay and vocal abilities, Public Enemy brings awareness to this issue with an urgent and melodic track that criticizes left-wing hypocrisy.
18. "Police State" by Dead Prez
"Police State" is the third single off of Dead Prez's debut album, Let's Get Free. Released in 2000, the track is a politically charged exploration of police brutality and other issues facing African Americans.
The song was an instant hit, peaking at number 18 on the Hot Rap Tracks chart in the US and remaining a fan favorite to this day.
19. "Revolution" by Arrested Development
"Revolution" is a song recorded by alternative hip hop group Arrested Development for their 1992 debut album, 3 Years, 5 Months & 2 Days in the Life Of….
The track showcases the lyrics of rapper Speech and his fellow bandmates as they bring attention to contemporary issues such as civil rights, poverty, police brutality, and systemic oppression of marginalized groups.
It is considered one of the group's most iconic songs and has been featured on numerous compilations.
20. "Words I Never Said" by Lupe Fiasco
Lupe Fiasco's song "Words I Never Said" is a poetic and powerful ballad about the struggles that life can bring.
The track incorporates heavy lyrics with elements of hip-hop and spoken word, creating an emotive atmosphere that resonates with listeners.
As Lupe speaks to the listener, he explores topics such as guilt, social injustice, and inequality, conveying a complex but important message in his powerful song.
21. "B.I.B.L.E." by  Gza and Killah Priest
"B.I.B.L.E." is a track from rap artists GZA and Killah Priest that addresses the importance of being aware of politics in our lives.
The song conveys the message that, as citizens, we must learn to be politically involved if we wish to make any real change in society and the world at large.
22. "Close Your Eyes (and Count to F*ck)" by RTJ
Run The Jewels' protest anthem "Close Your Eyes (and Count to F*ck)" calls out the role of police as oppressors of African Americans and others in marginalized communities, while simultaneously highlighting their failures and brutality.
The track has become an emblem of the Black Lives Matter movement and a call to action for advocates of racial justice.
23. "Mosh" by Eminem
Released in 2004, Eminem's "Mosh" is a political protest song that encourages listeners to speak out against government injustices and oppression.
The song touches upon issues such as the War on Terror and the 2004 U.S. presidential election and strongly criticizes President George W. Bush's policies.
The music video features a march of people marching towards the White House to send an anti-war message to the president.
24. "Sound of da Police" by KRS-One
KRS-One's classic song "Sound of da Police" is an iconic hip-hop track that questions American law enforcement in the early 90s.
The song has gone on to become a timeless anthem for standing up against oppressive systems, featuring a hard-hitting beat and powerful lyrics from KRS-One.
25. "I Wanna Kill Sam" by Ice Cube
"I Wanna Kill Sam" is a popular single by iconic rapper, Ice Cube. The song takes a dark stance against military recruitment, with the title as its primary message.
Ice Cube protests the idea of individuals being taken from their families to serve in the military, utilizing references to gang warfare as an analogy.
He passionately conveys his anti-military view that any serving should come from willing participation only.
26. "Fight The Power" by Public Enemy
Released in 1989, the hip-hop song "Fight The Power" by Public Enemy is considered one of the most iconic and influential tracks in music history.
Through its powerful political message of social justice, the anthemic track has become a rallying cry for activism over the years.
It's also been featured prominently in films and television, solidifying its place as an iconic statement piece within hip-hop culture.
27. "Shakiyla" by Poor Righteous Teachers
Poor Righteous Teachers' song "Shakiyla" was released in 1990 and served as an ode to the African diaspora.
With its mix of funk, reggae, and R&B, the track is a celebration of black culture across all countries and continents.
Featuring rhymes by Wise Intelligent, cultural consciousness prevails throughout this classic hip-hop tune.
28. "A Song For Assata" by Common Feat. Cee-Lo
"A Song For Assata" is a collaborative single by prominent hip-hop artist Common and his partner Cee-Lo.
The song is dedicated to the legacy of civil rights activist Assata Shakur, a revolutionary who was convicted and sentenced to life in prison despite being acquitted of all charges.
The track features an uplifting beat and thoughtful lyrics as it pays homage to Assata's cause for justice.
29. "Wicked" by Ice Cube
Ice Cube's "Wicked" is a powerful rap song about the struggles of poverty and violence in inner-city neighborhoods.
It was released as the first single from his debut album AmeriKKa's Most Wanted, reaching number one on the US Rap chart and becoming one of his most iconic songs.
In addition to its hard-hitting beats, it also features socially-conscious lyrics that draw attention to social injustice. The song is an enduring testament to rebellion and resilience in the face of adversity.
30. "Live At The O.M.N.I." by Goodie Mob
Goodie Mob's "Live At The O.M.N.I." is a socially conscious rap album that looks at the complex dynamics of race and class in American politics.
Through intricate wordplay and powerful narratives, the group expresses their vehement support for the oppressed and encourages critical thinking about the status quo.
From police brutality to poverty, Goodie Mob speaks out against systemic injustices while delivering gripping rhymes that encapsulate their mission of fighting for societal change.
31. "Dance With The Devil"  by Immortal Technique
Immortal Technique's "Dance With The Devil" is an intense hip-hop song that discusses the obstacles faced by many members of the African American community.
The song delves into topics including poverty, drug abuse and racism, turning a dark subject matter into a hard hitting, passionate tribute to the struggles faced by African Americans throughout history.
32. "Fire & Earth" by X-Clan
"Fire & Earth" is a classic hip-hop song by legendary rap group X-Clan. Released in 1990, the song is emblematic of the politics and social consciousness that characterized the golden age of hip-hop.
The song was immensely successful, hitting #2 on the US Hot Rap Singles chart and becoming certified gold by RIAA.
The beats are hard-hitting while intelligent lyrics raise questions of identity, oppression, and history—a snapshot of X-Clan's revolutionary spirit.
33. "The Devil Made Me Do It" by Paris
Paris' hit single, "The Devil Made Me Do It" is an iconic example of the rapper's formidable skills.
The song served as a warning against influences of temptation and evil and has since become one of the most popular tracks to emerge from the hip-hop scene.
The catchy hook, hard-hitting rhymes, and pounding beat make this track a classic that all rap fans know and love.
34. "The Blacker The Berry" by Kendrick Lamar
Released in 2015 as part of Kendrick Lamar's critically acclaimed album "To Pimp A Butterfly", "The Blacker The Berry" by Kendrick Lamar is a powerful and poignant song that explores the complexities of black identity.
Layered with themes such as racism, oppression, and the fight against inequality, Lamar tackles the issue of African-American race relations head-on through an emotionally charged performance replete with poetic lyrics and hard-hitting beats.
35. "Holler If Ya Hear Me" by 2Pac
2Pac's track "Holler If Ya Hear Me" is a classic Hip Hop anthem that speaks to generation after generation.
The track was released in 1993 and has since become an iconic rap hit, representing the struggles of many.
With 2Pac's powerful lyrical delivery accompanied by emotionally charged beats, it is no surprise why this song remains timeless.
36. "Cell Therapy" by Goodie Mob
The Goodie Mob released "Cell Therapy" in 1995 and it quickly became a hip-hop classic.
The anthem discusses black-on-black violence, systemic racism, and poverty, and praises African American resilience in the face of adversity.
The song still resonates today with its lyrics of inspiration and hope for the future.
37. "Ladies First" by Queen Latifah Feat. Monie Love
Queen Latifah's "Ladies First" featuring Monie Love is a classic anthem that celebrates the importance of women in our society.
Featuring a powerful rap-style performance from Queen Latifah and an uplifting chorus from Monie Love, this song pays tribute to the strength and courage of women everywhere.
With its message about respecting each other and recognizing that people of all genders can achieve greatness when we come together, this song has been inspiring positive change for decades.
38. "Hip-Hop" – Dead Prez
"Hip-Hop" by Dead Prez is an iconic and groundbreaking hip-hop track that draws upon a mix of political and social themes.
Released in 2004, it has become one of the most recognizable tracks in the genre and serves as an anthem to many fans of hip-hop music.
With its gritty, streetwise aesthetic and hard-hitting beats, "Hip-Hop" is definitive proof of why Dead Prez remained among the most influential acts in rap music.
39. "F*CK The Police" – N.W.A.
One of the most iconic and controversial hip-hop songs in history, "F*CK The Police" by N.W.A., was released in 1988 and addressed police violence towards African Americans.
The lyrics criticized racism and inequality while prompting fear in law enforcement officials – it even led to the FBI warning record labels about releasing the song!
Despite the pushback, "F*CK The Police" remains a powerful protest anthem that has left its mark on hip-hop culture for decades.
FAQ
Below are some questions and answers about political rap song:
What is political rap music?
Political rap music is a subgenre of hip-hop that focuses on social and political issues. It incorporates elements from multiple genres, such as spoken word, funk, reggae, and jazz.
Artists such as Public Enemy and Dead Prez use this form of expression to promote awareness of systemic inequality, discrimination, and police brutality.
Who are the most political rappers?
Kendrick Lamar, Jay-Z, J. Cole, Killer Mike, and Chance The Rapper are widely regarded as some of the most political rappers today.
They have used their music to raise awareness on social issues such as immigration, police brutality, poverty, and more.
What was the first political hip-hop song?
Released in 1982, Grandmaster Flash and the Furious Five's song "The Message" is often considered the first politically charged hip-hop song.
This groundbreaking track was a warning about the struggles of life in an inner city from a first-person perspective and has since become of the most influential songs in hip-hop history.
Is gangsta rap political?
Yes, gangsta rap is often seen as a political genre of music.
It is a form of expression that reflects the realities of life in marginalized and impoverished communities, challenging the status quo and speaking out against injustice.
Issues such as racism, poverty, police brutality, and social inequality are frequently referenced in its lyrics.
Who is the top 5 best rapper?
The top 5 best rappers are Kendrick Lamar, J. Cole, Drake, Kanye West, and Eminem.
Conclusion
The political rap songs of today are pushing boundaries and taking on an increasingly important role in international discourse.
Not only do they allow us to express our beliefs and opinions, but they also inspire us to create change and voice our concerns.
We can all be thankful that rap music is so powerful in its influence over culture, as it helps us to connect with a much larger audience than we otherwise could.