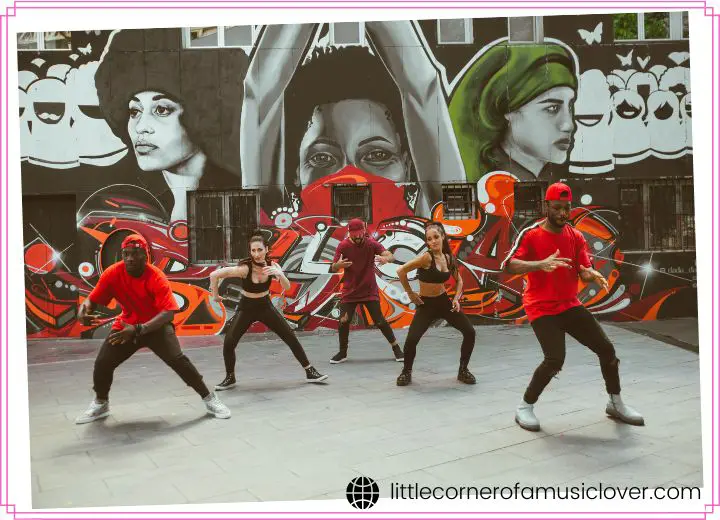 Political hip-hop songs combine the power of music and politics to spread messages of activism and change. Discover some of the most popular political hip-hop songs right here!
1. "To Pimp A Butterfly" by Kendrick Lamar
Kendrick Lamar's "To Pimp A Butterfly" is a highly political hip-hop album that takes aim at social and racial injustice.
Through powerful lyrics and compelling beats, Lamar creates an emotionally charged work that speaks to his audience on multiple levels.
The songs tackle systemic racism, inequality, poverty, and violence, making this album one of the most culturally and politically relevant pieces of hip-hop today.
2. Cabinet Battle #1 by Original Broadway Cast Recording
The Original Broadway Cast Recording of Hamilton's "Cabinet Battle #1" took the stage by storm.
This classic song follows the rivalry between Alexander Hamilton and Thomas Jefferson as they face off against each other in conversation in an effort to come to a compromise on two different visions for America.
Both sides vociferously argue their opinions, resulting in an enthralling performance that captivated theatre audiences everywhere.
3. "FDT (Fuck Donald Trump)"  by YG ft. Nipsey Hussle
YG ft. Nipsey Hussle's "FDT (Fuck Donald Trump)" is a politically charged song that speaks out against the policies of President Trump and his administration.
The accompanying music video features YG and Nipsey Hussle performing in front of a wall bearing anti-Trump slogans, while other rappers and singers are featured in cameos throughout the video.
The song speaks to the issues of discrimination, immigration, lack of economic opportunities, police brutality, and inequality that have come to define contemporary America under the Trump presidency.
It also serves as an anthem for those protesting against his policies – both literally through taking to the streets with peaceful protests as well as figuratively through mobilizing media campaigns online – with the powerful refrain of "fuck Donald Trump."
4. "Changes"  by 2Pac
"Changes," by rap legend 2Pac, is a song about societal issues surrounding racism and poverty in America.
The poignant lyrics channel the anger and frustration of those living in difficult circumstances and paint a vivid picture of the struggle for justice.
It's no wonder that this has become one of 2Pac's most well-known hits, as it resonates with many people around the world.
5. "Reagan" by Killer Mike
"Reagan" is a song by the critically acclaimed hip-hop artist Killer Mike. It talks about the late former United States President Ronald Reagan and his policies that greatly impacted African American communities during his time in office.
The lyrics of the song powerfully and thoughtfully reminisce about how Reagan's administrations failed to benefit or help African Americans, making this an important and eye-opening record.
6. "Cops Shot The Kid" by Nas
The iconic rap single "Cops Shot The Kid" by Nas, released in 2019, discusses police brutality and the fight for social justice.
Through its powerful lyrics and rhythm, "Cops Shot The Kid" utilizes Nas' signature hip-hop style to convey a message of resilience and courage in the face of racially-motivated police violence.
7. "Georgia… Bush" by Lil Wayne
"Georgia… Bush" is a song by American rapper Lil Wayne. It was released as a single in 2007, and it appears on his sixth studio album, Tha Carter III (2008). The song was produced by Jazze Pha and Cool & Dre, with additional production from Infamous.
Lil Wayne's lyrics address the war in Iraq and touch on issues of race and politics in the United States. The single peaked at number seventy-four on the Billboard Hot 100 chart, becoming Lil Wayne's most successful single to date.
8. "White America" by Eminem
The 2002 hit, "White America" by the iconic rapper Eminem, is a thought-provoking song that dives into the issues of race and politics within the United States.
The song opens with Eminem rapping about how he's been viewed by some as a 'spokesman for Middle America.' He also calls out issues like double standards in censorship as well as systematic racism.
With its potent lyrics and distinctive sound, this anthem is still relevant today, showcasing not only Eminem's skillful lyricism but also his honest view of America's identity crisis.
9. "How Much A Dollar Cost" by Kendrick Lamar
Kendrick Lamar's popular song "How Much A Dollar Cost" is a powerful tale about the importance of genuine compassion and the power of helping someone in need.
The track tells a story of an unexpected encounter between the musical legend and a homeless man, challenging each other's values on what it really means to be generous.
Through its clever lyrics that address issues of poverty, money, and materialism, the song serves as a reminder to all to use kindness as currency.
10. "Big Fish Theory" by Vince Staples
The album "Big Fish Theory" by rapper Vince Staples released in 2017 is a political statement that touches upon issues affecting the African-American and hip-hop communities.
The title of the album itself alludes to a metaphor for people competing in an unjust system, suggesting blacks must become 'big fish' if they want to survive and excel.
Political topics such as racism, sexism, classism, gun violence, urban living, and police brutality are touched upon throughout the tracklist making it an example of modern protest music.
11. "Be Free " by  J. Cole
J. Cole's hit single "Be Free" touches on the issues of racial inequality and injustice that black people still face today.
Through poignant lyrics, J. Cole brings attention to systemic racism and offers a hopeful message of freedom and equality for all people, regardless of their race or background.
This inspiring anthem provides a powerful voice to those fighting for a more just society.
12. "Impeach the President" by Immortal Technique, Saigon, Dead Prez
The politically charged single "Impeach the President" was released in 2019 by hip-hop artists Immortal Technique, Saigon, and Dead Prez.
This collaborative anthem delivers a strong social message through its politically conscious rhymes and beats.
The powerful trio criticizes government censorship, poverty, racism, and injustices throughout the track.
13. "Black America Again" by Common (feat Stevie Wonder)
"Black America Again" is a 2020 collaboration between socially conscious rapper Common and iconic singer-songwriter Stevie Wonder.
This thought-provoking song directly addresses the issues facing Black Americans in our current society, from police brutality to systemic racism.
In its timely and emotional lyrics, the track encourages listeners to fight for justice and continue to strive for true freedom and equality.
14. "Being You Is Great, I Wish I Could Be You More Often" by Quelle Chris
Quelle Chris's inspiring single, "Being You Is Great, I Wish I Could Be You More Often", speaks to embracing and celebrating the unique person that you are.
The song tackles themes of self-acceptance, encouraging listeners to be proud of who they are and embrace their individuality.
15. "Untitled" by Nas
The song "Untitled", by rap artist Nas, is a powerful statement about the struggles of an artist creating music in the face of expectations and criticism from the public.
Through his clever lyrics, Nas talks about feeling stifled by other people's opinions and striving to remain true to his own work despite external pressures.
The song resonates strongly with anyone who has ever worked hard to pursue their passion and overcome obstacles along the way.
16. "Sound of da Police" by KRS-One
"Sound of da Police" is a 1993 single by American hip-hop artist KRS-One. The song was the third and final single to be released from his debut album, Return of the Boom Bap, and it has become one of the most iconic hip-hop tracks of all time.
Featuring a catchy beat and infectious chorus, "Sound of da Police" contains strong socio-political commentary on police corruption and the use of force in inner cities throughout the United States.
17. "Take Me Higher" by Prophets Of Rage
"Take Me Higher" is a song by the rap-rock supergroup Prophets Of Rage. Formed in 2016, the group consists of members from iconic bands Rage Against The Machine, Audioslave, Public Enemy, and Cypress Hill.
The lyrics of this powerful anthem urge people to rise up against injustices and stand up for what's right. The hard-hitting music and towering energy in "Take Me Higher" are sure to lift you off your feet!
18. "Land of the Free" by Joey Bada$$
Joey Bada$$ released his song "Land of the Free" in 2017, expressing the socio-political issues of America by reflecting on its history and raising questions about the country's current state.
With intelligent lyricism and a mix of old-school and modern hip-hop sounds, Joey Bada$$ sends an empowering message with this powerful anthem.
19. "Fuck the Police"  by NWA
"Fuck the Police" by NWA is an iconic protest song that speaks out against police brutality. Released in 1988, the song highlights the unequal power dynamics between police officers and communities of color, making it one of the most influential hip-hop tracks of all time.
The lyrics confront officers directly, through verses such as "Livin' in a police state, and they got me facin' the wall; search my car – look at my identification" and "Comin' straight from the underground; a young nigga got it bad cuz I don't know what I do could be considered a felony".
All members of NWA take turns to spit bars throughout each verse, making for an energetic anthem that explicates systemic racism and oppression in America.
Despite being heavily criticized when it was first released, "Fuck the Police" has stood the test of time as a rallying cry for social justice and racial equality.
20. "Police State" by Dead Prez
"Police State" is the third single off of Dead Prez's debut album, Let's Get Free. Released in 2000, the track is a politically charged exploration of police brutality and other issues facing African Americans.
The song was an instant hit, peaking at number 18 on the Hot Rap Tracks chart in the US and remaining a fan favorite to this day.
21. "Man Plans God Laughs" by Public Enemy
"Man Plans God Laughs", a song by iconic American Hip-Hop group Public Enemy, is an insightful and thought-provoking look at the age-old adage that 'no man can predict the future'.
The track encourages listeners to accept uncertainty and remain strong in their faith despite individual struggles.
Through its clever lyrics and infectious beat, the song is a reminder of how little control we truly have over life's unforeseen events.
21. "The Never Story" by J.I.D.
This record received great critical acclaim, with listeners praising its songwriting and features from artists such as 6LACK and EarthGang.
The project reflects J.I.D.'s unique style of hip-hop, featuring personal stories and poignant lyrics that take the listener through the highs and lows of life in inner-city Atlanta.
22. "Fight the Power" by Public Enemy
Public Enemy's influential and powerful 1989 rap song "Fight the Power" offered an anthem of resistance to government oppression, racism, and police brutality.
The track encapsulated the spirit of civil rights movements from the 1960s, encouraging people to challenge those in power who were taking advantage of the powerless.
With its aggressive lyrics and hard-hitting beats, Public Enemy's "Fight the Power" received critical acclaim and remains a classic example of political hip-hop today.
23. "Mind Playin Tricks" by Geto Boys
The iconic hip-hop track "Mind Playin Tricks" by Geto Boys dropped in 1991, becoming an instant classic.
The song was a reflection on paranoia, insecurity and the ills of inner-city life conveyed with the powerful, brutally honest lyricism that has become synonymous with the Geto Boys' sound.
It continues to inspire aspiring rap artists today, showcasing the group's unique sound and influence on modern hip-hop.
24. "Friends" by J Cole
Released in 2020, J Cole's "Friends" is a song about the difficulties of maintaining authentic friendships in modern society and how it can take time for people to build meaningful connections.
The track prominently utilizes a warm, nostalgic piano melody and melancholic lyrics that evoke introspective emotion.
The song encourages self-reflection and exploration of our relationships, encouraging listeners to prioritize meaningful connections with those we care about.
25. "1992 Deluxe" by Princess Nokia
Princess Nokia's album "1992 Deluxe" was released in 2017, and debuted to much critical acclaim. The record celebrates the culture of the 90s, exploring themes of racial justice, identity politics, authentic expressions of femininity, and mental health in American society.
Through socially conscious lyrics and emotive performances, Princess Nokia brings a message of resilience and strength in the face of adversity.
26. "A Song for Assata" by Common
Common's song, "A Song for Assata", is dedicated to the heavy civil rights activist Assata Shakur.
Released in 2012, the song serves as a tribute to her legacy and her bravery as she courageously fought for and advocated for social change in America.
Common delivers an inspirational message that celebrates Assata Shakur and her activism.
27. "Mathematics" by Mos Def
The hip-hop track "Mathematics" by Mos Def is a classic rap song released in 1999 that has gained popularity over the years as one of the most influential pieces in modern rap music.
The song talks about how mathematics plays an important role in the lives of people, from the practical to the educational, and challenges listeners to think critically about how we see math and its function in society.
28. "Smile" – Jay Z (feat Gloria Carter)
"Smile" is a song by Jay Z featuring his mother, Gloria Carter. Released as part of Jay's 2017 album 4:44, it features a touching sample from Woody Guthrie.
The song details the struggles and joys of being a black mother in America, a powerful and personal conversation made more special with the addition of Gloria Carter's verse.
"Smile" speaks volumes about the importance of family and community to uplift us – and gives us a look at Gloria Carter's life through her son's artistry.
29.  "blkswn" by Smino
"blkswn" is a 2017 album by American rapper Smino. This critically acclaimed project is deeply rooted in jazz, soul, and hip-hop elements, showcasing Smino's unparalleled performance as both an artist and a producer.
With powerful lyrics, driven by clever beats, this record has been deemed one of the most creative rap albums ever made.
30. "Revolution" by Arrested Development
Released in 1994, "Revolution" by Arrested Development is a hip-hop classic that laments the state of politics and society.
Its politically charged lyrics have become an anthem for social change and progress.
The song samples heavily from other genres such as gospel, funk, and soul, giving it an uplifting sound to match its empowering message.
31. "m.A.A.d city" by Kendrick Lamar
Kendrick Lamar's critically acclaimed hit single "m.A.A.d city" was released in 2012 as the lead single on his second studio album, Good Kid, m.A.A.d City.
Produced by Sounwave and Terrace Martin, with extra production from Thom Bell plus Dr. Dre, "m.A.A.d city" tells the story of Kendrick growing up in the West Coast town of Compton and the struggles he experienced while growing up there.
The song has gone on to become an iconic hip-hop anthem and one of Lamar's best-known songs to date.
32. "The Roots" – Understand ft. Dice Raw, Greg Porn
"The Roots" by Understand ft. Dice Raw, Greg Porn is an engaging hip-hop track about making the most out of life and recognizing the importance of one's own roots.
It speaks to understanding the struggles faced in life and striving to overcome them in order to reach success.
The beat is invigorating and catchy, complemented perfectly by raw vocal performances from both artists, providing a hard-hitting, yet uplifting feel throughout the track.
Highlighting various positive messages such as self-empowerment, focus, and resilience, "The Roots" offers insight through its unique perspectives on taking advantage of opportunities while staying true to yourself.
33. "Drinking Sessions" by BIG K.R.I.T. (Featuring Keyon Harrold)
Released in 2020, "Drinking Sessions", a collaborative single by BIG K.R.I.T and Keyon Harrold tackles the important issue of American politics with a strong jazz-influenced beat composed especially for this track.
With powerful words from both rappers that speak truth to power, the song provides an excellent commentary on the current state of the country and offers insight into how people can come together for a better tomorrow.
34. "The Point of No Return" by  Geto Boys
"The Point of No Return" is a 1994 song by the American hip-hop group Geto Boys.
The song, which was the lead single from their fourth studio album, Living Legends, reached number one on Billboard's Hot Rap Songs chart and enjoyed considerable airplay.
Produced by John Bido and Brad Jordan, the song features a dark and intense atmosphere that embodies the themes of violence, suicide, and despair throughout its duration.
35. "The Blacker The Berry" by Kendrick Lamar
Released in 2015 as part of Kendrick Lamar's critically acclaimed album "To Pimp A Butterfly", "The Blacker The Berry" by Kendrick Lamar is a powerful and poignant song that explores the complexities of black identity.
Layered with themes such as racism, oppression, and the fight against inequality, Lamar tackles the issue of African-American race relations head-on through an emotionally charged performance replete with poetic lyrics and hard-hitting beats.
36. "Daughters" by Nas
The song "Daughters" by Nas is a heartfelt track that reflects on the trials of fatherhood. The Grammy-nominated single addresses the struggles of parenthood, particularly between fathers and daughters.
It offers an honest look at the highs and lows of parenting and how relationships between parents and children can change over time.
With poignant lyrics that hit close to home for many listeners, this song has resonated with fans since its release.
37. "Words I Never Said" by Lupe Fiasco
Lupe Fiasco's song "Words I Never Said" is a poetic and powerful ballad about the struggles that life can bring.
The track incorporates heavy lyrics with elements of hip-hop and spoken word, creating an emotive atmosphere that resonates with listeners.
As Lupe speaks to the listener, he explores topics such as guilt, social injustice, and inequality, conveying a complex but important message in his powerful song.
38. "Power" by Rapsody (feat Kendrick Lamar and Lance Skiiiwalker)
"Power" is a 2019 track from rapper Rapsody, featuring legendary rap artists Kendrick Lamar and Lance Skiiiwalker.
The empowering and dynamic lyrical content amidst the hard-hitting beats captures the ebullient spirit of youth and resilience.
This song has received critical acclaim and earned Rapsody her first Grammy nomination for Best Rap song in 2020.
39. "The Message" by Grandmaster Flash & The Furious Five
Released in 1982, "The Message" by Grandmaster Flash & The Furious Five is considered one of the most influential rap songs ever created.
It was the first hip-hop song to address social issues like poverty, crime, and urban life with activism and honesty.
With starkly realistic lyrics and a heavy beat, it solidified rap music as an art form that can be used for more than just entertainment.
40. "We Will Not" by TI
TI's song, "We Will Not," is an inspirational and motivational track that speaks to breaking the cycle of societal norms.
TI calls listeners to stand up for their beliefs, take control, and live life on their own terms.
His words are filled with power and encourage people to strive for excellence in every aspect of their lives.
41. "U.N.I.T.Y" by Queen Latifah
Queen Latifah's 1993 single "U.N.I.T.Y." is an empowering anthem for women, tackling issues such as self-respect and respect from others.
The vibrant beat and powerful lyrics capture the spirit of female solidarity and highlight the importance of standing up against gender-based discrimination and violence.
Queen Latifah's classic song became a staple in hip-hop culture, representing progress in the pursuit of unity among women around the world.
FAQ
Below are questions related to Political Hip-Hop Songs and the answers:
Why is hip-hop so political?
Predominantly created by African Americans and Latinos, Hip Hop has always had a passion for addressing the struggles and political opinions of the people.
Artists tell the tales of their communities' pain, joys, critical analysis, and hopes for a better future sparking conversations about racism, gentrification, sexism, police brutality, education systems, and larger social issues.
Hip Hop's message resonated with its listeners allowing them to be empowered to stand up for what is right.
The genre has become a major platform to spark awareness and create conversation about pressing issues through music or activism giving voice to those that may feel voiceless otherwise.
What was the first political hip-hop song?
Released in 1982, Grandmaster Flash and the Furious Five's song "The Message" is often considered the first politically charged hip-hop song.
This groundbreaking track was a warning about the struggles of life in an inner city from a first-person perspective and has since become of the most influential songs in hip-hop history.
What is negative about hip-hop?
There is no denying that hip-hop has become increasingly popular amongst modern music listeners however there have also been criticisms of some aspects of hip-hop culture.
From lyrics glorifying violence and drug use to objectification and sexism, the negative sides to hip-hop have been well documented.
Additionally, the genre has been criticized for perpetuating a materialistic lifestyle focused on luxury products and money.
Is hip-hop still a positive force in society?
Yes, hip-hop still remains a positive force in society. It is an outlet for people of all ages, races, and backgrounds to connect with one another and express themselves creatively.
Through collaborations and shared art forms, hip-hop has created meaningful conversations around important issues like racism, poverty, gender inequality, and more.
While rap lyrics do often contain profanity or glamorize destructive behavior, there are also many artists making conscious efforts to spread a message of positivity and promote social change.
Is hip-hop inherently political?
Yes, hip-hop is inherently political. Hip-hop has historically been used as a form of expression to discuss a wide range of topics including politics, race, culture, and identity since its inception in the late 1970s.
The genre has evolved and grown over the years, but it remains firmly rooted in its origins of addressing societal issues through its music and art.
Why is hip-hop criticized?
Despite the many positive contributions hip-hop has made to popular culture, it has also gained a significant amount of criticism.
Critics have argued hip-hop is responsible for promoting messages of misogyny and violence, as well as suppressing other forms of music, particularly those from underprivileged minority groups.
There have also been allegations that its intense idolization of money and materialism has resulted in a shift toward greed and selfishness.
Answer: Hip-hop originally began as a form of music that spoke to the struggles and experiences of black and brown communities.
Over the years, hip-hop has evolved to be a powerful tool for social change, expressing ideas about issues such as racial injustice, inequality, police brutality, and more.
It is an empowering art form that many people use to express their stories, give voice to their community's issues, and ultimately create positive change in society.
The ideology of hip-hop revolves around the idea of self-expression and individualism.
Hip-hop offers a platform for people to express themselves in a variety of ways, whether it be through lyrical content, dance, fashion, or visual art.
It is also rooted in ideas like freedom and justice which often are reflected in the lyrics and music videos.
Conclusion
In conclusion, political hip-hop songs continue to be a powerful and influential form of expressing social and political issues.
They bring a unique perspective that can help provide hope and inspiration for those who face inequality, as well as encourage people to take action toward making positive change.
Political hip-hop is an important form of music that cannot be ignored and should continue to be appreciated.