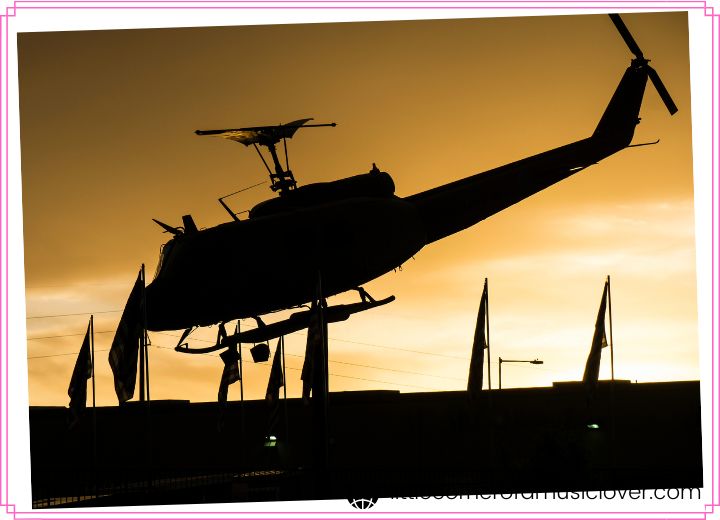 The Vietnam War era was one of the most turbulent and challenging times for Americans and people all over the world.
The conflicts lasted for many years, causing immense suffering to both sides. Music has always been an important form of expression during difficult times and some of the most gripping songs from this era were about the Vietnam War.
In this post, we'll explore some of the classic rock songs about Vietnam War that capture the emotions and events of this period in history.
1. "House of the Rising Sun" – The Animals (1964)
"House of the Rising Sun" by The Animals is an example of a well-known rock song that speaks to the Vietnam War.
This single, released in 1964, has since been famed for its direct narrative about the tragedy and consequences of war.
It serves as a stark reminder of the horrible things humans are capable of and carries an emotional resonance with many people.
2.  "7 O'Clock News/Silent Night" – Simon & Garfunkel (1966)
Released in 1966, Simon & Garfunkel's song "7 O'Clock News/Silent Night" was a statement on the horror of war and the political situation in Vietnam.
The lyrics to "7 O'Clock News" describe a tragic event that happened during the conflict while "Silent Night" acts as a stark contrast to the violence and destruction of war.
By combining these two classic songs, Simon & Garfunkel were able to create an emotionally powerful message about the effect of the war.
3. "All Along the Watchtower" – Bob Dylan / Jimi Hendrix (1968)
"All Along the Watchtower" is a song written by Bob Dylan and famously covered by legendary artist Jimi Hendrix.
The song has become iconic for its powerful lyrics and unique sound, with both Dylan and Hendrix putting their own unique spin on it.
The inspiring lyrics have been a fan favorite since its initial release in 1968 and have become an iconic anthem for peace, freedom, and justice.
Throughout the years, it has been covered by numerous other artists, demonstrating its timelessness and versatility.
4. "We Gotta Get Out Of This Place" – The Animals – (1965)
"We Gotta Get Out Of This Place" by The Animals is an iconic song from the 1960s that was embraced and popularized by US soldiers stationed in South Vietnam during the Vietnam War.
Led by Eric Burdon's booming vocals, accompanied by incredibly relevant lyrics, this song became a symbol of defiance and hope for both soldiers and Vietnamese citizens alike.
In 2006, a survey of Vietnam veterans revealed that "This was the Vietnam anthem. Every bad band that ever played in an armed forces club had to play this song." As such, this song will remain cemented in history as a powerful reminder of one of America's most brutal wars.
5. "Gimme Shelter" – The Rolling Stones (1969)
"Gimme Shelter" by The Rolling Stones is an iconic classic from the band's 1969 album Let It Bleed. With its bluesy, soul-infused sound and powerful lyrics about the Vietnam War, it continues to stand as one of the Stones' most beloved songs.
Mick Jagger's anguished vocal delivery and sorrowful topic are perfectly complemented by Keith Richard's slashing guitar solos and riffs, while singer Merry Clayton adds a layer of intensity with her soaring, gospel-inspired vocals in the bridge.
Together they create an unforgettable song that has been covered many times but never duplicated.
6. "Draft Morning" – The Byrds (1968)
"Draft Morning" by The Byrds is a powerful protest song against the military draft taking place in the 60s. It reflects on the fear and uncertainty many young men were experiencing as they awaited their draft orders.
The lyrics explore the emotional upheaval for people affected by war, describing division within families about whether to support or reject conscription into the military forces.
The chorus emphasizes the line "Say 'no' to war", encouraging young men to take a stand and not be victims of political agendas.
Furthermore, it shows how struggles at home with family and friends manifest differently than those experienced on a battlefield in front of an enemy.
This heartfelt message effectively resonates with listeners today as much as it did during its original release over 50 years ago.
7. "Fortunate Son" – Credence Clearwater Revival (1969)
"Fortunate Son" by Credence Clearwater Revival is an iconic anthem of the Vietnam War era. Written in 1969, the song centers around the idea of class privilege and inequality, with singer John Fogerty expressing his outrage at how he was exempt from being drafted because he was "born in a summer blaze".
The lyrics describe how "Some folks are born to wave the flag, ooh they're red white and blue/And when the band plays "Hail to the Chief", ooh they point the cannon at you", criticizing those who had wealth or influence that allowed them to avoid military service while others were forced into war.
With its powerful blues-rock sound and biting social commentary, "Fortunate Son" captured the spirit of a generation facing a deeply unpopular war.
8. "Ohio" – Crosby, Stills, Nash & Young (1970)
"Ohio" by Crosby, Stills Nash, and Young is a powerful political protest anthem written in response to the Kent State shootings of May 4th, 1970, where 28 National Guardsmen fired on unarmed college students protesting against the Vietnam War.
The song calls for an end to violence everywhere and paints a vivid picture of how these events impacted those who were there.
It serves as a reminder that such violence should never happen and it has become an empowering symbol of the fight against injustice and oppression around the world.
9. "For What It's Worth" – Buffalo Springfield (1966)
"For What It's Worth" by Buffalo Springfield has become an iconic anti-war anthem since its release in 1966.
Inspired by the Sunset Strip Riots of the late 1960s, it is a song of protest that speaks out against discrimination and violence, encouraging hope over fear and skepticism.
The song became emblematically synonymous with the counterculture movement of the time, advocating peace and unity amongst all people.
Its lyrics remain relevant to this day as we continue to strive towards creating a more equal and just world for everyone.
10.  "Peace Train" – Cat Stevens (1971)
Cat Stevens' "Peace Train" was originally met with mixed reviews and criticisms, but it wasn't long before the song became an anthem for those protesting against the Vietnam War.
In 2009, Stevens himself revealed that musically he had derived inspiration from Greek riffs and melodies which he heard on islands, attaching lyrics to them with the goal of conveying a message of peace.
He further went on to state that every show he performed ended with this peaceful anthem, making it an important moment in his career.
11. "Sittin' on the Dock of the Bay" – Otis Redding (1964)
"Sittin' on the Dock of the Bay" performed by Otis Redding is one of the most iconic songs in music history.
The soulful track was released shortly before his untimely passing in 1967 and quickly became a hit, topping both R&B and pop charts.
It is known for its melancholic yet catchy melody, with Redding's distinctive voice cutting through to touch hearts and bring listeners to a place of serenity.
12. "Question" – The Moody Blues (1970)
"The Moody Blues' song "Question" reflects the thoughts of those who questioned the Vietnam War. The song has become one of the most popular in their discography, and its lyrics have resonated with every generation since it was released.
Justin Hayward shared that people could identify with it at any age as they explore the emotions within this classic piece of music.
This song is a timeless example of how art can capture the sentimentality of a period in time and share it with future generations."
13. "What's Going On" – Marvin Gaye (1973)
Marvin Gaye was inspired by the tumultuous times of the 1960s and 1970s to compose "What's Going On".
It was greatly informed by his brother Frankie's three-year deployment in Vietnam, as well as the death of his cousin in the war that motivated him to create the song.
Gaye wanted to draw attention to the issues of inequality and injustice through this song and make a statement about how we can come together as a society and work toward compassion, understanding, and unity.
14. "Eve of Destruction" – Barry McGuire (1965)
"Eve of Destruction" by Barry McGuire is a powerful 1960s protest song addressing themes such as the Vietnam War, racism, and injustice.
Despite the controversial lyrics which saw it banned from some radio stations, this classic tune topped the charts, even making it to the restricted list of the BBC.
Its success serves as an indication of how people felt about these issues at that time and has since become one of the most popular protest songs in history.
15. "War" – Edwin Starr (1970)
"War, originally performed by The Temptations, was a starkly anti-war and counter-culture song that captured the broad sentiment of public disaffection in 1970.
Its release was highly sought-after by fans across the nation and it fell to Edwin Starr to give it its more intense, dramatic tone for a single version.
This proved effective – War shot to number 1 in the Billboard Charts for three weeks and defined Starr's career as an artist."
16. "All Along The Watchtower" – Bob Dylan/Jimi Hendrix – (1967/1968)
Both Bob Dylan and Jimi Hendrix's music highlighted the struggles of their time, particularly the war. "All Along The Watchtower" was a song that showcased both their musical prowess and political activism, immortalizing their powerful messages even to this day.
Dylan took inspiration from Hendrix's rendition of the track and began to perform it in a similar style shortly after his passing as an homage.
In an interview, Dylan remarked that whenever he sang it he felt like he was paying homage to him in some way, showing us how much respect each pioneer had for the other's work.
17. "War Pigs" – Black Sabbath (1970)
"War Pigs" by Black Sabbath, released in 1970, is a classic anti-war anthem and one of the most popular protest songs of all time.
Written during the Vietnam War, it paints a vivid picture of the horrors of war and its devastating effects on society. The song takes an ironic stance against those who profit from war and send young men off to fight, calling them "war pigs" and accusing them of being profiteers.
It also speaks strongly about how religious authorities are complicit in the perpetuation of violence with its line: "Generals gathered in their masses/Just like witches at black masses".
Despite its rebellious lyrics, "War Pigs" still resonates today as a powerful reminder of the importance of standing up against unjust wars."
18. "Orange Crush" – R.E.M.
"Orange Crush" by R.E.M. is a powerful and thought-provoking song about the juxtaposition of war and innocence, where the children at home experience the same horrors as those fighting in Vietnam through the artificially sweetened, but war-tainted can of Orange Crush soda.
The imagery of "can suicide," alluding to troops drinking cans of soda tainted with Agent Orange, powerfully encapsulates this heartbreaking reality in both its sound and lyrics.
The song is an indictment against the loss of innocence due to warfare, reflecting on how even those who are not directly involved in it are still deeply affected by it.
FAQs
Some questions and answers related to rock songs about the Vietnam war:
What were 3 popular songs during the Vietnam War?
The top 3 songs of the Vietnam War were "Fortunate Son" by Creedence Clearwater Revival, "Give Peace a Chance" by John Lennon, and "Eve of Destruction" by Barry McGuire.
These songs resonated strongly with the public and became popular anthems for anti-war sentiment.
What is the iconic Vietnam War song?
The iconic Vietnam War song is "Fortunate Son" by Creedence Clearwater Revival. The song became an anthem for the war protesters and was frequently played at anti-war rallies.
How did the Vietnam War influence rock music?
The Vietnam War had a huge influence on rock music, and it was an important factor in motivating musicians to write songs that reflected the political climate and expressed their views.
Rock songs often depicted war from a soldier's perspective, highlighting its horrors and sorrows. Many of these songs were very anti-war, expressing outrage at the conflict and calling for peace.
Songs about Vietnam could be seen as protest songs, but some were also written to express solidarity with the military or to commemorate the sacrifices made by soldiers.
Are there any pro Vietnam War songs?
Yes, there are several songs written to honor and express the courage of soldiers who served in the Vietnam War.
Notable examples include 'Fortunate Son' by Creedence Clearwater Revival, 'Ballad of the Green Berets' by Sgt. Barry Sadler and 'America (I Love America)' by Paul Revere and The Raiders.
Which song was one of the most requested songs by soldiers in Vietnam?
#1. "Fortunate Son" by Creedence Clearwater Revival (CCR) was one of the most requested songs by soldiers in Vietnam during the war.
The song encapsulated the feelings of frustration and helplessness of many young soldiers facing the harsh realities of conflict in a foreign land.
#2. "Hey Joe" by Jimi Hendrix was one of the most requested songs by soldiers in Vietnam. The bluesy rock song had been released in 1966 and quickly became a favorite among the troops, symbolizing their disillusionment with the war.
What music did soldiers listen to in Vietnam?
During the Vietnam War, American Soldiers and Saigon residents alike enjoyed a variety of music ranging from classic rock n' roll to country and folk.
Popular artists such as Elvis Presley, The Beatles, Jimi Hendrix, Bob Dylan, Johnny Cash, Roy Orbison, and many more made up most of their musical playlists.
Conclusion
In conclusion, rock songs about the Vietnam War are a powerful way to remember this tragic conflict and to pay tribute to the brave servicemen who fought in the war.
Listening to these songs provides an opportunity to reflect on the varied experiences of this difficult time in history.
Songs inspired by the Vietnam War leave an enduring legacy of both sorrow and triumph and will remain significant for years to come.