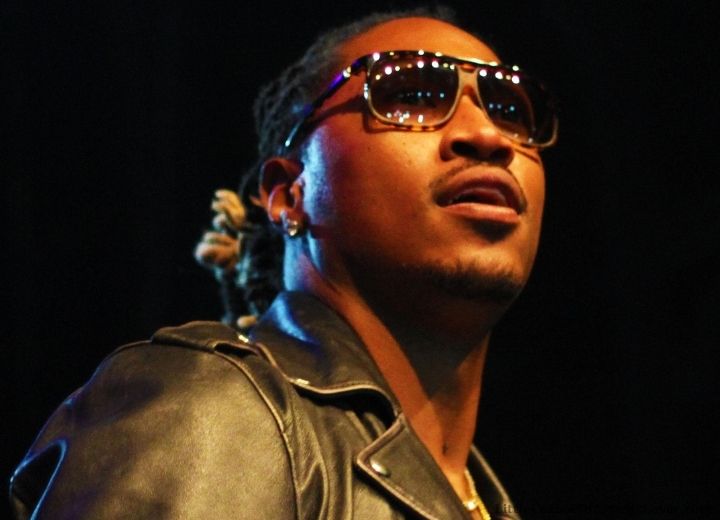 Today, we are diving into the emotional side of one of the biggest names in hip-hop: Future.
Known for his raw and powerful delivery, he has captured hearts and filled dance floors with his unique sound.
But beyond the bangers and club hits lies a collection of songs that struck deep in the soul.
So get ready to feel all the feels with the top, saddest Future songs that will tug at your heartstrings. Let's get started!
1. Throw Away
"Throw Away" is a powerful and emotional song by rapper Future. Released in 2018, the song expresses raw emotions of heartbreak, loss, and moving on.
The lyrics are relatable to anyone who has experienced a difficult breakup or ending to a relationship.
Future's deep and melodic voice and mellow beat create a captivating vibe that captures the essence of letting go and throwing away painful memories.
The artist's vulnerability shines through as he raps about his struggles and regrets, making the song even more heartfelt.
It's a testament to the power of music in conveying emotions and connecting people.
2. Codeine Crazy
"Codeine Crazy" is a deeply emotional and introspective track by the American rapper Future.
This song can be categorized as one of his sad Future songs due to its raw and vulnerable lyrics that give listeners an insight into the rapper's struggles with fame, drugs, and relationships.
The haunting beat, combined with Future's autotuned vocals, creates a gloomy atmosphere that reflects the pain and loneliness he feels despite his success.
Through lines like "Love'll get you killed, but pride will leave you dead," the rapper conveys the destructive nature of love and how it has affected him in his personal life.
3. XanaX Damage
XanaX Damage by Future is a song that perfectly captures the pain and destruction caused by the prescription drug Xanax.
The lyrics, mixed with Future's raw emotions, paint a vivid picture of the downward spiral one experiences when one becomes addicted to this powerful medication.
With its hypnotic beat and haunting melody, this track is a cautionary tale, warning listeners about the dangerous consequences of relying on Xanax to numb their pain.
Future's vulnerable yet empowering vocals convey a sense of empathy towards those who have fallen victim to this harmful drug, making it a relatable and impactful piece of music.
It serves as a reminder to take care of our mental health in alternative ways and not fall prey to easy fixes like Xanax.
4. Love Thy Enemies
"Love Thy Enemies" by Future is a powerful and emotional song that delivers a message of forgiveness and compassion towards our enemies.
With his signature smooth flow and heartfelt lyrics, Future encourages listeners to overcome hate and resentment towards those who have wronged us and instead choose to love them.
The lyrics paint a picture of our struggles in forgiving our enemies, but through the power of love, we can find peace within ourselves.
This song reminds us that showing kindness towards our enemies benefits them and brings healing to our hearts.
5. Tricks on Me
"Tricks on Me" is a heartfelt and passionate song by the talented artist Future.
In this particular song, Future reflects on his experiences of feeling betrayed and let down by someone he trusted.
The lyrics are raw and honest, highlighting the pain and vulnerability of being played for a fool.
However, its unique sound sets "Tricks on Me" apart from other love songs.
Future's signature autotuned vocals and sad beat create an atmospheric and haunting vibe that perfectly captures the song's mood.
6. Sorry
"Sorry" by Future from his album "Sad Future Songs" is a heartfelt and emotionally charged song that captures the essence of regret and remorse.
The lyrics touch upon the universal theme of asking for forgiveness and trying to make amends for past mistakes.
With a smooth and soulful beat, Future's vocals seamlessly blend with the lyrics, creating a sense of vulnerability and honesty.
This track showcases Future's versatile talent as an artist, as he effortlessly pours out his emotions through his music.
Whether you have experienced a similar situation, this song will deeply resonate with you.
7. Purple Reign
"Purple Reign" by Future is a collection of sad and emotional songs that take listeners through the artist's struggles and inner demons.
The sad song delves into heartbreak, addiction, and loneliness, giving us a raw and honest portrayal of the rapper's life experiences.
The title alludes to using drugs as a coping mechanism, with purple commonly associated with codeine or "lean."
8. Use Me
"Use Me" by Future is a heart-wrenching song that portrays the struggles of a man begging for love and acceptance from his partner.
With an emotionally raw delivery, Future's lyrics delve into his pain and vulnerability, making it relatable to anyone who has experienced similar feelings in a relationship.
The haunting beat and melancholic production perfectly complement the lyrics, creating a somber yet gripping atmosphere.
With its powerful message and relatable themes, "Use Me" is one of many sad songs by Future that truly showcases his talent as both a rapper and a storyteller.
9. Solo
"Solo" by Future is a powerful and upbeat song that showcases the artist's unique style and flow.
With its catchy beat and energetic vocals, this track gets you instantly hooked and ready to move.
The lyrics depict living on your terms, embracing independence, and leaving behind any negative influences or distractions.
It's an empowering anthem for anyone who wants to take control of their life and chase their dreams.
10. Too Comfortable
"Too Comfortable" is a song by American rapper Future, released in 2019.
The song is an introspective look into the artist's life and the consequences of becoming too comfortable with one's success.
With his signature melodic flow and catchy beats, Future delivers thought-provoking lyrics that touch on complacency, materialism, and self-reflection.
He reflects on how being at the top can lead to a sense of entitlement and losing sight of what truly matters. The song serves as a reminder to stay humble and hungry for growth, even when you've achieved success.
It also highlights the pressure artists face to constantly produce hits and maintain their fame, which can lead to feeling trapped in their image.
11. Kno The Meaning
"Kno The Meaning" by Future is not just a song. It's an introspective journey through the trials and tribulations of the rapper's life.
With his signature melodic flow and passionate lyrics, Future takes us on a ride as he reflects on his past mistakes, struggles, and ultimate rise to success.
The title speaks volumes – encouraging listeners to truly understand and know the meaning behind their actions and choices.
12. Shotgun
"Shotgun" by Future is a track that will get you moving and grooving with its infectious beat and catchy lyrics.
The Atlanta-based rapper effortlessly blends his signature autotune flow with hard-hitting trap beats to create an energetic and captivating song.
From the first few seconds, you can feel the energy of the track building up, making you want to hit the dance floor or turn up the volume in your car.
The song's lyrics touch on themes of success, women, and staying true to yourself amid fame.
Future's smooth delivery and clever wordplay make it impossible not to sing along.
13. When I Was Broke
When I first heard the song "When I Was Broke" by Future, it instantly resonated with me.
The lyrics paint a vivid picture of struggling through poverty and the harsh realities that come along with it.
From being unable to afford necessities like food and shelter to constantly hustling and scraping by to survive, Future captures the raw emotions of feeling broke.
But amidst all this struggle and despair, his voice has a glimmer of hope as he reflects on his journey from poverty to success.
It's a reminder that even when we are at our lowest points, we can rise above and achieve greatness.
This song is relatable for those who have experienced financial struggles and motivates them to keep pushing towards a brighter future.
14. 56 Nights
"56 Nights" by Future is a heart-wrenching and sad song that delves into the artist's struggles.
The title refers to Future's time in prison, where he could not see his friends or family for 56 long nights.
The lyrics vividly depict the emotional turmoil and pain he experienced during this period, making it a heartbreaking track.
From the haunting beat to Future's raw and passionate vocals, every element in this song adds to its emotional impact.
15. Hate the Real Me
"Hate the Real Me" by Future is a heart-wrenching and relatable sad song that captures the pain of struggling with yourself.
The lyrics are raw and honest as they delve into the internal battle of trying to love yourself while feeling consumed by self-hatred.
The sad melody adds to the song's emotional impact, making it impossible not to feel a wave of sadness wash over you.
Future's delivery is flawless, his voice filled with emotion and vulnerability.
16. Drippin (How U Luv That)
"Drippin" by Future is a heart-wrenching yet captivating sad song that showcases the artist's vulnerability and raw emotions.
Released in 2019, this track has resonated with many listeners due to its relatable lyrics and smooth production.
Future's trademark autotune adds more emotion to his powerful vocals, making the listener feel every word he sings.
The sad melody and haunting beat perfectly complement the song's somber tone, creating a powerful atmosphere that draws you in from the first few notes.
"Drippin" touches on heartbreak, pain, and loneliness, conveyed beautifully through Future's poetic lyrics.
17. Perkys Calling
"Perkys Calling" by Future is a sad and emotional song that captures the feelings of sadness, loneliness, and heartbreak.
The lyrics depict the struggles of dealing with a broken relationship and coping with the pain through substance abuse.
Future's raw and passionate vocals, accompanied by a slow and sad beat, genuinely convey the depth of emotion in this track.
As listeners, we are taken on a journey through the artist's inner turmoil and can't help but feel empathy for his pain.
About Future (rapper)
Future is a famous American rapper and singer whose real name is Nayvadius DeMun Wilburn.
Born in Atlanta, Georgia, on November 20, 1983, Future rose to fame with his unique style of music, which fuses elements of trap, hip-hop, and mumble rap.
With his distinct raspy voice and catchy hooks, he has released numerous hit singles such as "Mask Off," "Low Life," and "Jumpman."
His debut studio album "Pluto" was well-received by both critics and fans alike, and since then, he has released multiple successful albums, including the Grammy-nominated "DS2" and "FUTURE."
Besides his solo career, Future is known for his collaborations with other popular artists such as Drake, Kanye West, and Taylor Swift.
With his signature sound and captivating live performances, Future continues to make waves in the music industry.
His influence spans beyond just music, as he has also ventured into fashion with his clothing brand, Freebandz Clothing.
Many fans describe him as an icon of modern rap music due to his innovative approach to creating music that resonates with listeners worldwide.
FAQs
What genre is Future?
His genre can be described as a fusion of hip-hop, trap, and R&B, making it difficult to pinpoint one specific genre for his music.
However, many would categorize Future's style as "Atlanta trap" due to his roots in the city and the influence of trap music on his sound.
His songs often feature heavy beats, autotune vocals, street life and wealth themes.
Despite being primarily known for his rap skills, Future also incorporates melodic singing into his music, which adds a touch of soulfulness to his songs.
Why is Future (rapper) called Future?
Future, the American rapper and songwriter, is known for his unique sound and successful career in the music industry.
His stage name, "Future," represents his belief in continuously working towards a better tomorrow.
This name encompasses his determination to always strive for success and improvement, both personally and professionally.
Future also wanted an easily recognizable and memorable name among his fans.
Why is Future such a good rapper?
Future is undoubtedly one of the music industry's most talented and influential rappers today.
His unique style, captivating lyrics, and smooth flow have earned him a huge fan base worldwide.
But what makes Future stand out from other artists?
First and foremost, his ability to effortlessly blend trap beats with melodic hooks sets him apart from the rest.
His distinct voice and delivery add a touch of authenticity to his music, making it more relatable to listeners.
Moreover, Future's introspective and honest lyrics about his struggles with fame, success, and relationships strike a chord with his fans, allowing them to connect with him deeper.
Who was Future (rapper) inspired by?
Future, the renowned American rapper, has become a household name with his unique blend of trap music and melodic vocals.
Fans all over the world are curious about who inspired this talented artist.
Growing up in Atlanta, Georgia, Future was heavily influenced by iconic Southern rappers like Outkast, T.I., and Lil Wayne.
His cousin Rico Wade, an Organized Noize production team member, also inspired him.
Future's love for music also stems from his mother, a label executive at LaFace Records.
As he embarked on his journey in the music industry, acclaimed musicians like Gucci Mane and Young Jeezy have served as mentors and collaborators to Future.
However, after meeting rapper Rocko, he got his first big break in 2011, which catapulted him to fame.
With such fantastic role models and collaborations throughout his career, it is no wonder that Future has created a distinct sound and style that has captured the hearts of millions of fans worldwide.
Why did Future sell his music?
Future, the renowned rapper and songwriter, has recently decided to sell his music catalog.
This move may surprise many of his fans and followers, as he has built a successful career in the music industry.
However, there are several reasons that have led Future to make this decision.
First and foremost, selling his music allows him to gain immediate financial stability and security.
By selling his catalog, Future can receive a lump sum payment, which he can use to invest in other business ventures or live a more comfortable life.
By selling his music, Future can also ensure that his work is preserved for the future and continues generating revenue even after he retires from the industry.
Moreover, with the constantly evolving landscape of the music industry and its streaming services, it can be challenging for artists to earn substantial profits from their past work.
By selling his catalog now, Future can secure a fair price for his hard work while having control over how it will be used.
What rappers influenced Future?
Some notable rappers significantly impacted his style and sound include Lil Wayne, Jay-Z, T.I., Gucci Mane, and Outkast.
Future credits Lil Wayne for his creativity and wordplay, as seen in his clever lyrics and rhymes.
He also looks up to Jay-Z for his ability to blend personal experiences with social commentary in his music.
T.I.'s unique flow and delivery have undoubtedly influenced Future's style, while Gucci Mane's influence can be heard in his music's heavy use of ad-libs and trap beats.
When did Future become popular?
Future, the famous American rapper, rose to fame in the early 2010s with his unique blend of trap music and melodic style.
However, it was not until his debut album "Pluto" was released in 2012 that he became a household name in the hip-hop world.
The album featured hit singles such as "Turn On the Lights" and "Same Damn Time" which helped Future gain recognition and a loyal fan base.
Conclusion
Future's music has touched the hearts of many with its raw emotion and heartfelt lyrics.
His songs have resonated with listeners worldwide, from heartbreak to loss and everything in between.
The top saddest songs listed in this post remind us of the power of music to evoke emotions and connect us all on a deeper level.