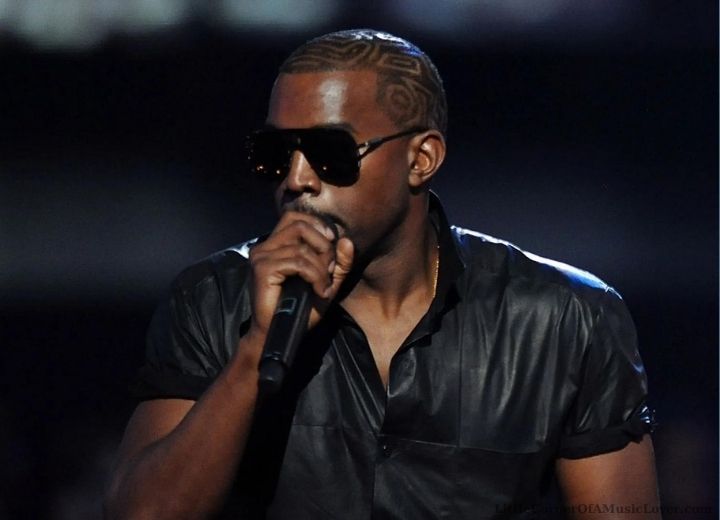 If you're a fan of Kanye West, then get ready to dive into a collection of his best love songs.
Known for his controversial lyrics and unique sound, Kanye has also blessed us with some beautiful, heartwarming tracks showcasing his romantic side.
From old-school classics to newer hits, I've curated a list of the top Kanye West love songs of all time that will make your heart feel full.
So, let's get lost in the world of Kanye West's most heartfelt love songs.
1. Walkin' On The Moon
"Walkin' On The Moon" by Kanye West is undoubtedly one of the best love songs by the iconic rapper.
This smooth, melodic track captures the feeling of being completely mesmerized by someone you love.
The lyrics speak of a deep connection with someone who makes you feel like you're "walkin' on the moon," effortlessly floating through life in their presence.
The song perfectly encapsulates the overwhelming joy and wonder of being in love, making it an instant favorite for anyone who has experienced the feeling.
2. White Dress
"White Dress" by Kanye West is easily considered one of the best love songs from the iconic hip-hop artist.
The song tells the story of a man deeply in love with his significant other, as he paints a vivid picture of her wearing a white dress, symbolizing purity and innocence.
The raw emotion in West's vocals combined with hauntingly beautiful production creates an intimate and heartfelt listening experience for the audience.
3. Bound 2
"Bound 2" by Kanye West is a beautifully crafted love song that captures the essence of true love and commitment.
The smooth, soulful beat combined with Kanye's heartfelt lyrics make this song one of the best love songs in his repertoire.
The track begins with a hypnotic sample from Brenda Lee's "Sweet Nothin's," setting the romantic tone of the song.
As the verses progress, Kanye paints a vivid picture of his undying devotion to his love, expressing how she has captured his heart and soul.
The chorus is infectious and easy to sing along to, making it perfect for couples to serenade each other.
4. I'm in It
"I'm In It" by Kanye West is a captivating love song that will leave you feeling all sorts of emotions.
The lyrics are raw and honest as Kanye expresses his deepest feelings for the person he loves.
With each verse, he delves deeper into the complexities of being in love and the ups and downs that come with it.
The beat and production of the song add to its allure, creating a sultry and seductive vibe that perfectly matches the lyrics.
From start to finish, "I'm In It" takes listeners through love's highs and lows, showcasing its beauty and struggles.
5. Love Lockdown
"Love Lockdown" is a heartfelt and emotional song by the iconic rapper Kanye West. Released in 2008, this track explores the themes of love, heartbreak, and the struggle to maintain relationships.
The lyrics are raw and vulnerable, reflecting a troubled romance and the internal turmoil that comes with it. West's powerful vocals, accompanied by the haunting beat, create an intense feeling of longing and desperation.
6. Lost In The World (Feat. Bon Iver)
"Lost In The World" by Kanye West is not just a song but a journey of love and self-discovery.
The pulsing beat and hauntingly beautiful lyrics take listeners through the highs and lows of being in love.
West's raw and emotional vocals capture the feeling of being completely lost in someone else, as if they are the only thing that matters.
The song also delves into the complexities of relationships, acknowledging that love can both lift us up and tear us apart.
It's a reminder that when we find ourselves lost in the world of love, we must also see ourselves within it.
7. Devil In A New Dress
"Devil In A New Dress" by Kanye West is a song that beautifully captures the complexities of love.
With its soulful melody and poignant lyrics, it tells a tale of a tumultuous relationship that is both destructive and addicting.
The devil in this dress symbolizes the allure and temptation of someone who is both alluring and dangerous. Through his vivid storytelling, Kanye simultaneously paints a picture of heartbreak, betrayal, and passion.
8. All Of The Lights (Interlude)
All Of The Lights by Kanye West is a powerful love song about a passionate and tumultuous relationship.
The lyrics are raw and emotional, painting a vivid picture of the ups and downs of love.
Kanye's vocals are both vulnerable and confident as he sings about the intensity of his feelings for his partner.
The music is just as dynamic, featuring bold brass instruments, grand orchestral arrangements, and catchy electronic beats that perfectly capture the chaotic nature of love.
9. Flashing Lights (Feat. Dwele)
"Flashing Lights" by Kanye West is a captivating song that explores the theme of love through an upbeat and catchy beat.
The lyrics depict the struggles and complexities of romantic relationships, with West's signature blend of bravado and vulnerability.
The use of flashing lights in the title serves as a metaphor for the highs and lows of being in love – sometimes, it can feel like a dazzling spectacle, while other times it can be overwhelming and disorienting.
With his unique delivery and clever wordplay, Kanye effortlessly conveys the rollercoaster ride that is falling in love.
10. Freestyle 4
"Freestyle 4" by Kanye West is a powerful and raw expression of love from the iconic rapper.
Known for his bold lyrics and unapologetic persona, West takes a more vulnerable approach in this song as he opens up about his feelings towards a special someone.
The song's chorus, "I wanna wake up with you, I wanna be there when you open your eyes," showcases West's desire to be present for every moment with his love.
The beat is dark and alluring, creating an intense atmosphere that mirrors the intensity of emotions.
11. Slow Jamz
"Slow Jamz" by Kanye West is a timeless love song that captures the true essence of romance and passion.
With smooth, soulful beats and heartfelt lyrics, it is a perfect slow jam for cuddling up with your significant other.
The song takes you on a journey of falling deeply in love with someone and cherishing every moment spent together.
It beautifully portrays the feeling of being lost in the arms of your loved one while slowly dancing to the rhythm of the music.
Kanye's vocals are raw and emotional, adding to the overall romantic vibe of the song.
12. Coldest Winter
Let me tell you all about one of my favorite songs, "Coldest Winter" by Kanye West.
This heartfelt track is a beautiful ode to lost love and the pain that comes with it. The lyrics paint a vivid picture of a bitter winter filled with memories of a past relationship.
Kanye's raw and vulnerable vocals perfectly capture the emotions of heartbreak and longing.
The music is hauntingly beautiful, with ethereal soundscapes and powerful drums that add to the gloomy atmosphere.
It's impossible not to feel moved by this song, as it speaks to anyone who has experienced the pain of a cold and lonely winter after losing someone they loved.
13. Heartless
"Heartless" by Kanye West is a powerful and emotional song that captures the pain and heartbreak of lost love.
The lyrics tell a story of someone who has been hurt so many times that they have become numb to love, described as "cold as December."
The beat and melody add to the song's raw emotion, with haunting background vocals that reflect the emptiness felt by the singer.
Despite its sad tone, "Heartless" is a relatable track for those who have experienced heartbreak and can resonate with the feelings of being unable to trust love again.
14. Fade
"Fade" by Kanye West is a song that explores the ups and downs of love, showcasing the rapper's vulnerability and passion towards his partner.
The song captures the essence of an exhilarating and tumultuous relationship with its catchy beat and smooth vocals.
The lyrics vividly depict two individuals trying to make their love last through life's obstacles and challenges.
From lyrics like "Your love is fading," we can sense how Kanye feels unsure about his relationship's state, but he's still holding on to hope.
15. Only One ft. Paul McCartney
"Only One by Kanye West Love" is a song that truly captures the essence of love and the special bond between parent and child.
Through heartfelt lyrics and a soulful melody, this masterpiece delivers an emotional message about cherishing the ones we love.
Kanye West pours his heart out as he sings from the perspective of his late mother, Donda West, who conveys her undying love for her son even after she's passed away.
The song reminds us to appreciate our loved ones while they're still with us and always hold on to their memories even when they're gone.
16. Wolves
The song "Wolves" by Kanye West is a mesmerizing and emotional tribute to the power of love.
West expresses the raw vulnerability of being in love through poetic lyrics and haunting melodies.
He paints a picture of two people who are fiercely in love but also facing their inner struggles and insecurities.
The title symbolizes the strength and loyalty of wolves who mate for life, echoing the theme of commitment and endurance in relationships.
17. Closed On Sunday
"Closed On Sunday by Kanye West Love is a heartfelt and honest love letter to family, faith, and fellowship.
The song starts with a gentle guitar melody, accompanied by Kanye's soothing vocals, as he sings about the importance of taking Sundays off to spend quality time with loved ones.
His lyrics remind us that stepping back and prioritizing what truly matters is essential despite our hectic lives.
About Kanye West
Kanye West is a singer, rapper, producer, and fashion designer who has taken the music world by storm.
He was born on June 8th, 1977, in Atlanta, Georgia, and rose to fame in the early 2000s with his debut album "The College Dropout."
Known for his bold and unique style, Kanye has become one of the most influential figures in hip-hop culture.
He has released numerous hit albums such as "Late Registration," "Graduation," and "My Beautiful Dark Twisted Fantasy," which have all received critical acclaim.
In addition to his music career, Kanye has ventured into the fashion industry with his Yeezy brand, collaborating with major brands such as Adidas.
Despite criticism and controversy throughout his career, Kanye pushes boundaries and challenges societal norms through his artistry.
He remains an iconic figure in the entertainment industry and a source of inspiration for many aspiring artists.
FAQs
What is the most underrated Kanye song?
In my opinion, "Hey Mama" is the most underrated Kanye song.
This touching ode to his late mother showcases his vulnerable side and demonstrates the depth of his emotions.
It's a beautiful tribute that celebrates their relationship and highlights the sacrifices she made for him. The lyrics are heartfelt and genuine, and Kanye's vocals are raw and filled with emotion.
However, this song often gets overshadowed by his more popular hits like "Gold Digger" or "Stronger."
Many people might not even be aware of this gem in his discography.
But for those who have heard it, it holds a special place in their hearts as one of Kanye's most tender and personal songs.
Did Rihanna do a song with Kanye?
The short answer is yes!
They have collaborated on multiple songs throughout their careers. The first was "FourFiveSeconds" in 2015, featuring Paul McCartney.
This upbeat and catchy tune was an instant hit and topped the charts in several countries.
But that's not all. Rihanna and Kanye have also worked together on other notable tracks such as "Run This Town," "All of the Lights," and "Diamonds (Remix)."
Who has collaborated with Kanye West?
Kanye West, the renowned American rapper, fashion designer, and producer, has collaborated with numerous artists throughout his career in the music industry.
One of his most notable collaborations was with Jay-Z on their joint album "Watch the Throne" released in 2011.
He has also worked with artists like Kid Cudi, Travis Scott, Rihanna, and Bon Iver.
Not only has Kanye collaborated with fellow musicians, but he has also crossed over into the fashion world by partnering with Adidas for his Yeezy brand.
In addition to these collaborations, Kanye has produced tracks for many prominent artists, including Alicia Keys and Common.
How many #1 songs does Kanye have?
As an avid fan of Kanye West, keeping track of his accomplishments in the music world is always intriguing.
Many people have often wondered how many number-one songs he has. Well, the answer is quite impressive!
As of 2021, Kanye has nine number-one songs on the Billboard Hot 100 chart. These include hits such as "Gold Digger" featuring Jamie Foxx, "Stronger," and "Heartless."
Surprisingly, all these songs were released between 2005 and 2008, making it an incredibly successful time for the rapper.
Conclusion
It's safe to say that Kanye West has solidified himself as a master of love songs with his thought-provoking and emotional lyrics.
From his early hits like "All Falls Down" to more recent tracks like "Bound 2," Kanye has consistently delivered romantic ballads that tug at our heartstrings and make us want to fall in love again.
Whether you're in a relationship or appreciate good music, these love songs will become instant favorites.
So grab your significant other, turn up the volume, and let the smooth sounds of Kanye West serenade you on your next date night. You won't be disappointed.
Thank you for reading our list of the best Kanye West love songs of all time!