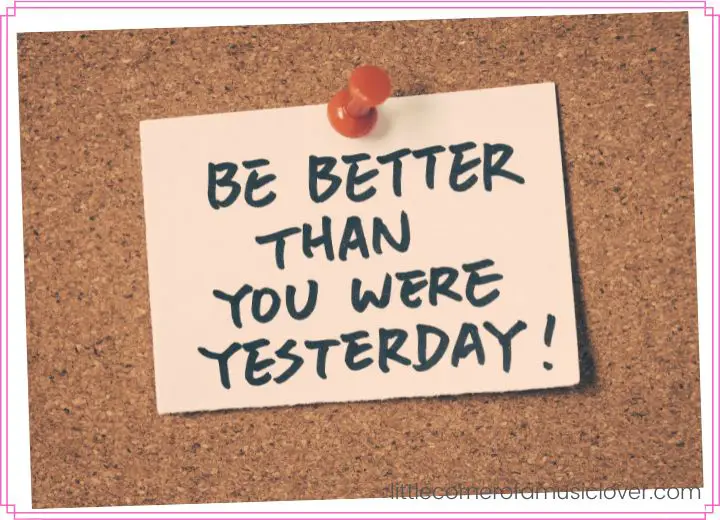 Explore the most popular songs from popular artists about yesterday! We have compiled the top songs that will bring back memories and emotions of days gone by.
1. "Yesterday" by The Beatles
"Yesterday" by The Beatles is a timeless ballad of heartfelt nostalgia that encapsulates many listeners' feelings of longing for what used to be.
It speaks of remembering days gone by and wishing for them to come back, exactly what songs about yesterday aim to capture.
The melancholic yet catchy melody gives this song an impactful resonance that has kept it popular over the years.
2. "It's So Hard To Say Goodbye To Yesterday" by Boyz II Men
The song is an ode to fond memories, reflection on life, and the feeling of nostalgia that comes with letting go of something special in one's life.
It is a stunning ballad perfect for those days when one needs to reminisce about the past.
3. "Yesterday" by Toni Braxton (Feat. Trey Songz)
The hit single "Yesterday" by Toni Braxton is a great example of a song about looking back fondly on the past.
With its somber but upbeat melody and soulful vocals, the track serves as a powerful reminder that even in times of sadness, nostalgia can provide comfort.
4. "Yesterday's Songs" by Neil Diamond
Neil Diamond's "Yesterday's Songs" is an ode to moments of nostalgia and the memories of bygone days.
This sentimental track looks back fondly at yesteryear, contemplating all that time has brought.
5. "Yesterday's Wine" by Wille Nelson
The song is full of emotion as it takes us on a journey from joyous memories to regrets. This popular tune is sure to tug at your heartstrings and leave you feeling nostalgic for days gone by.
6. "Yesterday's Song" by Hunter Hayes
The song paints a vivid picture of the regrets associated with what we can't change, and how sometimes we wish we could go back to yesterday.
A timeless reminder that yesterday can both haunt us or help us move forward.
7. "Yesterday Once More" by The Carpenters
"Yesterday Once More" by The Carpenters is a classic 1970s track, a nostalgic ballad that speaks of fond memories of days gone by.
The song explores the joys and sorrows of yesterdays, longing for happy moments while understanding they can never be experienced again.
8. "Today Is Yesterday's Tomorrow" by Michael Buble
Michael Buble's "Today Is Yesterday's Tomorrow" is a song musing on the passing of time and our relationship with the past.
Taking inspiration from yesterday, the lyrics evoke a sense of nostalgia, emphasizing how we can carry yesterday's experiences with us into today and beyond.
9. "Bring Back the Love of Yesterday" by The Dells
"Bring Back the Love of Yesterday" is a classic love song written by The Dells.
This heartfelt tune reflects on days gone by and reminisces about treasured memories while encouraging the listener to never forget the love.
The beautiful harmony and soulful melody make this a truly powerful, sentimental hit that emphasizes the importance of cherishing what once was!
10. "Yesterday When I Was Young" by Matt Monro
With its poignant lyrics set to a catchy melody, it is considered one of the most iconic songs about yesterday and aging.
A classic hit that has endured through generations, it celebrates life's blessings and reminds listeners to enjoy every moment!
11. "Yesterday" by The Black Eyed Peas
"Yesterday" by The Black Eyed Peas is a song about the past and reflecting on what has been.
The song features an emotional blend of heartfelt lyrics and a groovy beat, making it the perfect choice for anyone looking to either sing their sorrows away or just groove down memory lane.
12. "Yesterday" by Shanice
Shanice's hit song "Yesterday" is a popular tune that speaks to the nostalgia of looking back on past experiences and wishing for a chance to revisit them.
The heartfelt lyrics and upbeat melody of this timeless track capture the emotion of wanting to relive cherished moments from the past.
13. "Yesterdays" by Jerome Kern
The sentimental and reflective song tells of nostalgia for a past love, depicting memories of what once was as it muses on the different directions a person's life can take.
14. "Yesterdays" by Guns N' Roses
The song expresses a longing to return to the past but acknowledges that such an endeavor is ultimately futile, given that we cannot change the past.
It encourages listeners to accept that it is impossible to go back in time and instead focuses on allowing ourselves to make the best of the present.
15. "Yester-Me, Yester-You, Yesterday" by Stevie Wonder
Through captivating lyrics, the song paints an emotional portrait of nostalgia for the past. This timeless tune is one of many beloved songs about yesterday.
16. "Yesterday's Gone" by Chad & Jeremy
The poignant yet optimistic track tells the story of a couple overcoming adversity by looking on the bright side and cherishing yesterday's memories.
It's one of the most beloved songs about living life in the present and appreciating what you have while you still can.
17. "Something Happened to Me Yesterday" by The Rolling Stones
The Rolling Stones' "Something Happened to Me Yesterday" is a nostalgic song about past memories, a reflection on the good times that have been and gone.
18. "That Girl Belongs to Yesterday" by Gene Pitney
The song speaks of regret at losing someone that you can never get back and the bittersweet longing for times gone by.
It paints a vivid picture of a time and place now lost, but that still exerts power over us in our memories.
19. "So Yesterday" by Hilary Duff
The song speaks to how quickly life changes, and how nostalgia can make us appreciate our simple moments as if they were ancient relics from some forgotten past.
20. "Only Yesterday" by Carpenters
"Only Yesterday" is a song by Carpenters about the nostalgia of past memories.
This hit single beautifully conveys the timelessness of looking back at memories of yesterday and remembering with warmth and sentimentality what once was.
21. "Yesterday's Dreams" by Four Tops
"Yesterday's Dreams" by Four Tops is a soulful ballad reminiscing about love and what could have been. This song speaks of reflecting on life decisions and pondering if things could have been different.
22.  "Holdin' on to Yesterday" by Ambrosia
This is a nostalgic song about cherishing yesterday and looking forward to the future.
The song describes a relationship that has come to an end and how our memories of the past fuel us into the future.
23. "Yesterday's Hero" by John Paul Young
"Yesterday's Hero" by John Paul Young is a song about nostalgia and looking back at past accomplishments.
The lyrics discuss how the protagonist was once celebrated as a hero but now finds himself surrounded by uncertainty and loneliness.
24. "Love You More Today Than Yesterday" by Spiral Starecase
"Love You More Today Than Yesterday" by Spiral Starecase is a classic love song from the 1970s. With its catchy chorus and memorable melody, this song is still loved by fans looking for songs about yesterday.
 25. "Yesterday's Wine" by Willie Nelson
With its soulful lyrics and meaningful message, it reminds us that life goes on no matter how many countless tomorrows pass us by. A must-hear for any fan of 70s country music!
26.  "Yesterday Man" by Chris Andrews
With thoughtful lyrics and a catchy melody, this song was an instant hit with fans of seventies music.
The song has endured for over 40 years, standing as a reminder to cherish times gone by.
27. "That Was Yesterday" by Foreigner
The upbeat tune speaks of how we can't go back and change yesterday, but we can use it as motivation to make today better.
It's an inspiring track that encourages listeners to let go of their regrets or worries about the past, and instead, look forward with optimism for the future.
 28. "I Wasn't Born Yesterday" by Daryl Hall
With its upbeat lyrics and melodic tune, this song can inspire listeners to stay present at the moment, be grateful for the past, and never forget those times gone by.
29. The Girl From Yesterday – Eagles
The poignant lyrics remind us to reflect on the decisions we make in our lives.
With the catchy melody captivating you from the start, this timeless classic serves as a reminder to appreciate all that yesterday has taught you.
Conclusion
In conclusion, it is clear that songs about yesterday are popular for a reason. They capture the feeling of nostalgia and remind us of happy times in our lives.
Whether you are reminiscing about your first love or remembering a period in your life, there is a song out there for you.
So put on your favorite tunes about yesterday and let the memories flow.