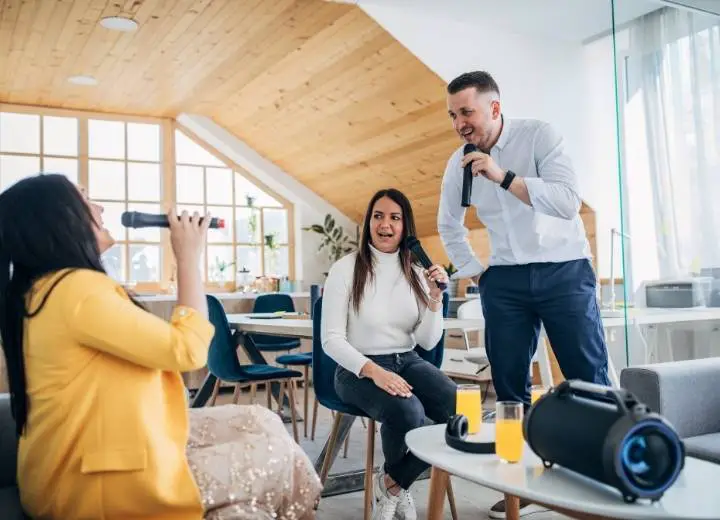 Choosing the right song may bring you the spotlight during your karaoke performance. If not, everything will become a disaster. 
The question is, what are the hardest and easiest karaoke songs to sing? How to choose the best song to perform?
The difference between a hard and easy song is the vocal range and tempo. Once you can identify these factors in the song, you can say if it fits your ability or not. 
This article recommends lists of the hardest and easiest karaoke songs to sing. We also offer some tips to choose appropriate songs. 
Let's read on to discover!
List Of Hardest Karaoke Songs To Sing
If you are looking for the next challenge in your karaoke performance, try these songs. You can see more options on the video below.
#1. My heart will go on
This epic ballad is exceptionally famous as the Titanic title song. It's incredibly challenging to perform for a variety of reasons. The song requires a lot of passion. 
Every time you listen to it, you can't help but think about the tragic scenes. As a result, it's difficult for a vocalist to express the level of emotion required for the credit to this song while sounding genuine.
Every part of the song needs extraordinary skill. This song has it all, from the delicate, controlled voice during the first verse to Celine's smooth vocal runs and the strong enlarged melodies in the chorus. 
#2. I will always love you
Whitney Houston is no doubt one of the greatest vocalists of all time. 
Her vocal range and intonation were outstanding, making her songs appear effortless. "I will always love you" may be the most challenging song she has ever sung.
To perform this one, you should be pretty proficient at vocal loops and riffs. If you don't have a great voice, the acapella opening indeed shows it off.
You'll also find it tough to mimic Whitney's falsetto technique during the chorus. For karaoke, you should probably avoid Whitney Houston's songs.
#3. Chandelier
"Chandelier" is one of Sia's most difficult songs, and she is one of the greatest singers of her generation.
To move from the low lines to the very high chorus, you need a tremendous range. The changeover from the verse to chorus is the most challenging part of the song.
Once the chorus starts on the first " I'm," you should rapidly change your range from low tone to higher. 
You may need to use falsetto skills to hit the song's highest notes so your voice doesn't sound cracked or strained.
#4. Hello
Most of Adele's songs are challenging to perform. We decided to choose "Hello" as an outstanding example.
The song begins with a low pitch, which is especially hard for female vocalists. Many people find it more challenging to perform low notes with strength than higher notes.
Adele is also famous for her belting skills with her powerful voice.  You may notice her belt skills when she sings the line "hello from the other side." 
She also has a wide vocal range. When the line goes to "to tell you," she employs the complex falsetto technique to hit these high notes.
#5. Listen
We can't complete this list without mentioning Beyonce.  There isn't anyone who could do an excellent job of covering "Liste." 
Even when professional singers try, they cannot surpass the power in Beyonce's voice to give this song the energy it requires.
Many sophisticated methods are present in the song, such as riffs or falsetto. Beyonce's belting style is nearly challenging to duplicate in terms of control and power.
#6. Because of you
Kelly Clarkson hasn't earned nearly as much recognition as she deserves. She has some well-known songs. If you try "Because of you," you'll see why she's such a superb vocalist.
Her voice has a lot of strength. If you want to perform the song well, make sure you can convey enough power to it.
Kelly can also get those beautiful high notes of the chorus on the last "because of you." This song has a lot of things going on. So if you can't handle it, leave it to the experts.
List Of Easiest Karaoke Songs To Sing
If you are a beginner, you may want to perform easy songs. Here are some options that you can try. You can see more options on the video below:
#1. Shake it off
This song is best suitable for more energetic and enthusiastic singers. It's also a great choice to boost the mood of a karaoke party. 
The song includes primary lines and an ear-catching part that repeats itself over and again: "Shake it off, shake it off." The song has no too high or too low notes. Performers from any skill level can manage it.
"Shake it off" offers a trendy melody that makes you move and dance while singing. Thanks to the popularity and fun vibe, the song is truly a great crowd-pleaser.
#2. Born this way
This song is suitable for any level of vocalist. Despite Lady Gaga's wide range and singing skills in various genres, she has some easy pieces that you should consider. 
"Born this way" is worth trying. The song is simple yet powerful, making your performance effortless and energetic.
All of the notes in the song are from low to mid-range. If you don't want to use the fast tempo, there is also a slower version. 
If you'd like to convey a meaningful message, the song also offers a fantastic message about community and respecting oneself.
#3. Baby one more time
"Baby one more time" is a classic song. Even if you don't know the title, you can memorize the lyrics without recognizing it.
The tempo, tone, and melody of the song stay at the intermediate level. Almost everyone finds this song easy to sing. 
One exciting thing about this song is that you can still pull the song off even if you have bad voices.
Britney Spears' songs are always beautiful choices if you want to sing and dance simultaneously.
#4. I'm yours
It's a cheerful and straightforward song that both females and males can sing. It may be a fantastic romantic choice for a performance because it takes a lighter style to your liking. You may ignore the scat because it's a bit challenging for beginners to do.
The song expresses the idea of ceasing to care and living in the present moment. He says "I'm yours" to a love interest. If your crush is in the audience, it would be fantastic to sing this song.
#5. Wannabe
Everyone should try  The Spice Girls' songs at least once in their lifetime. Since establishing "Wannabe," the girl group has taken the world storm and became an ideal sample for every teenage girl.
"Wannabe" always stays in the list's most energetic tracks. While belting out the rap section of this song might be hard, with just enough practice, you can nail it.
Because the song has some overlapping parts, you may need to seek the support of a friend for a perfect performance.
#6. Brown-eyed girl
This karaoke song is cheerful and energetic. It can make your audience happy for sure.
Your audience doesn't even mind if you forget a few lines or mess some words since "Brown-eyed girl" is one of those songs that everyone can't help singing along to. They could not even notice since they are engaging in their music.
The famous "Sha la la" chorus will fascinate and attract the audience. While Morrison's tone is a little higher than average, you may find a more comfortable range that suits you.
How To Choose The Right Karaoke Songs?
Easy songs are simpler to sing. However, picking complex songs helps you show off your vocal ability. We can't determine if hard or easy songs are better for karaoke performances. The key is your song selection.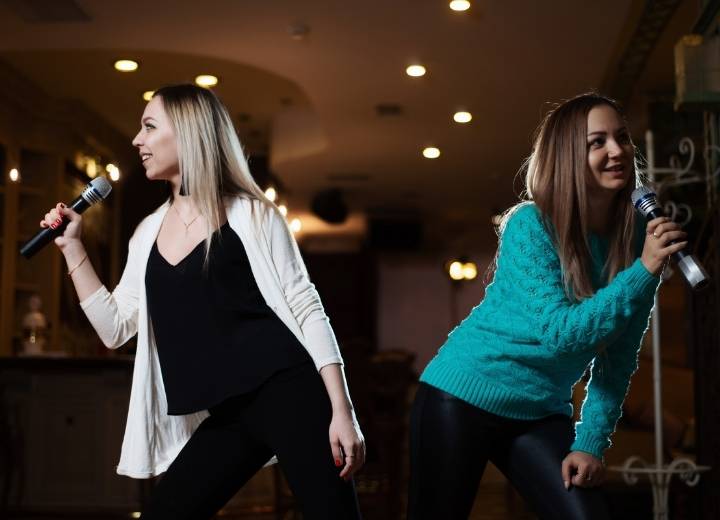 Here are some tips for choosing the best song for your ability and preferences.
#1. List all your favorite songs
Karaoke is all about fun. You will enjoy yourself more when you can perform the songs you love.
Before any karaoke party, list the songs that you have listened to recently. It would be best if you memorized the lyrics of those songs.
#2. Think about the audience
Enjoying yourself is only a part of karaoke. Let's try your best to have a happy time with your family and friends too.
You need to think about the age group first. If you're having a party with your family, choose the songs your parents and maybe grandparents know.
Everyone gets attracted to the song that they're familiar with. Hence, go for classic or country music in these cases.
Choosing the songs becomes much simpler if you're singing with people in the same age group as you. Try to pick up the popular songs that everyone can sing along with you to light up the mood.
#3. Be aware of your ability
Your vocal skill is the next aspect to consider while selecting a karaoke song. You already have a list of your favorite songs to pick from at this point. However, you'll need to cut it down after this stage.
Let's consider your voice range first. This aspect is often the most restricting issue in your singing ability. The songs with a narrow vocal range appear much more straightforward to sing than those with a broader range.
The vocal range might assist you in narrowing down your song list. If you want to cut it down more, you may listen to every song separately and review the most challenging parts to see if you can manage them.
#4. Think about the tempo
Consider if you can catch up with the tempo of the song or not. 
In general, slow songs are more challenging to perform than fast songs. The slow tempo asks the singer to show off their voice more.
You may also need to hold some notes for longer. Those notes are the signs to distinguish novice and professional vocalists. 
If you are confident about your ability, choose songs with a slow tempo like "Hello" or "My heart will go on".
On the other hand, go for "I'm yours" or "Baby one more time" to enjoy the songs instead of displaying your ability.
Conclusion
You can never list all the songs available, but you can point out which is suitable for you. The terms "hard" and "easy" depend on your skills. Once you've found out the songs you can match, they are easy and ideal to perform.
Hopefully, you will have a great karaoke party no matter what songs you choose.
Thank you for your interest in the article!