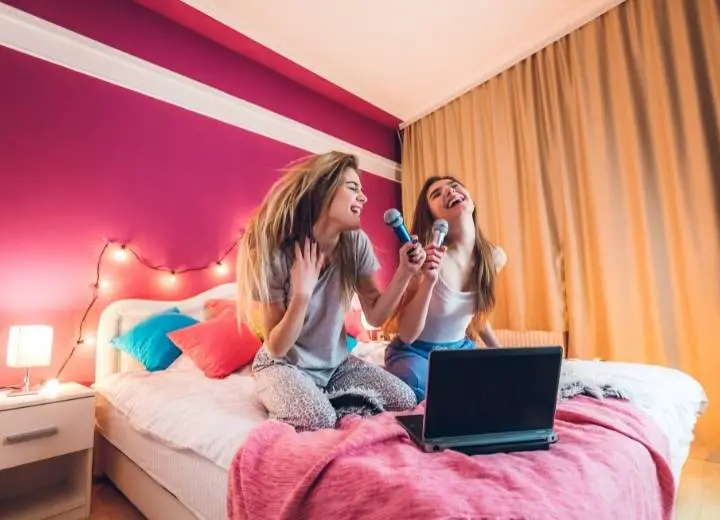 Nowadays, singing karaoke with hardware-based devices has become outdated. There are many more flexible and convenient options for karaoke at home, including using karaoke software. 
With karaoke software, you can set up a professional karaoke system with your PC. So, which is the best karaoke software for PC? Here are some worth considering options for you.
KaraFun 
PCDJ Karaoki
Kanto Karaoke
Siglos Karaoke Professional
Aria
TunePrompter
kJams
Walaoke
Karaoke 5
Just Karaoke 2.0
Karaoke One
Let's check the details of each software!
Which Is The Best Karaoke Software For PC?
The best karaoke software for PC listed below can give you amazing karaoke experiences at home. Most of them are free, but some may cost you a bit for full feature access.
KaraFun is familiar with karaoke lovers with its YouTube channel and karaoke app. And, it also comes with karaoke software so that you can sing with any device. KaraFun is one of the most downloaded karaoke software. 
This software provides you with more than 35,000 karaoke songs in many different genres. Whether you want to sing 80s classics or hot trending songs, KaraFun has them all. 
KaraFun supports many file formats including CD+G, MPEG, KAR, and MIDI. 
This software has many handy features such as volume control. You can also easily change the languages and set the lyric timing for the songs. It also has a two-display screen, so you can switch to another screen for a better view. 
Besides, with its offline sync option, KaraFun has the function of a karaoke software for PC offline. This feature allows you to sing without any internet connection.
You can download the free version of KaraFun, or get a monthly subscription with $129 to use all the features. 
With PCDJ Karaoki Professional, planning for your karaoke party is as easy as pie. 
This software allows you to scan karaoke tracks with MP3 tags. Besides, you can play MP3+G, WAV+G, MP3+G/WAV+G, Cloud Pro, and many other file formats. 
Regular features like history, singer rotation, screen display, and key controls are available. In addition, you can benefit from advanced features of this software such as drag-and-drop load or color customization. 
This karaoke software is free to download and install. But to access more special features like all multimedia supports, you can buy the full version for $99. 
Another karaoke software you should give a try is Kanto Karaoke. It supports almost all the currently available formats of multimedia and video from MP3 to WMV. 
Besides providing you with thousands of karaoke songs, this software also shows you how to sing. Kanto Karaoke has special video and practice exercises for karaoke beginners. 
Moreover, you can experience the vibe of a stage performance with clapping or jeering effects. This karaoke software also enables you to record your performance for later use. 
The free version of Kanto Karaoke has some limitations. It only allows you to add 5 songs to a playlist and the recording time is just 60 seconds. You can pay from $45 to $65 to upgrade to the Standard or Professional version with full features. 
Siglos Karaoke Professional is the next option for the best karaoke software. It can turn your Windows PC into a professional karaoke device. 
It has a straightforward interface with a dual display and speedy song lookup. So, picking your favorite songs to sing will be faster and easier. Also, you can make your playlist and adjust the pitch and tempo of the music as you want. 
This software also has other useful functions like PC scanning for karaoke tunes or automatic backups. 
The full version of Siglos Karaoke Professional costs $99. This software will bring you karaoke experiences comparable to expensive karaoke machines. 
#5. Aria
If you are looking for karaoke software for PC free download, Aria is a good choice. 
In addition to Karaoke mode, this software also provides DJ mode and Scratch mode. With these modes, you will feel like you are in a club. You can freely mix the music and use virtual turntables like a pro-DJ. 
In Karaoke mode, there is an enormous song library with various genres. If your favorite song is not available, you can easily purchase and download it to save in the library. The file formats supported by Aria include MP3 G, Zipped MP3 G, and WAV G. 
Aria is a must-try karaoke software if you want to have a real karaoke experience with your beloved. 
#6. TunePrompter
TunePrompter is another free karaoke software marking its name on this list. Due to its easy-to-use interface, you can play karaoke tracks and sing effortlessly. 
Additionally, TunePrompter can automatically search for lyrics and sync with ease. It also allows you to remove the vocals from MP3 CD audio. Thus, you can make your karaoke videos and export them to other Apple devices or burn them to your discs.
If you want karaoke software that is simple to use, you can't ignore kJams. With this software, you just need to add your favorite songs to the playlist and hit play. The karaoke experience brought by kJams will be better than your imagination. 
The powerful management tool will make it easier to control the singing. Besides, a duplicate window will display the song lyrics. But the best part of this software is the team's customer support.
A free trial of kJams is available for you to experience. Then, if you like, you can buy the kJams Lite or kJams Pro for $40 – $140.
The Lite version is more suitable for home karaoke. For professional and business use, you should choose the Pro version. 
#8. Walaoke
Another free karaoke software with many outstanding features is Walaoke. With Walaoke, you will be able to manage and edit your karaoke songs in the best way.
Walaoke supports FLV, MPG, MKV, MP3 G, and a variety of other file formats. Moreover, you can choose different fonts, colors, and sizes for the displayed lyrics. In duet songs, there will be 2 different colored lyrics. Thus, you can easily recognize your part. 
It's simple to pick, arrange, and manage your favorite karaoke songs with this software. You can sort them by topic or create separate playlists for easy lookup. If you want, you can turn off these playlists and sing with the random playlist of the software. 
Walaoke is only suitable for Windows PC and it's free to download.
For professional use, Karaoke 5 is the software you need. With a wide range of supported file formats, you can play a lot of files with this software. Especially, the MIDI files on Karaoke 5 have excellent sounds due to its "K5 instrument" consolidated bank. 
You can show off singing talent with others by broadcasting your live performance. It's also possible to interact with other users by instant messaging.
Furthermore, this software can help you produce karaoke files with MP3, MP4, MIDI, and K5 formats. Some other prominent features are the split-screen display or mix control.
Karaoke 5 offers both a free trial and a full version. The price of the full version ranges from $39 to $179.
#10. Just Karaoke 2.0
If a user-friendly karaoke software is what you aim at, Just Karaoke 2.0 is good to go. It can satisfy your passion for singing with a list of 7000 songs. Not only that, there are many awesome features you can enjoy in this software. 
The quick search feature and history option will help you to find or recall your favorite song in a breeze. You can also make your songs list and download other songs to save in the library. 
Just Karaoke 2.0 is available for both Windows and Mac PC and it's free of charge to download and install.
Karaoke One is also an easy-to-use karaoke software for your Windows PC. You can play most of the common file formats with this software. 
It is also compatible with both wired and wireless connection gear. This feature permits you to use the different mouse and keyboard types for control. 
When singing with Karaoke One, the lyrics, notes, and beat of the song will be shown on an interactive display. If you want to sing some songs again, you can easily recall them. This software also has a record function. 
The software also comes with a detailed guide from the manufacturer. Karaoke One is completely free to download and use. 
Final Words
Hopefully, the karaoke software list above is enough to answer the question "Which is the best karaoke software for PC?". Singing with karaoke software is very convenient and budget-friendly. You can take a look at the 11 best karaoke software we suggested to find an ideal option for your PC. 
Thank you for reading!