If you are going to be on a trip but you don't want to spend a single day without your ukulele, you are not alone.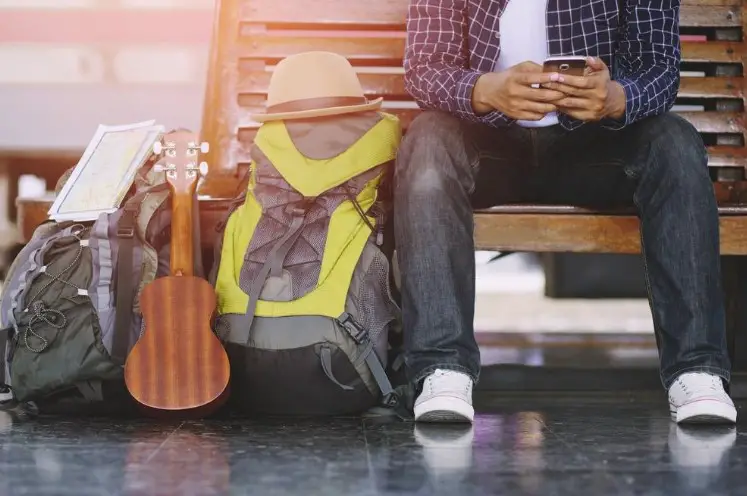 For a lot of people, ukulele is like a friend that he/she can't live without, partly because a uke can fulfill trips with plenty of fun.
Unluckily, you can't imagine what happens to your ukulele all day long on journeys or when someone transports it out of your sight. Such a terror!
Here is a list of 13 practical tips for traveling with a ukulele for you. If you are wondering how to keep your ukulele without a scratch as traveling, just read on.
Firstly, let get one thing straight – no matter how you travel, keep the first two tips below in mind:
#1 Bring Ukulele Tools and Extra Accessories
 You don't know exactly when the strings break in your trips so a set of extra strings is always essential.
Also keep winders, nail file, picks, tuner, capo and desiccant packs close to you in case you need them.
#2 Put Your Name and Phone Number On Your Ukulele Case
 As a good rule of thumb, tags with your contact might work in case you lost your ukulele.
However, tags are easily removed somehow so be sure to put your ID paper with contact information inside and outside the ukulele case.
#3 Loosen Tension On Uke Strings During Flights
 The change of pressures, humidity, and temperature in a plane can cause a terrible shock to your ukulele.
As we all know, the uke saddle is holding the strings. When you get up into the air, the pressures increase quickly. As a result, the strings put even more and more stress on the saddle.
So if you forget slack your ukulele strings, the saddle can pop off or the uke can warp, and sometimes its headstock might be snapped. Be careful!
#4 Hard Case Is Worth Your Consideration
 On a travel, putting your uke in a high-quality hard case seems to be the safest way to pack a ukulele.
Generally, with a hard case you can be assured your ukulele are safe from bad weather and shocks.
These two affordable and protective cases are sold on Amazon: Carrion Hardshell Ukulele Case and Superior Deluxe Hardshell  Ukulele Case. You can follow the links to see details.
#5 Carry Your Uke On Is The Best – Why?
Here you are! There are 3 official types of flying with a ukulele: carry-on, cabin-seat baggage, and checked baggage.
A cabin seat for your ukulele is too expensive while a hard case alone is not enough for your check-in uke's safety.
Especially when you check your ukulele as a baggage item, your uke has to face the risk of ruin and sneaking.
Since you see it going along the conveyor belt and wonder whether it's the last wave goodbye, the worry about your ukulele's destiny will start to haunt your mind during the flight.
Of course, that doesn't mean risk always happen, but never check in your uke unless you have to.
You can carry your uke on and put it carefully underneath your seat or in the cabin overhead. Remark my power word: "carefully".
Bear in mind in most flights you have this right. You can check this at airline websites which you are flying.
In the US, musical instrument rules can be summarized as follows:
Passengers have the right of carrying small instruments such as ukulele or guitar on the planes, stowing them on the cabin overhead (first come, first serve) or underneath the seats.
In fact, some airport staffs may be unaware of the air travel rules for musical instruments. So you had better prepare a copy of the official rules available.
Note: Most people want to carry luggage on like you while there are not many spaces to find. Be quick when getting on the plane so that you can easily find a cabin overhead for your ukulele.
#6 Asking for Priority Boarding
When you are on the air travel with your ukulele, don't hesitate to ask flight attendants for a help.
Most of the time you would be surprised: how easy it is to have your ukuleles safe and sound in the first-class closet during the flight.
 #7 Pack Uke Accessories Outside The Case
Airport security personnel may misunderstand your ukulele accessories with something weird and harmful so don't put them all together into your uke case.
Pack these accessories outside your case can help you minimize possible rough checking and other unpredictables.
#8 "Fragile. Please Keep Dry. Handle with Care"
If you have no other way than to check in your ukulele, don't forget to label your ukulele case with "Fragile. Please Keep Dry. Handle with Care". Make sure the label is recognizable.
This way, the carriers would lightly handle your ukulele, put it on the top of luggage and usually let it go out first.
#9 Insure Your Check-in Expensive Uke
 You should buy travel insurance, or at least photograph or video your ukulele at the check-in counter for proof. The proof can be used for claims if your uke doesn't show later.
Plus, this is very important in a travel with your ukulele: check your uke status right after the flight to make sure it is still safe in only one piece.
If it's not, make a claim immediately or else it will be turned down.
#10 Be Sure to Check-in Early 
 According to the airport staff, luggage are lost more often if customers check-in at the very last minute and when they transfer between flights.
In fact, even if you check in the plane on time, your ukulele might not. It can be loaded on the wrong plane. So arrive early and check in soon.
For one who has connecting flights, make sure your ukulele is routed accurately by asking the flight attendant handling your uke for help.
#11 Stay Away From Suck Customer Service Airlines
If you've ever heard the hilarious songs "United Breaks Guitars" by Dave Carroll before, you may know the instrument scandal behind it.
If not, listen to one of those songs here:
United Airline is just a typical case for the terrible manner in customer services.
According to the confession of an airport baggage handler, baggage would be thrown from this person to the other as hard as the carriers can, and sometimes your baggage would be dropped from the high.
To limit the ability someone breaks your ukulele and "your claims can go nowhere" like in Dave Carroll's case, try to stay away from airlines in the list of The Worst Airlines in the World.
#12 Choose A Soft Case or Gig Bag for Backpacking
Is a hard shell case always better than a soft one? Not really!
A soft case or a soft gig bag with straps are cheaper and lighter for backpackers than a snug-fitting hard-shell case.
You can consider ChromaCast CC-SUPB-BAG Ukulele Padded Bag on Amazon. It's a super good case and a good deal that is worth your money.
#13 Never Put Your Uke Under Extreme Weather
You should not bring your ukulele too close to fireplaces and heat sources such as a campfire, or let it in cars and tents under the hot weather.
Besides, rain and snow are not ukulele's good friends. If your uke is wet, just put some desiccant packs into it then patiently wait for water is sucked out of the ukulele.
Do not rush to find a way to dry it by heat.
The last words
Do you believe that if someone breaks the ukulele, they also break its owner's heart?
I'm not sure but every time hearing a song being sung out loud with a ukulele at a crowded corner, I can feel my wild heartbeat.
Hope these 13 practical tips for traveling with a ukulele will work for you.
If you also travel with your uke, don't hesitate to share your tips by leaving a comment below.