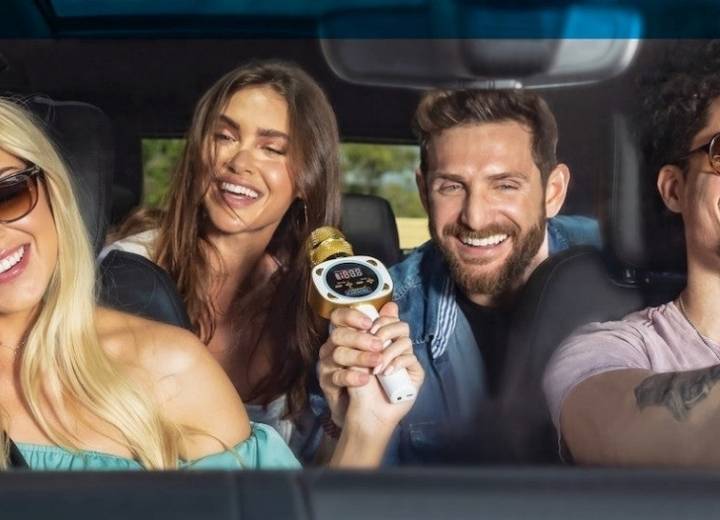 Singing karaoke is so much fun, especially when you can have a fun time anywhere. Some people try singing right in their car.
Just imagine how amazing it is to enjoy yourself in music while traveling on a beautiful road. So, how to set up karaoke in car for such a wonderful experience?
The whole setup process is simple since you can utilize the audio system on your car as a karaoke machine. You just need to prepare a high-quality mic, competent karaoke software, a strong internet connection to perform.
What Do You Need For A Karaoke Setup In Car?
Setting a karaoke system in your car is quite simple. You can take advantage of the audio system in your vehicle.
Since the audio player acts as the speaker and mixer, you must prepare the microphone and karaoke software. If you choose to access the tracks via the internet, the karaoke software isn't necessary. 
#1. Microphone 
You may have tons of choices for the microphone. However, when it comes to karaoke in cars, professionals think of the Carpool microphone first.
With Carpool, you'll have multiple choices for radio stations. You may also use an auxiliary cord or Bluetooth to connect to your phone.
You may also increase the volume and add echo effects with the assistance of the Carpool mic.
#2. Karaoke software
Karafun, Sing Song, and Kanto appear to be the most popular karaoke software these days. 
On the other hand, accessing Youtube or Spotify enables you to choose from unlimited track sources. Going for this option seems to be more straightforward. 
How To Setup Karaoke In Car?
Here is how to get your car ready for karaoke:
Connect your mic to the vehicle's audio system. According to the model, you may need to utilize Bluetooth or the AUX lead.

Use Bluetooth to synchronize your mic to your phone.

Access Youtube or use karaoke software to find the tracks.

Use the mic or the audio settings in your car to change the volume of the vocals and audio.
You can learn more about the setup method for car karaoke right here.
Playlist For Singing Karaoke In Car
If you want your party in your car to be more fun, try something interesting. Here are our recommendations on the song selection:
Don't stop believing

: This song is a classic option, but it never gets old. Everybody in the car will sing along with you for sure. The song even has two separate parts for girls and boys to try duet karaoke.

Shake it off

: Let the top hit shake your party. The repetition part can boost the mood of the party to the highest level.

Uptown funk

: Everyone may start to dance when they hear the first notes of this song. It must be the best song ever for your weekends. Don't believe me? Just watch!

Closer:

No matter where you are driving to, you will feel the sea breeze blowing on your face when you play this music. 

Firework

: Try some high notes to challenge your ability and be ready to shine like a firework too.

22

: Every catchy song can match the atmosphere in your car. "22" is an outstanding example of this type.

Bad romance:

Lady Gaga's songs are also suitable for having fun with friends. 

Love yourself

: Some blues may work for your mood if you're driving on a rainy day. This song by Justin Bieber doesn't require any high notes. You can totally get into the soft melody while singing at ease.

Run the world

: Nothing can beat Beyonce's hit when it comes to having fun with your girls. Be ready to run the world, girls!

Wannabe

: This song never fails at getting everybody excited. You may need at least two vocalists to perform because of some overlapping parts in the music.
Things To Note When Singing Karaoke In Car
It's okay if you sing when the car isn't working. However, when you're driving, there are some notifications you should know.
If the police officer asks you to pull over for playing the music too loudly, you might face a hefty fine.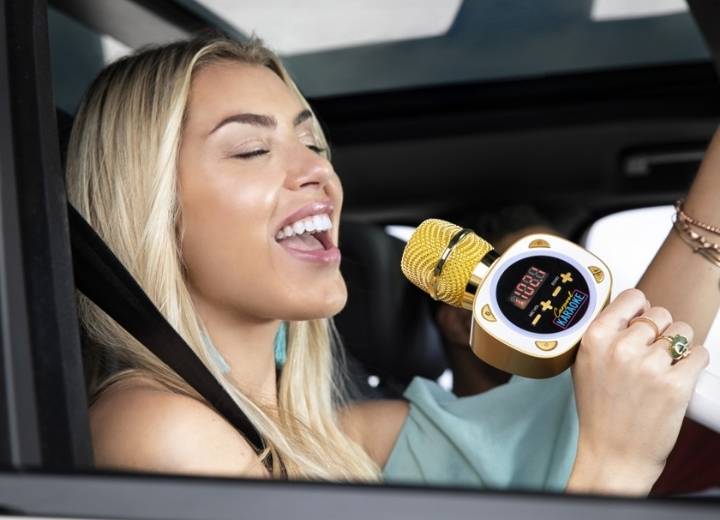 In most situations, he will give you a warning for the first time. However, if you regularly play too loud music from your vehicle, you may receive a fine and penalty points on your license.
Besides state bans on listening to loud music, local council officials may have their regulations concerning noise pollution in their regions, resulting in even more fines.
It's not just about avoiding penalties that you should stop playing loud music while driving. 
You can't even hear what's happening around you if you're listening to loud music. For example, you can't hear the brakes of a motorist making a sudden stop ahead of you. And, you can't control your vehicle, resulting in an unavoidable catastrophe.
How To Avoid Accidents While Singing Karaoke In Car?
You should set a suitable volume level for your audio. Avoid turning up the volume to the point that you can't hear the sound of traffic.
Keeping your eyes on the road is a must. When you're singing or even dancing, you're not paying attention to the road. Maintain your concentration on the road and, more significantly, on the driving at hand.
It would be best if you prepared a playlist ahead of time. Some of the most problematic music-related driving distractions include selecting the songs.
Luckily, you can altogether avoid these dangers by using Bluetooth and audio streaming apps or albums on your phone before getting in a car.
What makes you beautiful: This song is suitable for every party. It will surely help you stay awake during a long road.
Frequently Asked Questions
People still have some concerns regarding karaoke set up in cars. Let's discuss their questions a little bit. 
#1. Is it possible to pair up a karaoke mic to my car?
Bluetooth or an Aux cable can help to connect a karaoke mic to an automobile. Some microphones enable you to listen to the radio through FM, typically via Bluetooth. 
#2. How can I use the Carpool karaoke mic in my car?
The process of utilizing a Carpool mic for karaoke is just like that of a regular karaoke set up in a car.
First, you need to connect the mic via Bluetooth or an Aux lead.

Then, identify an FM channel on the car radio without a signal.

Turn the mic on and choose the right station on the FM button.

Pair the mic with your phone via Bluetooth.

Access Youtube or use the karaoke software on your phone to play the track.

It's time to sing.
#3. Is it possible to use the Carpool mic outside of the car?
Yes. It can work well even out of the car as long as you connect the Carpool to a radio.
#4. Is it illegal to sing in a car?
We have some regulations about playing too loud music when driving. The sound may get you distracted from your road. However, if you set the volume at a reasonable rate, you can sing. Remember to pay more attention to your driving than your song.
Conclusion
Singing karaoke in car is an exciting experience that everyone should try. With an excellent mic, you can totally turn your car into a karaoke party.
However, don't immerse yourself in fun and forget that you're driving. Keep in mind our suggestions to avoid unwanted incidents during your karaoke session.
Hopefully, you will find this article helpful. If you have any questions, please feel free to ask. Thank you for reading!