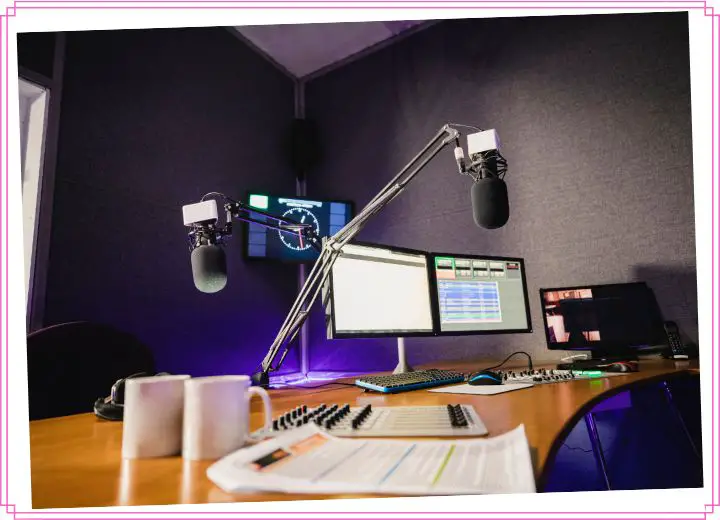 It is normal practice for artists to generate audio recordings with the help of digital audio workstation (DAW) software in this day and age of digital music production.
Some of the most successful recordings of the twenty-first century have been powered by digital audio workstations (DAW) applications like Pro Tools, Logic Pro X, and Ableton Live.
What Is DAW (Digital Audio Workstation)?
A digital audio workstation, sometimes known as a DAW, is a piece of music production software that may be installed on a personal computer and used to record audio.
The Digital Audio Workstation (DAW) software is compatible with Mac and Windows operating systems.
Functions
Edit sound: DAW for PC allows users to record and playback several songs simultaneously. You can move audio waves like text in a word processor. Muted tracks can be crossfaded.
Virtualize instruments: MIDI commands operate virtual instruments that mimic acoustic instruments, including the piano, violin, cello, clarinet, guitar, bass, and drums. MIDI keyboards control virtual instruments. MIDI keyboards can operate non-acoustic synths.
Try audio effects: Digital audio workstations allow audio effect processing. DAWs typically include delay, reverb, tremolo, compression, EQ, and echo.
What Apps Do I Need To Record Music At Home?
Now that you know what to look for in a digital audio workstation (DAW), let's look at some of the best software for music production and recording.
The following is an essential list of the 10 best music software currently available.
#1. GarageBand
What is the best app for recording studios? At this point, GarageBand has all but become a household name.
More than virtually any other piece of music software, Apple's free DAW has contributed to the democratization of music production.
Price: Free
#2. Logic Pro
It's a fantastic DAW PC app that adopts Garageband's user-friendly design ethos. If you begin with Garageband, you'll enjoy Logic Pro very much.
Since Apple launched an amazing array of integrated plugins and impressive flex time and pitch features, Logic has succeeded as a one-stop shop for audio production.
Price: $199 US
#3. Bitwig Studio 4
After a lengthy testing phase, a group of former Ableton developers introduced Bitwig Studio in 2014 as the best music software.
Bitwig is a great alternative for any creative, thanks to its distinctive modulation capabilities, good hardware integration, and songwriting-friendly features.
When in the studio, it is essential to avoid calls so that they don't interrupt you during the recording, but what if it's an important call?
The best solution is to have a software Call Recorder so that you can record calls and listen to them after recording the music in the studio. A call recording app makes it easier to remember and take conversation notes.
Price: $399 US
#5. REAPER
What is the best free recording studio app?
The WinAmp audio player, Gnutella peer-to-peer network, and REAPER (Rapid Environment for Audio Production, Engineering, and Recording) are all products of the same developers.
It is a robust, all-encompassing, and adaptive DAW that makes no engineering concessions.
Price: $60 US following a free trial.
#6. Pro Tools
The industry-standard DAW is Pro Tools. Pro Tools shines at every step of the traditional recording process because it was built for it in a studio environment.
Professional engineers adore it because of the quick editing and excellent mixing environment.
Price: $79.99 US payable per month
#7. Ableton Live 11
For a very considerable amount of time, Ableton Live has held the position of being widely regarded as the most effective music production instrument for musicians.
Because of Ableton's cutting-edge session view, which makes it easy to try out loops and combine ideas, the program has quickly become a favorite among electronic music producers and one of the best software for music production.
Price: $469 US
#8. FL Studio 20
FL Studio, formerly known as Fruity Loops, is a favorite among hip-hop and electronic music producers due to its intuitive user interfaces, making it possible to generate tracks very instantly.
Many electronic music producers started with FL Studio, where they learned how to create loops and grooves, which they continue to use today.
Price: $260
#9. Audacity
The recording program Audacity was introduced as a free option in 2009. Virtual instruments like VST synths cannot be used because they don't record MIDI, and plugin effects must be destructively offline.
Price: Free
#10. Steinberg Cubase 11
One of the first DAW for PC to be sold commercially was Steinberg's Cubase, which continues to have a large user base.
The most recent edition of the program, Cubase 11, is equipped with all of the features that are required to create a track that is of professional quality.
Price: $878 US
#11. Studio One 5
Studio One 5 is the most up-to-date version of PreSonus's digital audio workstation (DAW) product.
Even though Studio One is one of the more recently released DAW for PC systems on the market, PreSonus has ensured that Studio One 5 contains all of the advancements made to the platform since it was first introduced.
Price: $399 US
FAQs On Home Recording
Below here is common questions and answers related to Home Recording Studio.
1. How are the recording rooms arranged?
The control room, vocal booth, and live recording room are connected. The guitar isolation room can be used to isolate guitar or bass amps from the drums.
So everyone can be together, and amps can be wired into the live room. Windows connect the vocal booth, control room, and guitar room to the live room.
2. How does recording act?
When performers use a microphone, their sound is transformed into electricity, which travels down the cable and back into the headphones.
The computer or tape recorder captures the sound emanating from the microphone, and the artist listens to it while wearing headphones.
We replay the sound recording once it has been made and assess its quality.
3. How can a recording facility make profits?
To ensure pricing transparency, apply the same fee to everyone, including individuals, bands, non-profits, and corporate bodies. Whether a minor project or a significant milestone.
4. How were your recording studio facilities built?
A recording studio's layout and acoustics are just as important as its hardware and wiring. Acoustic treatments, using various materials to absorb or reflect sound, are common in recording studios.
Absorption occurs when soft, absorbing materials are employed; diffusion occurs when hard, reflecting surfaces are used.
5. Cost of studio time?
This location's recording studio rates normally start at roughly $50/hr. Customers pay varying prices for different service levels. Spending too much time wastes money.
Conclusion
DAW for PC software has made creation accessible and simple at home or in a professional setting. There is no justification for not generating every day, given the variety of apps available.
There is probably a DAW out there that can help you whether you're wondering how to record music better, how to edit music better, or how to mix music.
Get out there and start looking for the DAW of your dreams now that you know your alternatives.