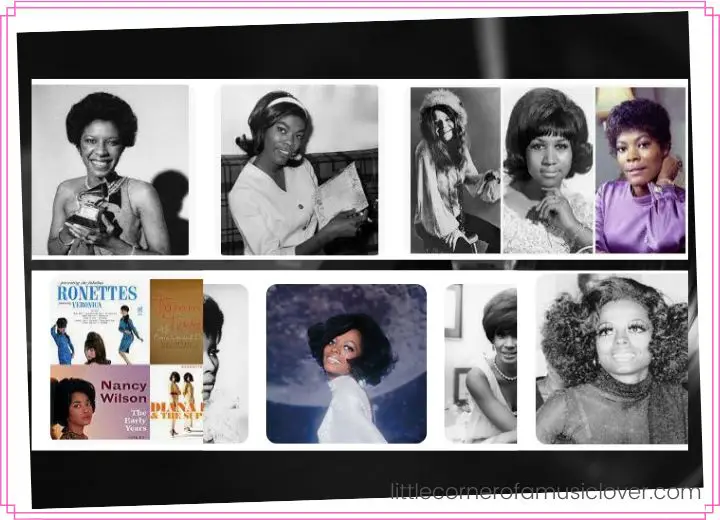 The 1960s and 1970s were a time of groundbreaking music, masterminded by some of the most talented black female singers in history. From Aretha Franklin to Chaka Khan, these women left an indelible mark on the world of music.
Explore the soulful sounds of popular and famous Black Female Singers from the 60s and 70s! Get the details on these talented artists and listen to their classic hits right below.
1. Aretha Franklin – Queen of Soul
Aretha Franklin was one of the most iconic black solo singers of the 70s. Known for her incredible vocal range and powerful, soulful singing style, she was an integral part of the Motown sound.
Her powerful songs like "Respect," "Think" and "I Say a Little Prayer" inspired generations of future vocalists and songwriters.
She was also a pioneer in bringing R&B to mainstream audiences, with her unique blend of jazz, gospel, soul, and blues in her music.
She has since been honored with multiple Grammy Awards and other prestigious awards throughout her illustrious career. Her legacy is still remembered today as one of the greatest musicians ever to grace the stage.
2. Ella Fitzgerald
Ella Fitzgerald was one of the most influential black female singers of the 1960s. A legendary jazz vocalist and songwriter, she is renowned for her technical mastery and emotional expression which made her an icon.
Throughout her career, she created a unique improvisational style while creating more than 200 albums in various genres including pop, country, and classical music.
She also won numerous awards including 13 Grammy Awards as well as a Grammy Lifetime Achievement Award in 1967, making her the first African-American woman to earn such an accolade.
Furthermore, she had countless other honors bestowed upon her including being inducted into both the Rock & Roll Hall of Fame and Jazz Hall of Fame.
Ella Fitzgerald's incomparable talent will forever be remembered not just as a pioneering force in jazz but also as a leader for female artists everywhere who fight to make their dreams come true against all odds.
3. Nina Simone
Nina Simone was an iconic black female singer in the 1960s who blended elements of classical, jazz, blues, and folk in her music.
She was a major figure in the civil rights movement, frequently addressing social issues such as racism through her songs. Her powerful vocals coupled with her thoughtful lyrics made her a well-respected artist.
The diversity of her repertoire included soulful ballads, traditional spirituals, catchy pop songs, and even protest songs that inspired people to take action against oppressive forces.
Even today Nina Simone's music continues to move people with its message of hope and justice for all people regardless of race or class.
4. Diana Ross – Queen of Motown
Diana Ross was one of the defining black female singers of the 1960s. Her passionate, powerful vocals were beloved by fans of all ages and genres, from R&B to pop.
She rose to fame as the lead singer of the Supremes and the most successful girl success as a solo artist. Some hits included such as "Ain't No Mountain High Enough," "I'm Coming Out," and "Endless Love."
She continued making records into the 21st century, earning accolades for her tireless contributions to music and popular culture along the way.
5. Tina Turner – Queen of Rock
Tina Turner is one of the most iconic black female singers of the 1960s. She become famous and quickly captured the attention of fans with her powerful and energetic performances.
With a mix of soul, rhythm, blues, and rock n' roll tunes, Tina created an instantly recognizable pop culture legacy that continues to influence music today.
Her singles such as "River Deep – Mountain High", "Proud Mary" and "Nutbush City Limits" are staples in any classical music collection and have been covered by many artists since their original release.
Throughout her career, Tina has won numerous awards for both music and philanthropy including 11 Grammies, a Golden Globe Award for Best Actress in a Musical or Comedy, an Emmy Award for Outstanding Performance in a Variety/Music Program or Series, and Kennedy Center Honors in 2005.
She continues to have an impact on popular culture today as an inspiration to up-and-coming female singers while also championing social causes such as racial justice.
6. Donna Summer – Queen of Disco
Donna Summer was an iconic black female singer in the 1960s. She released countless successful singles, including several that topped the Billboard Hot 100, such as "Love to Love You Baby," "Hot Stuff" and "Bad Girls."
She was a five-time Grammy Award winner and is considered one of the most influential singers of her time.
She became known for her mesmerizing vocals, putting a mix of funk, R&B, and disco into her music. Her powerful voice was also a key factor in making her an important part of dance culture in the 70s and 80s.
Donna Summer's songs have been covered by many other artists over the years, proving that she was truly one of the greatest vocalists of her generation.
7. Gloria Gaynor
Gloria Gaynor is an iconic black female singer from the 1960s who has become one of the most beloved figures in disco and soul music.
She rose to fame in 1978 with her mega-hit single, "I Will Survive," which became a global anthem for female empowerment.
Born Gloria Fowles in 1949, she began her career as a session singer before signing to Columbia Records and releasing her first album, Experience Gloria Gaynor, in 1974.
Throughout the '70s and '80s, she maintained a presence on the charts with hits such as "Never Can Say Goodbye," "Let Me Know (I Have A Right)," and "We Belong Together."
Her wide-reaching influence has seen her honored with two Grammy Awards, inducted into the Dance Music Hall of Fame, and made an honorary Doctor of Humane Letters by Mercy College.
8. Mary Wells
Mary Wells, one of the most iconic 60s black female singers, rose to fame with hit singles like "My Guy," "You Beat Me To The Punch," and "Two Lovers."
During her short-lived career, she earned international acclaim for her soulful voice and sharp stage presence. She was the first Motown artist to gain mainstream success with white audiences, laying the groundwork for future female African-American performers.
Mary Wells continued to tour extensively throughout North America until her death in 1992.
Today, Mary Wells remains remembered as an important figure in 20th-century music history who helped break barriers between musical genres and racial lines.
9. Tammi Terrell
Tammi Terrell was an iconic black female singer of the 60s and 70s who made a huge impact on the music industry.
Alongside Marvin Gaye (one of the most influential black male singers of the 60s and 70s), she created many classic hits such as "Ain't No Mountain High Enough," "Your Precious Love," and "Ain't Nothing Like the Real Thing."
Born in Philadelphia in 1945, Terrell started as a backup singer for acts like James Brown before signing with Motown and embarking on her own solo career.
Throughout her career, she earned three Grammy nominations and released five studio albums, helping to establish her place amongst some of the biggest female artists of that era.
Her incredible contralto voice and powerful stage presence made her a favorite among fans everywhere.
Sadly, Terrell passed away due to complications from a brain tumor in 1970 at age 24, but she will forever be remembered for her immense talent and timeless contributions to soul music.
10. Martha Reeves
Martha Reeves is an iconic black female singer from the 60s and 70s whose music has remained popular to this day.
Her hit singles "Heat Wave", "Jimmy Mack" and "Dancing in the Street" have become some of the most iconic songs of the era.
She started her career as part of the Motown group Martha and The Vandellas, releasing many hits that were big on the US R&B Charts and gaining popularity around the world.
When she left, she continued a successful solo career with her band Martha Reeves & The Vandellas until their disbandment in 1973.
In 1999 she was inducted into The Rock And Roll Hall Of Fame for her role in pioneering the soul and R&B music scene. Her influence continues to be seen today.
11. Ronnie Spector
Ronnie Spector is an iconic black female singer from the 1960s and 70s who gained fame with her singing group The Ronettes.
Her powerful vocal range and ability to convey emotion in her songwriting made her stand out. She was one of the first African American women to have mainstream success with hit songs such as "Be My Baby" and "Walking in the Rain".
Her influence on popular culture is evident through later music genres, such as punk and new wave, where she continued to have a great impact with collaborations with bands like Ramones, Alice Cooper's Hollywood Vampires, and Eddie Money.
Ronnie Spector is truly a pioneer for both female musicians and black female singers of the 60s and 70s.
12. Dionne Warwick – Queen of Smooth Pop
Dionne Warwick, an iconic black female singer from the 1960s and 1970s, achieved success in both pop and soul music.
She rose to fame with her early hits such as "Don't Make Me Over" and "Walk on By", showcasing her soulful yet versatile vocal style.
Her albums produced numerous hit singles including "I Say a Little Prayer" (1967) and "Alfie"(1966).
She was especially noted for her collaborations with Burt Bacharach and Hal David which included many modern classics such as "What The World Needs Now Is Love" (1965), "Do You Know the Way to San Jose" (1968), " Message To Michael" (1966), and "Always Something There To Remind Me" (1968).
Moreover, she had an active role in civil rights activism. In 1965, she performed at the legendary March
on Washington alongside other black musicians who advocated for civil rights equality.
13. Nancy Wilson
Nancy Wilson is one of the most influential black female singers of the 1960s. She has released countless albums and singles that have gone on to become classics.
Her music was a blend of jazz, blues, and soul, and her distinct voice made her stand out among other artists of the era. From ballads like "I Wish You Love" to up-tempo numbers like "How Glad I Am",
Nancy Wilson entranced audiences with her impeccable vocal range.
Her success spread far beyond the US, she gained international acclaim for her album Butterfly in 1965, which became an instant classic.
Even today, Nancy's music continues to inspire generations with its timeless appeal.
14. Patti Labelle – Godmother of Soul
Patti LaBelle, born Patricia Louise Holt in 1944, is an iconic American singer, songwriter, actress, and entrepreneur. She rose to fame as the lead singer of the successful 1960s black female group Labelle and released her debut solo album in 1977.
Her unique style brought together elements of soul, funk, and gospel into her music, creating a powerful fusion that has endured for generations and making her one of the most influential figures in R&B.
Throughout her career, she has won multiple awards including a Grammy Lifetime Achievement Award and President Obama's Presidential Medal of Freedom.
Her influence extended beyond music, with a whole generation of women inspired by her fashion choices which blended glamour with professionalism. Today LaBelle continues singing and enjoying success across many platforms due to her timeless talent.
15. Gladys Knight – Queen of Soul
Gladys Knight, a famous black singer of the 1960s and 70s, burst onto the music scene with her 1967 debut album "I Heard It Through the Grapevine".
Her soulful voice was immediately embraced by both critics and fans alike; soon after its release, she became one of the first African American women to cross over into mainstream success.
From then on, her career flourished; she released a total of 15 studio albums in her heyday, solidifying her status as one of the most influential singers of that era. While Knight is best known for hits like "Midnight Train to Georgia" and "I Feel a Song (In My Heart)", she has also earned numerous awards throughout her distinguished career.
In 1996 she was inducted into the Rock & Roll Hall of Fame with The Pips. In 2007 she won a Grammy for Best Gospel Performance for her tribute album to gospel music icon Mahalia Jackson.
With such an illustrious career spanning more than fifty years and still going strong today, Gladys Knight is undoubtedly one of the greatest black singers from the 60s and 70s.
16. Chaka Khan – Queen of Funk
Chaka Khan is one of the most iconic singers of the 60s and 70s, credited with bringing funk to the mainstream.
An icon of black music during this time, she rose to fame in 1974 with her band Rufus, who released hit singles such as "Tell Me Something Good" and "Ain't Nobody."
Her solo career flourished in the 80s and 90s producing timeless classics such as "I Feel For You" and "Through The Fire." A ten-time Grammy Award winner, Chaka Khan has sold an estimated 70 million records worldwide making her one of the best-selling artists of all time.
She is famed for her powerful voice, which has been compared to a force of nature; Rolling Stone magazine described her vocals as "the epitome of soul at its most passionate".
Such innovation led to Khan being referred to by many titles over the years, "Queen Of Funk" being just one example.
17. Roberta Flack – R&B/Jazz Legend
Roberta Flack is an R&B/Jazz legend who emerged in the 1960s and 70s. An African American female pioneer, she was one of the first singers to bridge the gap between jazz and soul, creating her own unique sound that has been admired and imitated for decades.
She released several classic records over her career, including Killing Me Softly with His Song which topped the US Billboard Hot 100 chart, and two of her albums, First Take (1972) and Killing Me Softly (1973), have been certified Platinum by the Recording Industry Association of America.
She has won four Grammy awards in her lifetime, including Record of the Year for "The First Time Ever I Saw Your Face", Album of the Year for Quiet Fire (1971), Best Pop Vocal Performance Female for "Killing Me Softly with His Song" and Best R&B Vocal Performance Female also for "Killing Me Softly with His Song".
In addition to her musical successes, she has earned considerable respect as an advocate for civil rights throughout her long career. Roberta Flack remains a major influence on contemporary music today.
18. Natalie Cole – R&B/Jazz Legend
Natalie Cole (1950–2015) was an iconic R&B/Jazz singer who rose to prominence as one of the leading black singers in the 1960s and 1970s.
She is best remembered for her Grammy Award-winning album Unforgettable, which featured a duet with her late father Nat King Cole, as well as her Top 10 hits "This Will Be (An Everlasting Love)", "Our Love" and "Inseparable".
Throughout her career, she won nine Grammy awards, including Best Album of the Year for Unforgettable, and was inducted into both the Hollywood Walk of Fame in 1993 and The Apollo Hall of Fame in 2006.
In addition to being a celebrated vocalist, Cole was also a noted humanitarian who did philanthropic work throughout her career.
Her legacy will live on through her music and the impact that she had on generations to come.
19. Minnie Riperton – Queen of the Whistle Register
Minnie Riperton was an iconic black singer of the 60s and 70s who was best known as the "Queen of the Whistle Register" due to her incredible five-octave range.
She rose to fame in the mid-1960s with her bands Rotary Connection and Rotary Connection II before embarking on a successful solo career beginning in 1969.
Her biggest hit, 1975's number one single "Lovin' You," showcased her exquisite whistle register technique while featuring a rare love song that had no lyrics but only vocal sounds.
She released several other Top 40 singles throughout the 70s and early 80s, including "Inside My Love" and "Memory Lane," and continues to dazzle audiences with her unparalleled vocal range until she passed away from cancer in 1979 at just 31 years old.
FAQs
Here are some questions and answers about black female singers from the 60s and 70s:
Who was the first female R&B singer?
Rosa G. Henderson (1887–1936) is recognized as the first female R&B singer. She was a vaudeville performer and songwriter who recorded her trailblazing "Crazy Blues" record in 1920 at age 33, launching the genre of rhythm and blues.
Who is the best female vocalist in history?
It is impossible to name one, as there have been many female vocalists across different genres who have left a lasting impact on the music world.
Some of the top contenders include Whitney Houston, Aretha Franklin, Billie Holiday, and Ella Fitzgerald, among others.
Who is the biggest black female singer?
The biggest black female singer is Beyoncé and Rihanna.
Beyoncé has won 23 Grammy Awards and sold over 100 million records worldwide. She is recognized as one of the most influential artists in modern music.
Rihanna's career began in 2005 with her debut album Music of the Sun and she has since released hits like "Umbrella," "We Found Love," and "Diamonds." She has won a total of nine Grammy awards and Billboard named her the Digital Songs Artist of the Decade.
Conclusion
The 1960s and 70s saw an incredible explosion of talent in black female singers. From Aretha Franklin to Diana Ross to Gladys Knight, the musical landscape was forever changed.
The influence of these remarkable women on the music industry still continues today, and their legacy will last for generations to come.