Can you get karaoke on Netflix? The answer is yes. Netflix gives you karaoke interfaces with available lyrics in the form of videos and even interesting TV karaoke shows.
But what exactly are you looking for? You want to know how those TV shows work, or you simply want to sing along to interesting karaoke video platforms on the Netflix interface. Let's take a look at the details of the article.
Can You Get Karaoke On Netflix, Does Netflix Have Karaoke!
Talking about the recent Netflix application, there is no need to argue about its growth rate. From an interface mainly serving users for movies, it now has both karaoke features, and reality TV karaoke shows worth watching!
#1. Interesting Karaoke Videos
There is a lot of information about Netflix that supports the karaoke interface. However, the difficulty here is that they do not tell us what they are looking for.
You need to know that these interfaces are very simple karaoke videos but have an eye-catching design. 
They often wear titles with large song titles in an easy-to-see position. And of course, there is information about the interface name of that video series.
The biggest interface name here collaborating with Netflix is ​​Netflix Features with the hit series Karaoke Sing-Along Song. Young people, even adults mostly love videos of this type.
The reason is that they are easy to sing when the lyrics and music will combine at the same time to support the user to sing along. Not to mention the design of the video in animated form is extremely cute and interesting.
If you have gotten interested in singing like this, fortunately, Netflix aims to constantly update new songs for us. Just enjoy the fun in front of you with the videos available with your friends or family.
#2. Reality Tv Karaoke Show
One of the latest music services that Netflix has invested in recently is the actual karaoke exchange program. And the most popular program right now is Sing On.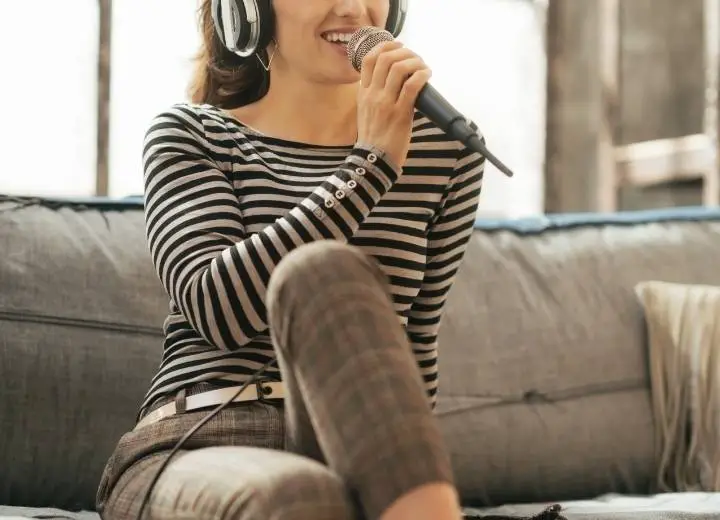 Talk a little bit about this program. This program is a bonus game show with players who will participate in a competitive game. The program's content is purely for entertainment, but the effect it brings will ensure to bring you more.
The things that you get when you watch it are fun, entertainment, and bonuses (if you're lucky). Although in fact, you do not directly sing karaoke on this show because you are not a player, you can become a reviewer for the show.
More specifically, because your satisfaction will affect the quality of the program's audience service. 
You can also be an interactive judge while voting for contestants at home. Therefore, while the competition is going on, you are part of the karaoke show.
Plus, while you watch the show, you can sing along to your favorite song. You can also download the program to mp3 format to watch the song again. 
You can register and become a contestant on your own Netflix interface at home and wait for the opportunity to appear on TV like everyone else. It's interesting, isn't it?
Tips To Make Karaoke On Netflix More Fun!
Because the specific nature of the karaoke application on Netflix is ​​different from other interfaces, you need to know how to make your karaoke sessions more interesting!

#1. Make Sure Netflix Is ​​at Its Best
First of all, you must make sure to subscribe to Netflix every month to use it at its best. While you use it, the signal transmission will determine the quality of your fun, more or less. 
#2. List of Favorite Songs
But besides that, you need to spend a little time filtering out a list of your favorite songs or find an interesting song on the interface. 
Don't worry. You can do this with someone who shares your interests by inviting them to sing along with you for fun!
#3. Use Karaoke Connections Such As Speakers, Mic
If possible, you can connect external devices such as speakers or mics to take your vocals to the next level. This thing will make your singing interesting and your fun more complete.
#4. Re-recording
If you are watching your favorite karaoke show and its songs are amazing, you should also record it to enjoy it slowly. 
It's a good idea to download as mp3 if possible, or the recording mode is a great solution. Of course, if you want to have more fun, you should have more people to enjoy the fun with you!
#5. Enjoy The Feeling Of Singing Karaoke With Many People
What you are looking for can be friends or companions in the fun. You can easily double your singing fun by inviting more friends or family to enjoy interesting videos or karaoke shows that are worth it!
#6. Some Fast Food And Soft Drinks
It may seem confusing and bizarre, but adding some fast food while singing karaoke is fun. This is like adding joy and energy to us to make the fun more complete.
Conclusion
Can you get karaoke on Netflix? Does Netflix have karaoke? We have many ways to enjoy karaoke on the Netflix platform.
But to make the fun complete, each person needs to prepare for themselves what they need and like in a certain way. 
Thank you for reading!