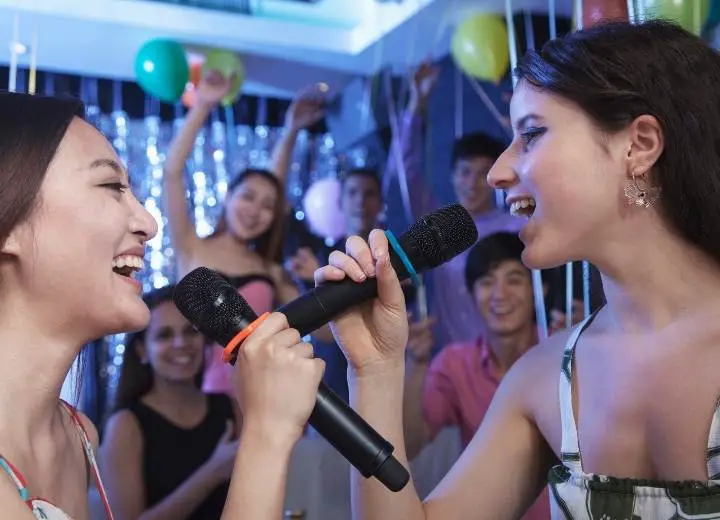 Currently, due to the development of technology, you have many choices for karaoke. There are a lot of karaoke machines with different models and designs. On the other hand, you can choose karaoke on YouTube. 
Singing with YouTube is a budget option because karaoke videos on YouTube are free. But it requires an internet connection and the image and audio quality is not good.
Karaoke machines are more expensive. But they provide high-quality karaoke videos. Moreover, you don't need an internet connection to sing with karaoke machines. 
Today, let's learn more about the pros and cons of these two karaoke options. Then you can decide which one is more suitable for you.
Singing With YouTube Overview
In our 4.0 era, most transceiver devices have an internet connection and pre-installed YouTube. These devices include smart TV, smartphone, tablet, laptops, or cheap android boxes. 
In addition to comedies, short films, music videos, YouTube also provides a lot of karaoke videos. These videos have various contents updated regularly by thousands of YouTubers. Therefore, many people choose to sing with YouTube.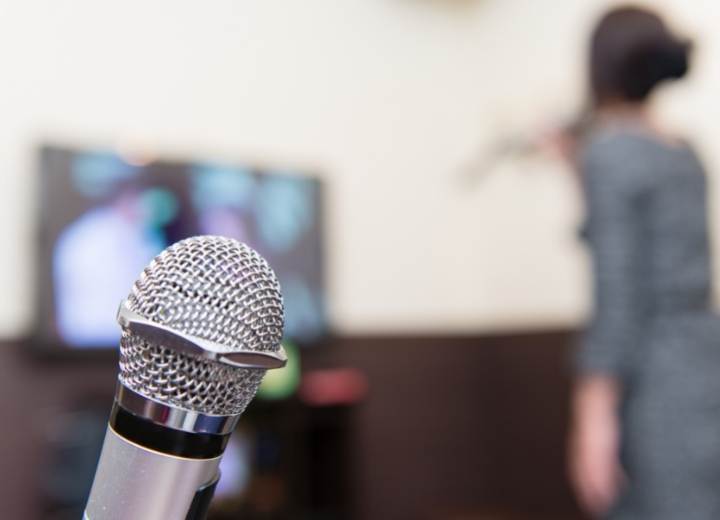 Advantages and disadvantages of singing with YouTube
Below are the advantages and disadvantages of singing with YouTube. You can consider these aspects to see if this option is suitable for you. 
#1. Advantages
Singing with YouTube is a budget-friendly karaoke option. All the karaoke videos available on YouTube are free. 
As long as you install YouTube on your device, you can access these videos without spending a dime. 
Various content and updated songs
YouTube has thousands of users. They upload new karaoke songs every day, even every hour. Some hours after a singer releases a new music video, there will be a karaoke version of the song. 
So, you can easily find the latest and hottest songs to sing. All you have to do is typing the song's name on the search bar and add "karaoke". 
Versatile in taking advantage of your devices
As long as your smart device has an internet connection, you can sing karaoke on YouTube. If you have a smart TV you just need to open YouTube, choose songs, and sing. 
Besides, you can connect your smart devices to portable speakers or Bluetooth microphones. In this way, you can sing at any time and anywhere. 
#2. Disadvantages
Internet connection required
Because all karaoke songs are on YouTube's server, you must have an internet connection to access them. Sometimes, the internet connection is unstable and your karaoke may get interrupted.
Difficult to control the videos
If you sing on YouTube, one day, you may find that your favorite songs have disappeared. You can't do anything because you don't own them. The owner of videos on YouTube can delete their videos if they want. 
Although the karaoke songs on YouTube are free, you will have to see some advertisements. Advertisements appearing while you are singing will cause interruptions and this is annoying.
Poor quality of images and audios
To ensure a stable transmission speed, YouTube will compress the uploaded videos. Their maximum audio bitrate is only 118kps, which is 12 times lower than a CD's bitrate. So, the quality of karaoke songs on YouTube is not very good. 
Singing With Karaoke Machines Overview
A karaoke machine will provide you with everything you need for karaoke. This machine includes a mixer, microphones, speakers, and a screen to display lyrics.
Karaoke machines often come with a built-in song library with many karaoke songs. Some machines using CD players will have karaoke CDs.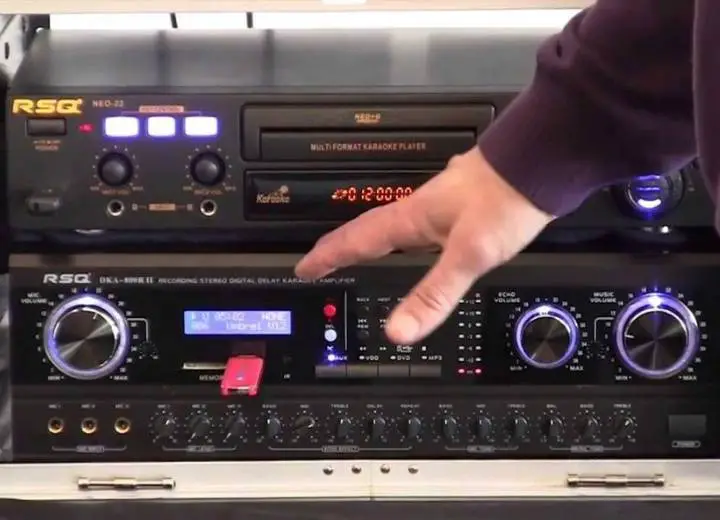 Advantages and Disadvantages of Karaoke Machines
Here are the pros and cons when you choose to sing with karaoke machines. 
#1. Advantages
High quality of audio and images
The manufacturer has bought the copyrights of songs for karaoke machines. So, they will have the best audio and image quality. 
No internet connection required
A karaoke machine doesn't require an internet connection to play the songs. It has all the songs located in the internal storage or CDs. Thus, you can sing without worrying about internet disconnection. 
Karaoke songs under control
As we mentioned above, karaoke machines have songs in their storage. So, you can sing your favorite songs as many times as you want. No third party can delete your videos except yourself. 
No interrupting advertisements
When you sing with a karaoke machine, there will be no advertisement interrupting you. Besides, some modern karaoke machines also allow you to choose songs from YouTube. You can sing them without annoying advertisements. 
#2. Disadvantage
Buying a karaoke machine will cost you much more than singing with YouTube. The higher the quality of karaoke machines, the higher their price. 
The songs of karaoke machines are offline songs. So, they are less updated than online songs on YouTube. Manufacturers also update new songs for karaoke machines, but it will take some days. You will have to download new playlists or buy new CDs to sing new songs.
Karaoke Machine vs YouTube Comparison
You can see the table below to know more about the difference between singing with karaoke machines and YouTube
| | | |
| --- | --- | --- |
|  Features | Karaoke machine | YouTube |
| Audio and image quality | High quality | Poor quality |
| Internet connection | Not required | Required |
| Songs control | Not depend on any third party | Depend on videos' owners |
| Advertisements | No advertisement | Many advertisements |
| Song updating | Less updated | More updated |
| Cost | Expensive | Free |
So, singing with YouTube is a good choice to save your budget and take advantage of your devices. If you want higher quality karaoke songs, you should choose karaoke machines.
Final Words
Above is our analysis of the pros and cons of singing with karaoke machines and YouTube. You can consider your needs and preferences to make a suitable choice. We hope that the provided information is useful for you. 
Thank you and see you in our next update!