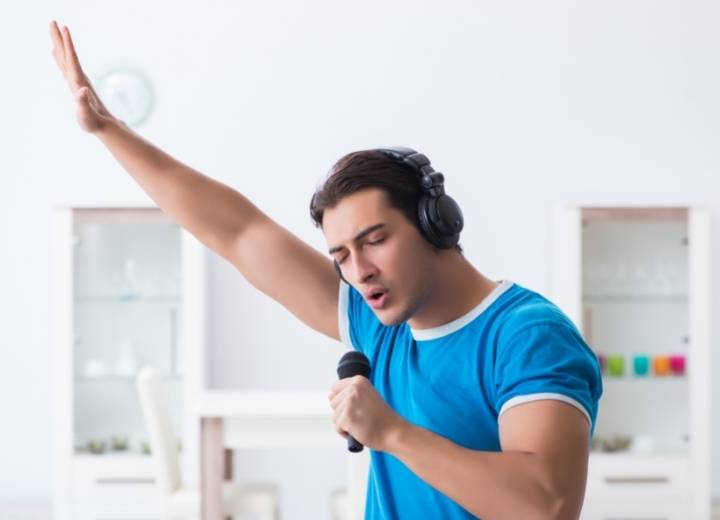 Karaoke is an enjoyable leisure activity with many benefits. With the development of technology, you can sing karaoke on many different devices. 
Can you get karaoke on PS4? The answer is yes. You can turn your PS4 into a karaoke machine and sing on YouTube or karaoke games.
Here we have a detailed guide for how to do karaoke on PS4. Let's explore together!
How Can You Get Karaoke On PS4? 
Your PlayStation can work as a karaoke machine to satisfy your passion for singing. You can follow the guide below to get karaoke on your PS4.
#1. Get YouTube or karaoke games

 
First, you need to install the YouTube app or get karaoke games on your PS4. There are many karaoke games you can pick for your console. We will give you some suggestions later in this post. 
For karaoke games, you just have to put the game on your PS4. If you don't have YouTube on your PlayStation, you can follow the steps below to install it. 
Step 1: On the Home Page, sign in to your PlayStation Network account. 
Step 2: Open the PlayStation Store and search for YouTube on the search bar.
Step 3: Click on the icon YouTube, then hit the Download button to download the app.
Step 4: After the downloading finishes, go back to the Home menu and find the TV &Video option. 
Step 5: In the TV & Video category, select the YouTube icon and launch it.
Step 6:

Sign in with your Google account to start using YouTube on your PS4. 
#2. Connect the microphone and speaker to your PS4
The next step is to set up some gear for karaoke. Microphones and speakers are indispensable items for a karaoke session. However, you need to pick the suitable ones to connect to your console. 
Microphones
Some PS4 karaoke games can allow users to use their phone as a mic. In this case, the game will require you to install an app to turn your phone into a mic.
To sing with YouTube on PS4, you will need a USB microphone. Follow the instructions below to hook up the microphone to your PS4. You can also consult the instructions in this video.
Step 1:

Plug the microphone into the console via a USB port.

Step 2

: Log in to your PlayStation Network account and navigate to "Settings". 

Step 3

: In the "Settings", choose the "Devices" option, then click on "Audio Devices".

Step 4

: Check if there is a "USB Microphone" in the "Input Device". 

Step 5

: Select the "Adjust Microphone Level" option, then speak to the mic. Adjust the input volume to the "Good" range.
Speakers
The easiest way to hook up the speaker to your PlayStation is to connect it through a TV. You can make the connection with the following steps. 
Step 1: Connect the speaker to the audio system of your TV. Set the TV on the audio output default.
Step 2: Hook up your PS4 to the TV with the HDMI cable
Step 3: On your PS4 Home page, log in to your account and select the "Devices" option in the "Settings" category.
Step 4: Go to the "Audio Device" and choose "TV or AV Amplifier" for the "Output Device".
Step 5: Speak to the microphone. If the connection is successful, you will hear the sound on the speaker.
Start singing
Now, it's time to belt out some tunes on your PS4. 
If you sing on YouTube, open the YouTube app on the PS4 and choose your favorite karaoke songs. For karaoke games, you need to put the game on the PS4 and start playing. 
Some Must-Try PS4 Karaoke Games
Playing karaoke games is also a way to perform karaoke on your PS4. Below are some PS4 karaoke games that you should give a try.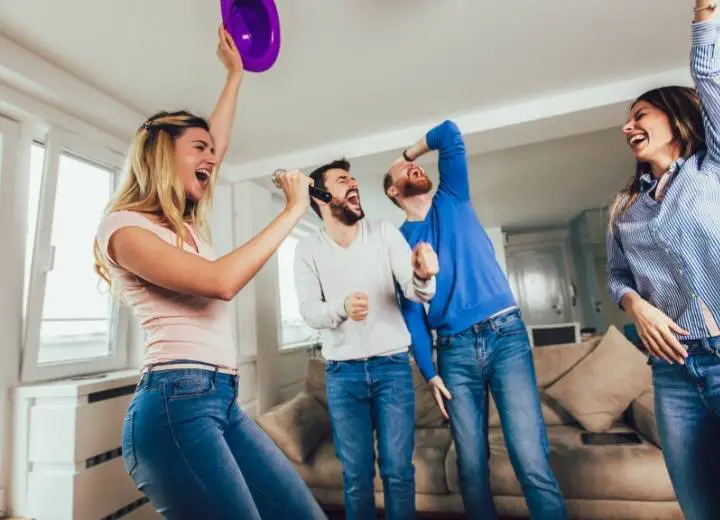 #1. Just Sing
Launched by Ubisoft in 2016, Just Sing has been on top of the most played karaoke games on PS4 for many years.
The game provides you with party mode and battle mode. In the party mode, the game will record your karaoke performance and score it. The battle mode will be more competitive as you will attend a singing contest with other users. 
You won't need a mic to play Just Sing on PS4. It comes with a free companion app that can transform your smartphone into a microphone. 
With Just Sing, you can perform like a star with many fantastic hits from famous singers. The game also allows you to record your performance to share online. 
#2. Let's Sing
The next karaoke game for PS4 you can't ignore is Let's Sing. In this game, you can sing your heart out with 35 hit songs by popular artists such as Lady Gaga or Ariana Grande. The tracks are all high-quality and licensed. 
You can sing by yourself or do a duet with your friends. Besides, there are many other game modes to have more fun. 
The Let's Sing game pack includes a USB microphone to connect to your PS4. 
#3. We Sing 2
We Sing 2 will bring you an authentic studio experience in a game. Six different game modes allow you to go solo or sing along with your friends. Up to 10 people can perform at the same time with We Sing 2. 
In this game, you can either plug in a USB mic or sing with your smartphone. We Sing Mic App is free to download and it will turn your phone into a microphone.
Conclusion
We hope that the provided information has answered the question "Can you get karaoke on PS4?". You can follow our guide to sing like a star with your game console. If you need any further information, don't hesitate to leave a comment.
Thank you for reading!