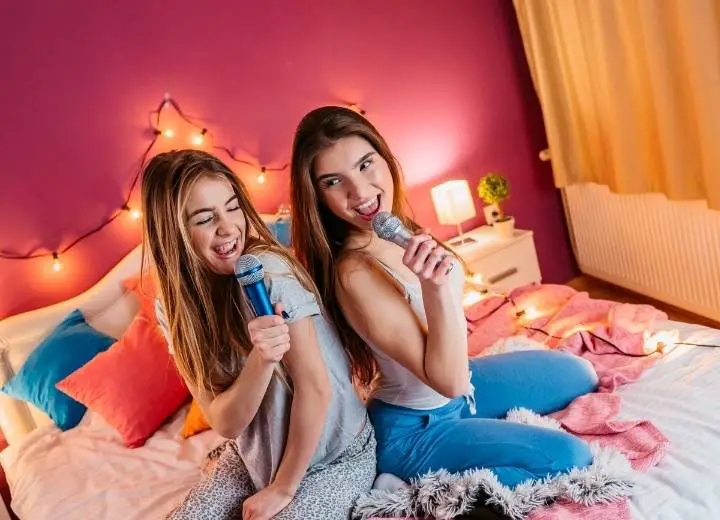 Currently, karaoke is a familiar activity for many people. Karaoke will be great if you have professional audio equipment.
However, with the development of current devices; you absolutely can karaoke without a machine. To learn more about karaoke without audio support; Please refer to the article below.
How To Karaoke Without A Machine
Currently, we have a lot of ways to karaoke without a machine. However, to help you complete the setup steps quickly and efficiently; We'll show you a few ways:
#1. Use the only speaker with a separate microphone and monitor
With this method, you do not have to prepare a lot of equipment for karaoke. With only simple tools, you can completely sing comfortably with a self-setup karaoke system.
In addition, we do not require you to have audio experience. If you are a person who is not very tech-savvy, you can still apply this approach to your karaoke system.
Prepare
With the above method, you only need to prepare the following devices: microphone, Bluetooth speaker, monitor.
The microphone is an extremely necessary tool when performing karaoke. Regarding the type of microphone, you can use wireless or wired microphones. However, we recommend using a wireless Bluetooth microphone for more convenience in the connection process.

As for the speakers, you can use your favorite type of speaker. The better the speaker quality, the better the sound will be. Choosing a Bluetooth speaker will make the connection process faster.

The last thing is the screen, you can consider between the phone screen or the computer screen. If your TV has a Bluetooth connection function with other devices, you can take advantage of that TV.
Conduct
Once you're done with the prep work, you can start connecting right away. The specific steps are to turn on the speaker, then connect the monitor's Bluetooth (phone, laptop, TV) to the speaker. Finally, click the microphone to the speaker and select the song.
Step 1:

You turn on your speaker then start the Bluetooth of the speaker. Remember the Bluetooth name to connect to the monitor.

Step 2:

Next, you open your desktop and select on settings. Then, go to the Bluetooth section and select the device name to connect. Normally, if you have finished linking to the speaker, the speaker will emit a beeping sound.

Step 3:

You open the microphone and connect the microphone to the speaker. If your speakers are already linked to the microphone, you don't need to do this step. To make sure the sound in the microphone can come out of the speaker, try speaking into the microphone first.

Step 4:

Finally, you access the screen and select the song. At this point, you can enjoy Karaoke comfortably.
#2. Use built-in microphones and monitors
With method 1, we see that the step is quite simple and fast, but that way is still not the quickest way. For more convenience, we will suggest method 2.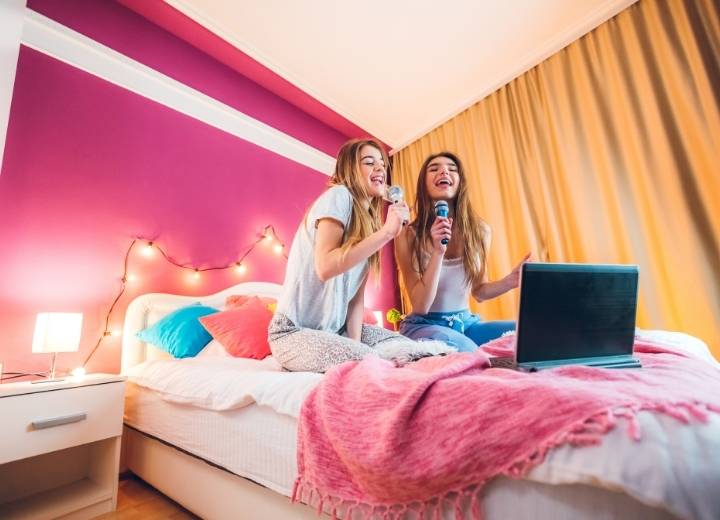 In this way, from preparation to execution is very simple. However, to do this requires you to have the same equipment as our guide. You can't pick a random device in your home, like a wired microphone or a separate speaker. Here are specific instructions.
Preparation
To set up karaoke in this way, you just need to prepare the screen and microphone with the speaker. Because the microphone and speaker have been combined, the setup is very convenient and fast.
The first thing is the screen. Similar to method 1, you can choose the screen of your phone, computer, or TV. The only requirement is that the display can link Bluetooth to another device. Please select a slightly larger screen to see the text when performing karaoke.

Second, there is a microphone attached to the speaker. This device is quite convenient and modern. Currently, this type of microphone is quite popular, so it is not difficult to buy. However, the speakers of this type are not as big as separate speakers, so they can only be suitable for home karaoke.
Conduct
Once everything is ready, you will proceed with the same steps as method 1. Here is the sequence of steps:
Step 1:

You start the microphone; now, the speaker also works. You don't need to take the extra step of opening the speaker. However, make sure the device is fully charged before karaoke.

Step 2:

Similarly, you open the Bluetooth mode of the microphone and remember the name of the device to connect to the screen. Usually, the name Bluetooth is the name of your microphone and speaker type.

Step 3:

To reduce the sound discomfort during karaoke; Please adjust the volume appropriately. Because, if the speaker combines with the microphone in the same device, it will be close to your ear when you sing. At that time, the high volume will cause discomfort.

Step 4:

You access the screen settings, select Bluetooth and connect with the name of the device. After the connection is complete, the speaker will also emit a sound to signal an access device.

Step 5:

Now, everything is done; you choose your favorite song and start karaoke.
In general, with the above two ways, you can still get karaoke without a machine or professional equipment support.
#3. Karaoke with Youtube
With Youtube, you can choose from many different karaoke songs. To access Youtube, you just need a phone, computer, or TV connected to the internet.
Youtube does not require you to have a professional karaoke system. So you can completely use karaoke to set yourself up at home to karaoke on youtube.
Advantages
Completely free: no additional service fees, service package purchase fees.

Variety: songs, themes, many good channels. In addition, many channels also have different versions of the instrument.

Convenience: almost every phone, computer, and TV have pre-installed, so you don't have to install it anymore.

Proximity: easy to use, suitable for many people, even those who are not tech-savvy.
Disadvantages
Some videos are not downloadable and require an internet connection.
With this method, you may need to set up some necessary equipment for the best experience. You can check this video for details.
#4. Karaoke with app
In addition to youtube, you can also access the karaoke application to choose your favorite songs. Similar to Youtube, the karaoke application also does not require you to have professional karaoke equipment.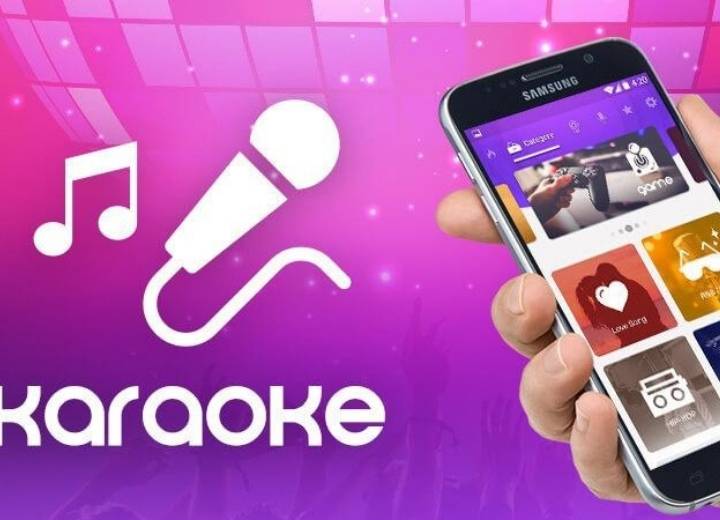 However, using the application when singing karaoke will also have its advantages and disadvantages. Here are a few things to know if you want to use a karaoke app:
Advantages
Professional: music, beats will be more professional on other social networking platforms.

Free in some apps: no subscription fees.

Easy to access and use: fewer steps to access, easy to search songs, switch songs.

Some applications do not require a network: the application may allow offline operation.

Various applications: here are some applications you can refer to Karaoke by Yokee Music, Sing! By Smule, The voice, iSing, karaoke Mode, karaoke anywhere,…
Disadvantages
Service fee in some applications: monthly subscription fee, application download free.
#5. Rent a karaoke service
This way is suitable for those who do not like karaoke often. Currently, karaoke room rental services are very popular and come in a variety of forms. Accordingly, the amount you pay will depend on the time and service you subscribe to.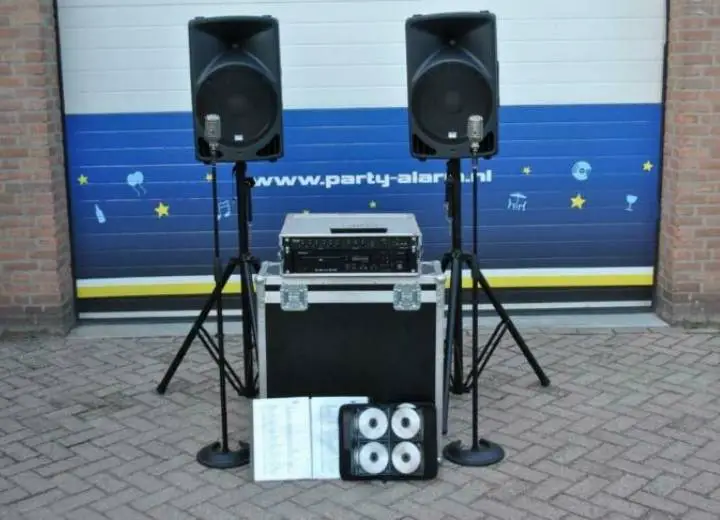 Rent at home
You can rent a professional sound system for your home. However, you have to spend a rather high cost on the shipping process.
But in return, you will have a more comfortable and natural space. Usually, at service centers, there will be instructors and karaoke setups for you. From there, you don't need to have any audio or technical experience.
Rent karaoke boxes
Conversely, you can also go to the room to karaoke with friends. Each room will have a different price depending on the room size and karaoke equipment.
The benefit of this way is that you don't need to arrange karaoke equipment. After each karaoke session, you do not have to clean the room and rearrange the karaoke system.:
Frequently Asked Questions
Youtube and apps, should you use the platform to Karaoke without a machine?
In fact, both of these social networking platforms can play karaoke without a machine. You can choose a youtube channel or an app you love. Depending on your needs, with the app, you can make karaoke together with strangers. As for youtube, you have more options, and you don't have to download anything.
Can someone with no audio experience karaoke without a machine?
People with no experience in sound can play karaoke without a machine. Even the karaoke that we guide is much simpler with modern equipment. With karaoke without a machine, you don't have to adjust much and still have a good sound.
Is the sound of karaoke without a machine any big deal?
If we compare the sound of karaoke with a professional karaoke system, surely the sound of the karaoke machine will be clearer and without noise. However, the sound of karaoke without a device is still acceptable because the sound quality is not too bad.
Karaoke at home or going to a professional karaoke room without a machine?
Each option has its characteristics. Depending on the case you choose for yourself a good place. 
For example, the issue of many people participating in karaoke; Please decide to rent someone else's karaoke room. Or you don't have any karaoke-enabled devices in your home.
Now, choose a professional space. If the number of people is small or only you, you can select simple karaoke at home without a machine.
Thanks for reading!