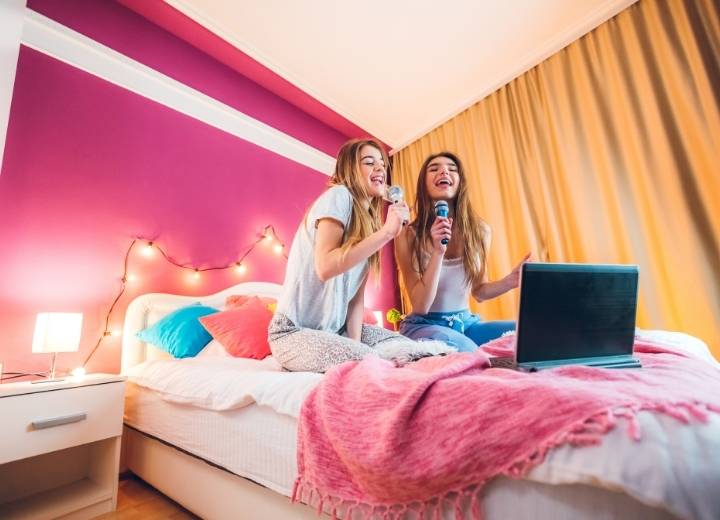 Currently, the entertainment needs of many people are really high. Therefore, the setup of a professional karaoke system at home also received a lot of attention from everyone.
Understanding that, the following article will provide you with some necessary information on this issue.
To set up your professional karaoke system at home, regardless of the type of system, you need to go through a few steps: 
Connect the microphone to the mixer
Connect the speakers to the mixer, connect the monitor
Start the karaoke system. 
Suppose you want to understand, in general, the process of setting up a professional karaoke system at home. In that case, you can refer to the video before proceeding to the reading. 
Why Should You Build Your Own Karaoke System At Home?
A home karaoke system is a necessity for some households these days.
Owning a professional karaoke system helps you be more active in many fun activities. You won't know when you need a karaoke service to cater for the fun, so if it's available at home, your fun will become simpler.
In addition, the use of karaoke services at home helps some people feel more comfortable when going out to the shops. Therefore, sometimes you need to set up a professional karaoke system at home.
How to set up a professional karaoke system at home
Most of the steps are simple, but with just a little knowledge, you will easily perform. Therefore, it can be said that setting up a professional karaoke system by yourself is not too difficult for everyone.
To better understand this issue, we can take a closer look through the following items:
Things to prepare
Although setting up a karaoke system at home can't be as simple as buying an established karaoke system, that's why you need to put in the effort. But don't worry too much about this; you can completely set up a professional karaoke system at home yourself.
However, the first thing needed is to prepare the necessary items for a professional karaoke system. You should prepare all the best equipment for a professional karaoke system such as microphones, speakers, mixer, song software, Screen, and Various connection cables.
Although listing them, they seem a bit annoying with so many devices attached, but don't worry about that. Once set up, you will find the above devices simple and easy to install.
#1. Microphones
Microphones are the first device we want to talk about when we talk about setting up our professional karaoke system. Think about it, and it's hard to do karaoke without microphones.
For the greatest fun, you should prepare 2-3 microphones for a professional karaoke system. However, consider the right amount of microphones because they can increase the cost of installing your system.
You can choose between wireless or wired microphones as long as you are comfortable with your choice. If you decide to save money, wired microphones are the right choice.
However, if you want convenience and finances that completely allow you to use the best equipment, opt for wired microphones.
Whether you choose to buy a wired or wireless microphone, you should choose the best quality one possible. A good microphone will help enhance the results when singing while improving the quality of your fun.
Another point of interest is to choose a microphone that is compatible with your professional karaoke system. Please check microphones carefully while buying because they are really important.
#2. Speakers
An indispensable professional karaoke system experience without speakers. Of course, because this is a device that evaluates your seriousness in investing and setting up a home karaoke system.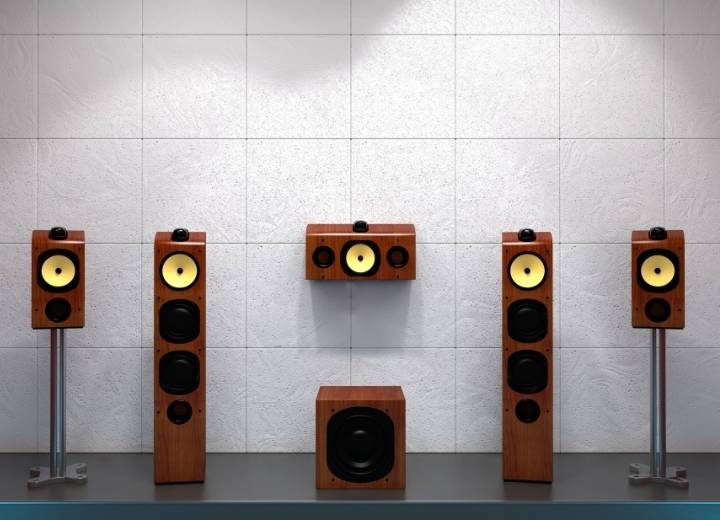 One thing to consider when choosing speakers for your installation is to select PA or active speakers. Don't use home theater speakers if you don't want a bad experience.
Depending on your budget, choose the best speaker you can afford. You can choose wireless or wired speakers, but the sound quality should be good.
Choose a wireless speaker if you want a professional karaoke system that offers sophistication, convenience, and flexibility. Choose wired speakers if you want to save money. Choosing speakers should be based on your needs.
#3. Mixer
Many people still do not know the importance of a mixer when setting up a professional karaoke system.
In the simplest terms, a mixer is a necessary device if you want the sound received from the microphones and emitted at the speaker to be accurate and consistent.
While a professional karaoke system needs the best accuracy and amplification, a mixer will be essential. A mixer helps the connection between the input and output sound to match, thereby providing the best karaoke system quality.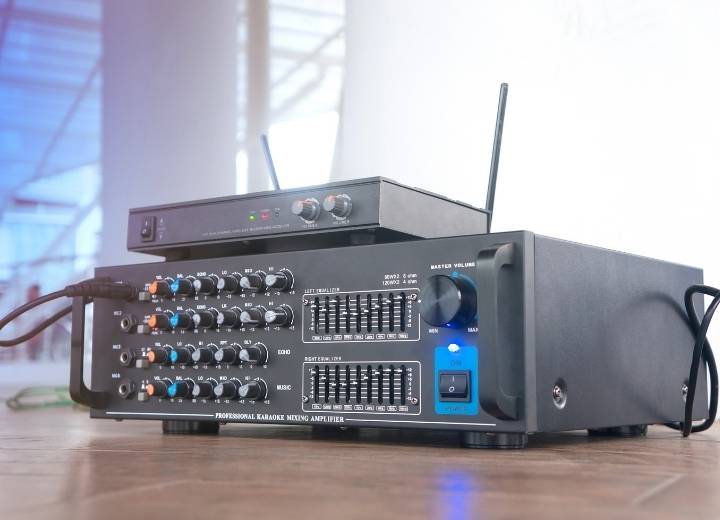 You can choose to buy a mixer that suits your capabilities and needs. There are various mixers available today that are compatible with different microphones and speakers, so choose carefully to get the right fit for your entire system.
#5. Song Software
There are many options for song software that you can use depending on the economy and experience you need.
To choose the right song software, consider their capabilities to make sure it works well with the mixer and monitor. Also, check if the software requires a wireless or wired connection.
You have many different options when it comes to experiencing song software; here are some favorite sources that many people choose:
Youtube

Amazon Fire TV stick

Karaoke version

KaraFun

Sunfly Karaoke

The Voice Sing and Connect
#6. Screen
If you want to experience the perfect karaoke service at home, of course, you can't help but invest in a screen. This device allows users to see the video or lyrics of the song, thereby providing better service for your fun.
#7. Various connection cables
The connecting cable devices are really necessary during the setup process. Being proactive and having a full range of cables helps you get set up faster.
Setup process
After you have all the necessary equipment, you can immediately start setting up a professional karaoke system at home. Do it based on the following steps:
#1. Connect the microphone to the mixer
For wired microphones, most now use XLR cables to connect. At the same time, today's mixers also have TS or XLR channel inputs ¼. That's why it's so easy to communicate between them.
For wireless microphones, you can set up according to the device's preset. Usually, you can set it up after connecting by wifi or Bluetooth.
#2. Connect the speaker to the mixer
Similar to microphones, connecting speakers to mixers also usually happens in two ways: wired or wireless.
As for wired devices, they also usually connect using an XLR cable
For wireless devices, try connecting using wifi or Bluetooth.
#3. Connect the monitor and transmitter to the mixer
The next step is to create a connection between the mixer and the monitor, and the transmitter in use. In this step, you will still connect in two ways, wireless and wired, but it will be slightly different at the connection cable.
You will use an RCA or USB cable to connect the transmitter to the mixer for wired devices. For monitors and mixers, use an HDMI cable.
For wireless devices, use wifi or Bluetooth as usual
#4. Start the karaoke system
Finally, you just need to start your karaoke system to see if it can work properly or not. Then you can instantly turn on the music and join the karaoke party at home.
Frequently Asked Questions
Besides the problem of setting up a professional karaoke system at home, some people also have related questions such as:
How do I host a karaoke party at home?
After setting up the professional karaoke system at home, you can completely start your party with your friends. 
To make the karaoke party more fun, you can organize by following these tips: find the theme for the party, mention the prize, prepare the lighting and curator of the party, and finally start with the theme chosen.
How can I do karaoke at home without a machine?
You can completely set up karaoke yourself without using the machine. The easiest thing is to use available websites like youtube for your TV, tablet, or laptop. After connecting them to the microphone and speakers, you are ready to go.
Is there a karaoke app for Smart TV?
There are many karaoke applications used for smart TVs. However, you can try Karaoke Channel. This is a great application that many people use because of the best experience they bring.
What do you need for a karaoke set?
You may need to prepare some necessary equipment if you want to create a karaoke set. Be prepared to the fullest so that they bring you the most positive experience. Some essential equipment can be mentioned such as Microphones, Speakers, Mixer, Song Software, Screen, Various connection cables.
Conclusion
Above is some essential information about preparing and setting up a professional karaoke system if you want to do it at home. Hopefully, the above information helps you better understand this issue to implement them for the best results when used.
Thank you for following this post!