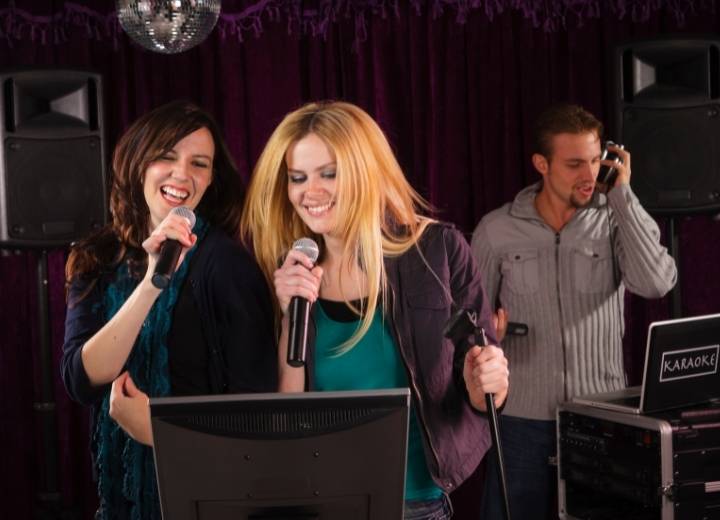 How to set up home karaoke system with computer? There are four easy steps in the process. Let's scroll down to discover!
You can use a computer as a display for your karaoke lyrics and instrumental audio. There are some steps to accomplish this:
Step 1: Connect your computer to the karaoke machine
Step 2: Connect the microphone
Step 3: Check the sound output
Step 4: Test your setup
Let's check each step in detail!
What do you need to set up a home karaoke system with computer?
First and foremost, you should know the equipment required to set up the system.
The following are the basic tools:
Karaoke machine

A microphone

A volume mixer

Speakers

Karaoke software
#1. Karaoke machine
You need to choose between a standalone vs improvised karaoke system.
The standalone karaoke setup linked to a computer is the most convenient alternative. You don't have to deal with the trouble of building the karaoke system. Furthermore, this kind of system often comes with microphones and loudspeakers.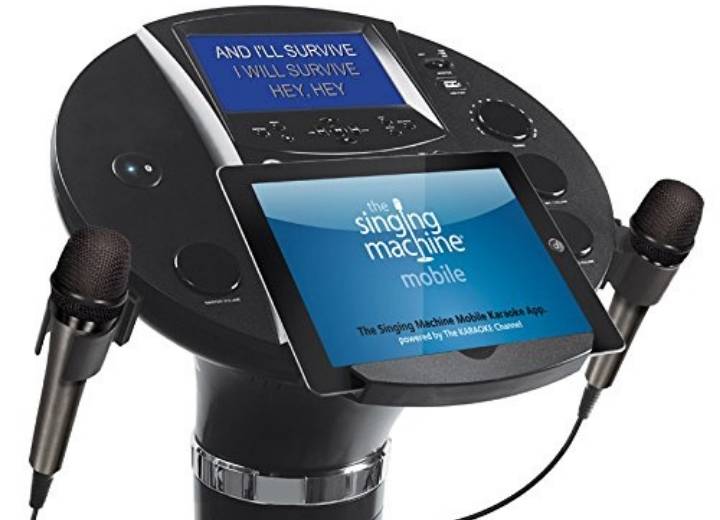 Standalone karaoke machines often come with mics and speakers
On the other hand, an improvised system needs additional mics, cables, speakers, and a monitor. However, if you already have this equipment, you can directly connect them all.
#2. A microphone
If you employ an improvised karaoke setup, you need to add a mic to the system.
The mic is the most important component of the Karaoke machine since it is the primary form of entertainment. It will be the most crucial component of the whole setup procedure. 
If you choose a terrible mic, you will be disappointed. It would make no difference how much you pay for the remaining equipment since it will get useless.
Bad microphones have a propensity to cause distortion and an unwanted echo. They may spoil your entire performance. Additionally, it can create highly irritating static. Hence, to avoid becoming enraged instead of enjoying a good time, you should invest in a high-quality microphone.
#3. A volume mixer
Another important piece of equipment is the mixer. You'll be able to use many microphones at the same time, as well as record. A good piece of the mixer will make your performance more engaging and entertaining.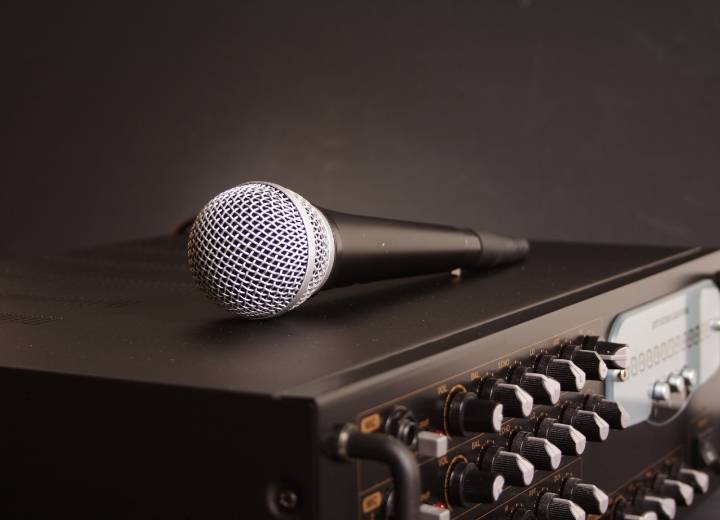 #4. Speakers
A speaker is another important piece of equipment for the setup. Speakers are really essential since they allow you to enjoy what you're performing. It is crucial toselect speakers of excellent quality and affordability.
Besides, if you don't have a competent speaker, you can get shocked by your voice, which you thought was fine but suddenly turns out terrible.
#5. Karaoke software
There are several programs, but we will just cover three of them so that you may make an informed choice. The following are the primary software for a Karaoke framework:
Use at home
The finest software for your karaoke home usage may be Kara Fun. If you're only going to use it at home, this is the ideal option. It's both cost-effective and mobile, with a large selection of tracks.
It also offers dual-screen capability, among other things. As a result, you may utilize the displays for the control and the lyrics project.
Use for business
You should check into the Kanto software if you want to start a Karaoke service. The software is no doubt the greatest program for business usage. It covers all current formats.
Free software
The greatest free software should be accessible for free and contains most features. They are similar to those found in a premium package, or other attributes that are similar to them. However, because the number of tracks it offers is minimal, this program is so common.
How to set up home karaoke system with computer?
Once you have prepared all the necessary tools, it's time to build your computer karaoke system. You can watch this video for a visual explanation.
Now, let's follow these four steps.
Step 1: Connect your computer to the karaoke machine
There are two ways of connecting: wired and wireless.
Wired connection
Based on the output and input of your device, there are a few alternative ways to connect your computer and karaoke system.
If the karaoke system and computer include an AUX input, link the two with a cable.
You may also utilize a USB port on occasion.
Wireless connection
It's quite simple to connect the karaoke system and your computer if they both feature Bluetooth capabilities.
Start checking your computer's settings to see if it's accessible.
After that, check the preferences of your karaoke system to see whether Bluetooth is on. Then, look for additional Bluetooth devices on the computer and karaoke devices. 
The most common technique is to click the button on each gadget. remember that the precise procedure will vary depending on the karaoke machine brand and type.
You may then utilize your computer to play the background music and film after they've connected.
Step 2: Connect the microphone
If you're operating with an improvised karaoke setup, plug the mics into your karaoke system or the mixer after they're both linked. 
Then, switch on the karaoke system. You may switch on the monitor, as well as the volume mixer if you use the improvised karaoke setup.
Step 3: Check the sound output
If your computer and the karaoke system are already in synchronization, you can utilize it. Check to see if your computer and karaoke device are on the same line. 
Then, test your sound input. To find the balance point of mixing, you need to modify the microphone volume and the other metrics. To get the optimal settings for the karaoke machine, utilize the equalization that you installed.
Step 4: Test your setup
You may next try performing a song to check how well the mixing works once you've picked the best mix. Test to see if the microphone and the sound outputs are in sync as well.
Tips to build karaoke computer system successfully
To enhance your karaoke experience, you can try out these useful tips.
Expand the song list
You may quickly access an infinite list of albums online throughout your singing binge after you've linked your standalone karaoke system. These extra songs can be accessible to the standalone karaoke device. This approach gives you access to a large number of songs that aren't available in the karaoke software.
You may also view and sign up to karaoke online sites using your computer. You'll also have free access to karaoke videos and Music. 
All you have to do is search for karaoke tracks on YouTube's search page. You can get quick access to a large number of karaoke tracks available on the internet.
Queue the favorite songs
Your music queue may stay at the top of the karaoke playlist. You can easily change it with a click on your computer.
The queue also allows users to specify music genres from this place. You may simply manage the list and arrange it in whatever order you like.
You may add new tracks to the queue by selecting the "add to queue" choice from this section.
Additionally, you may upload a folder if you want to manually select a track from the data stored.
Enhance sound quality
Another significant benefit of connecting your computer to the standalone karaoke machine is the quality of the sound.  The karaoke device already features a mixing board for properly mixing the sound output.
You may, however, install or download equalization software once you connect the karaoke machine to the computer. This method will help you to improve the quality of the standalone karaoke device's sound output.
Conclusion
Above is the step-by-step instruction on how to set up home karaoke system with computer. The whole process is simple but it requires high-quality tools to get the best performance. 
Hopefully, you will set up your system successfully. If you have any questions, please feel free to ask.
Thank you for reading!