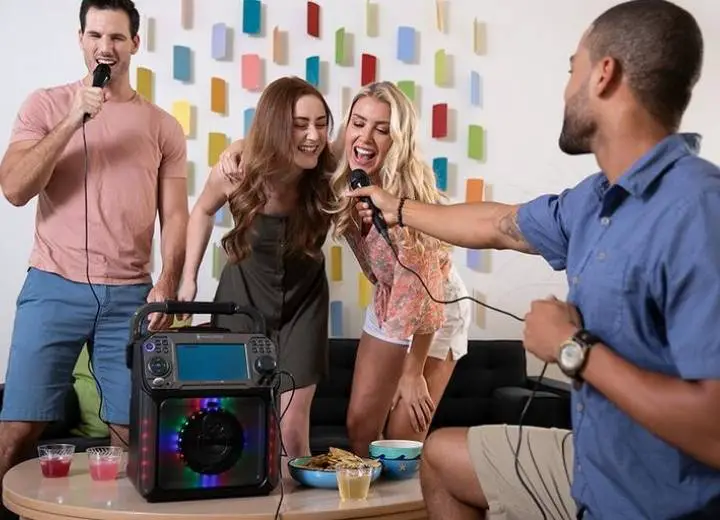 Don't panic if you have no idea how to organize a karaoke party. The process can't be simpler with eight easy-as-pie steps:
Set a budget
Invite friends
Choose a theme and tell your guests
Set up lighting
Don't forget snacks & beverages
Keep your guests entertained with games
Give out prizes
Test everything out in advance
What Do You Need For Home Karaoke?
A perfect karaoke party could do with the right equipment, be it a home party, a pool party, or an event. There are majorly four gadgets you'll need to prepare well to make the upcoming party a success.
#1. Karaoke Machine
A good-quality karaoke player is the first thing that comes to mind before all others.
If you haven't got a karaoke machine in your house, it's time to grab one. You can look for models offering pre-installed song libraries, Bluetooth connectivity, multiple microphone inputs, dedicated displays, song expansion selections, AV outputs, auxiliary inputs, internal batteries, and more.
With a full-featured karaoke player on hand, you simply plug and play, and the party starts.
If your machine doesn't integrate with a display for song lyrics, you can connect it directly to your television or via the stereo receiver.
#2. Karaoke App/Subscription
For tight-budget people, karaoke subscriptions for mobile devices are also a good choice instead of a hardware investment. Apps like The Voice, Smule, or Karafun allow users to use their laptops, computers, smartphones, or tablets as an alternative to a karaoke machine.
The beauty of karaoke subscriptions is instantaneous access to countless songs with a user-friendly interface. You don't have to shuffle via external media hardware or music CD+Gs.
#3. Microphones For Karaoke
Robust microphones delivering nice results are a must regarding how to have a karaoke party at home. Although acoustic karaoke is fun, you want to make it a little big and lively. That's how a party is, alright?
Microphones will thrive in and add dynamite to your game. You'd better have at least two ones since duets are a big part.
While wired mics are more affordable, wireless ones give you freedom in dance moves and don't get in the way of foot traffic. So make up your mind before shopping.
#4. Speakers & Amplifier
Without a sufficient sound system, your party is a dump. Any speaker is acceptable, be it a stereo pair or a portable wireless loudspeaker. We recommend using the former for the fullest taste of the karaoke experience.
How To Organize A Karaoke Party?
Throwing a karaoke game right within home comfort is a cool way to gather family and buddies together. The evening also feels more private than going to a KTV bar.
Of course, you need to take some planning, though. We've compiled an 8-step checklist to help you organize the party with ease.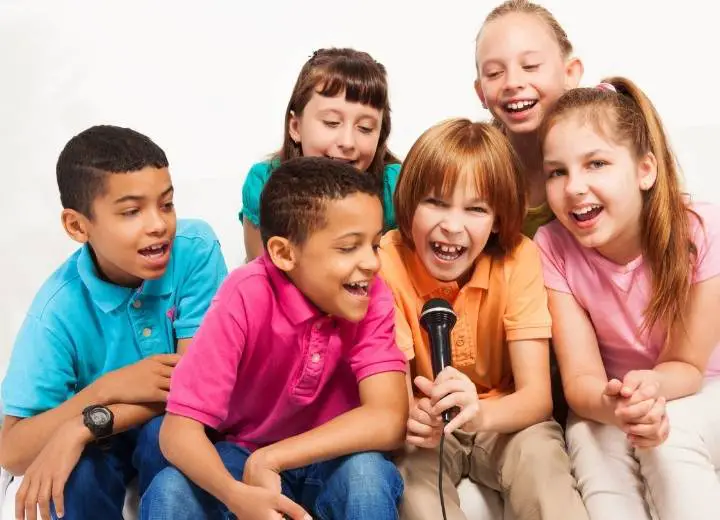 #1. Set A Budget
It's advisable to set a strict plan for how much you're going to splurge on the show. Or else you would end up throwing your money around.
You should consider a reasonable figure before buying stuff. And remember to keep everything in check, including what you've purchased, and the cost of these purchases. This way, you will never run out of budget.
The tip for organizing a brilliant party on a budget is to keep your figures realistic. Try to look for a good-quality yet cost-effective karaoke player as this gadget may cost you a fortune.
Also, think about the number of guests and how much to spend on food and beverages, too.
#2. Invite Your Karaoke Gang
How could we call it a karaoke party without avid karaoke singers? So, the next step is to invite your buddies.
It's a good idea to mix in some singing lovers and so-called 'closet singers.' They would be the life and soul of the party. A fun fact is that those who seem shy and do not dare sing in a nightclub are usually the keenest performers at a private karaoke party.
After setting a strict budget, you then base it on your guest list's size. Use it to determine how many people you'll invite so you won't end up calling for too many guests.
#3. Set A Theme And Inform Your Guests
The best idea for a fascinating karaoke party is to theme it up. There are many topics to choose from, like rock n' roll, pop/dance boys & girls, or music through the ages.
Plus, to make the evening more jubilant, you encourage the guests to dress up according to your theme. Various beautiful outfits will make fun of the point of your party.
Lastly, don't forget to wow all of them with some fantastic decorations and props to bring out your theme.
So, finishing off a karaoke party with the perfect decorations is something that you should not overlook. Going for custom decorations enables you to be specific about the theme and create an atmosphere tailor-made to your needs.
To have a disco-themed party, for example, you can hang a shimmering globe from the ceiling or put up some giant inflatable microphones.
If you wonder how to make an inflatable, then all you need to do is determine which shape, color, and size best suit the theme and let designers handle the rest of it.
With enough creativity and thought put into them, decorations can make for an enjoyable time for everyone at your karaoke party as they sing away and take in the atmosphere.
#4. Set Up Fun Lighting
A brightly radiant room and singing and dancing are not a nice combination. They don't match, and therefore, ruin the atmosphere during the party. The right ambiance is the key.
We recommend using soft LED lights since they're inexpensive yet a cool solution to boosting the overall mood. Colorful light displays that go well with your karaoke player are also an ideal option.
Also, you can set up a light display with multiple patterns, so the brightness and speed will be easier to adjust with the remote control.
#5. Prepare Good Food and Drink
When it comes to how to arrange a karaoke party at home, mindful drinking, and good food should definitely be on your checklist. Always make sure your friends will have some fun snacks to munch on.
It's better to add something salty and sweet to the menu in order to retain the singing energies and keep the party on fire all night.
Trendy, light finger foods are interesting, but you also need to refuel your fellow singers with popcorn, chips, fruits, or candies.
Drinks are no less essential; however, alcohol doesn't always have to be the major element. Instead, you can put some non-alcoholic drinks on the table to raise the mood up to the ceiling.
Please note, that carbonated beverages, like beer, can make you burp, causing an embarrassment when singing. No matter how you get carried away, avoid sipping these drinks between verses or before singing.
#6. Entertain Your Guests With Games
It's a karaoke party doesn't mean it's just about singing. You can make it an exciting game where people play and sing their voices out together.
Add some fun quizzes or challenges relating to the theme if you wish. This way, you can keep your karaoke evening amusing and a bit of variety.
How about a singing competition? Sounds interesting! Some karaoke players provide users with software rating each performance. Everyone wants to be the winner, and your party turns into a competitive game.
If your machine doesn't come with this feature, you can bring in other games, like Guess the Song, Don't Forget the Lyrics, Mix it Up, and other fun music games.
#7. Hand Out After-Party Prizes
The games can be more challenging if you award the winner some victorious gifts. Alcohol, joke prizes, or chocolates – anything works as long as you don't take it too seriously.
After-party prizes will make the karaoke party you're hosting a memorable experience for all participants. You can sort out prize categories, like worst singers, best singers, best costume, or best duet, and let the secret ballot decide the winners.
Everyone loves to win prizes and take pride in their vocals. It's a brilliant idea to use prizes to tempt your guests, isn't it?
#8. Carry Out A Trial Beforehand
You don't want a flop at your party because of unwanted technical malfunctions. It's advisable to inspect your sound system and go through all equipment at least a week before your upcoming big night.
Carrying out a trial in advance is never a redundancy, particularly when you're throwing a karaoke party at home. You can't deal with sudden technical issues without professional knowledge.
Thus, we suggest setting up the gadgets the day before your party and check if they're working properly again now that they're in place. After that, avoid fiddling or moving anything. This way, everything will work according to plan.
So, you've completed before-stage preparation. There's a tip to keep in mind before going crazy with your party: Start the evening with a popular old-age hit from decades ago that everyone is likely to know. It will make your guests intertwined with the atmosphere quickly.
It's Karaoke Time
You'll find hosting your own karaoke party so much fun, whether you're a party animal or simply a singing lover. What can be more absorbing than being together with your beloved and enjoying the best music experience?
How to organize a karaoke party at home? Our 8-step checklist should help you plan your party more easily now. 
We promise the preparation process will also be enjoyable. After all, you're planning for a blast and letting your hair down, so it's a rewarding process, isn't it?
Let's grab a mic and have a whale of a time!