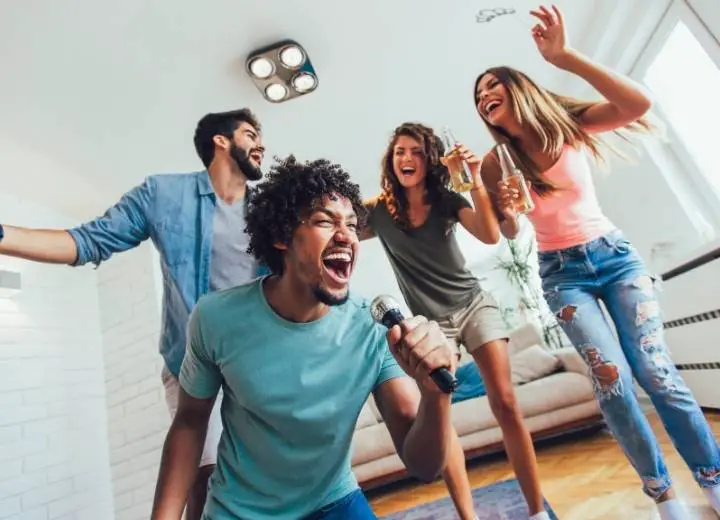 A karaoke party is the best time for everyone to gather and have fun. The responsibility of the host is huge since all guests expect so much in the event. What do I need for a karaoke party?
You should put as much effort as possible into the karaoke system. The sound is the core of every karaoke event. 
Moreover, preparing some food and drinks is important. It would be best if you add some competition or games to the party too.
This article will give you more tips to throw a karaoke event. Take some notes to make sure you don't miss anything.
What Do I Need For A Karaoke Party?
Preparing for a karaoke party can be hard work. It requires the host to pay attention to the tiniest to and biggest details. 
Before starting your party, check the to-do list below.
Set Up The Karaoke System
There is a variety of fantastic karaoke machines available, each with its own set of features. Some enable you to play your music on YouTube. Others require CDs, while others work with applications and software.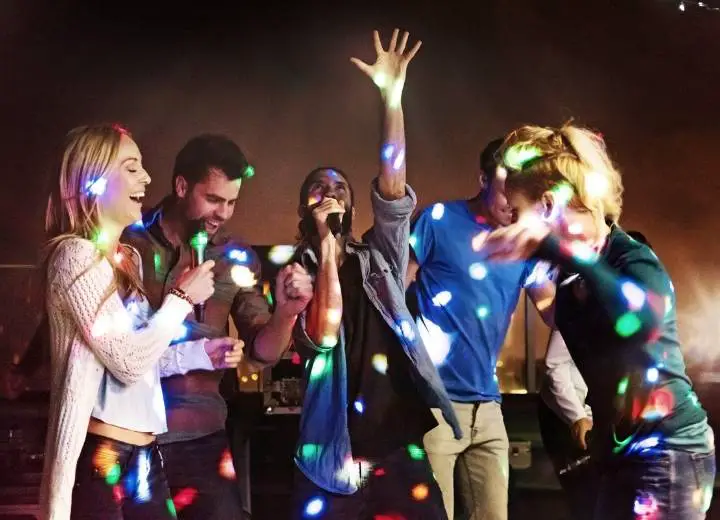 Modern karaoke machines offer microphones and speakers. They are also portable. 
For the party with your friends, it would be perfect to choose the model equipped with disco lights. Creating bar-like karaoke events can be simple thanks to these installations. 
To be more specific, let's have a look at some requirements for the karaoke machine as follows.
#1. Choose a karaoke app
Remember the old days of purchasing CD-Gs or separate tracks on iTunes. 
Yet, these days, there are hundreds of fantastic applications that you may get for the weekends or commit for a longer period of time. You can have an ever-changing selection of songs for everyone to discover something more to sing. 
Karafun, the Karaoke Channel, and Smule are a few examples to look at. Song lists are also available on YouTube.
#2. Choose the mics
Next, decide if you will use the wireless or wired mics in your party. The wired models appear to be cheaper. Also, they never run out of batteries. On the other hand, wireless microphones allow singers to have some dance, which makes your party funnier. Storing the wireless samples is simpler as well.
The best option is to have both of them. If possible, prepare one or two backup mics. Many singers want to perform famous songs and sharing the mic is sometimes annoying. 
Wireless mics:

Focus on the cardioid while choosing the mic. With this characteristic, your mic can collect the sound directly in front of it. You can minimize desired noise in the mic as a result.

Wired mics:

Go for the bulletproof ones. Even a low-cost wired microphone is likely to perform well. Even a low-cost wired microphone is likely to perform well. 
#3. Connect to the TV
The next step is connecting the device to the TV. If you're using a smart TV, adding the app is easier. If not, use your tablet or phone to cast to the TV. 
For example, your aim is to show the lyrics of the song we choose on the TV screen. In this case, you need to show it on the phone first. Then, mirror the phone on your TV. This method allows you to control the playlist queue while people are still singing. 
#4. Modify the mixer
Adjusting the balance between the music and the sound is important. You can utilize the Axiom Air in your karaoke mixer to accomplish the task. 
The mixer allows you to boost the great parts and lower the bad parts. You can even add some echo to make the performance more professional. 
One more thing to note: you should test the sound before your guests arrive. The best tip is to set everything and save the changes. Once you have done the settings, all you have to do during the party is adjust the sound volume. 
#5. Prepare a list
It's critical to have a music playlist prepared. You can move songs up and down in most karaoke applications. You can feel free to add a song when somebody thinks of one they'd want to perform. 
If no one else can think of anything, the list you have queued will almost certainly encourage one brave person to join in. It's all about keeping the songs playing.
#6. Soundproofing
For a karaoke night, a solid sound system is vital. Yet, effective soundproofing is also essential. It's important that those who didn't make it get some peace while you're busy enjoying your great experience. That is exactly what basic politeness demands. 
You may also go one step further by informing your neighbors and providing them with your contact number if the sound becomes too loud.
Prepare Some Food
A karaoke event, like any other, requires food to keep the attendees interested. The amount of food you'll need refers to the time of your event. If it's late in the evening, choose some simple snacks. If it lasts longer than a meal, prepare something substantial.
Preparing food on your own or buying from the supermarkets is OK. It's possible to ask your friends to bring some things to eat. You all can exchange food as an activity at the party.
Prepare Some Drinks
A drink menu must be more preferable. We need some beverages since we have been working with our voices so hard. 
Ensure that you include non-alcoholic choices so that everyone can enjoy. Soda and soft drinks are among the most common drinks for a karaoke party.
Set Up Karaoke Light
It's a good way to make some disco lights for a karaoke night. You're ready to go if you have a karaoke system with built-in disco lights. However, if you don't have any, consider buying some to display on the stage or dancefloor. 
It's practically a need for every karaoke gathering. it's also a great way to really get everybody in the mood!
Set A Budget
To avoid the karaoke party from becoming too expensive, you should stick to a strict plan. Before you buy something, ensure you consider a realistic value and make note of it. 
Utilizing an excel file is the easiest means of achieving this. The formulae will make it simple for you to check how much you've used and how much you still have. 
Keep your expenditure and your objectives in check. It is certainly possible to throw a fantastic karaoke event on a limited budget.
You may achieve this with the aid of several low-cost karaoke devices. Consider how many people you'll be entertaining and how much it will cost to serve them too.
Prepare The Invitations
Now, when you have done all the preparation, it's time to think of your guests. Who will come to your party? When and where they will come are also a part of your invitation. 
#1. Guestlist
Start to think about the guest list after you've figured out the budget. Make your guest list volume a measure of your expenditure. Make sure you don't invite too many guests.
If you like many people to come, check your pocket first.
#2. Choose the time
After you've completed your invite list, consider when you'd like to celebrate the party. The best time for a karaoke party is later in the evening. We believe that the optimum time is around 9. It will offer you more time to relax and amuse yourselves without trying to run or work late.
Most karaoke events last for three or four hours. Use that length of time to set the right start time so that the party isn't too late.
#3. Choose the venue
You also have to decide on a location for the karaoke celebration. If the guest list isn't too large and you have enough room, you may host the party at home. 
Renting a karaoke room is also a popular choice. The hosts even provide all of the necessary equipment, drinks, food, and decorations.
After you fill in all the information on the invitation card, send it to your guest. You should do this about two to four weeks before the party.
Extra Tips For Making A Karaoke Party More Fun
Above are some vital steps to prepare for a party. Besides, there are some tips that make your karaoke party. You can try them out.
#1. Make The Performance Competitive
Introducing competition to a karaoke party is a lot of fun. It also adds a new level to the experience. 
Some karaoke systems have software that awards a score to each performance. If you'd like to make your karaoke event more like a game, this score range is the way to go.
If your karaoke setup does not have this function, you may either enlist the help of some others to serve as judges. Or, ask your guests to score every performance on a scale of one to ten. 
The overall score will determine a winner. Remember to announce the prize as well! It works nicely with chocolates, alcohol, or funny rewards.
#2. Choose a Theme
Hosting a karaoke party with a concept may be much fun! Your guests can dress up and demonstrate their creativity. They will also be able to prepare and rehearse their karaoke performances. Music genres, movies, and public holidays may all serve as sources of ideas for the themes. Have fun and be inventive!
#3. Choose an MC
Choose an MC if you're ready to make your karaoke event the biggest party of the year. MC will introduce the theme of the party, announce each vocalist as well as the song they've chosen. 
If you add some contest to the karaoke event, they would announce the winner. 
#4. Add more Games
Everyone likes games. Remember to include some games in the time frame. 
Conclusion
Having a karaoke party is fun. Being a host, you can even make it more interesting. However, don't forget that the heart of a karaoke party is the sound system. To encourage everyone to sing, you first need to offer them high-quality equipment to show off their voices.
Hopefully, you will have a successful party. If you need any further information, please feel free to ask. Thank you for reading!