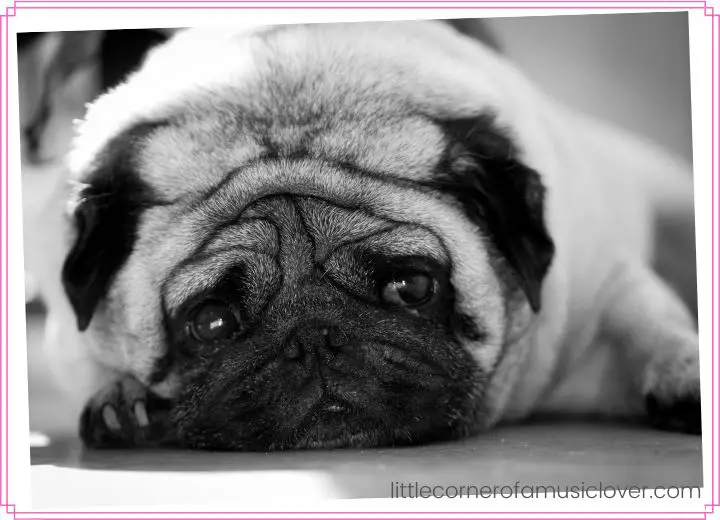 Kanye West is known for his upbeat and confident music but also has a softer side. Check out our list of the top saddest Kanye West songs that will tug at your heartstrings.
1. Street Lights
"Street Lights" by Kanye West is one of the most heartbreaking songs in his discography.
With its melancholic synths and auto-tuned vocals, listeners can feel every emotion Kanye sings about.
The song speaks of loneliness and heartache as he feels like everyone around him is so far away, even though they're just a few feet apart.
He reflects on how no matter what he does or how hard he tries, everything will always stay the same, constant sadness and emptiness.
It perfectly demonstrates how loneliness can creep up on us when life takes an unexpected turn, leaving us feeling lost and alone.
2. All Falls Down (feat. Syleena Johnson)
"All Falls Down" (feat. Syleena Johnson) by Kanye West is one of the saddest songs in his repertoire.
The lyrics display an internal struggle as West questions his value and place in society, coming to terms with his feelings of worthlessness and emptiness.
His delivery is heartbreakingly honest and vulnerable. He admits that he's not living up to his own standards. At the same time, Syleena Johnson's chorus provides a glimmer of hope that things will eventually get better.
The delicate balance between despair and optimism makes this an incredibly moving song that has resonated with millions of people over the years.
3. Only One (feat. Paul McCartney)
"Only One (feat. Paul McCartney)" by Kanye West is one of the saddest songs in his extensive discography.
The track features a beautiful and reflective piano instrumental from Sir Paul McCartney. West reflects on his mother's passing and is torn between worldly success and spiritual contentment.
He pleads with God to send down a sign that his mother will look upon him with approval from Heaven, eventually accepting that he must "keep marching on."
With soulful vocal performances from West and McCartney, "Only One" is an incredibly moving tribute to Kanye's late mother, Donda, who passed away when West was three.
This touching song highlights Kanye's innermost feelings while wonderfully honoring the love of family still felt even after death.
4. Heard Em Say (feat. Adam Levine)
Kanye West's "Heard Em Say" is one of his saddest songs. The track was co-produced by Kanye and Adam Levine and features a spoken word intro.
The song reflects on the hardships of modern-day life and speaks to those that feel voiceless, powerless, or just plain lost in today's ever-changing world.
The lyrics are as heartbreaking as they empower, encouraging listeners to find strength within themselves even when they feel nobody else understands.
This melancholy tune stands out among his other more upbeat hits as an ode to struggle and hope in the face of adversity that resonates with many fans.
5. Ghost Town
"Ghost Town" by Kanye West is one of his saddest tracks, and it's easy to understand why.
The lyrics contain a lot of pain and longing as Kanye sings about being alone and struggling with his own demons.
The production is dreamy yet emotionally heavy, featuring eerie piano riffs and some frantic, distorted guitars.
It's also packed with haunting vocal samples that add to the song's somber atmosphere.
Overall, "Ghost Town" is a compelling track that speaks to listeners who are going through tough times and need a reminder that they aren't alone in their struggles."
6. Lost in the World (feat. Bon Iver)
Lost in the World (feat. Bon Iver) by Kanye West is one of his saddest songs.
The song speaks to the loneliness, disconnection, and confusion many of us feel.
The echoing sounds give it an otherworldly feeling, like you are lost in a dense fog, unable to find your way home.
Bon Iver's heavenly vocals throughout the chorus add an extra layer of sorrow and engulfing emotion, leaving you feeling emotionally moved.
Lost in the World emphasizes the struggles we all go through on our journey through life and how sometimes, it can seem impossible, no matter how hard we try to find our way back.
7. Coldest Winter
Kanye West's song "Coldest Winter" is one of his most emotionally charged and saddest songs.
The song starts with a beautiful but sad piano riff, setting an appropriately somber tone that perfectly captures the grief-filled theme of the song.
Kanye sings about the death of his mother, Donda West, and how pain can make you feel so alone.
His lyrics are incredibly heartbreaking as he expresses his sorrow over her passing and how it has left him feeling like he's in the coldest winter ever.
8. Runaway (feat. Pusha T)
Runaway (feat. Pusha T) by Kanye West is heartbreaking. With melancholy instrumental and emotionally charged lyrics capture sorrow in the face of love gone wrong.
The song's narrator reflects on past relationships – including his own – with regret as he struggles to move forward.
Pusha T's verse provides a piercing perspective on how far one person can fall in the search for acceptance, painting a vivid picture of loneliness and hurt.
Despite being a sorrowful song, Runaway provides listeners with the hope that even after life's most painful losses, there is still a way to find peace and happiness.
9. Blame Game (feat. John Legend)
"Blame Game" (feat. John Legend) by Kanye West is one of the saddest Kanye songs and a modern classic.
The song features John Legend's soulful piano and vocal interlude as Kanye reflects on a failed relationship.
With hauntingly beautiful lyrics about love lost, the song touches on bittersweet regret and sadness themes.
The track is melancholy yet powerful, as Kanye's falsetto verse evokes powerful emotions in the listener.
This heartbreaking song is an honest reflection of heartache, making it one of Kanye's most poignant.
10. Blood on the Leaves
"Blood on the Leaves" by Kanye West is one of the saddest songs in his repertoire.
The somber production, heavy with eerie violin and pitched-down vocal samples, underscores the raw emotion in Kanye's lyrics as he speaks of heartbreak and pain.
He sings about former relationships gone wrong and how his pride killed the potential for something better.
He raps about infidelity, feeling betrayed, and reaching a point of resignation, feelings that most of us can relate to in some way or another.
His words take us through a sorrowful journey that tears our eyes. "Blood on the Leaves" is both beautiful and heartbreaking at the same time, an emotional experience that stays with listeners long after the song ends.
11. Bad News
"Bad News" by Kanye West is undoubtedly one of the heartbreaking and saddest songs he has ever released.
The song opens with a soul-crushing melody as West reflects on life's sorrows, including being cheated on, facing financial struggles, and the death of his beloved mother.
The lyrics are simple yet powerful: "Bad news comin', don't know when/It's takin' its sweet time."
West even incorporates a vocal sample from his grandmother crying in the background as if that weren't enough. This incredibly poignant touch only adds to the somber tone of the track.
12. Welcome to Heartbreak (feat. Kid Cudi)
"Welcome to Heartbreak" by Kanye West featuring Kid Cudi is one of the saddest songs written by Kanye West.
The song explores heartache, loneliness, and loss as the two artists tell a story of dealing with never-ending pain.
The track is one of Kanye's most heartbreaking songs and an iconic classic from his breakout album 808s & Heartbreak.
Despite its sad lyrical content, "Welcome to Heartbreak" is one of Kanye West's best works. It reminds us that even in our darkest moments, there can be hope for healing and learning from our experiences.
13. Pinocchio Story (Freestyle Live from Singapore)
Kanye West's Pinocchio Story is one of his most heartbreaking songs ever. The lyrics focus on themes of heartbreak, sadness, and regret.
He speaks of a decaying relationship that he can't seem to repair, no matter how hard he tries.
The song is filled with powerful imagery and raw emotion as Kanye reflects on what could have been if they had stayed together.
Ultimately, he expresses his sorrow and frustration in dealing with the ending of something that meant so much to him: "And when it falls apart, the pain hits like a rock /, And you sit there alone just trying to cope."
Overall, Pinocchio Story by Kanye West is a devastatingly beautiful and raw track that captures the depths of love lost.
14. Hey Mama
"Hey Mama" by Kanye West is one of his saddest songs. It's a heartbreaking ode to the rapper's mother, Donda West, who passed away in 2007 due to complications from cosmetic surgery.
The song captures Kanye's grief and his appreciation for all she did for him while she was alive.
The lyrics are filled with emotion and gratitude as he reflects on her sacrifice, determination, and unconditional love, all things that have contributed to making him the man he is today.
From the raw vocals to the soulful beat, this song perfectly conveys the gravity of Kanye's situation. It stands out as one of his most affecting ballads.
15. Real Friends (feat. Ty Dolla $ign)
Kanye West's "Real Friends (feat. Ty Dolla $ign)" is one of his saddest songs and for a good reason.
The lyrics are about dealing with everyday moments that come with friendships and relationships, the fear of being judged, the complexity of loyalty, and the emptiness that ensues when people go in and out of their lives.
The song features a haunting piano melody as Kanye sincerely raps his verses, reflecting on past relationships gone sour.
Ty Dolla $ign's melancholy hook adds an extra layer to this solemn track, solidifying it as one of Kanye's heartbreaking ballads.
16. Wolves (feat. Frank Ocean)
"Wolves (feat. Frank Ocean) by Kanye West is one of the saddest songs Kanye has ever released.
The haunting chorus from Frank Ocean and 80s-influenced synth-pop melodies create an ethereal soundscape that perfectly accents the heartfelt lyrics about life, love, and loss.
Kanye's passionate delivery strives to capture the emptiness in a world full of wolves, adding extra emotion to this already moving track.
It is a profound song that can resonate with anyone who listens."
17. RoboCop
Kanye West's "RoboCop" is one of his saddest songs.
It portrays his struggles in the spotlight following his sudden rise to fame. It addresses how relationships can be complex in the public eye.
The lyrics show the raw emotion behind this heart-wrenching song as he speaks about being judged and criticized for every move he makes.
It is a touching exploration of his feelings and a powerful representation of what it means to be famous and isolated from those around you.
18. Violent Crimes (feat. Nicki Minaj)
"Violent Crimes" by Kanye West featuring Nicki Minaj is one of the saddest Kanye songs in his repertoire.
The track discusses understanding violence and how it creates a cycle that can easily consume lives.
Over an emotional beat, Kanye raps to his daughter, warning her of the dangers of all things violent while expressing his helplessness to protect her.
Nicki Minaj provides an insightful commentary on this, adding a different perspective from a mother's.
The song captures hopelessness and helplessness for those in such predicaments, where violence has become so embedded within society that it's difficult to remove oneself from its effects.
19. I Wonder
"I Wonder" by Kanye West has been regarded as one of his saddest songs.
The track vividly depicts Kanye's insecurities and feelings of isolation, perfectly capturing his loneliness.
From its beautiful piano balladry to its heartfelt lyrics, the song is an emotional roller coaster that moves from fragile vulnerability to bold expression.
The chorus' blue lines stand out with Kanye singing, "I always find something wrong/ You have been puttin' up with my sh** just way too long," underlining how hard it is for him to depend on other people or even accept their support.
He further speaks about wanting to figure out how things could have worked instead if he had made different decisions earlier in life, leaving an undeniable impression on anyone who comes across this gem of Late Registration.
20. FML (feat. The Weeknd)
"FML (feat. The Weeknd) by Kanye West is one of the saddest songs in his catalog.
With heartbreaking lyrics like "I'm living my life inside a bubble," West speaks directly to the listener, talking about the loneliness and despair he's been feeling for so long.
The Weeknd adds his signature crooning, creating an atmosphere of solemnity that only accentuates West's emotional weight.
Ultimately, FML reflects depression and isolation and is one of Kanye's best works to date.
21. Street Lights (feat. Alicia Keys)
"Street Lights (feat. Alicia Keys) by Kanye West is one of those sad Kanye songs that always hits you right in the heart.
With its poetic lyrics and soul-stirring production, this track perfectly encapsulates the difficulty of staying positive even when life throws us curveballs.
The addition of Alicia Keys' sultry vocals adds depth to the song, making it an emotional rollercoaster from start to finish.
While it speaks to a universal feeling of loss and darkness, its uplifting message brings comfort, reminding us that we can make it through even our darkest days with faith and determination."
22. Say You Will
"Say You Will" by Kanye West is one of his saddest songs. The track from his album 808s & Heartbreak features Kanye's haunting auto-tuned vocal performance about missing someone.
He talks about his emotional pain and loneliness after a breakup and how he's trying to make sense of it all.
Although painfully sad, its vulnerability is beautiful – the painful reality of love and loss is captured in the lyrics and music.
23. Roses
Kanye West's song "Roses" from his 2005 album Late Registration is a sad track exploring life's fragility.
The heart-wrenching lyrics and melancholic melody make it one of Kanye's most potent, melancholy songs.
The song tells the story of a young girl who dies prematurely due to complications from cancer; however, it is also interpreted as a metaphor for Kanye's struggles in the music industry.
Regardless of the meaning behind the tune, it remains one of Kanye's finest sad songs touching upon themes such as loss, regret, and grief in a way that ultimately resonates with listeners worldwide.
24. Never See Me Again
"Never See Me Again" is a sad yet powerful Kanye West song from his album 808s & Heartbreak.
The lyrics express the pain of lost love and the fear of being alone forever. The song has a slow, sad beat helps underscore the track's emotional depth.
Kanye's rapping conveys both vulnerability and resignation as he details his hurt over the loss of someone he once loved.
The song offers hope at its conclusion by noting that there is still light even in darkness, signifying a belief that life and relationships will get better if we hold on to faith and hope.
It is an inspiring reminder of resilience despite the sorrow, helping us stay hopeful while looking ahead through our tears.
25. Everything I Am
"Everything I Am" is one of the saddest Kanye songs.
The song speaks about how Kanye has experienced so much hurt and disappointment in his life and is forever learning from his mistakes.
Despite all the struggles and heartache, Kanye expresses gratitude for his support and for keeping going despite everything he has been through.
Although it can be challenging to listen to, it is a powerful reminder that we can come out on top despite our past struggles.
26. 30 Hours
Kanye West's "30 Hours" is a sad and reflective song that takes us on an emotional journey through Kanye's struggles in life.
With melancholic piano melodies and keenly insightful lyrics, the track is a moving reminder of life's trials and tribulations.
Kanye speaks of his pain, feeling like he's been running for thirty hours trying to make ends meet, only to find himself stuck with no hope for growth.
He raps about being lost in a world filled with doubt and worry, as if no one truly understands or comprehends his journey.
It's a heartbreaking song that captures the depths of Kanye's sadness without ever coming off as bitter or self-pitying;
Instead, it resonates with genuine emotion, making it one of Kanye's most touching performances.
27. Famous (feat. Rihanna)
"Famous (feat. Rihanna) by Kanye West is one of his most popular sad songs.
The song deals with fame, questioning why some people are famous while others aren't.
In the chorus, Kanye questions why bad things happen to good people and why there isn't more justice in the world.
The song features a sample from Sister Nancy's 1982 hit "Bam Bam," which adds a unique flavor to its overall sound.
Rihanna's sweet vocals also feature on this track, adding another layer of emotion to an already powerful song.
Despite being one of Kanye's sadder songs, Famous remains an incredibly catchy and beloved track."
28. All of the Lights (feat. Rihanna)
Kanye West's "All of the Lights (feat. Rihanna)" is a profound and sad reflection of life, its hardships, and challenging moments.
With its sad piano sounds, uplifting strings, and Rihanna's powerful vocal performance, the song captures a feeling of hope paired with melancholia.
The lyrics are heartfelt and honest as Kanye raps about his struggles in life, rapping about how he worries that he may not achieve his dreams when surrounded by 'all of the lights.'
It's a dynamic track that speaks to anyone who has tried to reach for something greater but felt surrounded by darkness and doubt rather than light.
29. Dark Fantasy
"Dark Fantasy" by Kanye West is one of his most iconic and beloved sad songs.
It tells a story about the dark side of fame, wealth, power, and luxury that comes with it.
The song captures the feeling of living in a fantasy world where anything can be achieved without understanding how to keep it from destroying you.
30. Ultra Light Beam (feat. Chance the Rapper)
Ultra Light Beam (feat. Chance the Rapper) by Kanye West is one of his more emotion-driven songs.
It discusses faith, pain, and how life can sometimes be overwhelming. The beat behind it is slow and soulful, taking time to allow a moment of reflection.
The gospel-style lyrics invoke a sense of peace and hope with each verse that passes. Chance the Rapper adds another layer of poignancy to the song with his haunting vocals.
Overall, Ultra Light Beam is one of Kanye's most heartfelt songs, perfect for taking a breather and letting your mind wander away from reality for a while.
FAQs
Here are faqs related to the saddest Kanye West songs.
What is Kanye West's saddest song?
Kanye West's "Only One" featuring Paul McCartney is considered one of the rapper's saddest songs.
The song, released in 2014, follows Kanye as he tries to come to terms with the idea of death and moving on to the afterlife.
He wonders what it would be like if his late mother, Donda, were still alive and raps about wanting her guidance and advice.
With its soft piano accompaniment, gentle strings, and heartfelt lyrics, "Only One" will bring tears to your eyes as you empathize with Kanye's longing for his beloved mother.
It remains one of West's most poignant tracks to date.
Why does Kanye scream in his songs?
Kanye West is known for his aggressive rap style and how he screams in many of his songs.
His screaming often reflects the passion and emotion that goes into crafting his music, whether it is anger, frustration, or excitement about life.
The screaming conveys the emotion of the music, with Kanye using it to express himself and the themes he wants to give.
It also creates an intense atmosphere that resonates with listeners and enhances their experience.
Ultimately, Kanye's screaming allows him to communicate his deep feelings better, helping him connect with his fans personally.
What is considered the best Kanye song?
The best Kanye song is widely considered to be "Runaway" from his 2010 album My Beautiful Dark Twisted Fantasy.
It's a nine-minute epic that showcases all of Kanye's musical strengths, combining soulful melodies and heartfelt lyrics with the signature beats he has become famous for.
The song expresses regret for being unable to control his impulsiveness. At the same time, the captivating production ensures it stands as an undeniable classic in hip-hop history.
In a career filled with timeless classics, "Runaway" still stands out as Kanye West's magnum opus.
What is Kanye's most liked album?
Kanye West's most liked album is 2015's Life of Pablo. It was nominated for the Album of the Year Grammy Award.
It received universal acclaim from critics, including a 9.1 rating from Pitchfork and a 5/5 star rating from Rolling Stone.
Fans lauded the album for its irresistible beats, innovative production, clever rhymes, and Kanye's unapologetic lyricism and social commentary encapsulating the artist's soulful sound.
One of its signature tracks, "Ultralight Beam," featuring Chance The Rapper, was widely praised by fans for its gorgeous gospel choir sample and poignant lyrics about faith in difficult times.
Life of Pablo was one of Kanye's most successful albums commercially, with over 1 million copies sold worldwide, making it one of his biggest hits.
Why does Kanye use autotune?
Kanye West is known for using autotune in many of his songs.
Autotune is a music production software that digitally manipulates a singer's voice, correcting pitch and creating vocal effects.
Kanye uses autotune for its unique sound. It creates an artificial effect that has become unforgettable amongst rap and hip-hop fans.
Autotune allows Kanye to experiment with different vocal techniques, allowing him to execute ideas quickly he may have had while writing or recording a song.
It also helps Kanye achieve an iconic sound within the hip-hop community, making him instantly recognizable as one of rap's most innovative artists.
Who is Kanye's favorite rapper?
Kanye West is a widely-renowned artist, producer, and fashion designer.
He's known for his iconic hip-hop beats and lyricism. Still, he has also made quite an impact on the music industry through his creative endeavors.
When it comes to who Kanye's favorite rapper is, there isn't one clear answer.
However, several names consistently pop up in conversations about Kanye's favorite emcee, including Jay Z, Nas, and Lil Wayne.
With his close collaborations with Jay Z over the years and remixes of their song "Diamonds from Sierra Leone," it's easy to see why he holds him in such high regard.
What is Kanye's masterpiece?
Kanye West's masterpiece is considered by many to be one of the most essential albums of the 21st century – "My Beautiful Dark Twisted Fantasy."
Released in 2010, critics praised it for its bold production, lyrical content, and expansive sound.
The album features some of Kanye's greatest hits like "Power," "All Of The Lights," and "Runaway," as well as collaborations with music icons Bon Iver, Jay Z, Rihanna, Kid Cudi, Nicki Minaj, and others.
Its unique mix of brash rap and heartfelt, soulful singing made it an instant classic and arguably Kanye's most excellent work.
Is Kanye a rap genius?
Kanye West is among the most influential rappers of all time, and many consider him a rap genius.
His lyrics often delve into societal issues, creating thought-provoking anthems for the public.
He's also known for pushing boundaries and experimenting with various sounds, making him an innovator in hip-hop culture.
His success has been monumental, earning 21 Grammy awards throughout his career.
His fan base is devoted, and his influence can still be felt in popular music today. It's no wonder why people view Kanye as a rap genius.