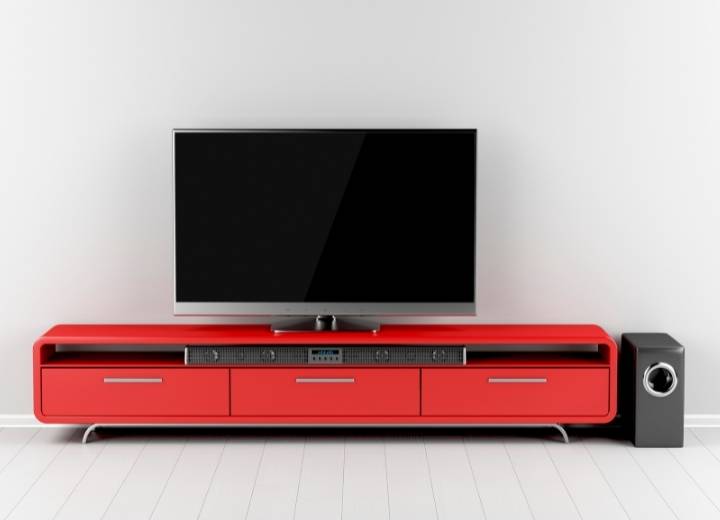 Can you use soundbar for karaoke? If you ask, it's possible to make a soundbar part of your home karaoke theatre. This speaker can do wonders for improving the amplification and reproduction of your karaoke sound system.
What Is A Soundbar?
A soundbar is a kind of loudspeaker with a pretty low and wide enclosure, which looks like a long thin rectangle. This design is particularly for acoustical reasons, allowing us to mount it easily below our display devices.
Multiple speakers are set up inside the soundbar cabinet with a built-in subwoofer (mostly in high-end soundbars), delivering a fresh, clear sound with a surround sound effect. These speakers are also good at reproduction and amplification.
Soundbars are an affordable alternative to the stereo sound system. They can dramatically enhance the audio quality in your home theatre, meeting room, or living room.
Can You Use Soundbar For Karaoke?
Yes, you can use soundbars to serve karaoke purposes. However, this type of speaker will not be our top choice when it comes to setting up for the best karaoke enjoyment. 
The thing is, if you desire to add quality to your karaoke output by setting up a soundbar, you'll have to take some extra steps to set up a mixer as well.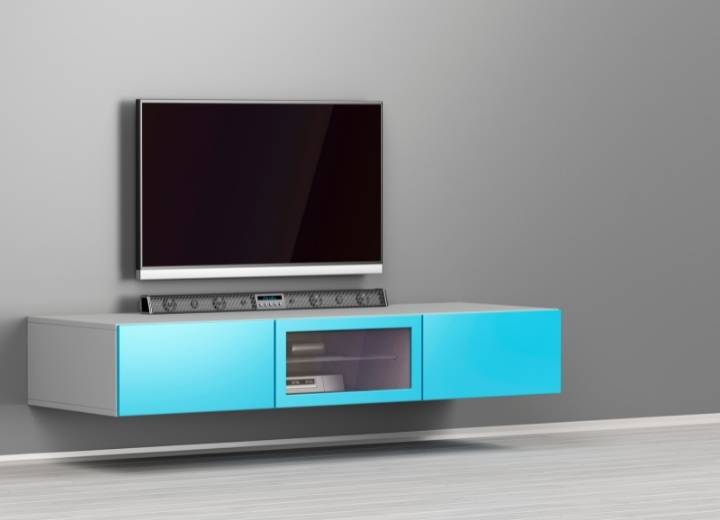 If there's no mixer to support the soundbar, your night party will end up messing. That's the reason you rarely see the presence of a soundbar in a professional karaoke sound system.
We'll dig deep into the downsides of using a soundbar to karaoke. But first, let's look at the upsides of this speaker to see if it's any good for karaoke purposes.
#1. What Benefits Does a Soundbar Bring To Your Karaoke?
Soundbars are one of the most compact types of loudspeakers. You simply position this elongated speaker under or in front of your TV, and you're all set.
Users can enjoy a spacious and good sound image without any cable running through your living room with a soundbar. Although some soundbars come with extra speakers, usually a subwoofer, you can connect it wirelessly.
Plus, these compact hubs also provide customers with easy access to online streaming services, Wifi, and Bluetooth. You'll find it pretty simple to display music from online services and your home network.
The operation doesn't require much effort. You just need a manufacturer's app or a small remote control.
Last but not least, a soundbar system is relatively more cost-effective than other extensive home karaoke theatre systems with loads of speakers. A cool soundbar will cost you around 300-600 – a reasonable price point for a home-use speaker.
#2. What Are Downsides To Connecting Your Mic With A Soundbar?
The major reason which karaoke and soundbars don't work efficiently together is that their design counters their compatibility.
A soundbar is best at transmitting sounds and music without any alterations during its transmission. Using a soundbar for karaoke wouldn't generate the desired output you expect but lead to sound chaos.
Besides, most existing soundbar models on the market come with decent capacity and decent volumes of sounds, applying to movies and listening to music.
Meanwhile, karaoke requires speakers with large capacity, powerful and vibrant sounds. Thus, using a soundbar for your karaoke theatre would result in rough or uneven output.
In addition, most units offer virtual surround sound, implying that any surround effect will come out from the range of small speakers in your unit and the room's acoustics. Despite additional depth in the sound, it'll never be surrounded if you have no speaker behind you.
Taking a glance at your soundbar's back, you'll see two or three audio connection selections. You can use soundbar hubs of all input types to run your karaoke night. But there's a real big problem that you have to deal with: these units don't come with mic-in options.
Among various audio-in ports, you won't find a dedicated microphone-in option. Even if there are multiple input selections for the soundbar, like HDMI ports or RCA cables, connecting a mic output to one of those is hard.
A karaoke system setup over a soundbar will require extra work. Since the speaker only displays the music from only one input, the only method to let the singer's voice come out from it together with the music is to make them enter the soundbar together, or over one input.
How to Connect a Karaoke Mixer and Microphone to Your Soundbar?
The only solution is to take advantage of a karaoke mixer. The device comes in place to specifically deal with this problem. They provide inputs for your mics, and some units even offer wireless microphones.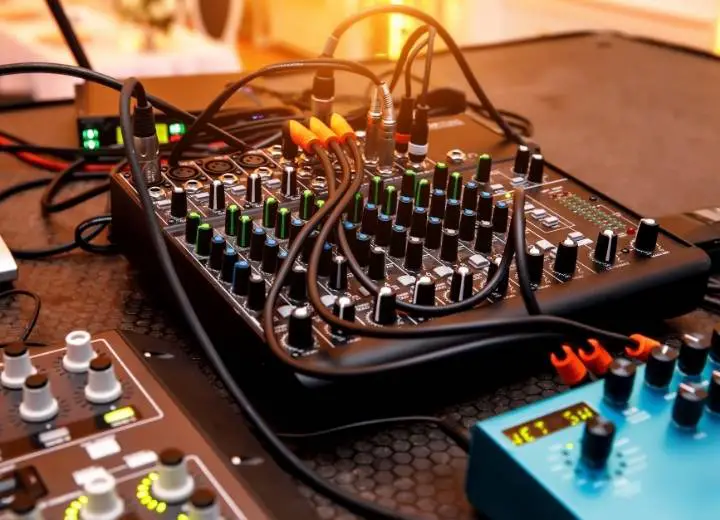 If you already have a mixer, microphones, and soundbar at your fingertips, then here's how to connect all the devices and get started.
Detach the soundbar from the current audio source
Your soundbar often receives audio input coming from your TV, computer, or Xbox via an HDMI port. Whatever the device you will play the karaoke video on, you have to disconnect that device from your soundbar.
Don't panic if it sounds complicated. Should you have no idea what HDMI is, then for most cases, you're not using this port.
Also, the disconnection won't cause any damage. So you just disconnect the TV's audio cable from the soundbar, no matter whether it's RCA, HDMI, analogue, or optical.
Connect the mixer to your TV
Now, plug the TV's cable that you've just detached from your soundbar into the audio-in port at the back of the mixer.
You'll have to combine a couple of ports, adapters, or cables to connect the television to the mixer. The combination will depend on the mixer and TV's available ports.
That's the reason it's better to plan the setups beforehand, if possible, so that you can look for the mixer matching your available ports easily.
Connect the mixer to the soundbar
So far, you should have been familiar with all the ports on your karaoke sound mixer. Find the audio-out and audio-in ports and connect the sound mixer to the soundbar.
In particular, you have to match the audio-out port of the karaoke mixer to the audio-in port of your soundbar. If these two ports match perfectly, then you'll need one cable to proceed with the connection.
If they don't match, you need to find a cable or adapter featuring differing ends, such as a 3.5mm to the RCA cable.
Connect your mic(s) to the mixer
So the mixer has routed audio from the television or any video sources to your soundbar properly. The next step is to connect your microphones to the karaoke mixer.
You may have a single or multiple mics for duets, but they connect in the same way: via the mixer.
If your microphones are wired, you just plug them in and done. If you're using wireless ones, you will activate them by using the on/off switch. Remember to change their batteries periodically.
Another thing to note is that if your karaoke mixer comes with wireless microphones, they should be able to run right at the moment you turn on the switch.
Otherwise, you may need to conduct a pairing process. For this case, you can read through the mixer's instructions to do it correctly.
Some mixers feature a Bluetooth mic-in, allowing users to use their phones or any Bluetooth mics with their mixers.
However, sometimes, these gadgets pose some signal disruption problems. So it's better to keep both the pros and cons in mind if you want to use handheld microphones.
So you've set it all up. It's time to test the system out. Simply, play a karaoke video on your video source and check if the sound is coming out from the soundbar.
Should you not hear any sound immediately, you'd better independently inspect the soundbar, mixer, and volume settings on your TV. One of those might have lowered the volume.
After checking and adjusting everything properly, you should hear the sound coming out from your mixer.
How To Do Karaoke With A Soundbar?
When it comes to how to use soundbar for karaoke efficiently, we have some reminders for you.
Apart from taking all the above steps and sorting out the hardware, you should also have a plan for choosing songs, managing the music, or everything relating to running a karaoke night.
Youtube is literally a fantastic karaoke track source with words and music. This platform saves you from taking a large amount of guesswork as well as buying and coordinating special karaoke apps. It also excels at casting videos from your smart devices.
All in all, we suggest running your cool karaoke system in the following way: Casting karaoke songs from a smart device to Youtube on the TV with the audio setup over your karaoke mixer like above.
This way, you and your friends can cue up karaoke songs beforehand and take turns easily. Your party flow will be on point according to the overall mood.
Bottom Line
So, you should have figured out the answer to the question, 'can you use soundbar for karaoke?' It's a thumbs-up to add a soundbar to your karaoke sound system for enhanced music quality.
However, you'll need a mixer to set up the speaker correctly. Although the process requires extra effort to complete, surely you will enjoy the taste of karaoke amusement thanks to this new member.
Now, you're ready to party all night long!