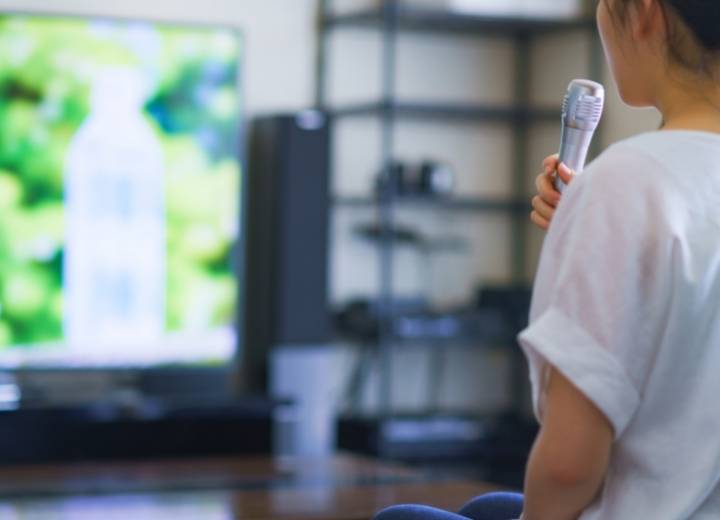 Karaoke is one of the most popular forms of entertainment. You can find it more accessible if there is a karaoke system at your home. You may ask: "What equipment do I need for home karaoke?".
To set up a home system, there are six important pieces of equipment that you need to prepare:
Karaoke machine
Speakers
Sound mixer
Sound software
Microphones
Video equipment
Some karaoke machines include other components in their setup. However, many karaoke fans choose to buy the parts separately to ensure they suit their needs.
What Equipment Do I Need For Home Karaoke?
Each part contributes to the success of your performance. They also require some features to work at their best. Make sure you don't miss anything in the list below.
#1. Karaoke machine
There are a variety of karaoke machines available. Each of them is suitable for particular room size and skill level. Your karaoke machine's role, as the core of any home karaoke setup, is to keep track of the playlists you want to sing to and playing them.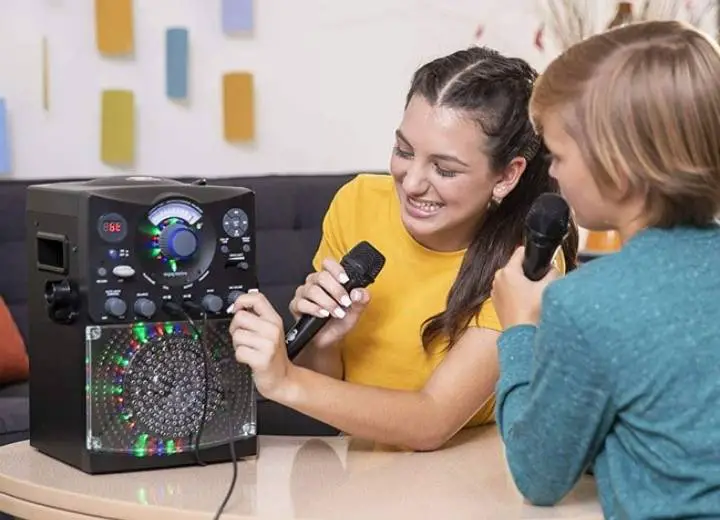 If you are a beginner, it would be best to choose an all-in-one karaoke machine. If not, you have to spend lots of time picking other parts. The total price will be higher as a result. 
If you want to put together a structural model, you have to consider things like microphones, video, and speakers.
Nevertheless, being able to choose each component allows you to create the final product that exactly meets your desire. This approach has the potential to produce some extraordinarily powerful and distinctive effects.
#2. Speakers
You can't have a successful and interesting karaoke event if you do not have a good sound setup.
Some people misunderstand that stereo speakers and surrounding speakers can recreate recorded music.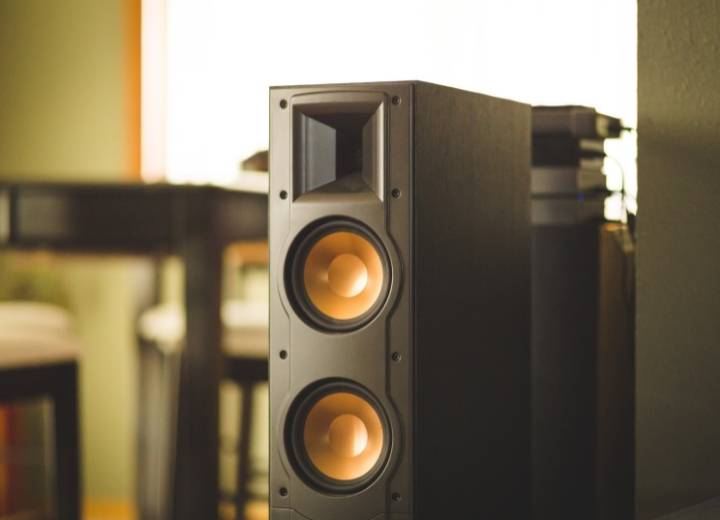 However, they are not really suitable for providing sounds similar to that from a live mic. PA speakers, on the other hand, are capable of handling both tasks.
If your speakers can't manage vocal transmissions, there's a high risk you'll destroy them during your karaoke night. Of course, you might get away with a low-sounding system if you utilize your house speakers.
However, for the best experience and quality, you need to include PA units in your home karaoke setup.
#3. Sound mixer
A sound mixer that mixes numerous input resources can come with your karaoke setup. There are models available with separate volume levels, echo, balance, and toning. 
The sound mixer commonly has an AV port for quick music and video transmission. Phones, laptops, tablets, and computers all function nicely with mixers.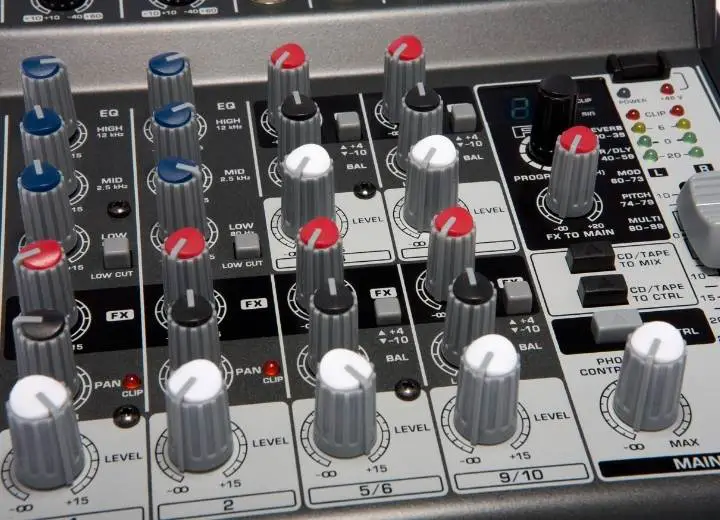 In a karaoke system, you should amplify two different kinds of sound. They are the mic output and the track.
Furthermore, connecting them to the mixer is a must. For exact amplification of both, the sound mixer needs to have an output attached to the speakers.
#4. Sound software
If you are looking for decent sound software, think about compatibility first. Because the sound software has to connect to the screen and mixer, you should ensure that any program you are using is functional with both the screen and the mixer.
It's a good idea to check if you can connect the mixer via WiFi or Bluetooth or not. Does it require a cabled connection?
You may also mirror the screen so that everyone can keep track of the song without facing the main screen. It's possible to double the display on your table or tablet.
For the sound software, you can choose from Youtube if your equipment allows the wireless connection. If not, try to install KaraFun or The Voice Sing.
#5. Microphones
Without high-quality mics, a home karaoke setup would never be perfect. You can sing without a microphone, but you can sing at your best. 
You can get corded mics, which are pretty simple to set up, or wireless ones. These wired microphones have a long chord. If you plan on having a dance party at the same time, wires may interrupt your dancing time. Hence, wireless mics are a better option.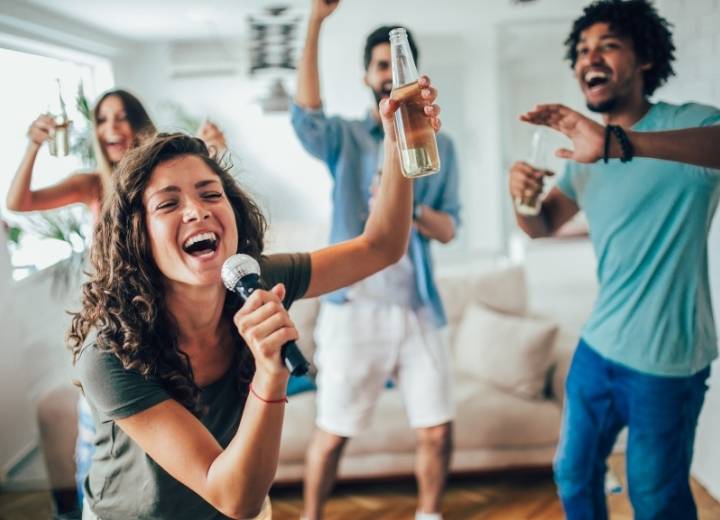 The wireless mics allow you and your friends to move around freely while singing. Wireless microphones, on the other hand, might be more expensive than wired options.
It would be great to prepare two microphones for the karaoke setup so that you may have collaborated with your guests. The duets bring more fun particularly if one performer does backing vocal whereas the other performs as the main vocalist. 
#6. Video equipment
It's not karaoke if there are no lyrics shown. You need to include the display in your home karaoke system. This step is simple with the assistance of a computer screen, project, or TV.
You may also get a karaoke machine that includes all of the essential karaoke equipment. However, for your guests to appreciate the song, the visual show should be truly fascinating.
#7. Controls
Providing perfect sound and visual balance is a skill. You may choose a karaoke setup with a sound mixer that enables you to adjust everything, such as the song list and accompanying video content. 
You can also accomplish that precise balance between speech level and sound track volume with a competent mixer. 
Where Should You Place The Karaoke System?
When it comes to installing a home karaoke system, the most important thing to remember is to choose a good location. It must be an open and clean space that allows sound to escape.
You may acoustically prepare the space to prevent sound from spilling beyond the room and disturbing your neighbors.
You should select a location that can handle your guests. It also needs to be comfortable and well-ventilated to provide them sufficient breathing space.
How To Connect The Youtube Device To TV
Utilizing Youtube is the most popular method to get the playlist. You can feel free to choose any song that is available on this large site. 
You can use a computer, tablet, or cellphone to access the Youtube channel first. Then, connect it to the TV to display the lyrics.
#1. Connect directly
You may utilize an HDMI cable for connecting your laptop to the TV. An HDMI cable may send both audio and video to your television.
This arrangement allows you to duplicate your laptop's display to your television. You can apply this method for watching movies and playing games as well.
#2. Use WiFi connection
Wireless connection is possible if you employ WiFi in the process. Sync the Smart TV to the same WiFi connection as your Youtube device. Download the YouTube app on the Smart TV and connect your device to it.
#3. Use Apple TV
The quickest approach is to use an Apple TV for your home karaoke system. Apple TV can duplicate Apple gadgets. If you're using Karaoke software or watching YouTube, you can just reflect it on the TV.
Apple TV, on the other hand, doesn't allow YouTube queueing feature. To list music, you'll need to manually make a playlist.
It's not a completely smooth process. There's a delay between when you adjust the playlist and when it displays on the TV screen.
What Is The Easiest Way To Set Up A Home Karaoke System?
The simplest way for a karaoke setup is to sing with Youtube, as we have mentioned above. Here is how to accomplish it:
Step 1: Connect the mic to the mixer
First, connect the mic to the sound mixer. Make sure it is working correctly. 
If you are using the wired mic, insert the cable into the proper mixer jack. You may notice the XLR cable and its jack most of the time. 
If you are using the wireless mic, connect it via WiFi or Bluetooth. You need to turn on the gadget and wait for it to verify itself.
Step 2: Connect the speakers to the mixer
After that, connect the speakers to the sound mixer to enhance the sound. There are also two types of speakers: wired and wireless.
You'll still use an XLR cord with wired tools. To make the connection, insert the jack in the mixer input.
We use Bluetooth or WiFi to link to wireless sound systems. Connecting with wireless speakers is easier and less time-consuming. You don't have to worry about the position of the jack and the wire.
Step 3: Connect the mixer to the sound and video equipment
We have listed some ways to connect the Youtube device to your TV above. 
The process of connecting over Bluetooth is straightforward. To verify the connection, switch on Bluetooth from both machines and access the preferences of the video and audio devices. 
Use the USB or RCA jack if you're using the wire connection. Both types of jacks transmit data reliably and are common on video and audio equipment.
Assume you have the mixer connected to a tablet or laptop to enhance the display. You can use an HDMI cable to connect your tablet to your television.
Step 4: Create a playlist
You may access the video and audio device screens after the connection. After that, visit YouTube and look for the song. After you've found your favorite, choose and perform it.
You can watch this video for a visual explanation.
Conclusion
Above is the checklist of important equipment for a home karaoke setup. Constructing your own karaoke system is really rewarding and enjoyable. Ensure that the pieces you choose will function together smoothly.
Hopefully, you will have the best experience with your own karaoke system. If you have any questions, please feel free to ask.
Thank you for reading!